Arabian Horse Sculpture Details:
First of all, the head of this bronze horse sculpture is relatively small but his face is very delicate. Secondly, the eyes of the life-size Arabian horse sculpture are very big and full of energy. Also, Arabian horses have straight necks. Therefore, the overall horse looks very energetic and handsome.
Secondly, the back and waist of this outdoor horse sculpture are short but powerful. The most characteristic is that the tail of the Arabian horse is very interesting, his tail is like a fan. When he ran, the ponytail was even more beautiful and delicate. There is no doubt that this bronze's most famous Arabian horse is well-proportioned and beautiful. Of course, YouFine would cast a 1:1 scale bronze horse sculpture for you. Our Arabian horse statue is sure to please you.
Reasons Why People Love Arabian Horses:
Arabian horses are the oldest horse breeds on earth. It was first tamed by humans and became the most faithful companion in the course of human history. Arabian horses have made important contributions to world civilization. At the same time, it has had a huge impact on world history.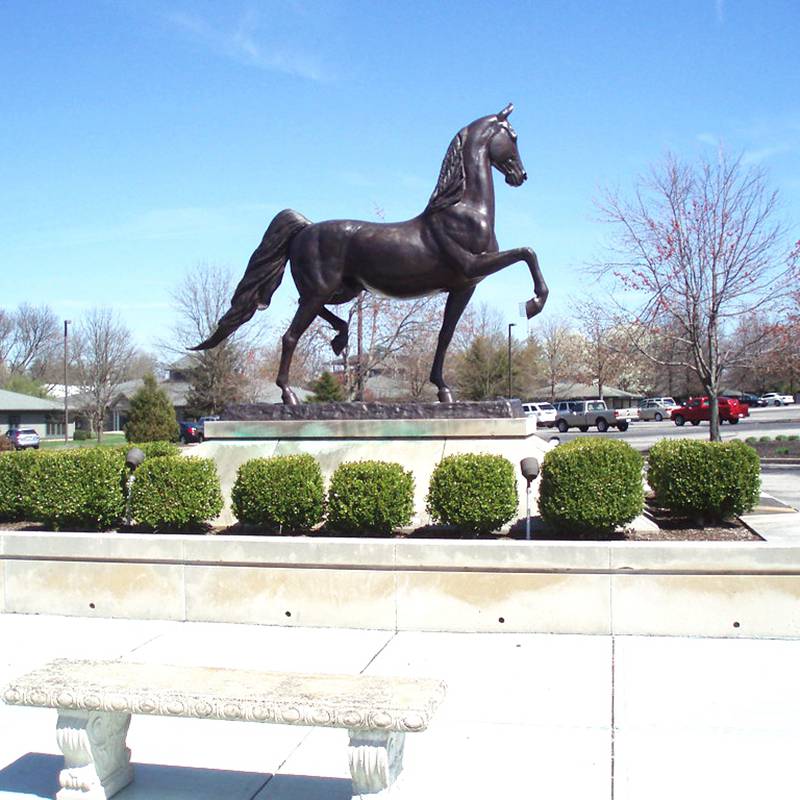 When the large-scale national migrations and wars of Emma's travel ended on the earth. Well, humans have developed a variety of horse breeds suitable for modern horse racing, equestrianism, and leisure entertainment with the excellent blood of Arabian horses. There is no doubt that these horses enrich human life. To this day, the Arabs are still proud to have bred this excellent horse breed.
Chemical Natural Coloring Method:
Artists at the YouFine factory use chemical colorants to color the bronze Arabian horse sculpture. This approach ensures that the colors of our bronze horse sculptures become more and more natural over time. In particular, depending on the chemical combination, you would have a superb bronze sculpture in different colors. Also, our artists could adjust the color you want for you. There is no doubt that the color of your bronze horse sculpture would be unique, your own color.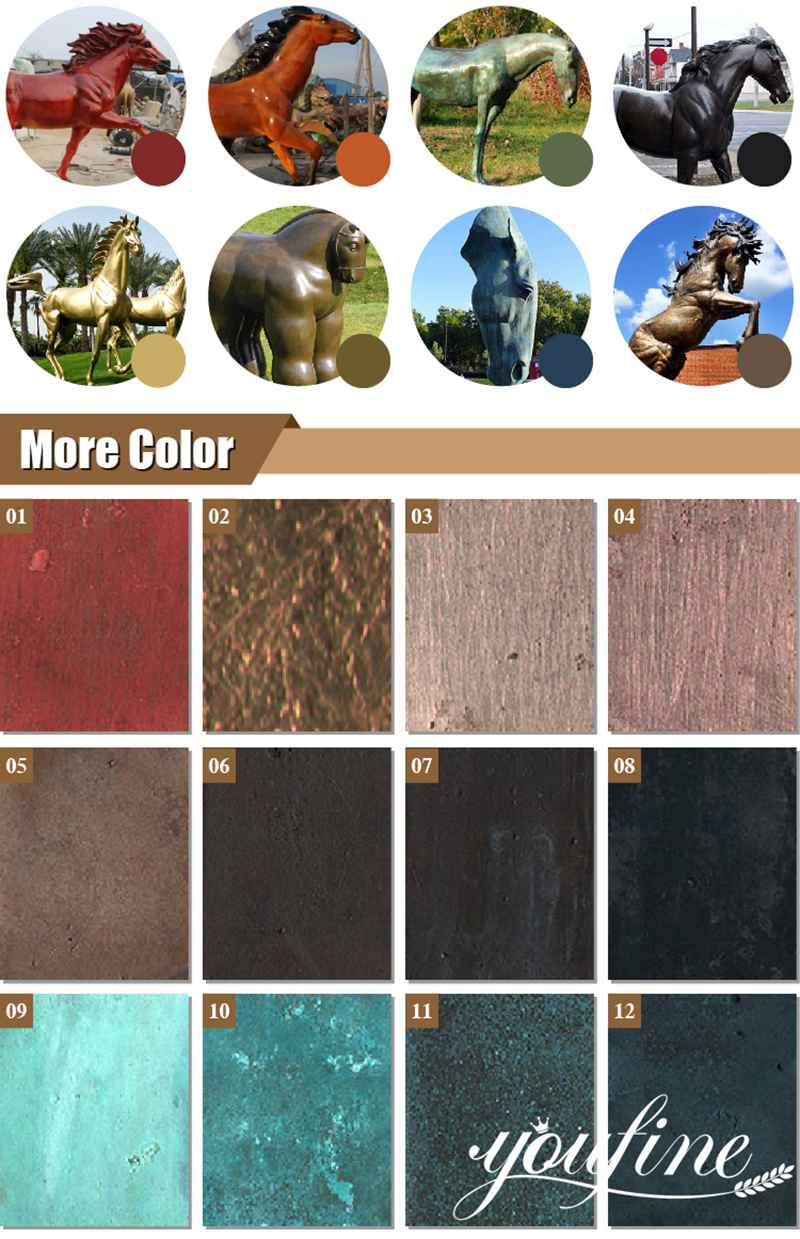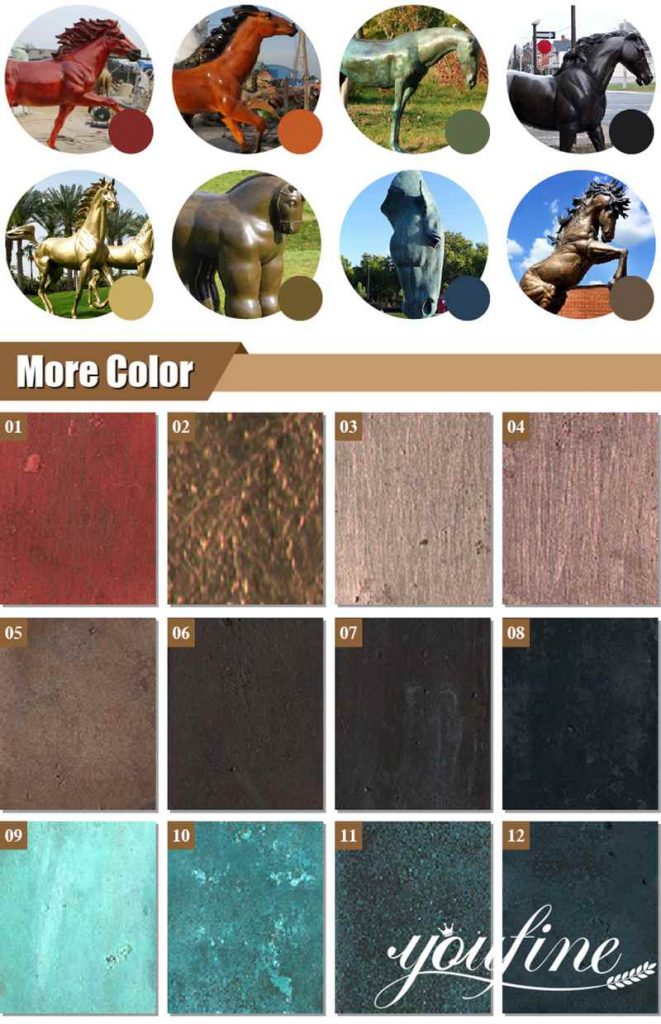 Traditional Lost Wax Method:
We cast outdoor bronze horse sculptures using the traditional lost wax method. We all know that this legacy technology has been around for 5,000 years. There is no doubt that our artists mastered this technique long ago. Also, the artists at the YouFine factory have innovated this technique, we use silica sol. This method ensures that the sculpture looks beautiful. In particular, the surface of the sculpture would not appear with white spots after a long time. As a result, YouFine's bronze sculptures have a timeless aesthetic.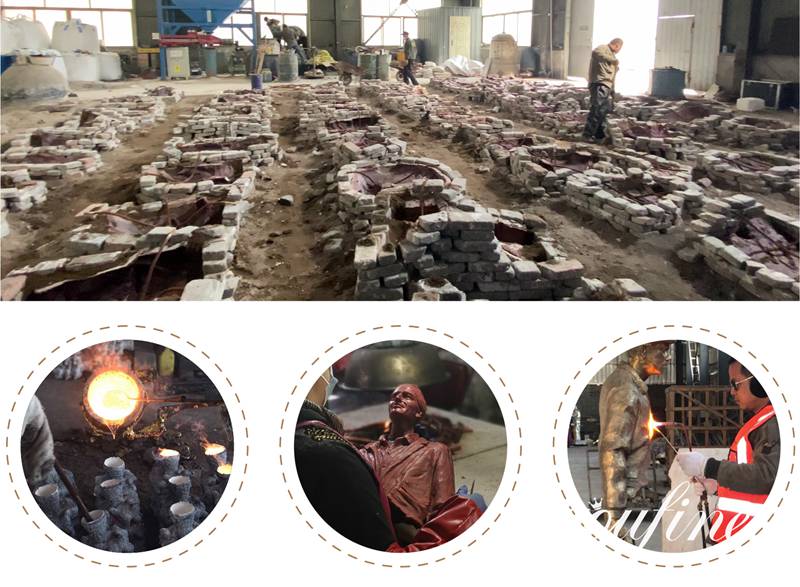 Refined Caly Model:
We all know that the exquisite clay model could guarantee the fidelity of the bronze horse sculpture. Especially our artists learned to carve lifesize horse sculpture clay models in childhood. As a result, they were able to sculpt 100% of the horse's expression and appearance details to life. You could clearly see how realistic this life-sized Arabian horse mud model is.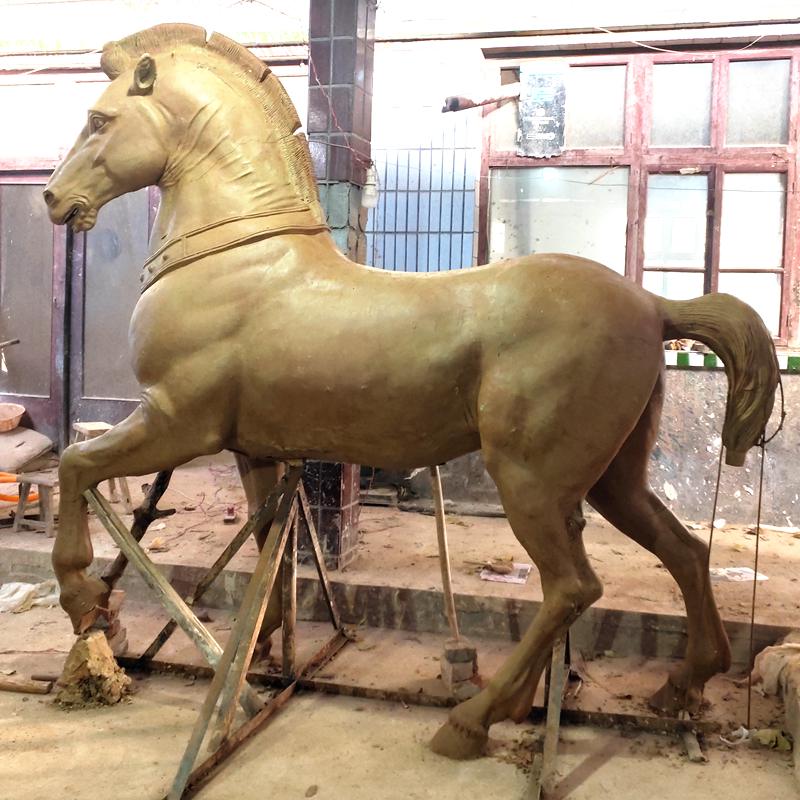 YouFine bronze garden sculptures factory would be your best choice. We cast bronze horse sculptures for people all over the world. And we have won the praise and recognition of many horse farm customers. If you want an exquisite bronze Arabian horse sculpture, please contact us today.