Outdoor Horse Sculpture Details:
YouFine outdoor horse sculpture is loved by many customers. Therefore, You could clearly see that this horse is very muscular. Especially at the moment, he jumped up, all the muscles were exposed. It could be seen that the horse's momentum is very strong.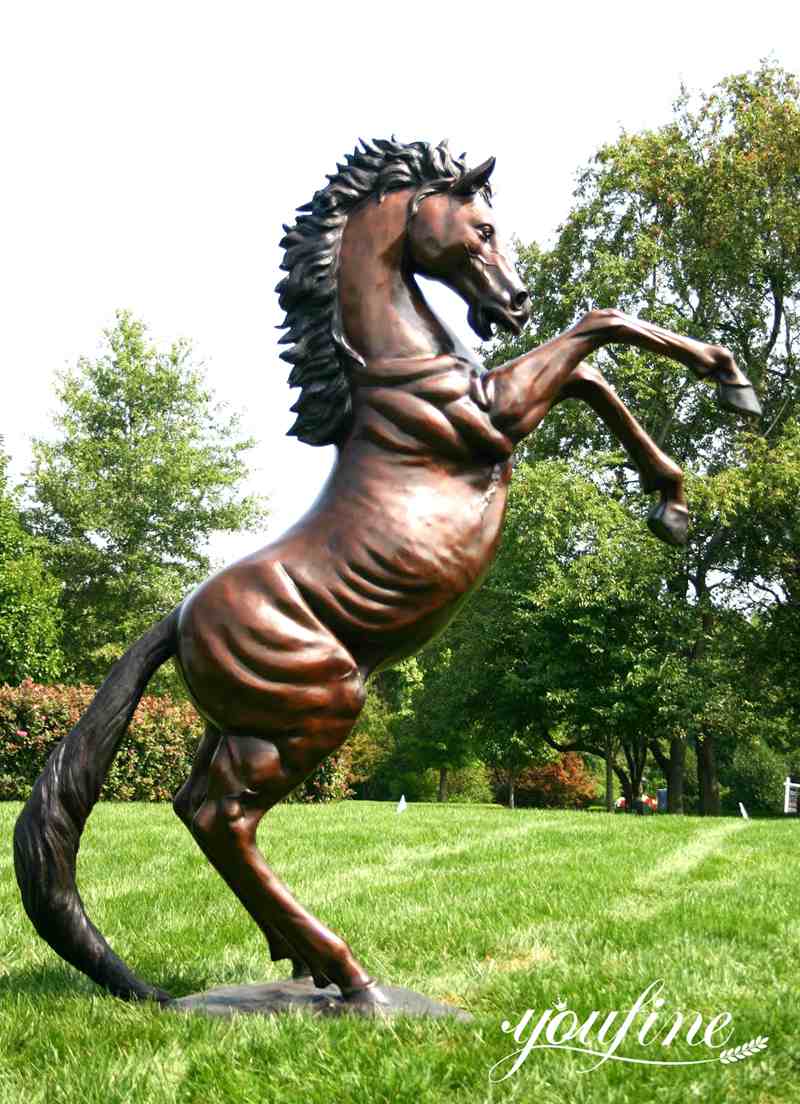 Moreover, we could see the blood vessels in the horse's face clearly. Its mouth opened slightly and let out a deep wailing. It could be seen that our casting technology is so superb. YouFine believes this beautiful horse statue would definitely attract everyone's attention. Please take a look at some of the many outdoor horse statues and contact us below for a free quote.
Production Process of Bronze Horse Statues:
| Production Steps | Detailed Steps |
| --- | --- |
| Step1: Design Communication | You could supply us with several photographs with dimensions.We could also recommend the usual size and designs. |
| Step 2: Project Consultation | Our team would develop a production schedule based on your design, budget, lead time, or any other service. Our ultimate goal is to efficiently deliver high-quality and low-price sculptures. |
| Step 3: Clay Mold | We would make 1:1 clay or 3D molds. After finishing the clay mold, we would take pictures for your reference. The artist modifies any details on the clay mold until you are satisfied. |
| Step 4: Casting | We would use the traditional lost wax method to cast bronze statues. |
| Step 5: welding &Polishing | We would weld and polish the statue, which is the key step to making a fine high-quality statue. |
| Step 6: Patina and wax surface | We would patina the color as the image the customer sent. when finished the statue, also we would take photos for your reference. After you are satisfied with all, we would arrange packing and shipment. |
| Step 7: Package | Strong wooden crate with waterproof and shockproof foam inside. |
The Vivid Appearance of Clay Models:
A realistic outdoor large horse sculpture must require a perfect clay model. YouFine's clay model artists have learned this technology since they were young, and they have fully mastered all the skills of depicting animal clay models. Especially, in order to express the spirit of horse sculpture, our artists often go to the horse farm to observe the normal life of real horses. And YouFine artist specially raised a few horses in the factory for reference in carving clay models. When you see the clay model of this horse sculpture, you would want to buy our sculpture.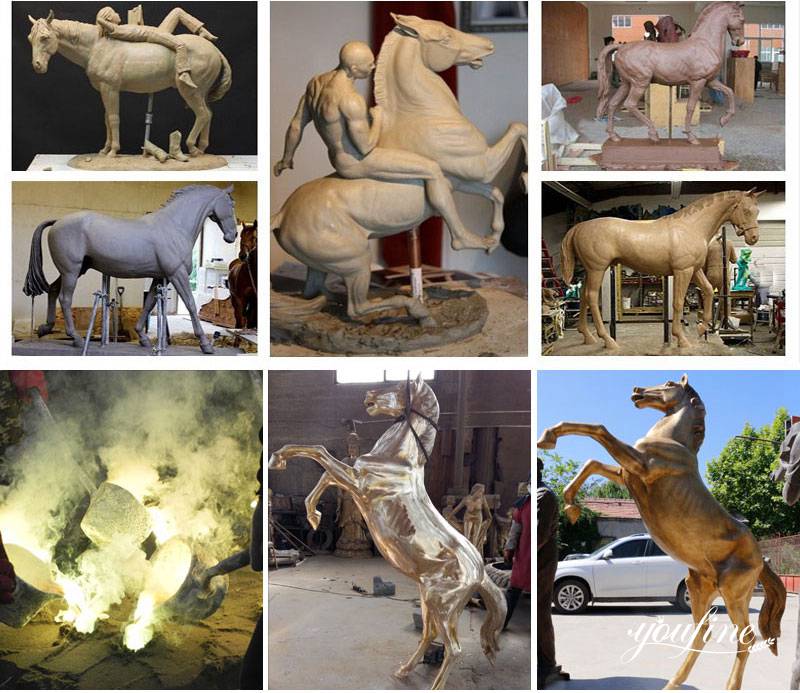 Professional Patina Technology:
YouFine animal sculptures always adhere to high quality. Especially our coloring artists, are very good at color grading. Over time, the color of outdoor horse sculptures would become more natural and beautiful. This is because of the chemical coloring method used by our artists. After continuous improvement, this method could make YouFine sculptures more vivid and realistic.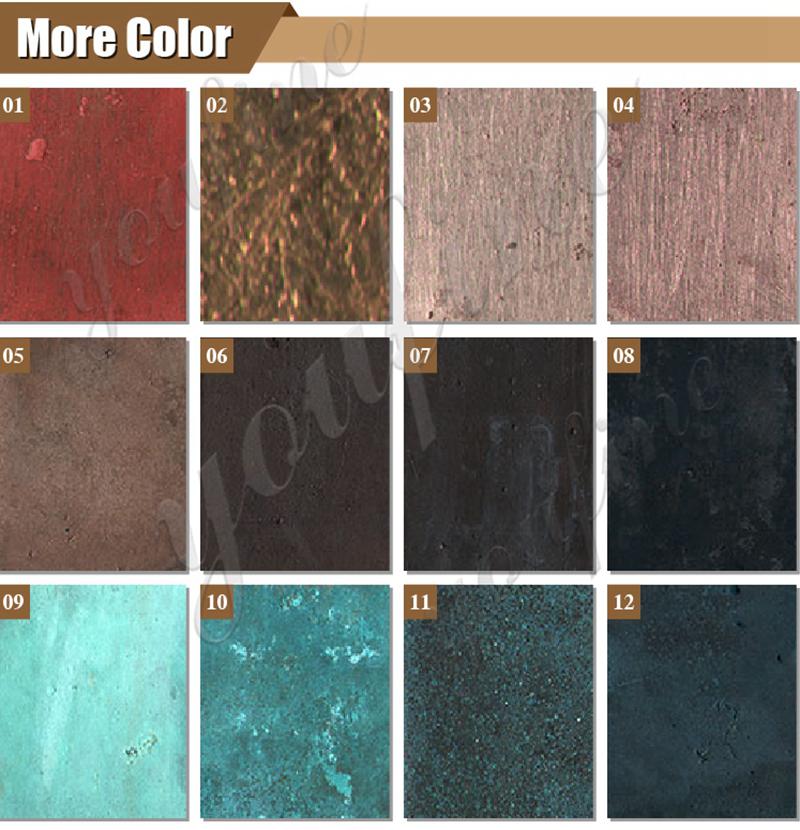 Reasons Why People Like Horse Sculptures:
The horse is a symbol of talent and achievement. And the horse also represents an independent and unruly image and is the sustenance of people's free spirit. If you like horses very much, YouFine could buy our antique bronze horse sculptures. This would keep the horse in your home forever. It is not only a wonderful decoration but also a very collectible artwork.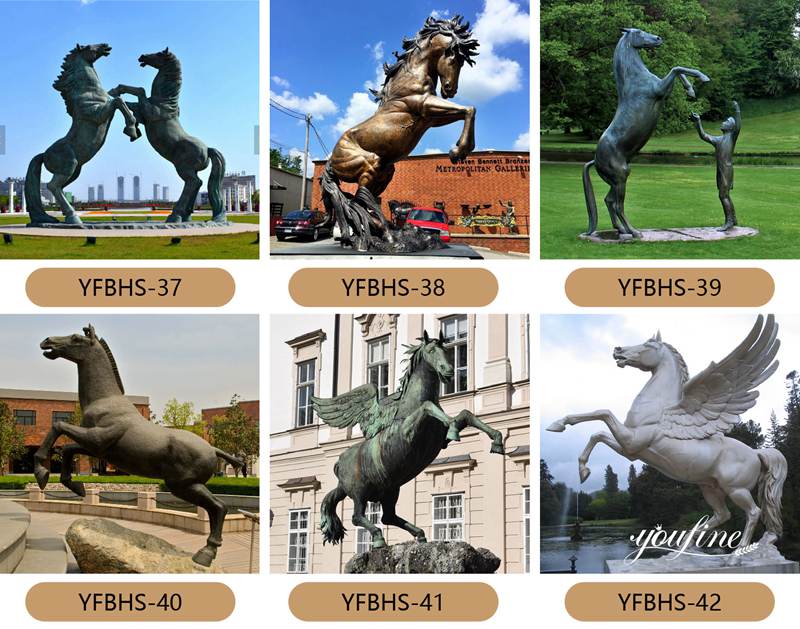 Metal crafts are items made of metal that could be used for home decor. These crafts were mainly used by rulers and nobles in the past to represent royalty and class. Today, however, you could find horse statues in many homes. Bronze horse sculptures make your house attractive and elegant. There are several advantages to having life-size metal horse sculptures in your home.
First, these items are unique and make your house unique. Also, you could ask the YouFine factory to customize the metal statues to suit your style and needs. Also, you need to make sure they match your style. Another benefit of a large outdoor horse statue is that it is flexible. You could use it for indoor and outdoor decoration. Also, if you need to add some artwork to your office, you could choose bronze horse statues in different shapes.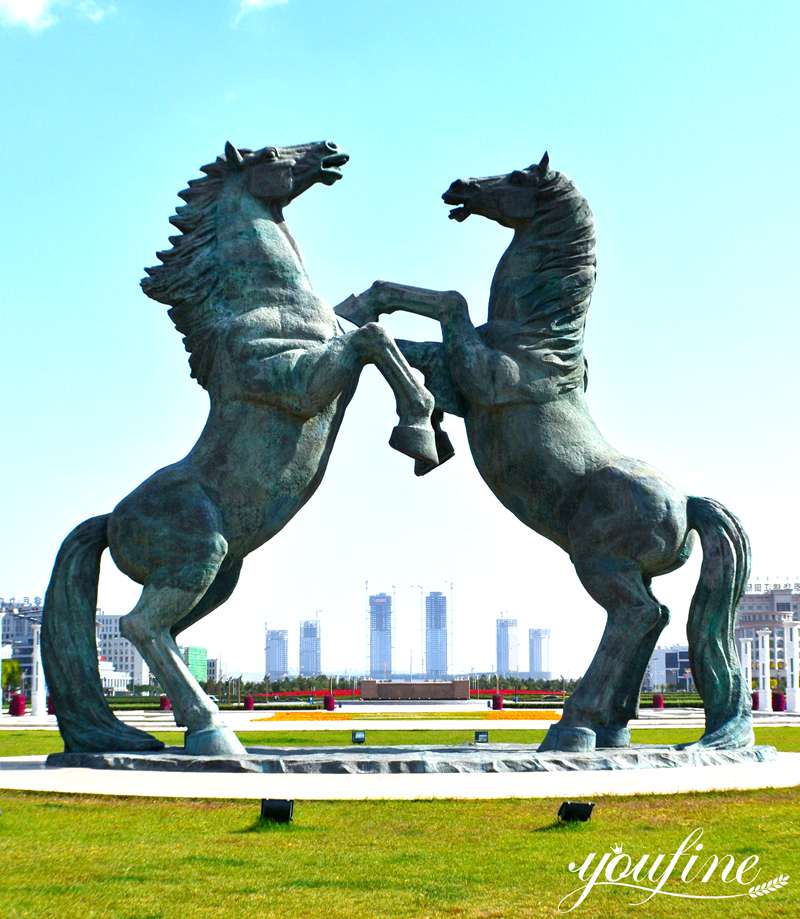 Provide Customized Services:
Bronze outdoor horse statues are popular in garden decoration. The mane on the head of this horse statue is so flowing and realistic. YouFine offers a wide variety of life-size bronze horse sculptures, both wild and domesticated. And we'll cast you large-scale bronze outdoor sculptures from the most famous gardens around the world.
We have selected over 100 bronze horse sculpture products. YouFine factory outdoor horse statues always have a style that suits you. Our bronze horse sculptures could be customized in size and color to your liking. If you have your own designs for horse pictures, 3D files, paintings, etc. We could make it for you. The YouFine factory bronze horse sculpture would be the centerpiece of the decorative venue.
Of course, if you need a wholesale horse garden statue, you could contact YouFine factory at any time. We could provide you with a large number of metal horse statues that suit your needs. Also, if you are a retailer, you could buy these outdoor bronze horse statues at wholesale prices at the YouFine factory. If you wish to cast yourself a one-of-a-kind bronze horse sculpture, we accept custom services. You would experience the charm of life from the unique horse sculpture art.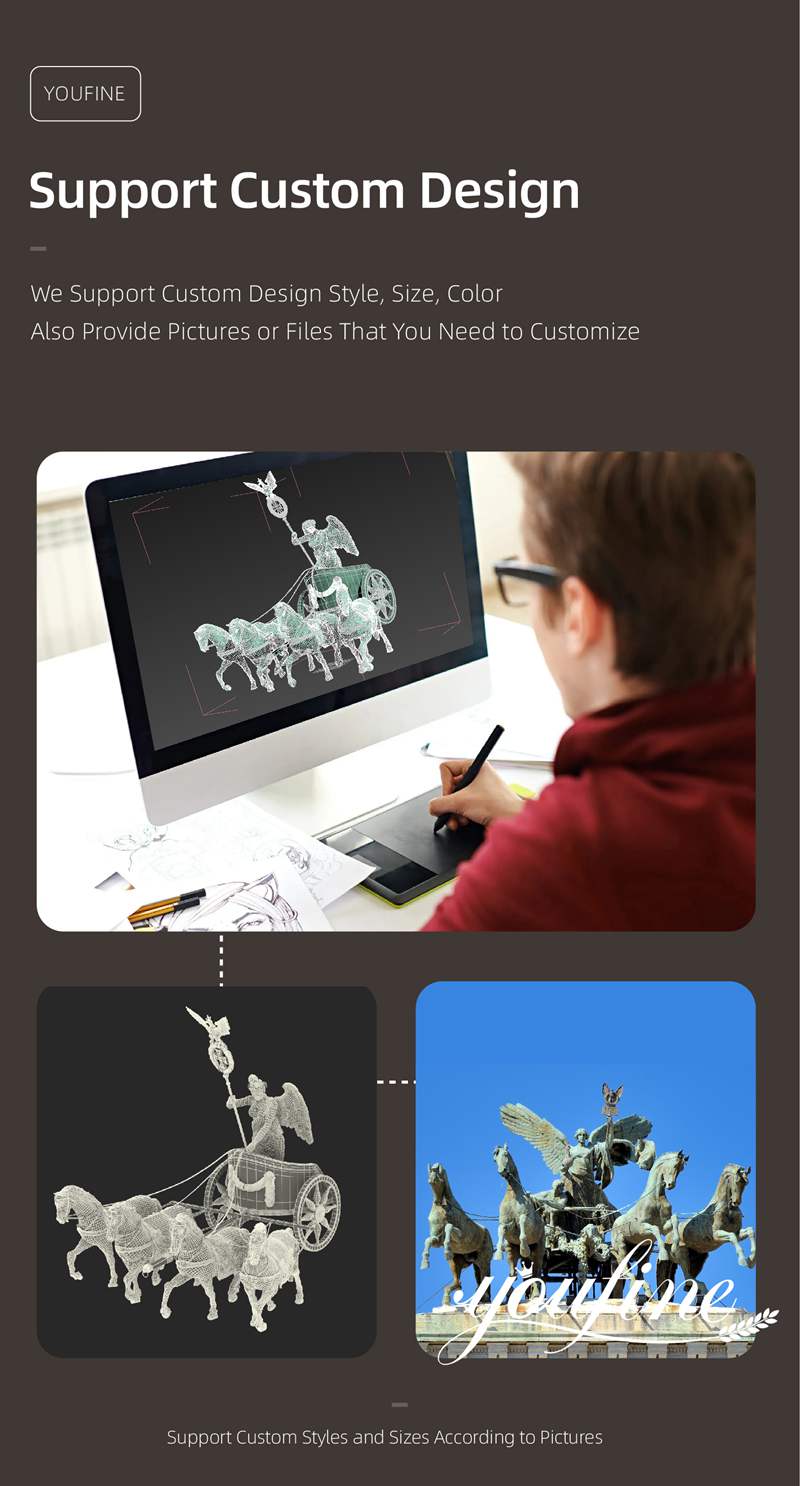 In squares, parks, and shopping malls, people like to decorate with horse sculptures. The image created by this retro horse sculpture is deeply loved by people with its galloping momentum. YouFine has more horse sculptures for you here. You could contact us immediately, and we would give you a price you could afford.