Our Giant Bronze Horse Statue stands as a majestic testament to the grace and grandeur of the equine form. At over 3 meters in height, this rearing horse sculpture captures the essence of strength and dynamism. Its impressive size commands attention, making it a focal point of admiration for all who encounter it. The distinctive feature of the horse's raised hooves adds an element of vitality and movement, lending a sense of energy frozen in time. Crafted with meticulous attention to detail, our artisans have brought forth the essence of this iconic pose, ensuring a captivating representation that resonates with equine enthusiasts and art aficionados alike.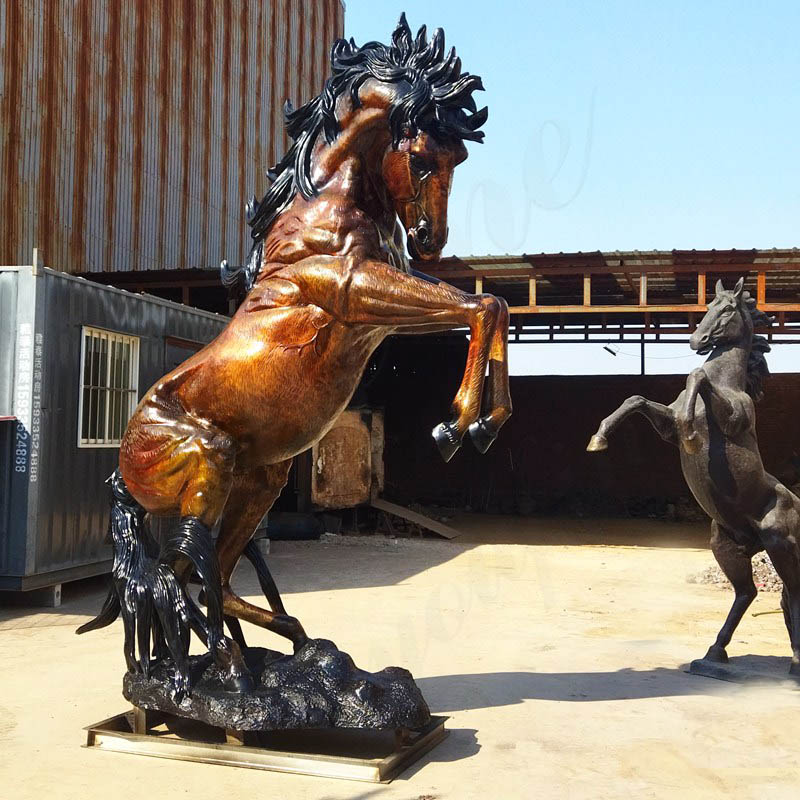 Large bronze horse statue display:
When we first saw this bronze horse statue, we were all captivated by its realistic colors and strong muscles. Unlike previous horse statues, this statue is so dazzling in size and design that it is impossible to take your eyes off it. It is a flamboyant presence, perfect as a city landmark statue to attract visitors.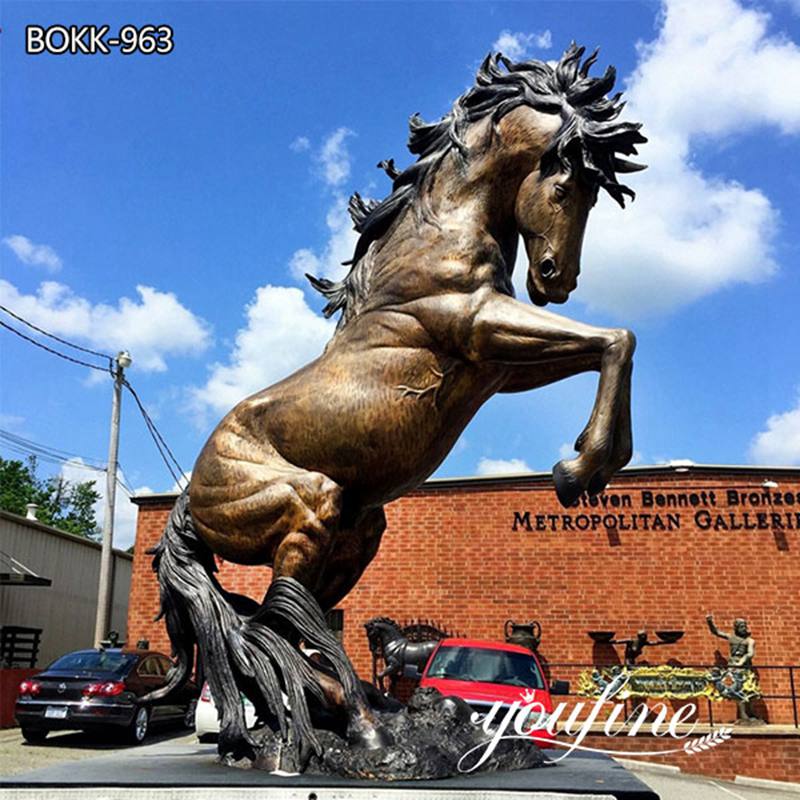 A Symphony of Artistry and Craftsmanship:
Behind the Giant Bronze Horse Statue's captivating appearance lies our dedication to casting excellence. Our team of skilled artisans meticulously employs the lost-wax casting method, a centuries-old technique that ensures unparalleled precision and detail. From the intricate muscle definition to the flowing mane, every aspect is meticulously brought to life in bronze. The use of high-quality materials and innovative casting techniques ensures that each sculpture retains its authenticity and durability, standing the test of time even in outdoor settings. Our commitment to delivering masterful artistry is evident in the lifelike expression and rich patina that adorn our Giant Bronze Horse Statue.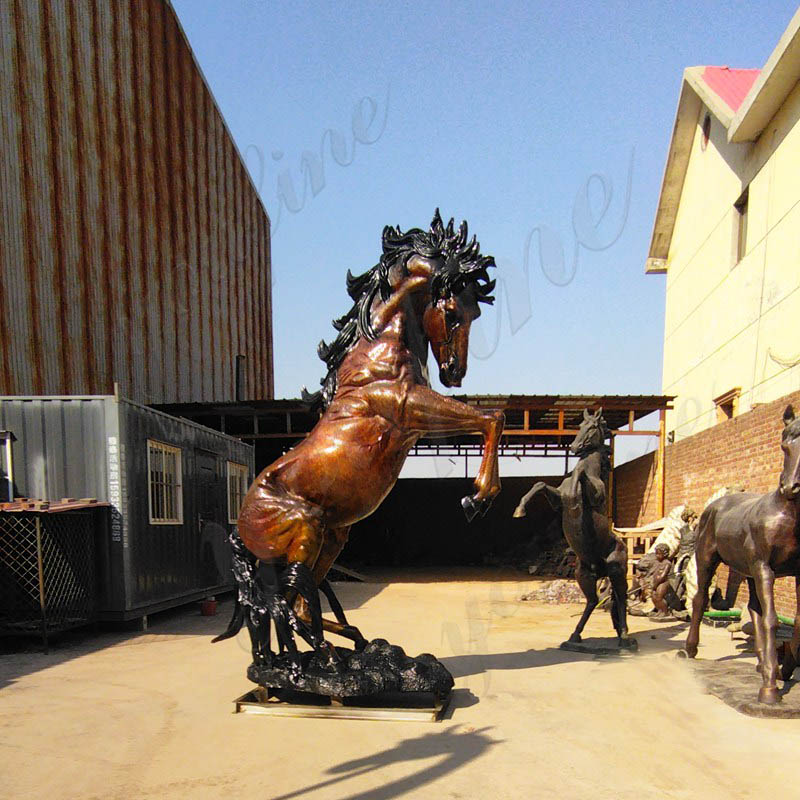 Advantages of Ready-Made Clay Models:
Our collection of Giant Bronze Horse Statue replicas is further elevated by our offering of ready-made clay models. With these meticulously crafted models at your disposal, you can explore the design, pose, and features of the statue before committing to casting in bronze. This advantage not only aids in visualizing the final product but also ensures that your creative direction aligns seamlessly with our artistry. By eliminating the need for custom clay modeling, we empower you to bring your vision to life with efficiency and precision, saving time, resources, and money.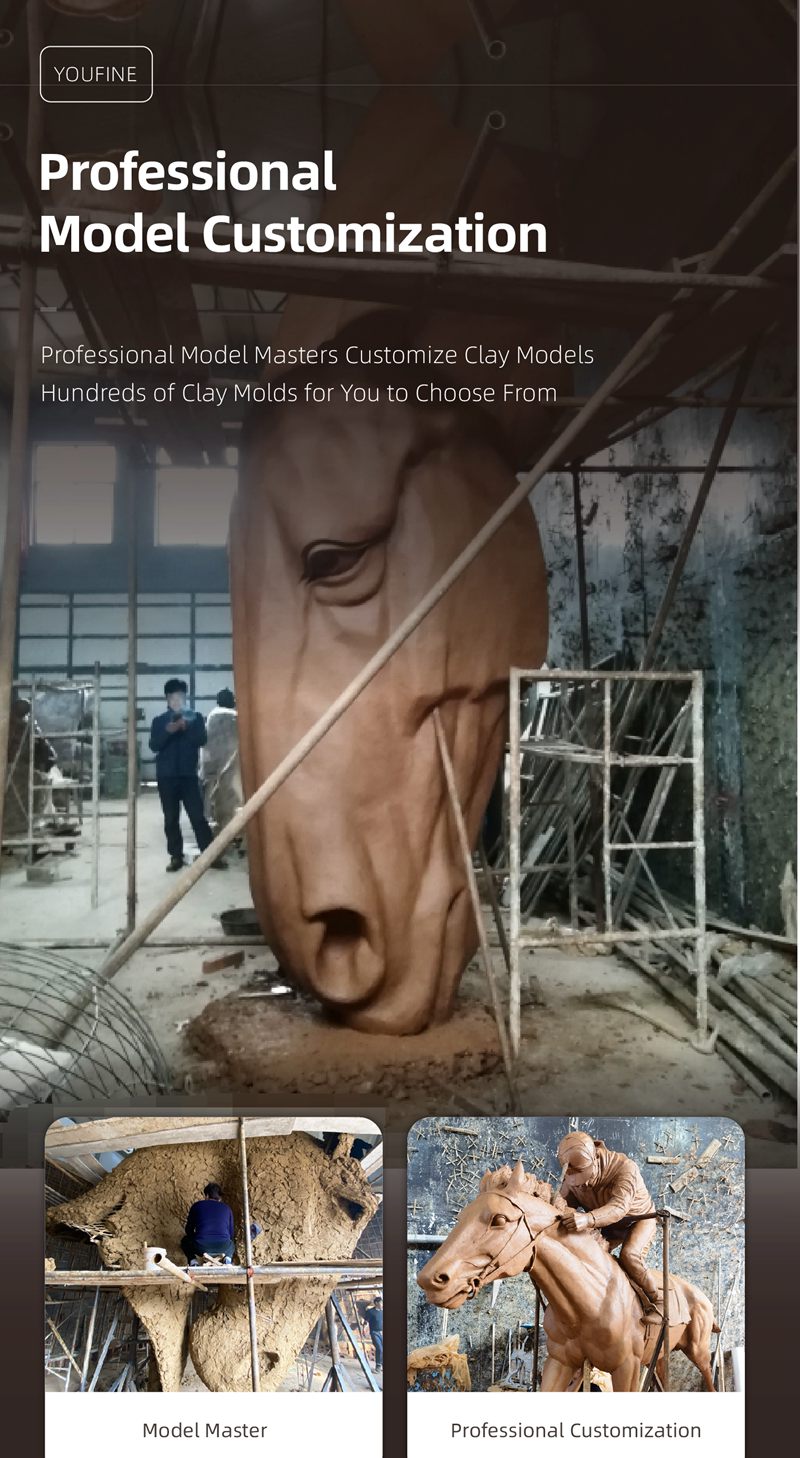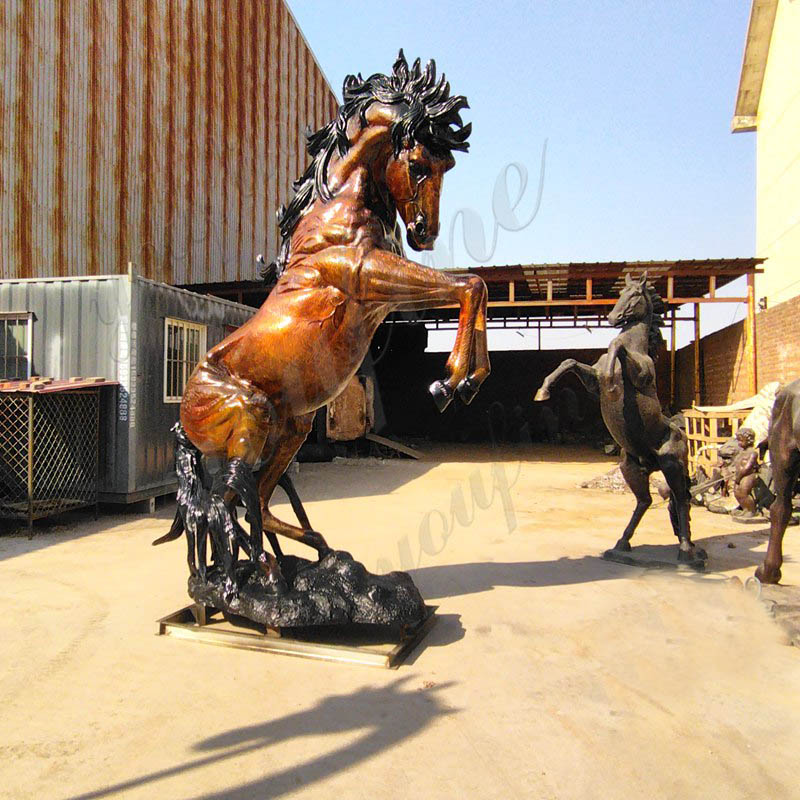 YouFine Bronze Statue:
The hardness of the bronze material we use. The bronze material we use is hard, corrosion-resistant, and long-lasting. It is easy to preserve and will not fall out of fashion over time. There are two common methods of making bronze statues, namely cast bronze statues and wrought bronze statues. Cast bronze statues have a strong artistic expression and their value increases as the raw material rises. You Fine has become very sophisticated in the development of the cast bronze process.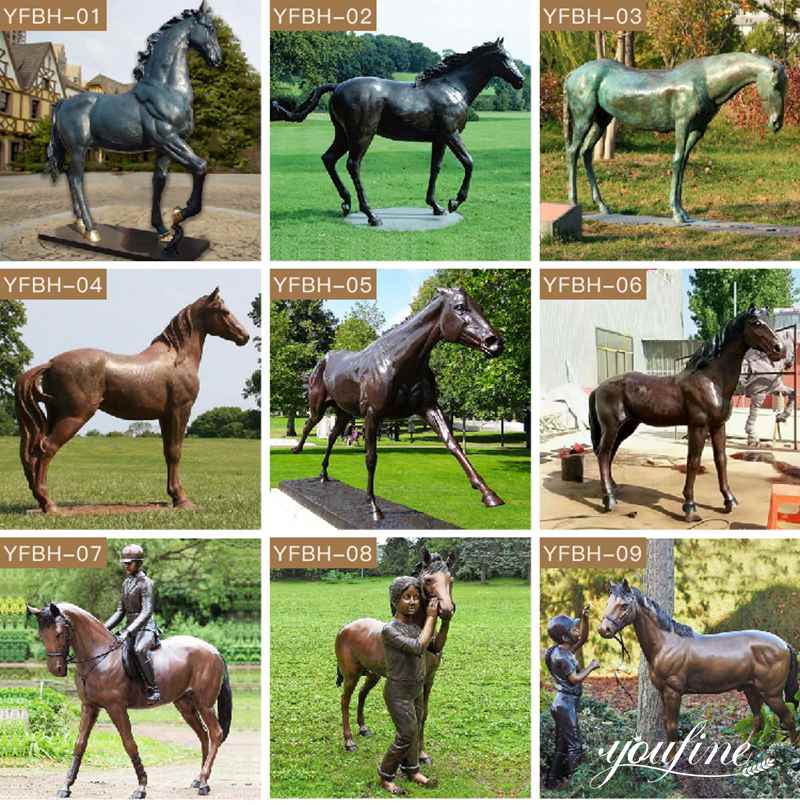 Bronze Horse Statue Casting Process:
For large bronze horse statues, a clay model is first made in a ratio of 1:1. Once the clay model is made, for complex shapes, we also embellish the model with silicone. During the casting process, we use the traditional lost wax method, a precision casting method used for metalwork such as bronze. In addition, our masters have over 30 years of experience in bronze statue making, so any complex design is not a problem for our masters. In order to keep up with society, we are constantly innovating and creating new ideas and techniques. We have created many beautiful statues that are loved by many customers both at home and abroad.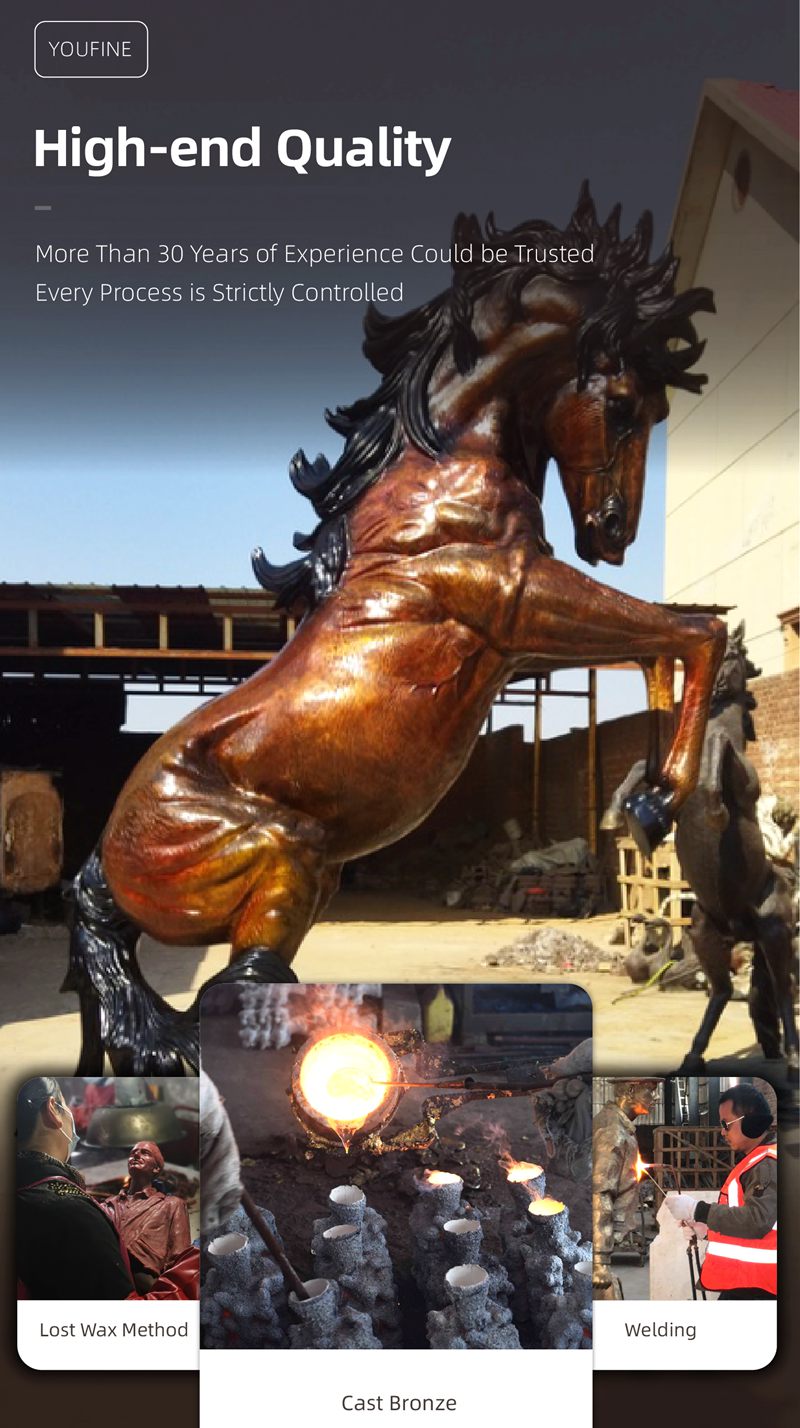 Strong and Safe Packaging:
Our packaging is also very sturdy. The wood is 3cm thick, which is twice as thick as normal packaging. For different items, we have different packaging solutions to protect exquisite items during transportation. For the transport of antique bronze animal statues we usually choose sea freight, but we can also use other methods of transport, and for the average statue we can deliver within 30 days.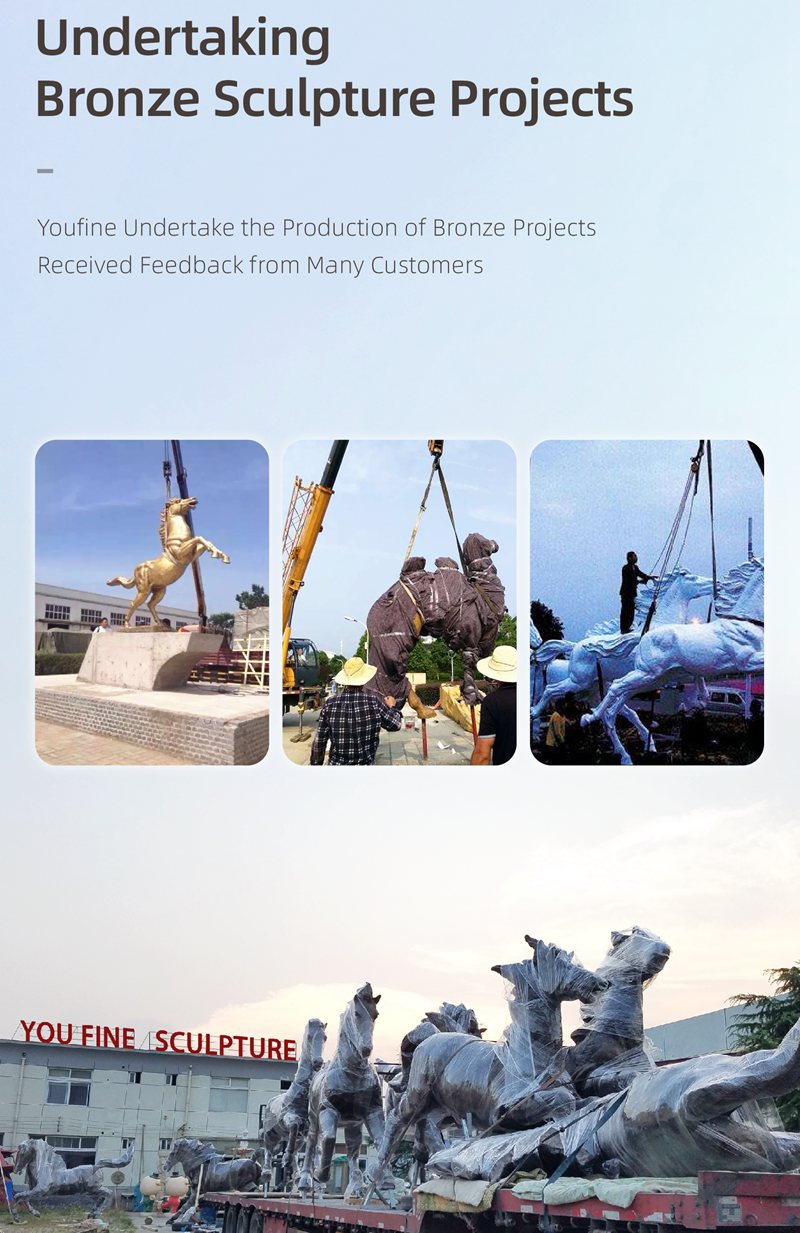 We also have many different designs of bronze horse statues. Just let us know your requirements and we will recommend the most suitable style and size for you.