Bronze Savannah's Bird Girl Statue Detail:
This famous bronze Savannah's Bird Girl statue is made of bronze material. The height of this life-size figure sculpture is 5 feet (approximately 152 cm). This sculpture depicts the image of a young girl wearing a simple long dress. And with a melancholy or contemplative expression. Her head was tilted towards her left shoulder. She stood upright, with her elbows resting on her waist, and holding two plates in her hands. These two bowls are often described as "bird feeders".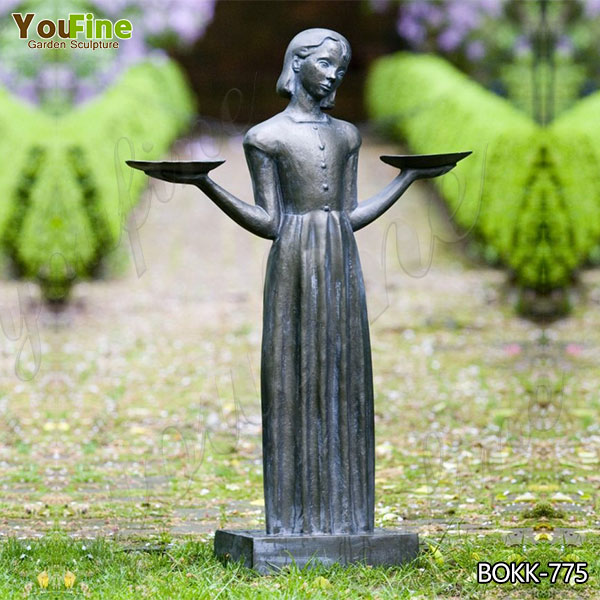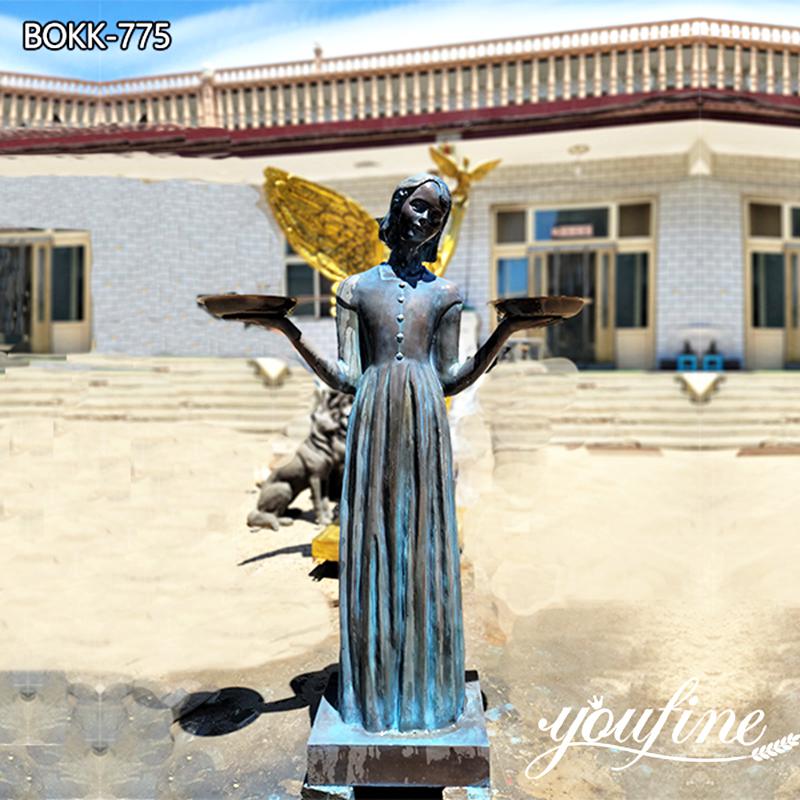 Why Is Bird Girl Statue So Popular?
This amazing bronze Savannah's Bird Girl statue was created by Sylvia Shaw Judson in 1936. And famous for John Berendt's best-selling non-fiction novel and movie "Midnight in the Garden of Good & Evil". After the publication of the book, the original statue was removed from the Bonaventure Cemetery in Savannah, Georgia. And now currently place in a museum in downtown Savannah. The bird girl has become one of the most recognized sculptures in the United States.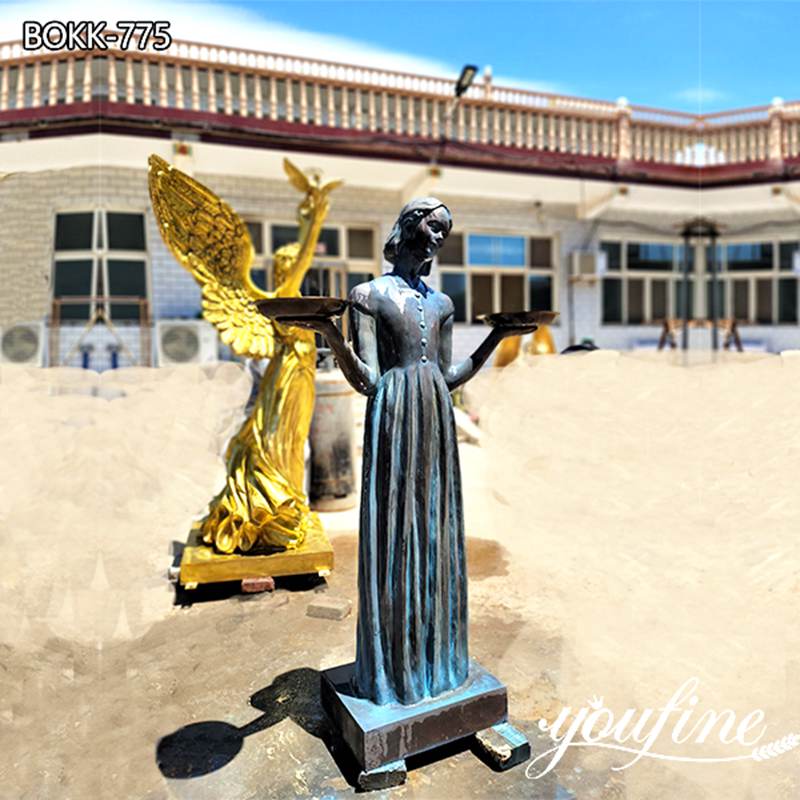 Midnight in the Garden of Good and Evil:
Sylvia Shaw Judson sculpted the Savannah Bird Lady in 1936 for a garden in Massachusetts. The sculpture appears at Bonaventure Cemetery in Savannah, Georgia. At first, it was a relatively unknown work of art. Then in 1994, a photo of the Bird Lady statue appeared in John Berendt's bestselling novel Midnight in the Garden of Good and Evil. Since then, the bird girl sculpture has gained a great reputation.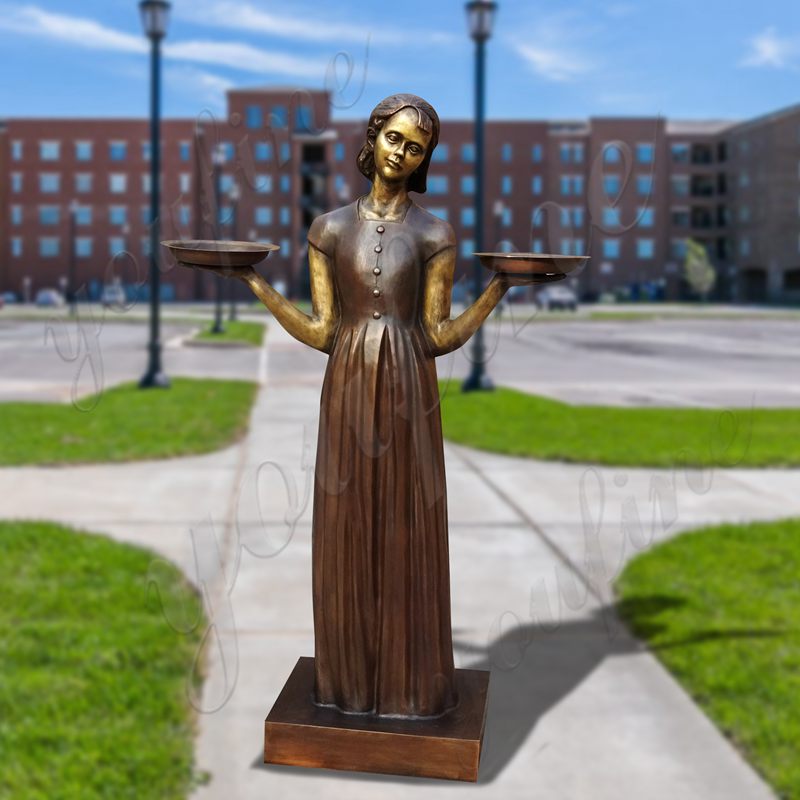 Photo by respected Savannah photographer Jack Leigh. This photo shows the statue against a backdrop of trees covered in Spanish moss. And the sculptures and trees set the perfect atmosphere for the story. In fact, the girl holding the bowl conveys a measure of good and evil.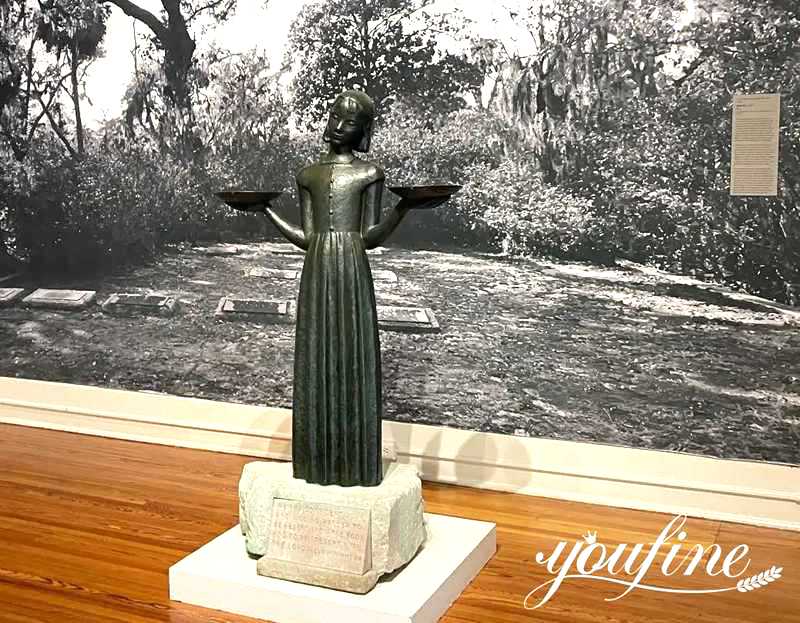 Although it remains questionable whether this was the intention of the original sculpture. Also, due to the popularity of the novel, people removed the Bird Woman statue in the Wende Cemetery. So we could viewed the girl statue at the Telfair Museum of Art in Savannah.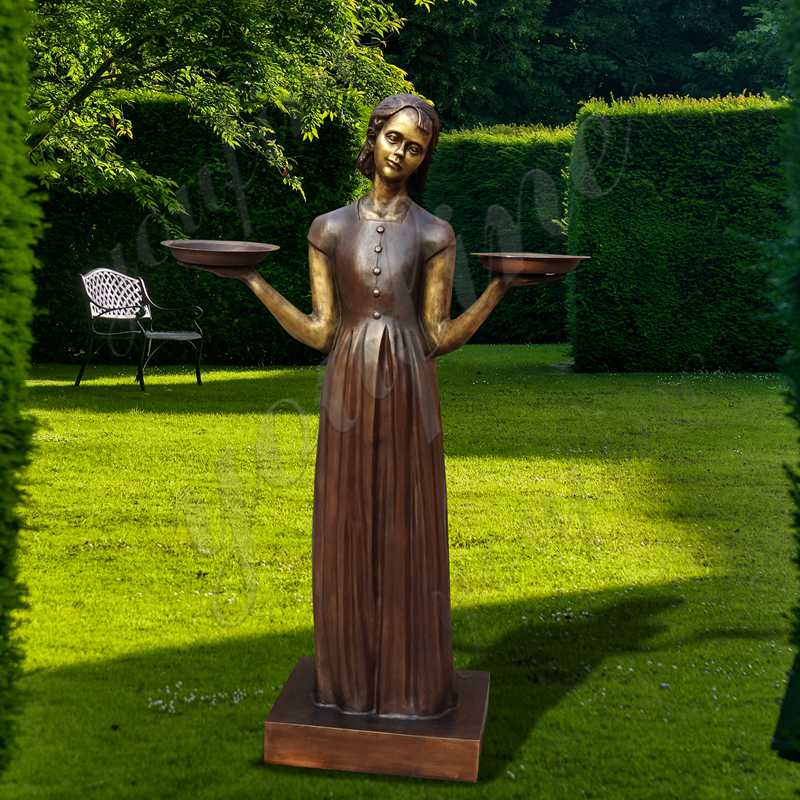 Bonaventure Garden Cemetery:
Bird Girl would forever be associated with Bonaventure because of Midnight. As a cemetery sculpture, the bird girl tilts her head in the dim light. We couldn't see her expression clearly, she seemed to be thinking. The surrounding environment adds a strong color to her. An inscription below the sculpture reads: "I say we have faith and would rather leave our bodies and be with the Lord."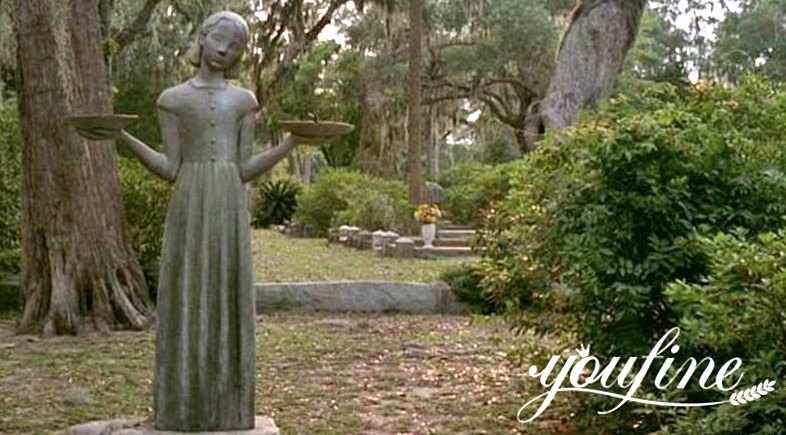 Bonaventure was a garden graveyard, while Bird Girl was originally designed as a garden sculpture. In 1846, Peter Wiltberger purchased Bonaventure, which had been established as a plantation in the 1760s.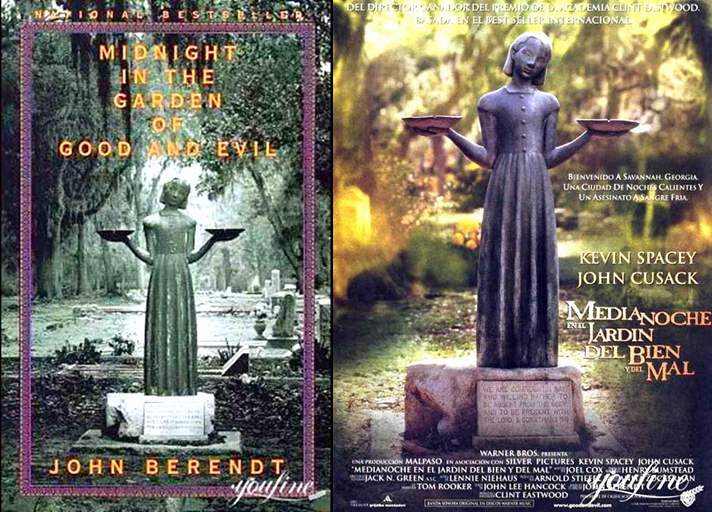 In order to develop into a public cemetery at the time of the rise of the country or garden cemetery movement in the United States. With its beautiful setting overlooking the Wilmington River and Oak Avenue, Bonaventure represents a new type of cemetery that could also be used as a public park.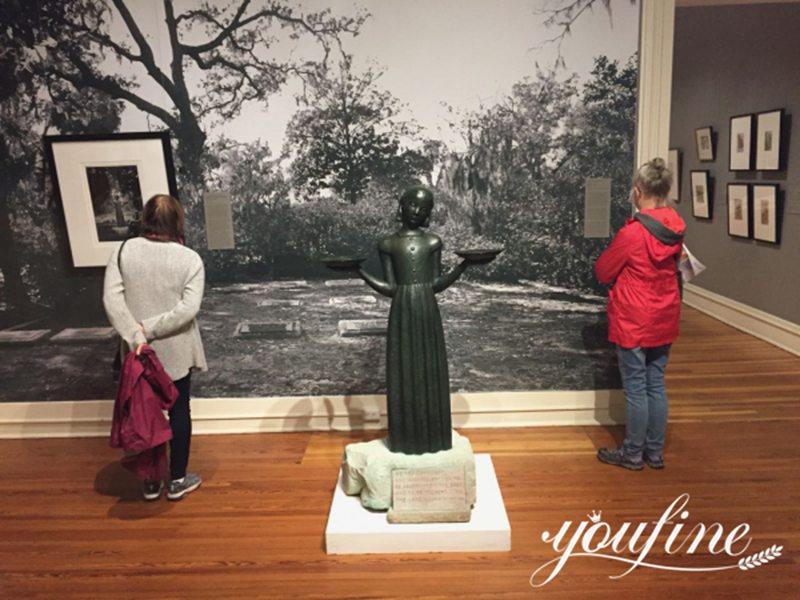 Sculptures Could be Placed in Numerous Locations:
The bird girl statue replica is very good at blending in with the environment as if she were a part of it.m In sculpture production, we use the lost wax method for casting. YouFine expresses every action detail of the bird girl statue replica incisively and vividly.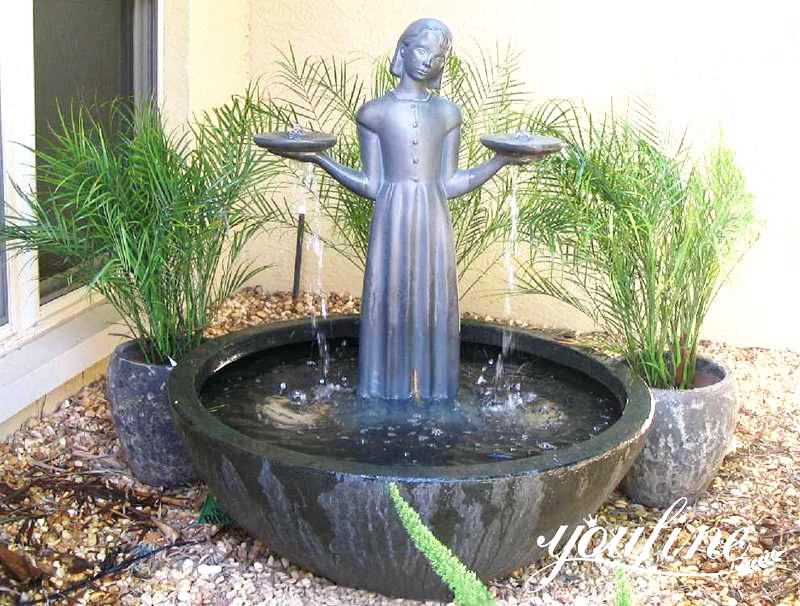 The Bird Girl statue is not only suitable for garden decoration but also for home and office decoration. Its unique design and artistic style make it a versatile piece of art that can be placed in various settings. Whether you want to add a touch of elegance to your living room or create a peaceful atmosphere in your office, the Bird Girl statue is a perfect choice. With its timeless beauty and high-quality craftsmanship, this statue is sure to become a centerpiece of any space it is placed in.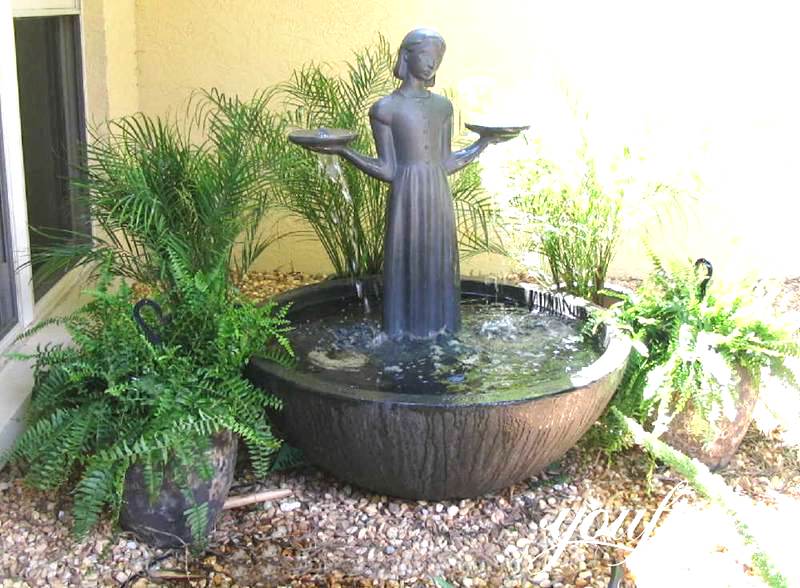 Our artists could highly restore the image and artistic features of the sculptures. Therefore, our sculptures allow you to enjoy the artistic color of sculptures up close. We support sculpture customization and would tailor your work to your environment.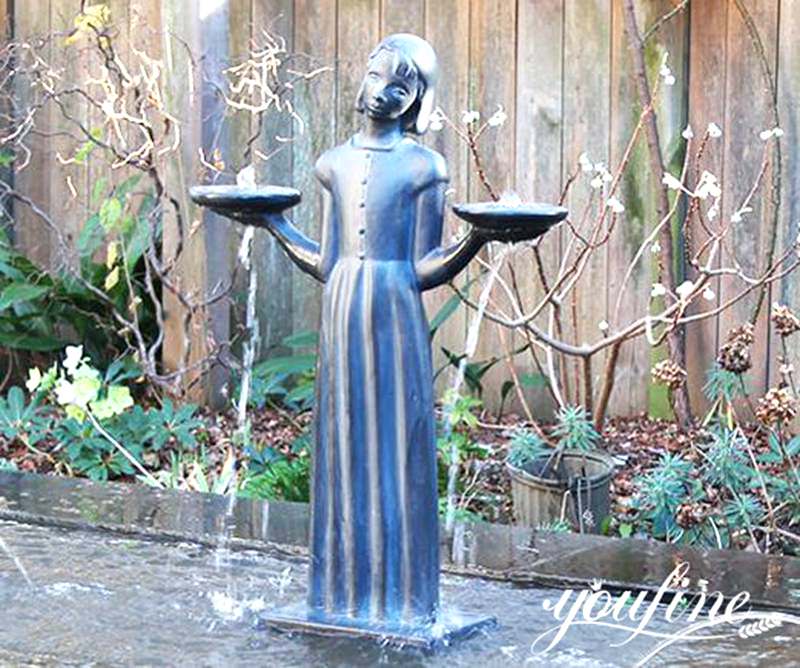 Many people like to collect famous statues in the world, and the bronze bird woman statue would be a good choice. It is very popular in America. And many people like to buy it as a garden decoration. There is no doubt that we could make a perfect replica of the bird girl statue for sale.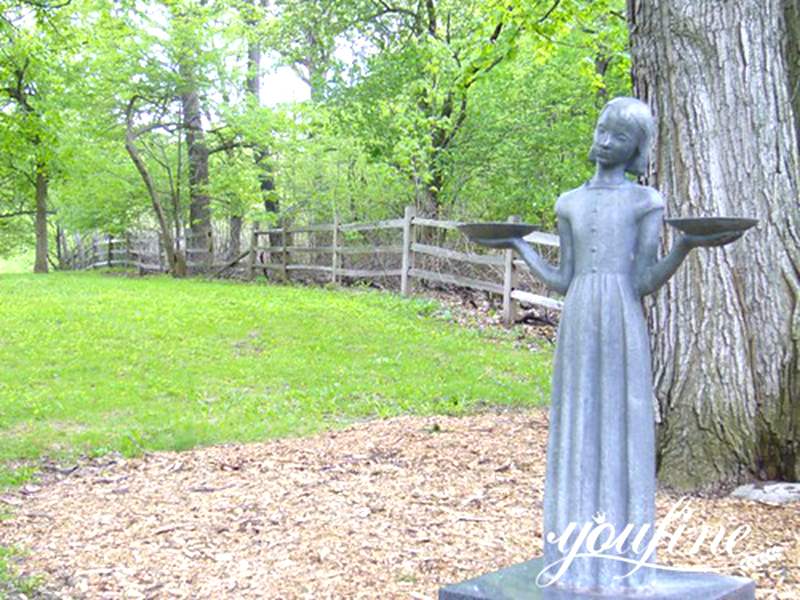 YouFine Technique: Lost Wax Method
We would use the traditional lost wax method to make this famous Savannah Bird Girl statue. We have very professional carving masters, and their carving techniques are very professional. And they engaged in the production of bronze sculptures all year round. Therefore, all the details of the sculpture could process very well and realistically. In addition, our coloring is also very natural and long-lasting, it could place outdoors for many years without fading.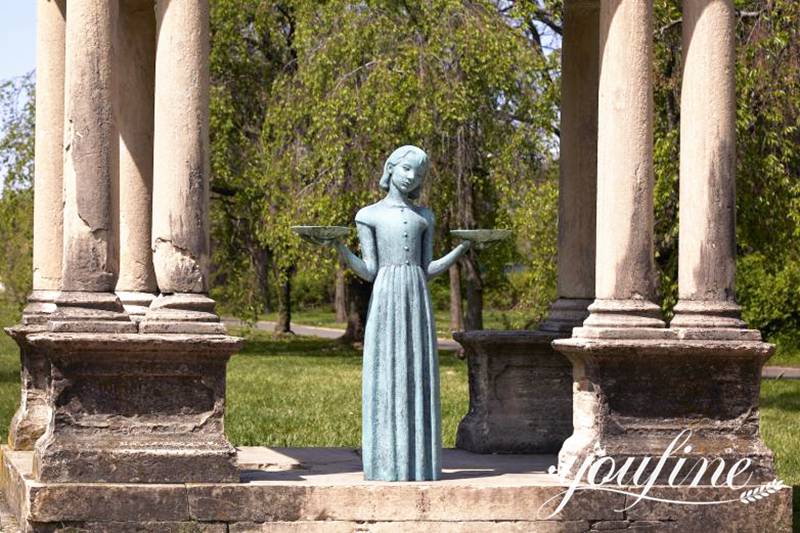 ur team of experienced artisans pays close attention to every detail, from the facial features to the folds in the dress, to ensure that each statue is accurate and precise. We also use modern techniques and traditional methods, such as 3D scanning and clay model, to create molds that ensure the utmost precision in the casting process. With our commitment to quality and attention to detail, you could be sure that the Bird Girl statue replica you receive would be of the highest quality and accuracy.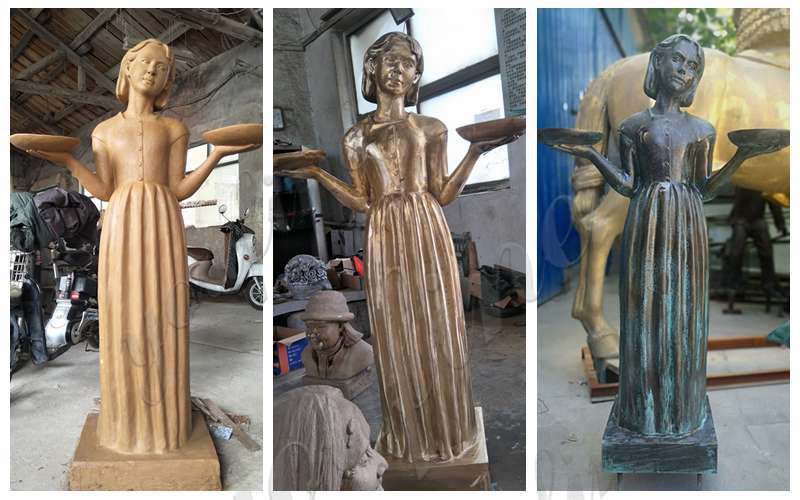 More Design of Bronze Statues:
As a professional bronze famous sculpture casting factory, You Fine Bronze Factory has more than 37 years of experience. More than that, our sculptures are exported all over the world. Therefore, we could make a series of bronze figure sculptures, various bronze animal sculptures, and bronze military sculptures. As well as bronze fountains, bronze religious sculptures, and so on. At the same time, our factory has more than 3000 clay models that could provide to you for free.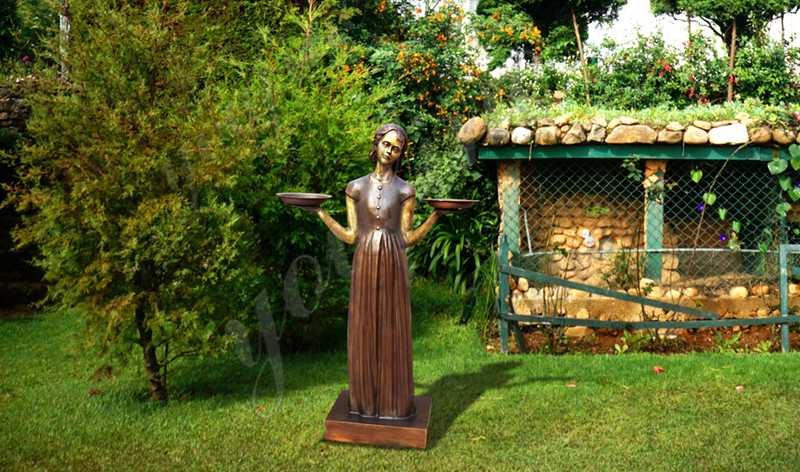 We also offer customized services to create a unique sculpture tailored to your needs. Our team of skilled artisans can work with you to design and create a one-of-a-kind Bird Girl statue. Additionally, we provide fast and secure shipping to ensure your sculpture arrives at its destination in perfect condition. Contact us today to learn more about our customization options and shipping services.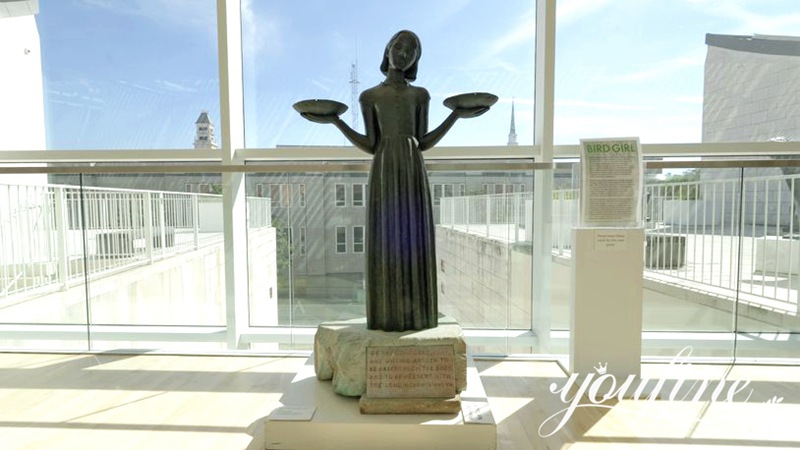 Production Process of Bird Girl Statue Replica:
The Bird Girl statue is crafted using high-quality bronze material, which ensures its durability and longevity. Bronze is known for its ability to withstand the elements and resist corrosion, making it an ideal material for outdoor sculptures. Additionally, the use of bronze allows for intricate and detailed designs to be accurately captured in the final product. This means that the Bird Girl statue will maintain its beauty and quality for years to come, making it a wise investment for those who appreciate fine art. At our factory, we take great care in selecting the best materials for our bronze garden of good and evil statues and ensure that every piece is crafted with precision and attention to detail.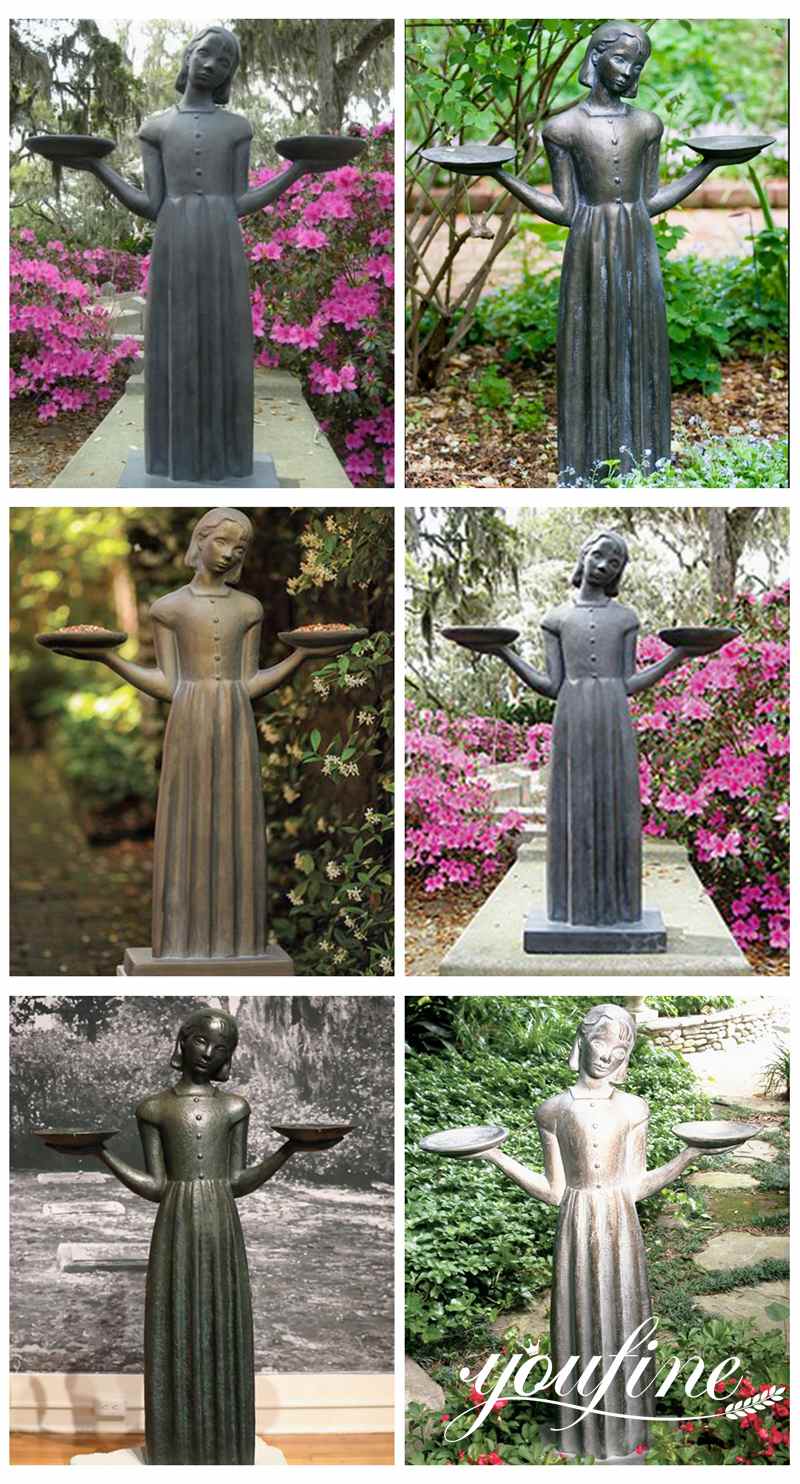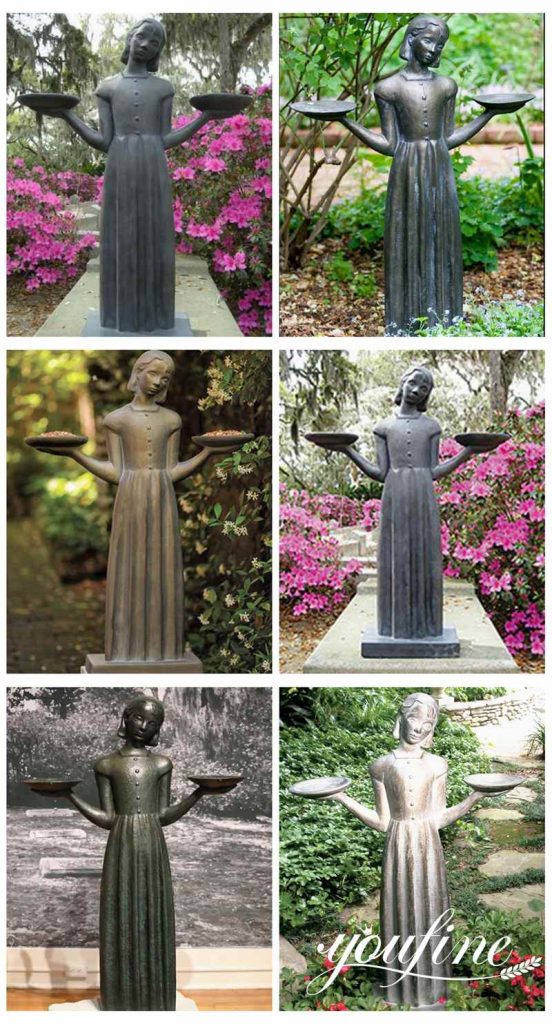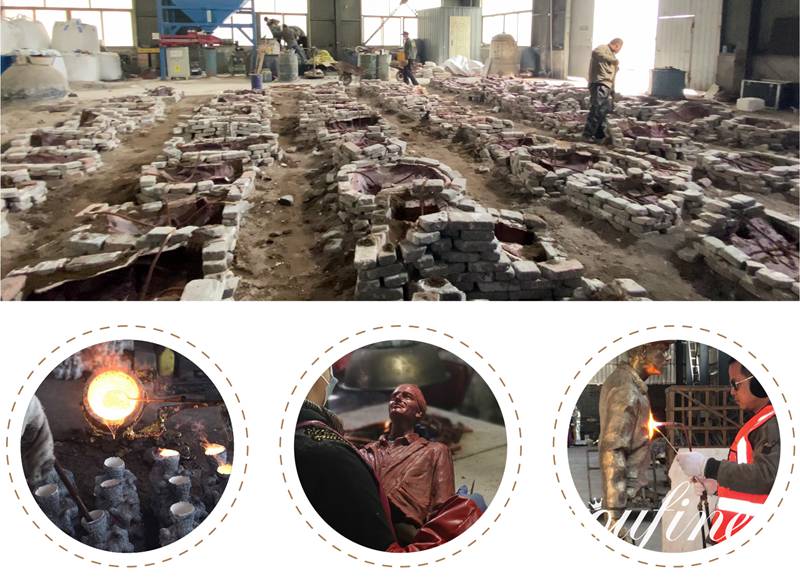 Production Process of Bird Girl Statue Replica
Confirming the details of drawing/ 3D mold/ Pictures with clients.
Making clay mold according to drawing/ client's photos/ 3D mold.
Lost-Wax casting bronze statues.
Welding and Polishing.
Patina the statue, take all different views pictures/ videos, show to clients.
Packing into wooden crates after clients are satisfied with sculptures.
Customers Good Feedback:
We are delighted to share the feedback from our valued customers who have experienced the Bronze Savannah's Bird Girl Statue Replica. Their satisfaction and appreciation reaffirm our commitment to delivering exceptional artistry and craftsmanship.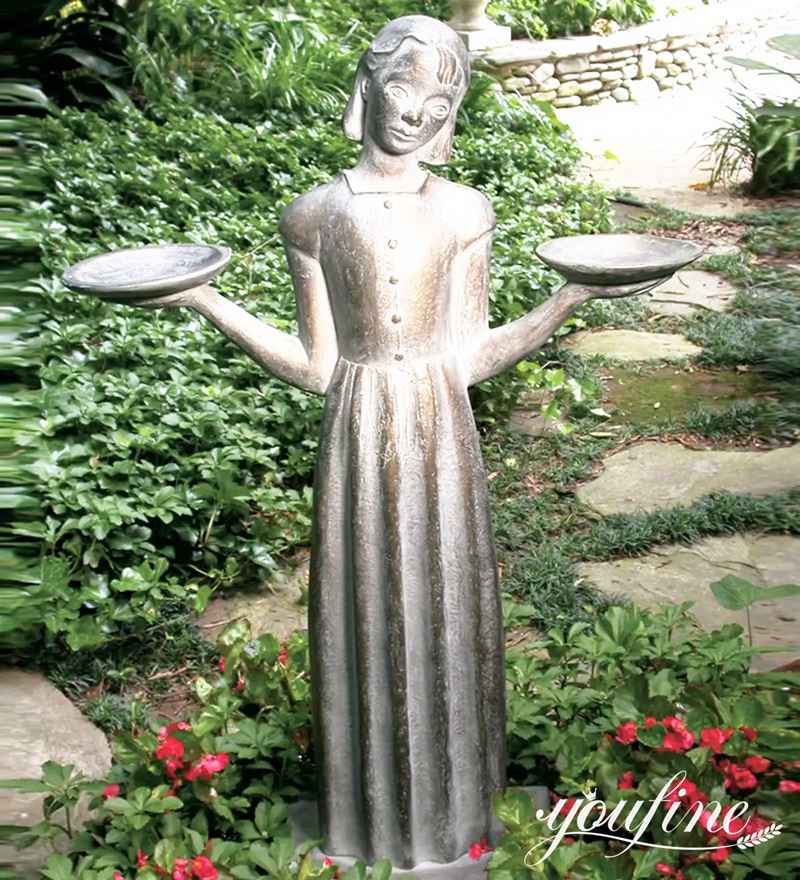 One customer remarked, "The Bronze Savannah's Bird Girl Statue Replica exceeded my expectations in every way. The attention to detail and the quality of the craftsmanship truly captured the essence of the original statue. It has become a cherished centerpiece in my garden, eliciting admiration from all who see it."
Another customer shared, "I had been searching for an exquisite replica of the iconic Bird Girl statue, and I was thrilled to find it at your gallery. The lifelike texture and impeccable patina of the bronze sculpture are a testament to the dedication of your artisans. It's as if the spirit of the original artwork has been beautifully preserved in this replica."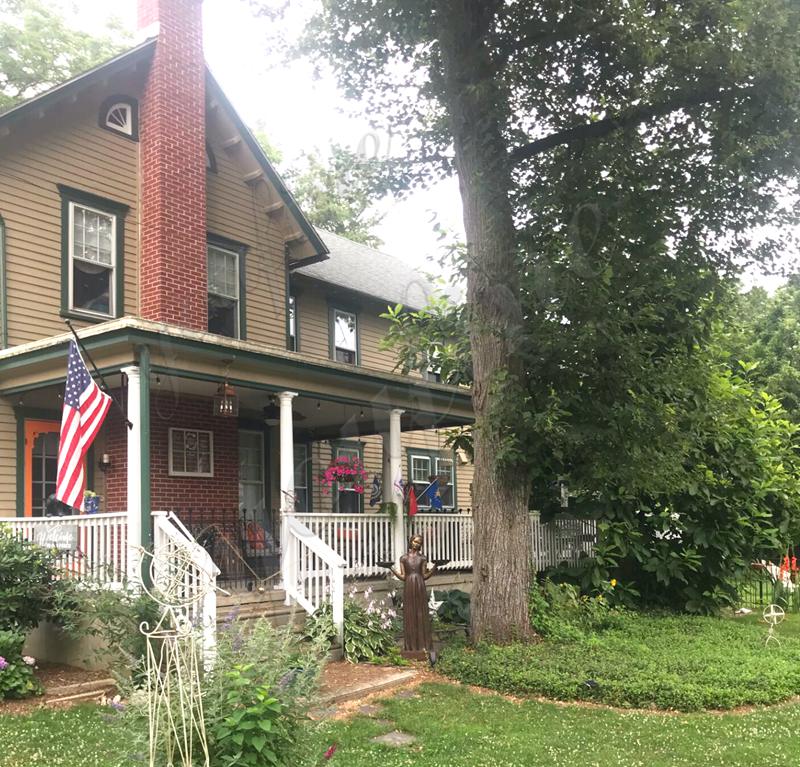 We take immense pride in knowing that our Bronze Savannah's Bird Girl Statue Replica has brought joy, beauty, and a touch of history into the lives of our customers. These testimonials inspire us to continue our pursuit of excellence in creating art that resonates deeply with individuals and collectors alike. If you like this famous antique bronze Bird Girl statue, please feel free to contact our staff. We will always be at your service. At the same time, we would definitely provide you with the most favorable factory price.