1.Introduction of this bronze doe and little deer sculpture:
This is a group of very warm and beautiful bronze doe and little deer sculptures, consisting of a life size doe and a little deer sculpture, and this deer suckles under the doe. Both the doe and this little deer suckling under the doe's body are very vividly hand made by our professional masters. And the surface of the bronze sculpture is very well handled by our professional craftsmen.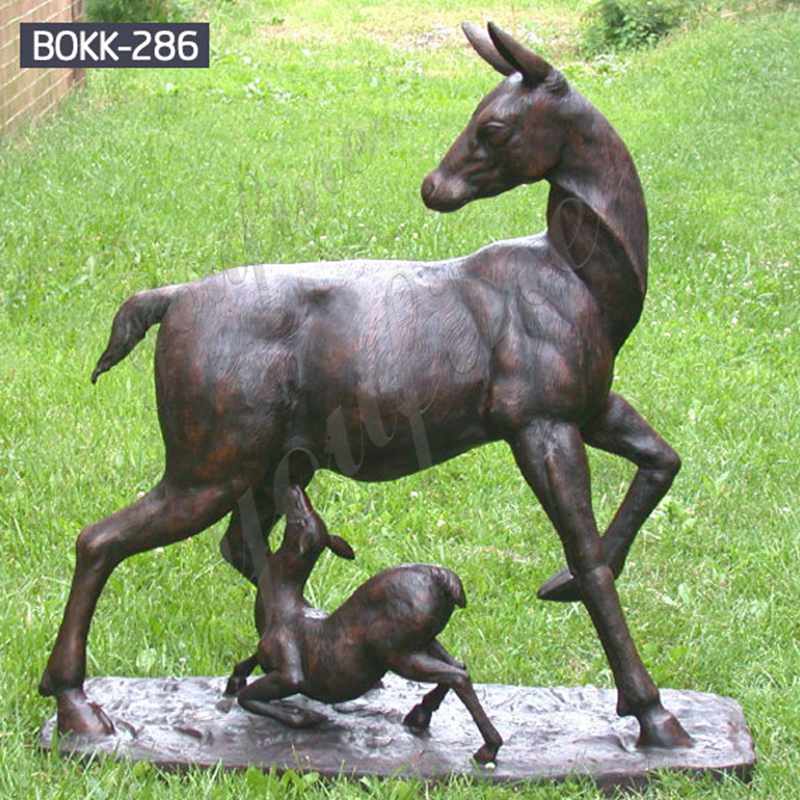 2.Why people like bronze deer statues?
Deer are native animals on all continents except Australia and Antarctica. And many species have been widely introduced outside their original habitat as prey. Reindeer (also known as caribou) is one of them, has been domesticated. Some marsh and island species are endangered, but under conservation and good management, most continental species are booming.
When protected, deer can easily take advantage of human disturbances caused by agriculture, forestry and urbanization. White-tailed deer are usually a rare game animal in North America. And have even become pests in the suburbs and cities of the United States and Canada.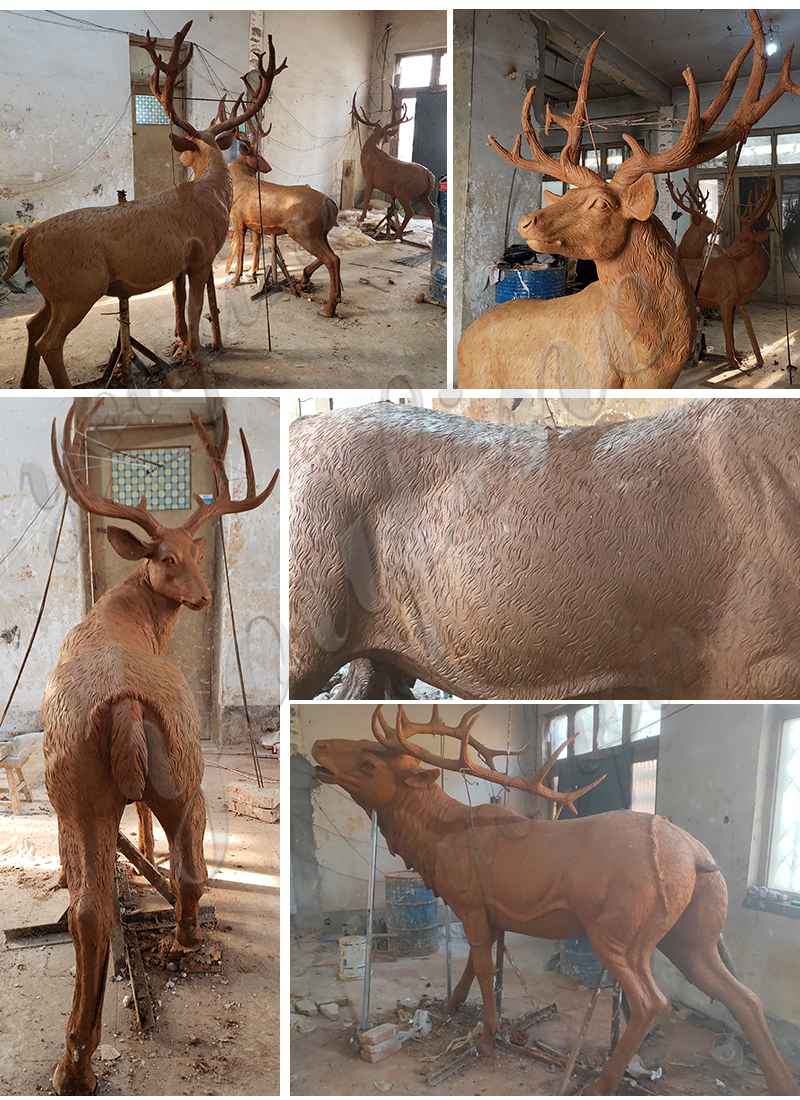 3.What we could make about the deer statues?
Firstly, You Fine bronze foundry has many professional artists who could make life size bronze deer sculptures of different styles. And I believe that you could find a style you like.
Secondly, All of our bronze animal statues use the highest quality bronze materials, including 80% bronze and 20% other metal materials. While utilizing proprietary casting technology "lost wax process".
Then, Our clay masters learn to make animal clay molds from a young age. As well sd they learn the carving skills from their parents. So they could make any animal a vivid life.
In addition, our bronze sculpture craftsmen have many years of experience in carving. They often engage in the carving of various animals and could grasp the details of each sculpture.
Finally, During the production process, we would also modify the wax pattern according to the design to avoid throwing away some details in the model during the production process.
4. More designs of brozne deer statues:
Our bronze doe and deer sculptures could be used both indoors or outdoors, such as outdoor gardens, parks and squares etc. The quality of our sculptures is impeccable and could use outdoors for many years. And over time, the colors of our bronze sculptures would become more and more natural. At the same time, we also have a series of bronze deer sculptures to choose from.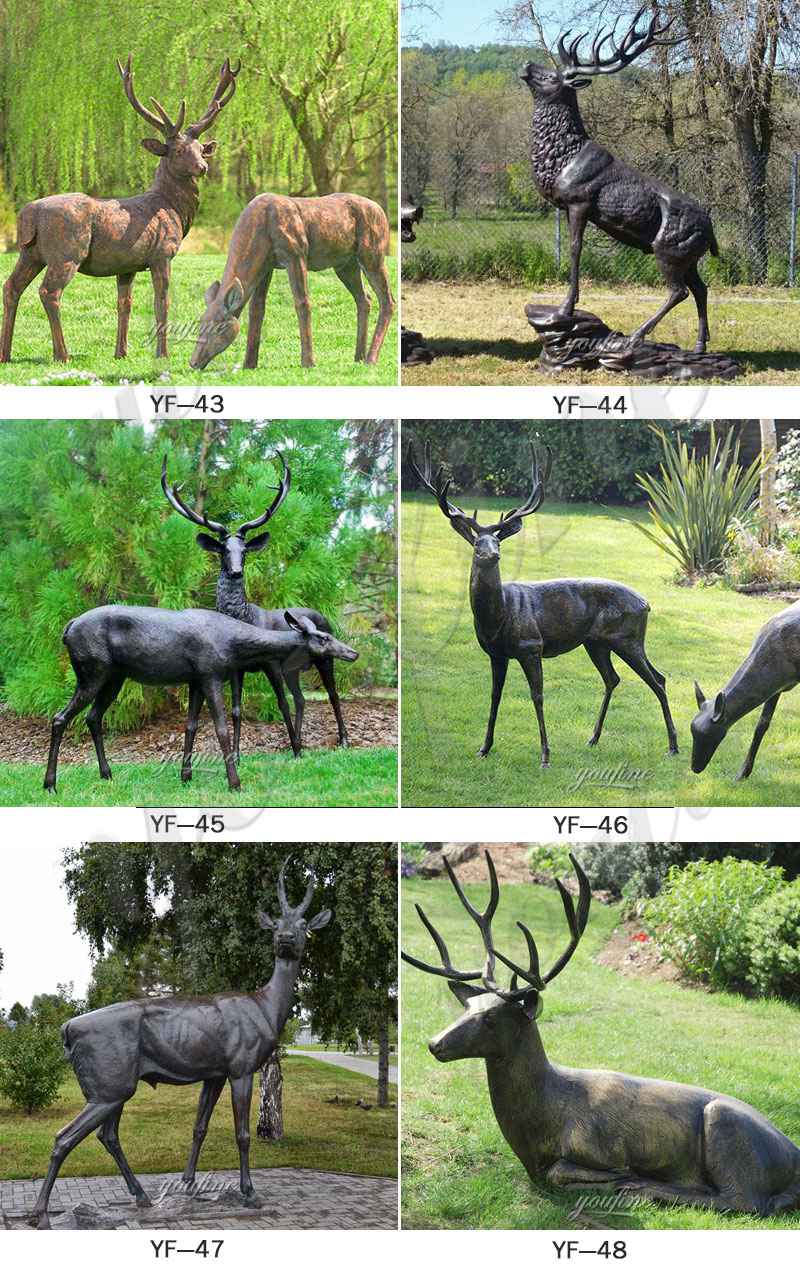 We could also customize the bronze deer sculptures you want according to your requirements. Regardless of the size or design. If you like our bronze doe and little deer sculpture or need customization any other sculpture products. Please feel free to contact us as soon as possible.