Dog Bronze Statue Description:
We could clearly see that this is a life-size dog bronze statue. And he was lying on the grass as if waiting for his master to return home. All this seems to show a familiar scene. In our house, a dog sits on the ground, raises its flexible head, and looks up into the distance. Maybe he is waiting for the little master to return from school, maybe he finds something novel. When we fixed our eyes, this statue exudes the charm and dexterity of a dog.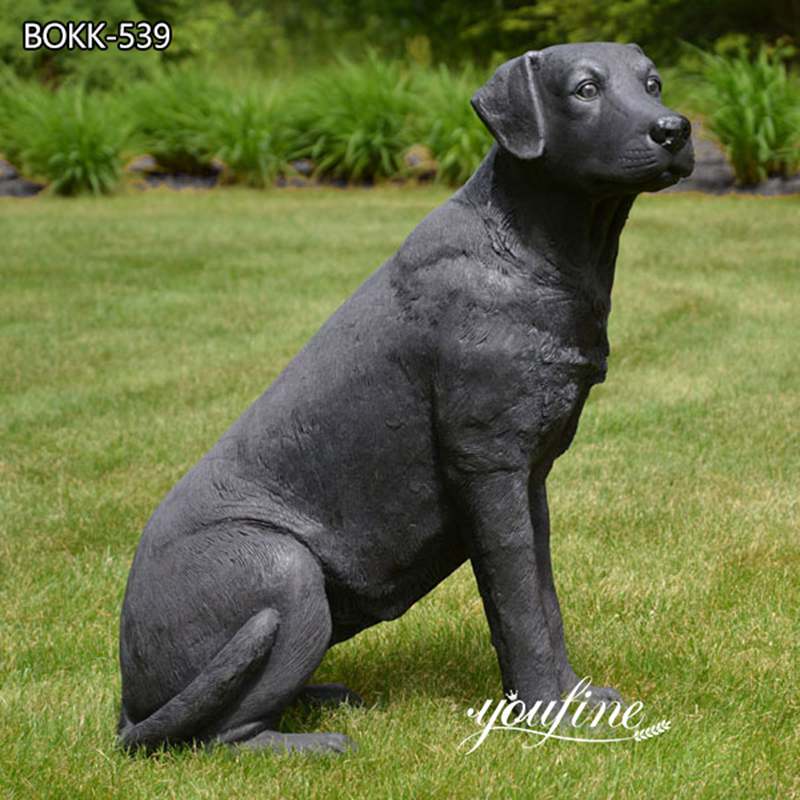 Many People Like Bronze Dog Statue:
Since ancient times, dogs have been known as man's best friends. Sometimes dogs accompany us from the time we are born until we get married and have children. We hope that the friendship with the dog would last forever. I still remember when I was a child when my family went to the zoo when I saw the life-size animal sculptures on both sides of the gate. I tend to be very excited, just like seeing a real animal. Therefore, YouFine's durable dog bronze statue is the best form of continuing friendship.
Moreover, a dog symbolizes loyalty and has a rich auspicious meaning. Of course, it is also a symbol of friendship, and the beauty of friendship lies in loyalty. The bronze dog sculpture could not only play a decorative role but also has a symbol of wealth and luck. Therefore, it is very auspicious to put your customized bronze dog statue at home. At the same time, it would also bring you good luck and accompany you by your side.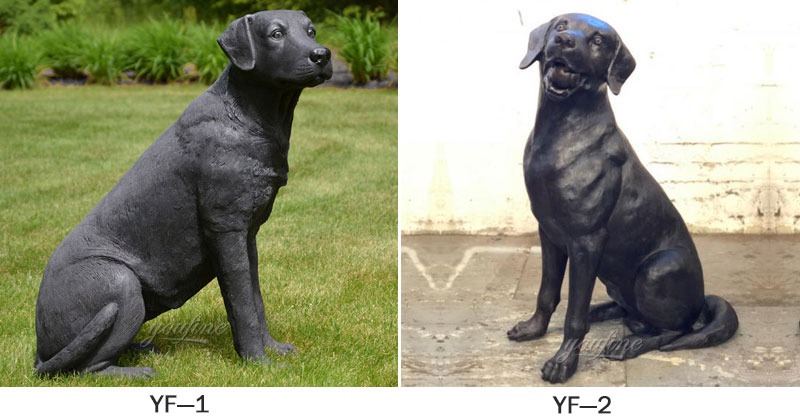 YouFine Accepts Customization:
If you have a dog photo, YouFine could customize your dog bronze statue according to your photo. If you want to customize a statue with your pet dog, but you don't have a good photo of you and your dog together. Don't worry, YouFine provides comprehensive services, we have excellent designers, and we could draw a picture for you and your dog. And YouFine highly skilled artists would restore your looks and actions in a 1:1 ratio.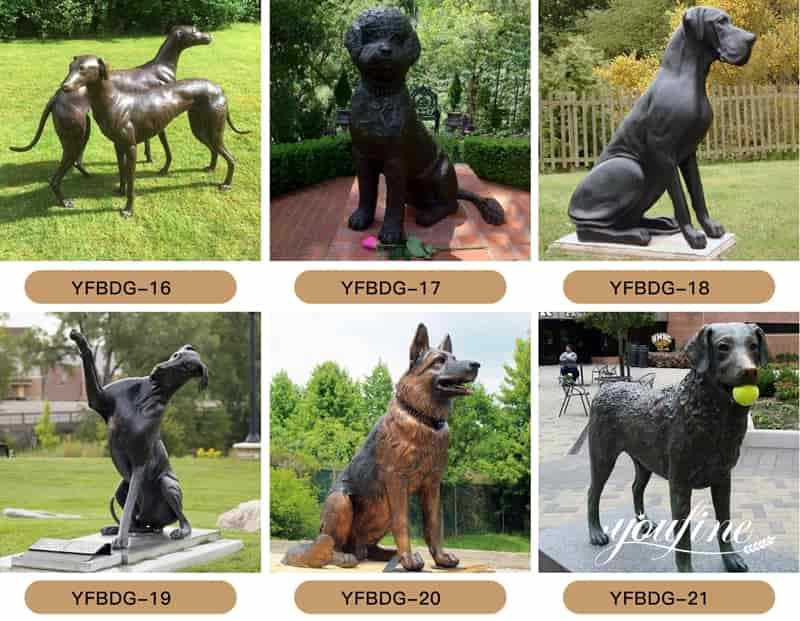 More Choices of Bronze Animals:
YouFine is a professional manufacturer of cast bronze animal statues. We have complete, large-scale, and advanced casting production equipment. And YouFine factory has many experienced senior casting technicians. YouFine could cast various animal bronze statues, such as bronze lions, bronze unicorns, bronze bulls, bronze horses, bronze deer, bronze elephants, etc. There is no doubt that YouFine could also provide customized pictures of animal statues. YouFine dog bronze statue is exquisitely crafted and vivid. And our bronze material is strong and the quality is guaranteed.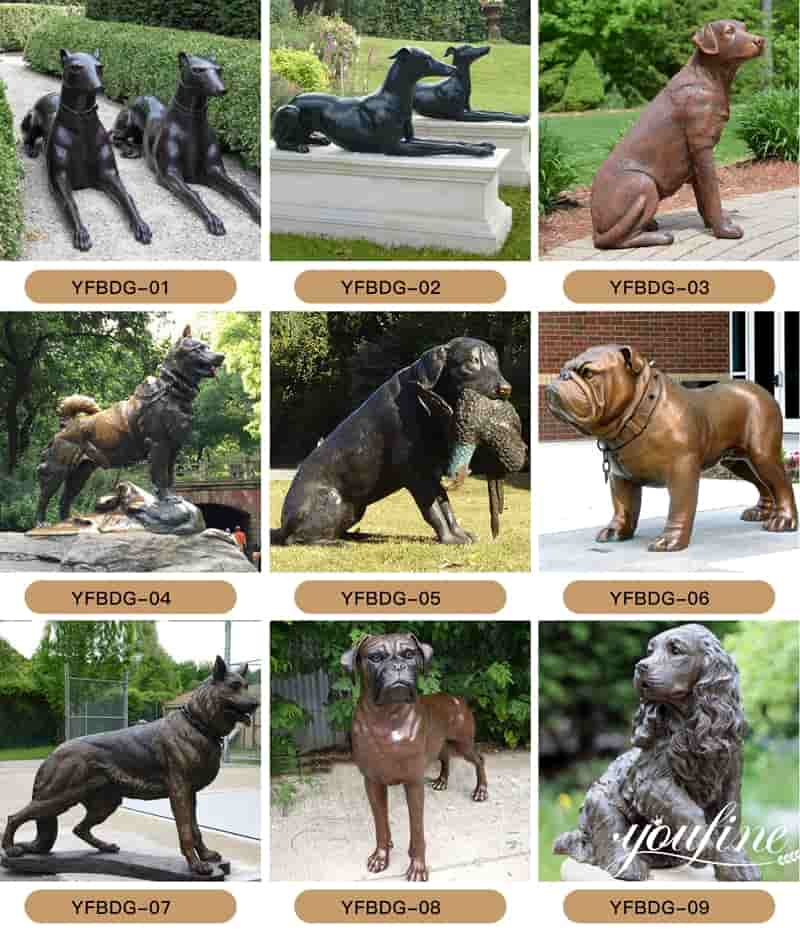 Placement of the Bronze Dog Statue:
We have many different types of life-size bronze dog statues. And these sculptures are very popular in many scenes. This dog bronze statue could make your garden more interesting and could permanently preserve your beautiful friendship.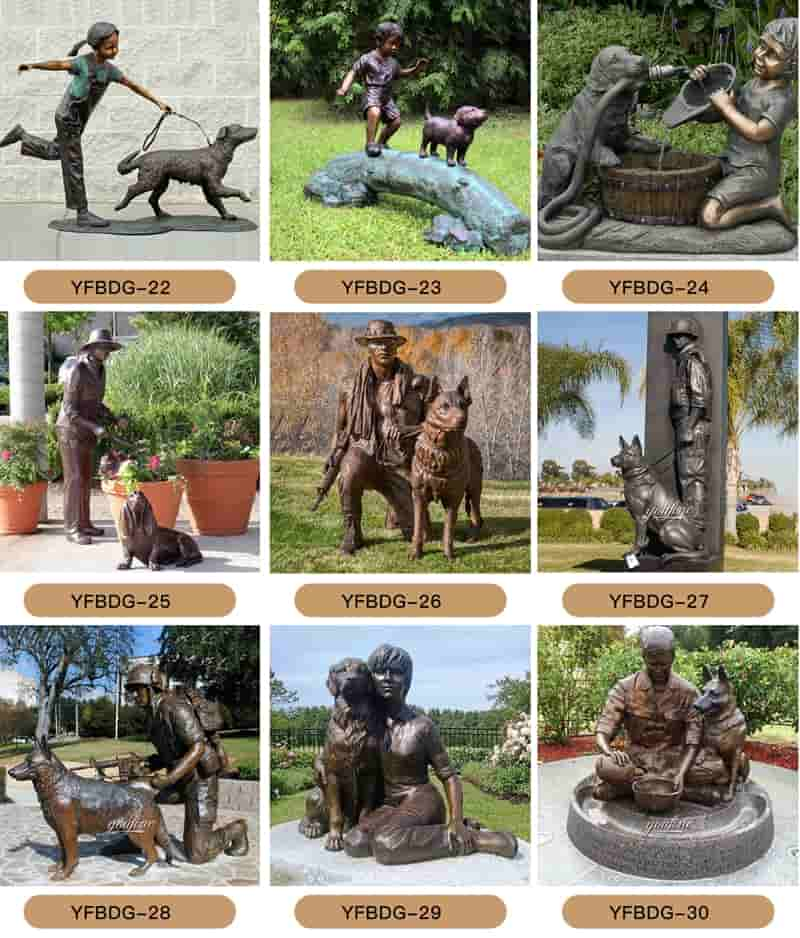 Of course, many customers would choose to decorate the door with a dog statue to guard the door. Some people like to put bronze dog sculptures in the living room and bedroom. Therefore, if you need a bronze sculpture, please contact YouFine immediately, we would be your best choice.