Bulldog Statue Details:
This brightly colored bronze garden bulldog statue would add more fun to your Christmas. Also, you could clearly see how funny the bulldog looks. Especially his stance makes us feel that the bulldog is the best choice for park decoration. In addition, next to the bulldog is a gift from Santa Claus. So is this bronze animal sculpture art more worth buying?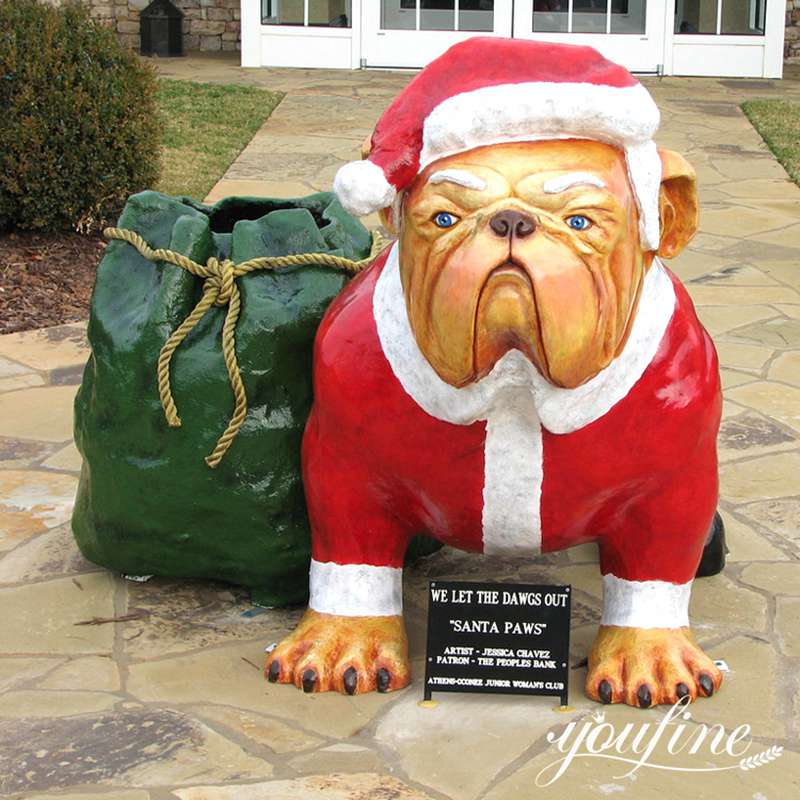 Chemical Coloring Method:
The designers at YouFine Factory use chemical coloring method. This method ensures that the color of the bronze dog sculpture becomes more natural. YouFine artists in particular are very good at color grading. The artists then made the dog sculptures in a variety of colors in typical chemical combinations. In addition, our own artists would also satisfy your desired colors. No doubt your bronze dog sculpture would be more beautiful and colorful.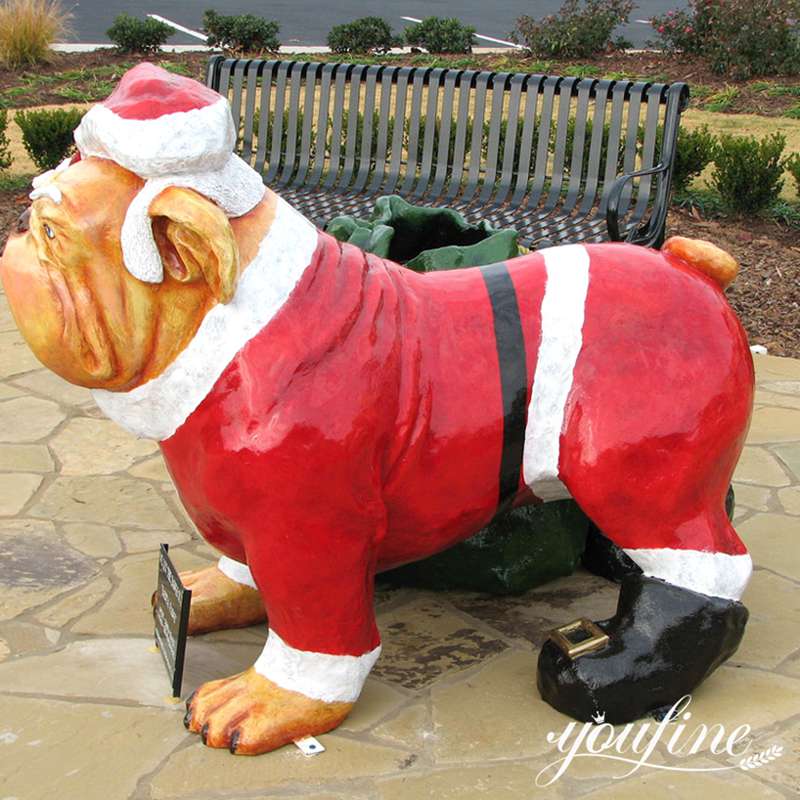 Origin of the Bulldog:
Bulldogs originated from the ancient Morossos. And, according to legend, in the 13th century AD, the cruel activity of fighting bulls and bulldogs was quite popular in Britain at that time. And, until the bulldog bites to the point where the bull is wounded, bleeding, and dying. This game is just over. Therefore, a dog breed with short legs and ferocious and powerful jaws was specially bred from the mastiffs. Now, in the U.S. military, they are regarded as special dogs for searching and transmitting military intelligence.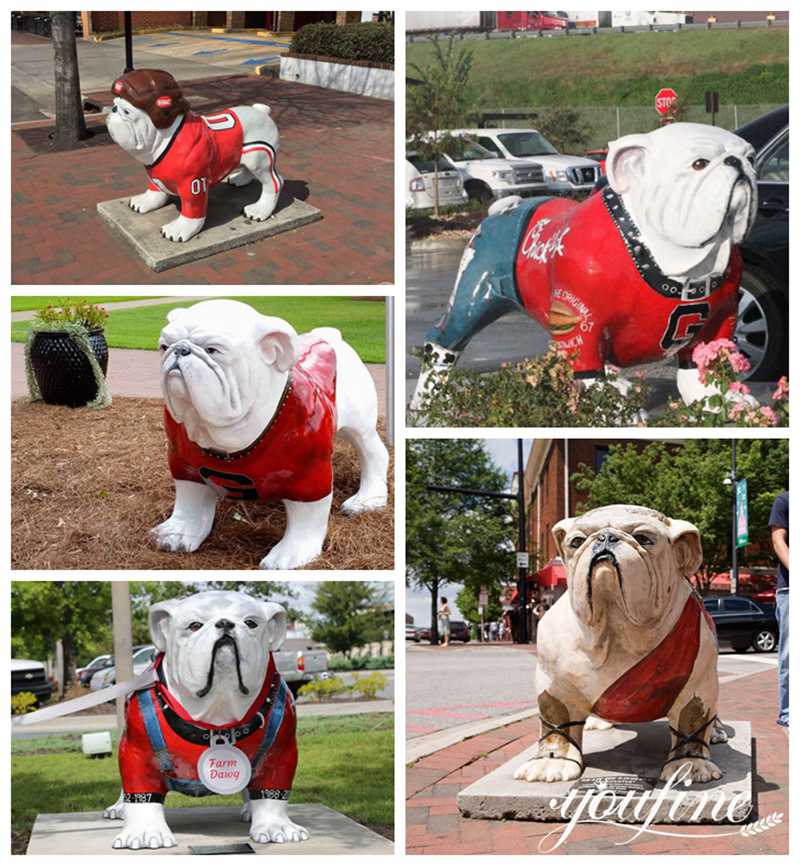 Santa Paws Story:
Cute puppies and festive vibes are the perfect combinations. Christmas is coming again, and Santa Claus, who lives at the North Pole, would go to New York again. He would send Christmas packages to the children. This year, however, was a little unusual, as Santa Claus found the Christmas spirit in New York dwindling. He decided to go down to the ground with his faithful dog Paws. Unfortunately, Santa was hit by a taxi on the street. The crystal pendant that Santa uses to stay alive is stolen along with the money. Also, when Santa woke up, he lost his memory. Since then, Santa Paws has started a journey to rescue Santa Claus.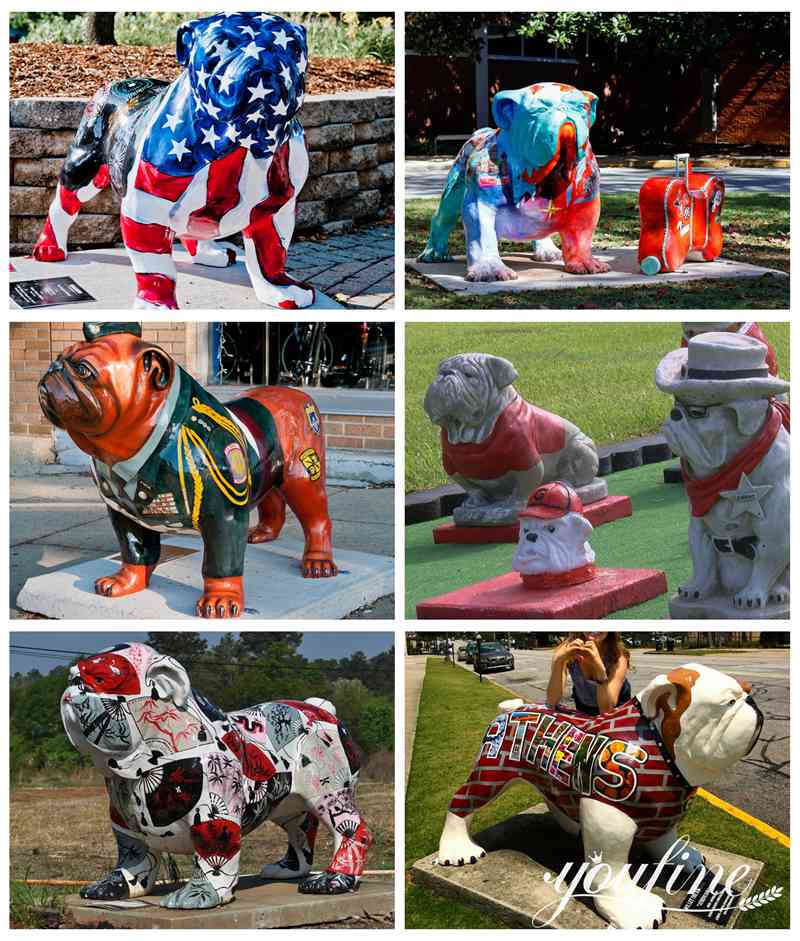 Realistic Clay Models:
A realistic clay model would ensure the fidelity of the bronze french garden bulldog statue. In particular, our artists learned to carve clay models of dog statues in childhood. They were then able to sculpt the dog statue's expression and appearance details 100% to life. You could clearly see how real this garden bulldog statue mud model is. And, during the clay model sculpting process, our artists modify and adjust the details according to the client's request. We absolutely respect the aesthetic concerns of our clients. Of course, during this process, our artists would also give appropriate advice to clients.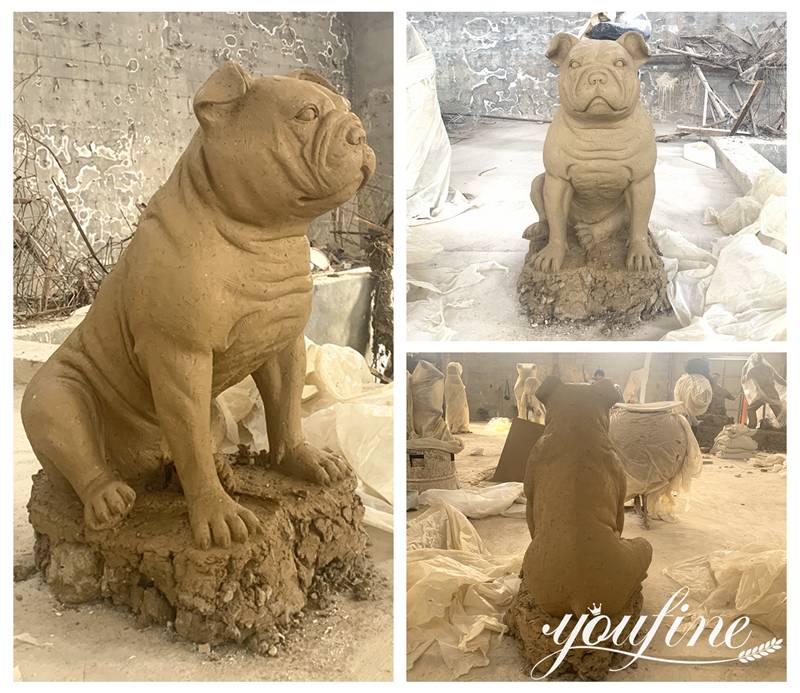 We are in awe of sculpture and artwork. Please contact us with hi for more styles of Santa Paws garden bulldog statue. Of course, we could also customize a unique Santa dog statue according to your pet dog. We all know that the quality of copper sculptures is more guaranteed, and the use time would be longer. Of course, you could also contact us for a lower quotation if you want to make resin on a reduced budget.