More Details of the Angel Statue:
This bronze large outdoor angel statue is very beautiful. Especially when the angel is holding a torch, it has far-reaching significance. This bronze angel statue has large very vivid wings. In particular, there is hope in the eyes of angels. Also, her dress is so beautiful and flowing. Without a doubt, this outdoor angel sculpture must be an impressive bronze sculpture when put in an outdoor garden or significant field. . Of course, this bronze angel sculpture is also a wonderful decoration for public places like beaches, parks, gardens, and amusement parks, etc.
Leading Technique of making the Bronze statue:
Made a 1:1 Clay Model:
Our factory would make a 1:1 clay model of each angel sculpture. And, all clay models would be completed by masters with rich modeling experience and superb modeling skills. Therefore, our clay model is very realistic and beautiful. There is no doubt that your angel bronze sculpture would also be very beautiful. Of course, our factory has many different styles of angel clay models. We could let you use it for free. Well, this would save you a lot of money.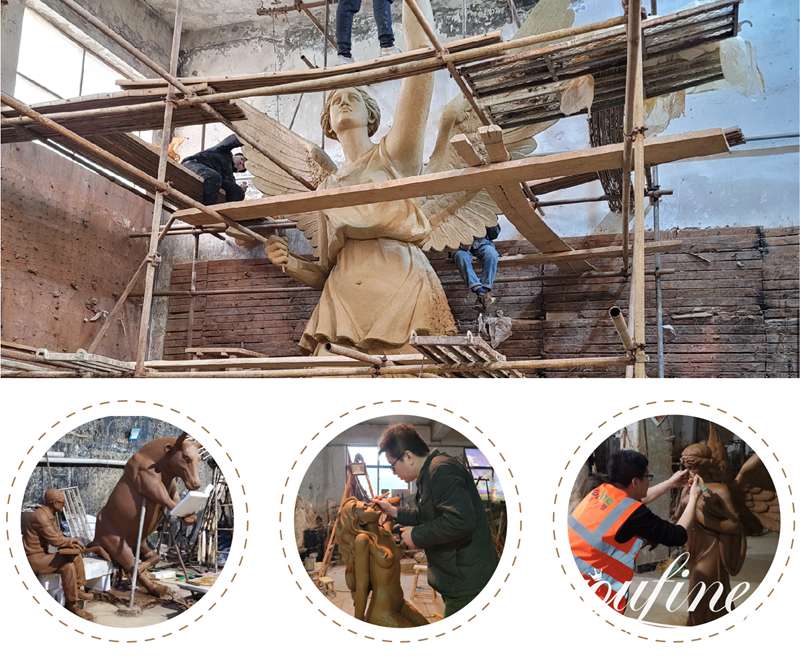 Lost-Wax Casting:
We cast bronze angel sculptures using the traditional lost wax method. Our artists have mastered this technique. Especially the silica sol technique used by our artists in this process. Therefore, after a long time, there will be no white spots on the surface of our sculptures. Because once white spots appear on the surface of the sculpture, the angel sculpture will crack and other phenomena. Well, there is no doubt that the quality of our angel sculptures is guaranteed. You will get a perfect angel sculpture in our factory.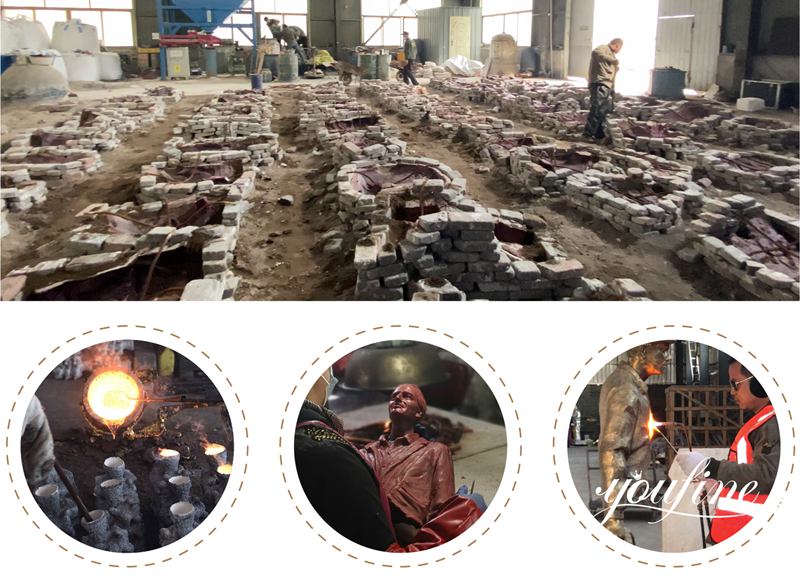 Hand Welding & Polishing:
Our artists use hand-casting techniques. And our artist uses a combination of full welding and spot welding. There is no doubt that the surface of the angel sculpture will be very strong and there will be absolutely no cracks. And, after a series of sanding, the surface of our sculpture will be very smooth. When our artist is coloring, our color will be very submissive.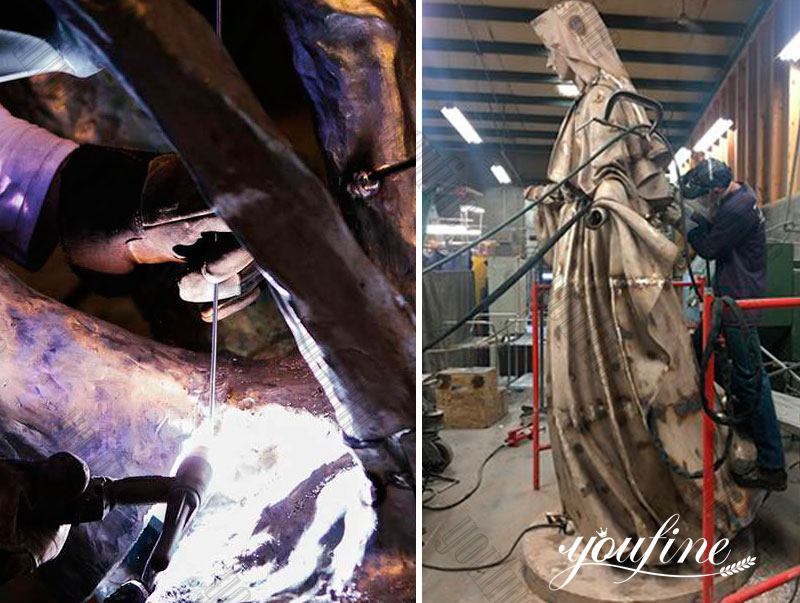 Bronze Patina:
Our artist uses a chemical coloring method. Therefore, over time, our sculptural surfaces will become more natural. And our artists are very good at color grading. So, any color you want, our artists can meet your needs.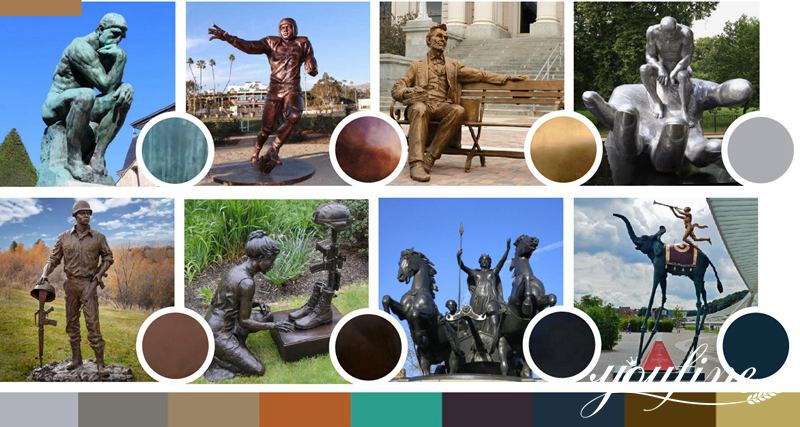 Advantages of YouFine Bronze Angel Sculpture:
1. World Leading Sculpture Designer and Manufacturer
2. One-Stop Solution for Sculpture Projects
3. Only Art Quality
4. Factory Direct and Good Wholesale Price
5. Door-to-door delivery
6. Best 3D Design Team and Artistic Consultants to supply free 3D design service
7. Free Brochures and HD sculpture photos
8. Money-Back Guarantee and 30-year Quality Guarantee
For bronze castings, YouFine insists on using carefully selected high-quality bronze as raw materials. In this way, these statues could be preserved for many years. Of course, we also have a dedicated quality control department. Moreover, we would strictly monitor the quality of the sculptures. Also, they inspect every sculpture before packing, and only flawless sculptures are allowed to ship.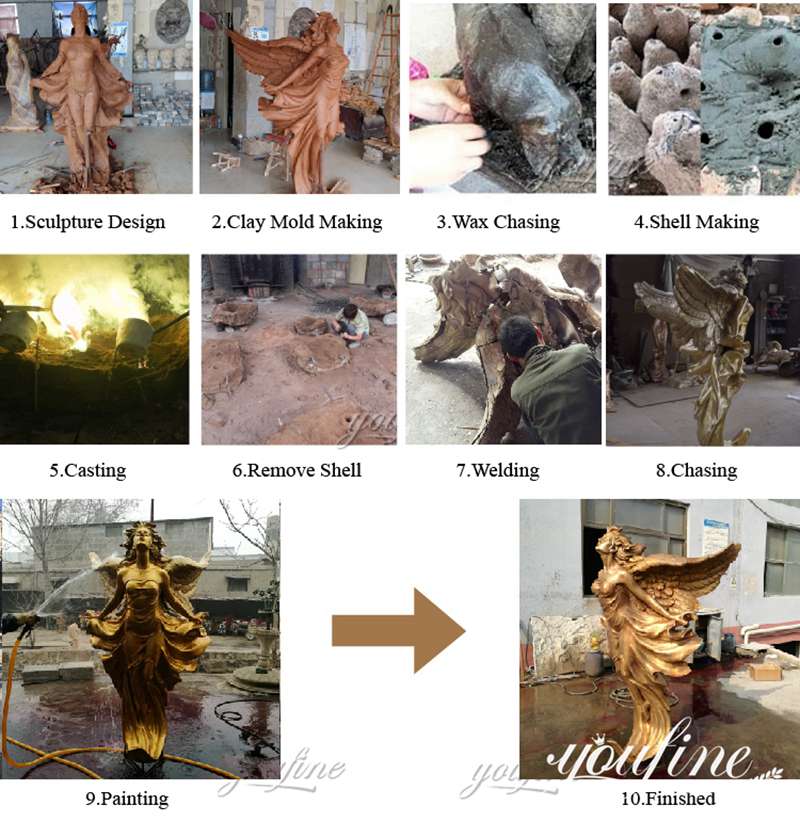 Frequently Asked Question:
Are Angel Statues Suitable for Home Use?
First of all, angel sculptures are great to place in your home as decorations. And our angel sculptures can enhance the style and taste of the home. Of course, the bronze guardian angel is an uplifting piece of art. Therefore, angel sculptures can replace traditional feng shui statues. It may not be a classic artistic method, but it is definitely a practical one.
What Does an Angel Statue Mean?
The symbolism behind the angel statue. Generally speaking, angels represent the connection between heaven and earth. Of course, they also serve as symbols of strength, peace, faith, protection, and beauty. Angels can help families feel at ease after the loss of a loved one. Because they know that their loved ones are always under the protection of angels.
Where Did You Put the Angel Statue?
First of all, our bronze angel statues are made of durable materials. Especially our sculptures are in properly proportioned bronze. So they can be used indoors or outdoors. Of course, these fine angel sculptures can be placed in gardens, patios, decks, porches, or indoor entryways. Of course, there are also many people who put angel sculptures on the fireplace.
What is a Garden Angel?
Garden angels are the perfect decorative element in most gardens. When matched with vegetation, they enhance the look of your garden. Turn your outdoor space into a true oasis of peace. Especially the image of an angel will add more elegance to your garden.
Accept Personal Customization Service:
In order to meet the different needs of customers as much as possible, YouFine factory provides customized services. There are two main approaches to our custom sculptures. First, you could alter our existing sculpture designs. For example, you could customize the decoration, size, color, etc. on the sculpture. Additionally, YouFine encourages customers to use their imaginations and create unique designs on their own. You could share your ideas with us and YouFine's professional team would do their best to realize your design.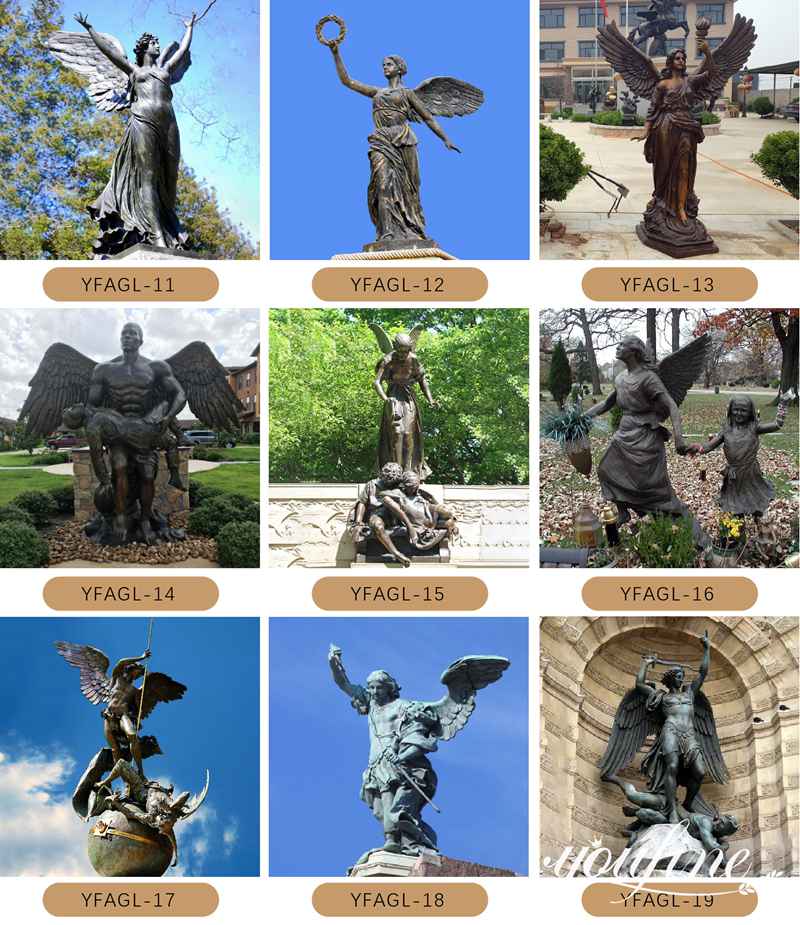 More Angel Statues:
If you need a more exquisite design, you could browse our website and I am sure you would always find the large angel sculpture you are looking for. W has completed the product structure and each branch has different designs for you to choose from.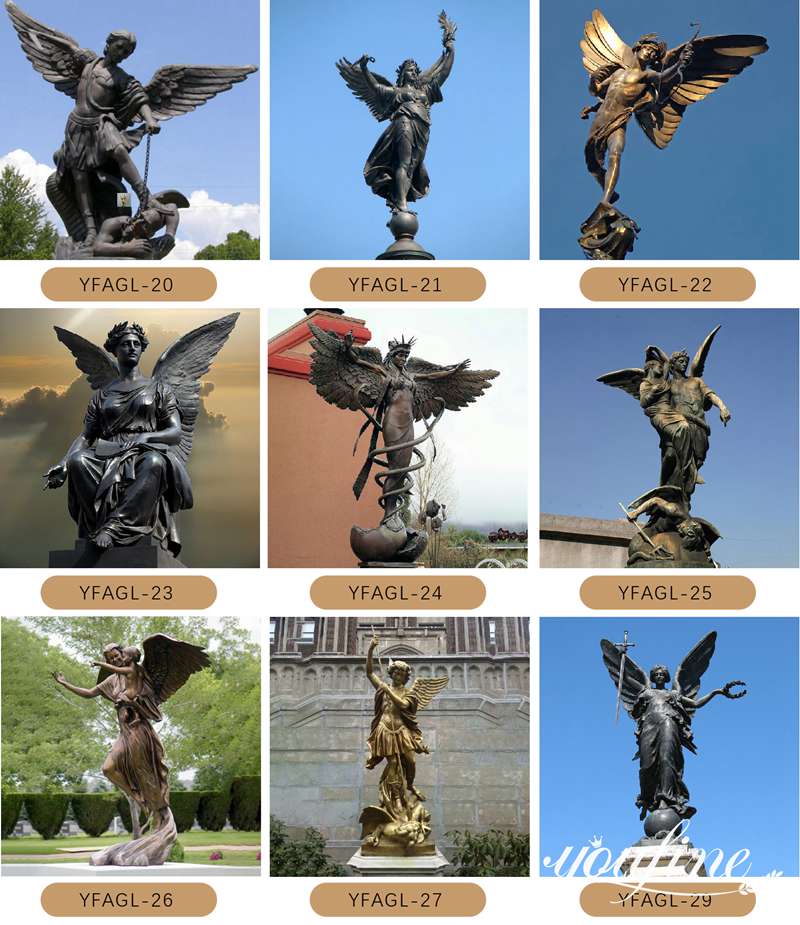 YouFine Art Bronze Gallery:
YouFine Art Bronze Gallery is located in Quyang County, Hebei Province, which is known as" The Sculpture Hometown of China". Our factory was founded in 1983, which is specialized in bronze sculpture with a great expansion in all fields of Sculpting Business during the past 39 years. As a world-renowned sculpture brand, YouFine has been committed to the design and production of art Bronze sculpture. Providing efficient and high-quality one-stop services and products for projects of global customers is the goal we have been striving for. We always treat every sculpture in every project from the customer's point of view and strive to make every project become the business card of YouFine.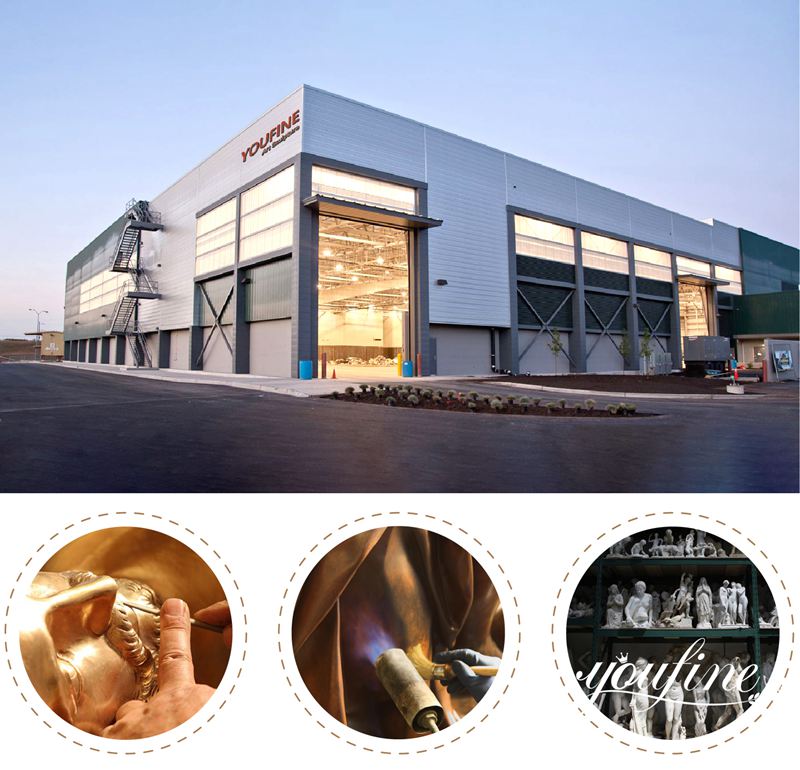 Whatever your requirements, please let us know. Our consultants could then provide you with helpful buying advice.