Details of the Bronze Fountain Sculpture:
This delicate bronze figure sculpture is called the Kissing Student Fountain. The entire water fountain for the garden is very realistic. The sculpture depicts two students kissing under an umbrella. Of course, the effect of the fountain makes them appear to be kissing in the pouring rain. This fountain sculpture is full of vitality, which could clearly let us experience the deep love between them. This bronze sculpture fountain is one of Tartu's most famous images. Sculpture by Marty Carmine. The spring has been kept on this site since about 1948. At that time, many lovers and couples would come here to pray for a smooth relationship and a happy marriage.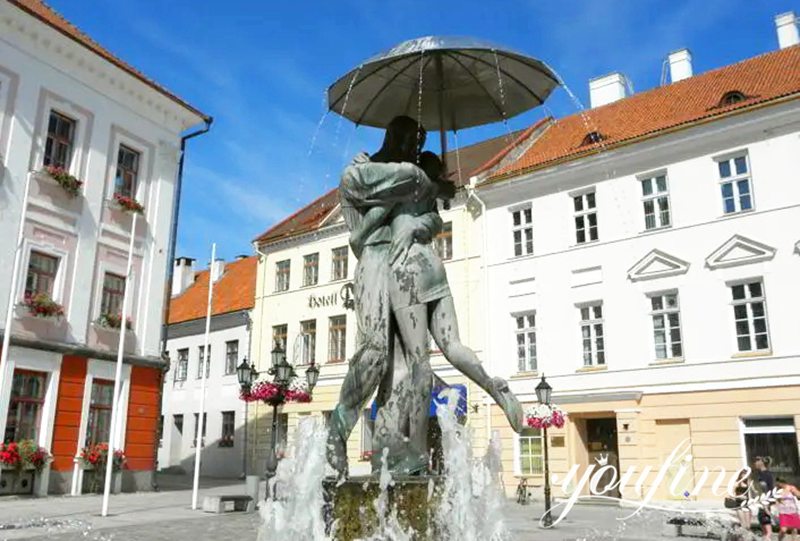 Perfect Fountain Water Effect:
This bronze figure water fountain achieves the most ideal state of flowing water. Therefore, the image of the entire fountain is very beautiful. YouFine Factory could provide you with 100% identical bronze fountains. Our expert craftsmen would use the most common lost wax method to create this bronze fountain and figure sculpture. YouFine artisans carefully cast each spout. Therefore, they focused on maximizing the most critical water effect of the fountain. The appearance of our sculptures has stood the test of many clients.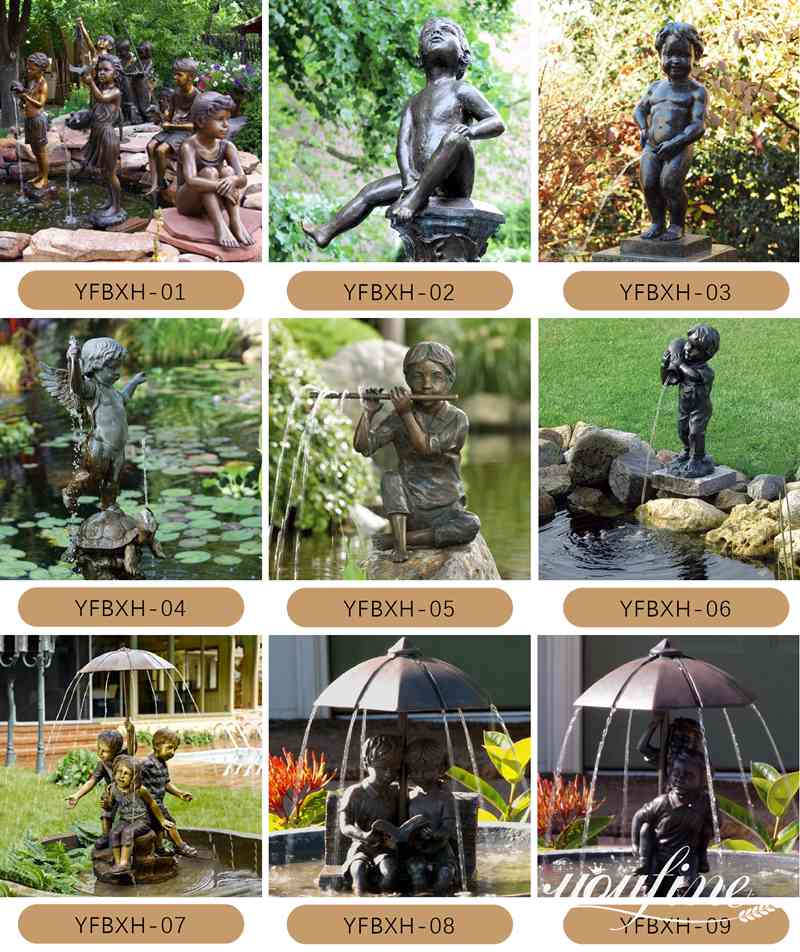 More Bronze Fountain Styles:
YouFine is a professional bronze water fountain for the garden export factory. We have our own working team and designers. Therefore, we have many catalogs of bronze fountain designs for customers to browse and choose from. Our most famous artwork is the Bronze Dolphin Fountain, which consists of at least one dolphin. These beautiful bronze fountains are perfect for arranging in parks, lakes, and more. Obviously, there are other animal fountains, wall fountains, and mermaid sculpture fountains. This exquisite and expressive dancing fountain is a must-see.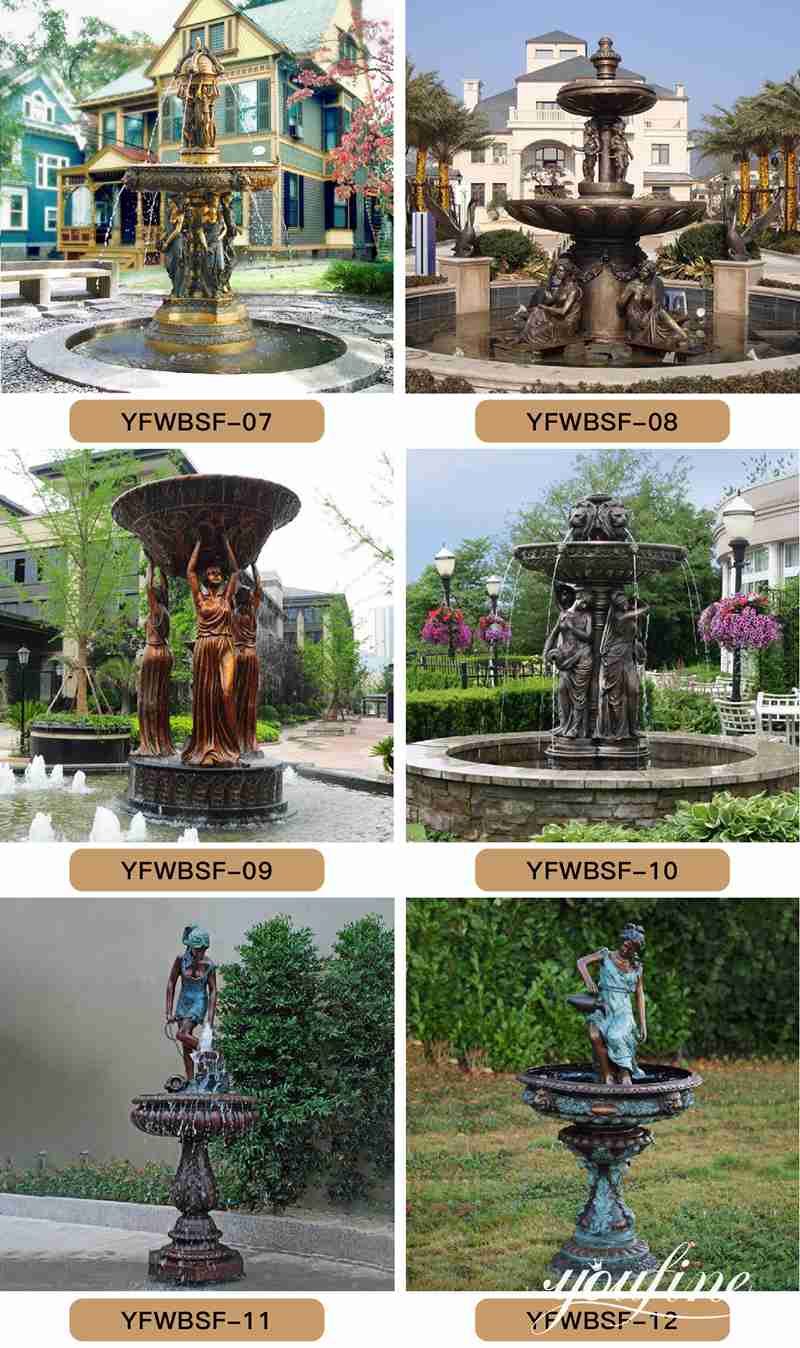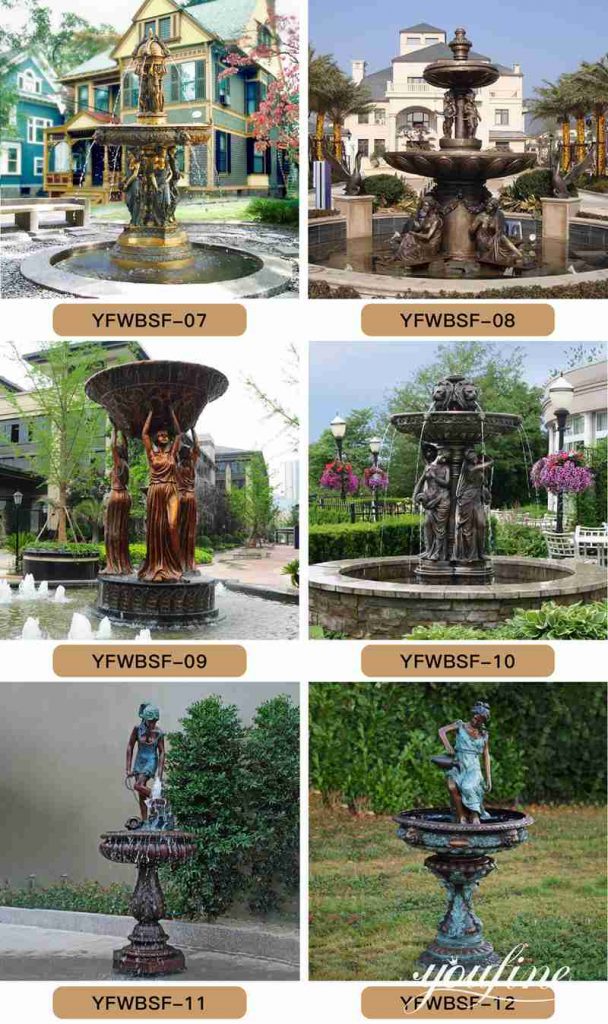 Do you want to decorate your home with a beautiful bronze water fountain for the garden? Do you want to express your heart to your loved ones and commemorate any good times? Our artists cast characters to look like you. Please send us your photos and we would be able to create a love fountain that you are 100% satisfied with. Please contact us immediately, you could choose any bronze fountain style you like.