Bronze Garden Sculptures Show:
These are very interesting bronze garden sculptures. We could see that the frog in this statue is an anthropomorphic pose. Three frogs are sitting on a bench together, they are reading. This scene looks very comfortable and casual. If you put this statue in someplace for people to relax and entertain, it would not only make people more fun but also make people more relaxed and happy. This animal statue would be the highlight of your place and people would love it. Especially frogs are animals that are beneficial to people. So people welcome him more into our world.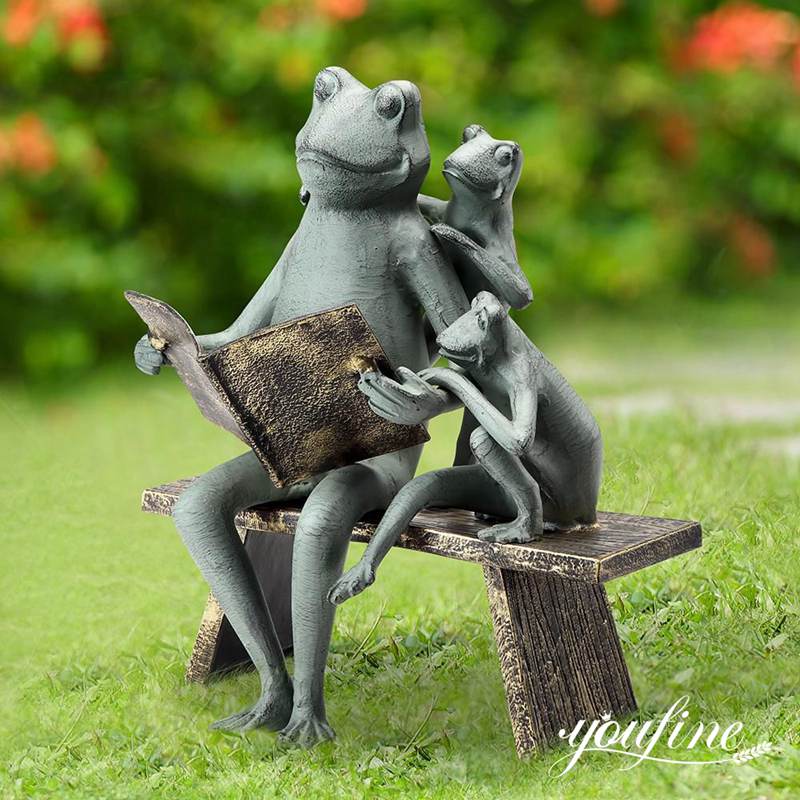 Traditional Lost Wax Technique:
Our frog sculptures use the traditional lost wax process. This technology has existed for thousands of years. And, our artists are the inheritors of bronze sculpture art. Therefore, they are exposed to casting technology at an early age. There is no doubt that our artists would definitely be able to cast different shapes of frog sculptures for you. Of course, during the casting process, our artists made improvements to the casting method. For example, we use silica sol technology in casting. After a long period of time, the surface of our sculpture would not appear white spots. Therefore, the entire sculpture could maintain its beautiful appearance even if it is exposed to wind and rain. Of course, our bronze frog sculptures are also highly collectible.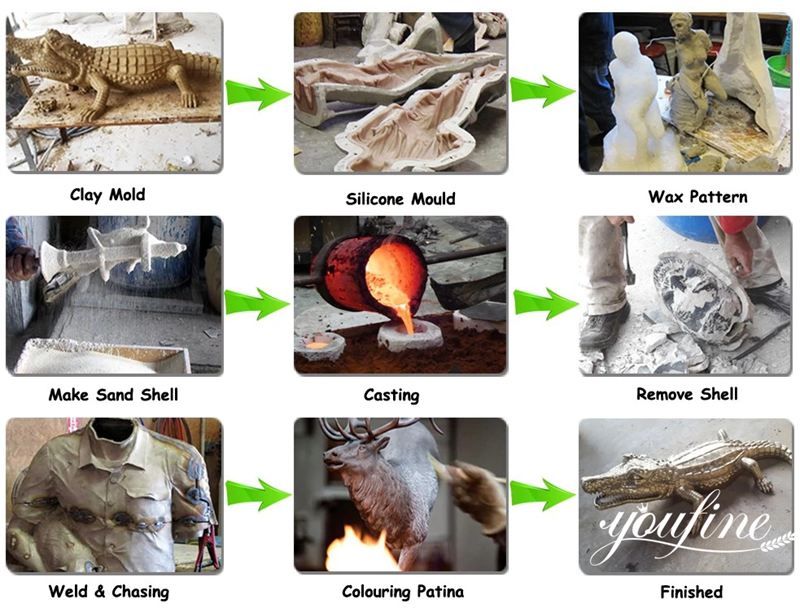 More Fun Looking Frog Statues:
In many cartoons, we could always see various anthropomorphic animal images. These funny animals always make us laugh. Then YouFine could also design and cast different types of frog park sculptures for you. Our designers always have features not found in other types of sculpture. Of course, YouFine's anthropomorphic bronze frog statue is adorable. In addition, we would use high-quality bronze as raw material. Therefore, the quality of our bronze sculptures would be very good, and it would not be a problem to use them for more than 100 years. Also, the artist we made this sculpture is one of the top artists in the industry. They could 100% restore the type of sculpture you want.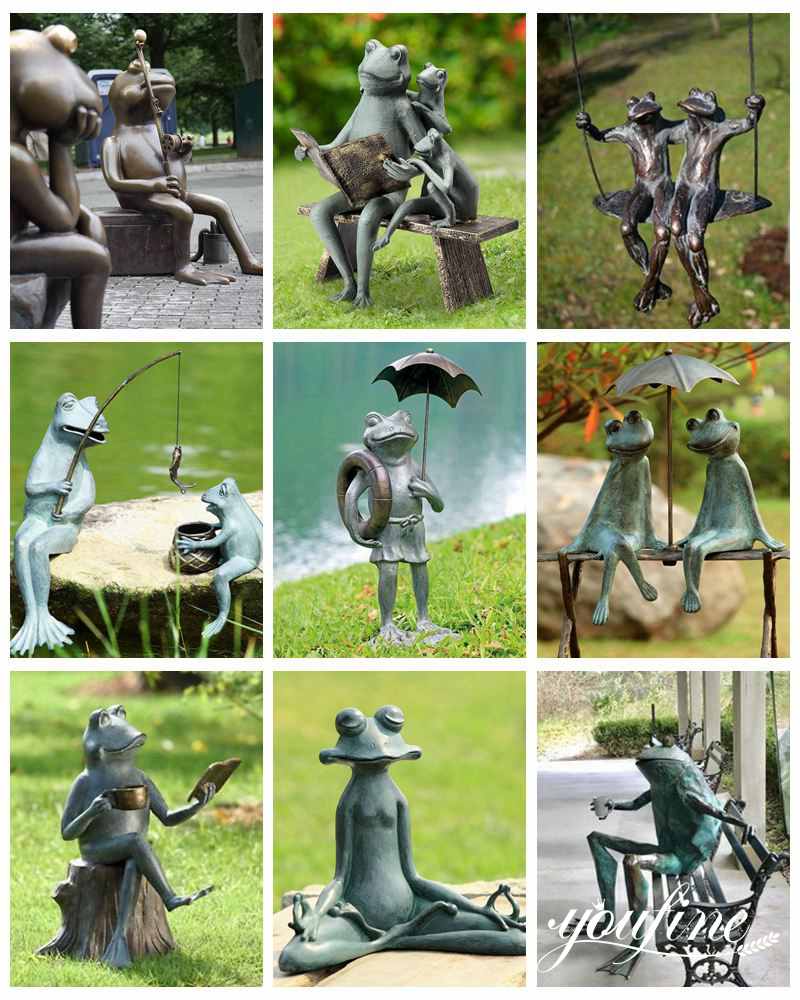 Why Choose YouFine:
YouFine is a very professional sculpture factory. We are proficient in bronze animal sculpture casting. Our artists all have their own areas of expertise. Therefore, we have artists dedicated to bronze animal statues. They even built a manor specifically to keep animals. There are many kinds of animals in his manner, just to better study the characteristics of animal habits. So our animal sculptures have souls. Moreover, we have been engaged in sculpture for 40 years, and we have stable freight forwarders all over the world. You could rest assured that we could make you a perfect sculpture.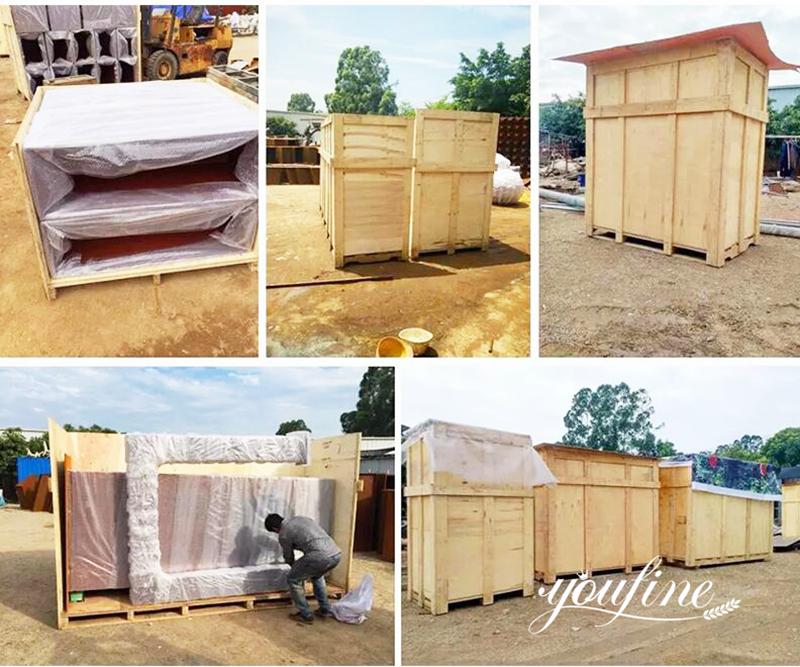 If you like this bronze frog statue, or you want to know more about the large animal sculpture, you could contact us now. YouFine would provide you with a catalog of designs for a series of frog sculptures.