Introduction of Stop Playing Statue:
This giant hand statue shows two big hands holding a slingshot and a round ball inside it. Two hands are about to launch the sphere, that's our planet! The name-stop playing of this sculpture also attaches to the significance of the sculpture. Each part of the sculpture has a different implied meaning. The ball in the palm of the hand represents the fragile earth and the slingshot represents natural resources. That is one of Lorenzo Quinn's sculptures that calls on people not to waste nature's resources.
Exquisite Patina Coloring Treatment:
This bronze hand sculpture is a vintage patina that looks great with grass. YouFine could restore this beautiful color because we have dedicated professional patina artists. They have a good command of the ratio of the chemicals and could accurately mix the right color. Moreover, our artists could mix a wide variety of beautiful colors that only YouFine has. Therefore, we could meet the different color requirements of our clients.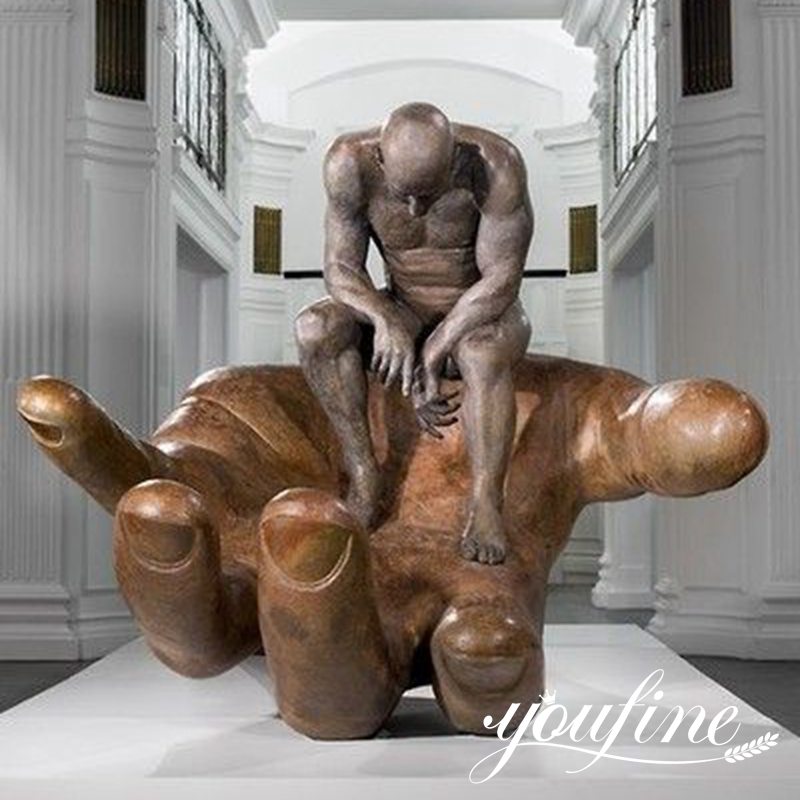 More Lorenzo Quinn Artworks Show:
Lorenzo Quinn is a widely known contemporary Italian artist who likes to use hand images to create sculptures. And each of his sculptures conveys authentic emotion and abstract concepts like love, nature, and faith. Here are some magnificent sculptures of Lorenzo Quinn. Every hand statue exhibits a different aesthetic and profound meaning. If you are fond of any sculptures, please feel free to contact us.
YouFine's Advantages:
First, YouFine attaches great importance to the quality of our sculptures, so we use high-quality bronze material for sculpture. And our top artists use complex and traditional lost-wax methods to ensure the details. What's more, we have rich experience in custom sculpture which could customize into different colors and sizes. Moreover, Our team of designers can also recommend different designs and sizes of sculptures according to different places. YouFine customized sculptures from different countries have received lots of good feedback.
If you are interested in Lorenzo Quinn's bronze hand statues, please let us know. We would offer you high-quality sculptures at the best price.