Introducing Man Chiseling Himself:
There is a saying that is very good, it is called being human, it is not easy. Like this bronze man chiseling himself constantly beating his own body. Through the tempering of hammer and hammer, I have achieved my perfect body and perfect life. If you like and want to use this sculpture to inspire your family to work hard. You could clearly see that this sculpture is full of muscles. There is no doubt that the YouFine artist could completely cast his strong figure for you. Moreover, YouFine is very good at casting bronze figure sculptures, so our sculptures not only have high ornamental value but also have high collection value.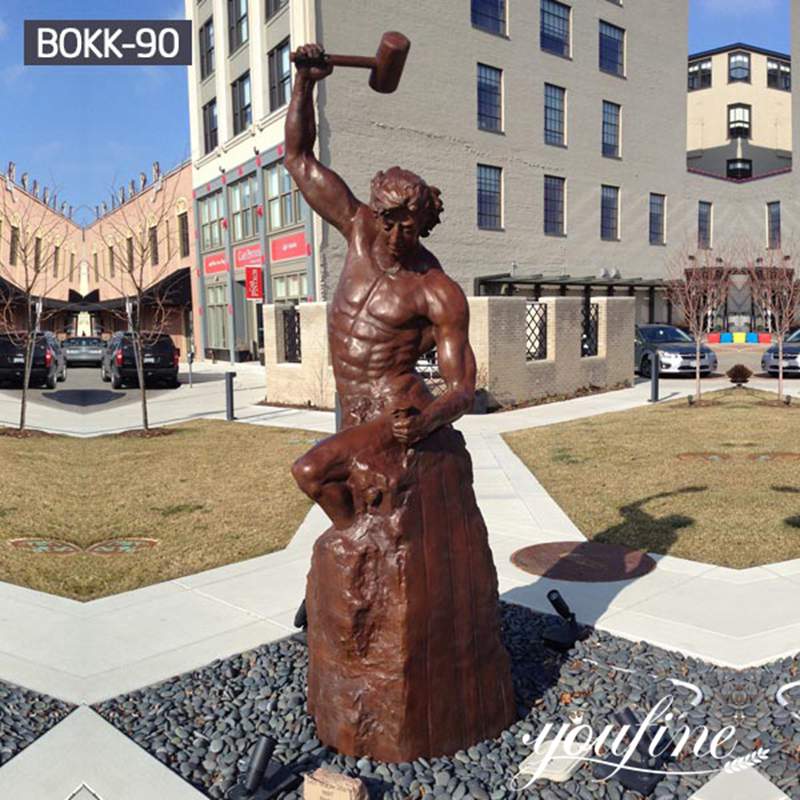 Traditional Lost Wax Method:
YouFine cast this self-made man sculpture using the traditional lost wax method. Also, our artists have been in this business for 30 years, so they are very skilled in this casting technique. And, over decades of casting bronze sculptures, they have refined key techniques. YouFine's artists use silica sol technology, so our original self-made man sculpture doesn't have white spots. We all know that once the self carving statue appears white spots on the surface of the sculpture would crack. Then there is no doubt that YouFine bronze man carving his own destiny would keep its beautiful appearance for a long time even in the wind and rain.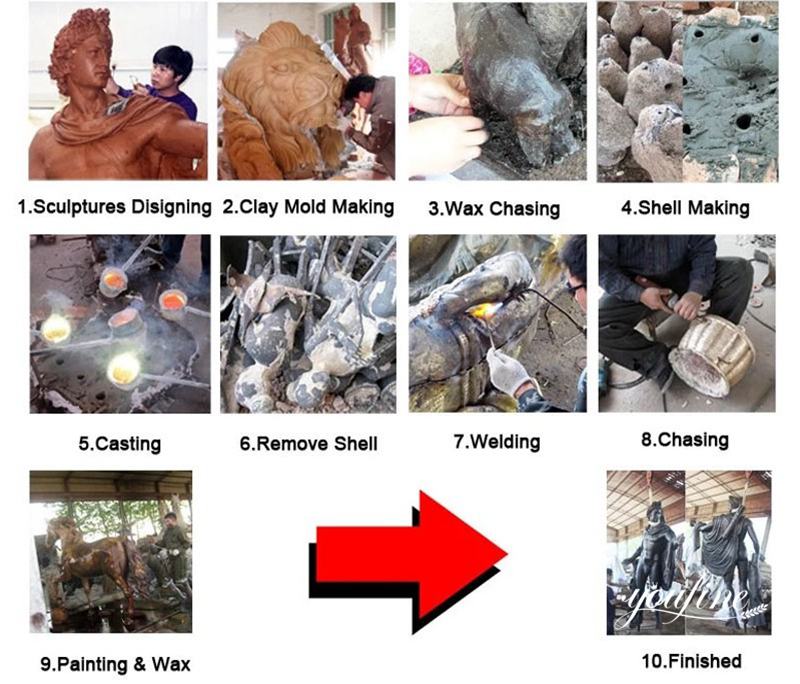 Exquisite Clay Model:
Before casting each new bronze man sculpting himself sculpture, YouFine artists would sculpt the man sculpting himself clay model. Then, the exquisiteness of the clay model determines the aesthetics of the final bronze sculpture. Therefore, our clay models are all experienced and excellent artists. They have been engaged in the sculpture business of bronze sculpture clay models all their lives.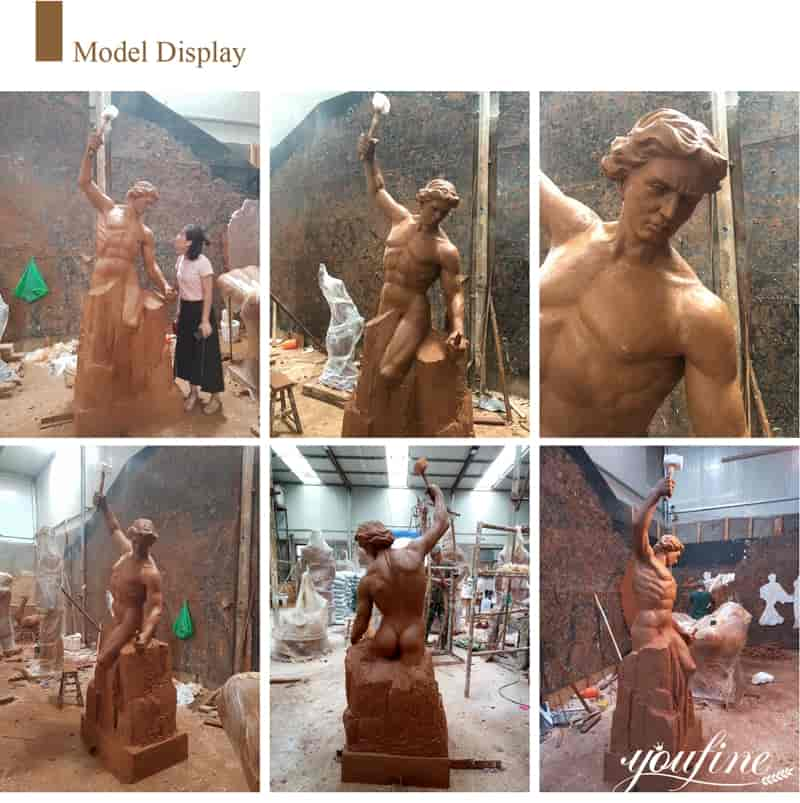 Therefore, in daily practice and study, they master the technique early. Moreover, our factory already has many clay models of a man chiseling himself artwork. So if you choose the clay model we already have. Well, you would save a lot of money on the clay model. Undoubtedly, the total time to cast the bronze sculpture would also be reduced, so you could get a perfect sculpture of a man chiseling himself as quickly as possible.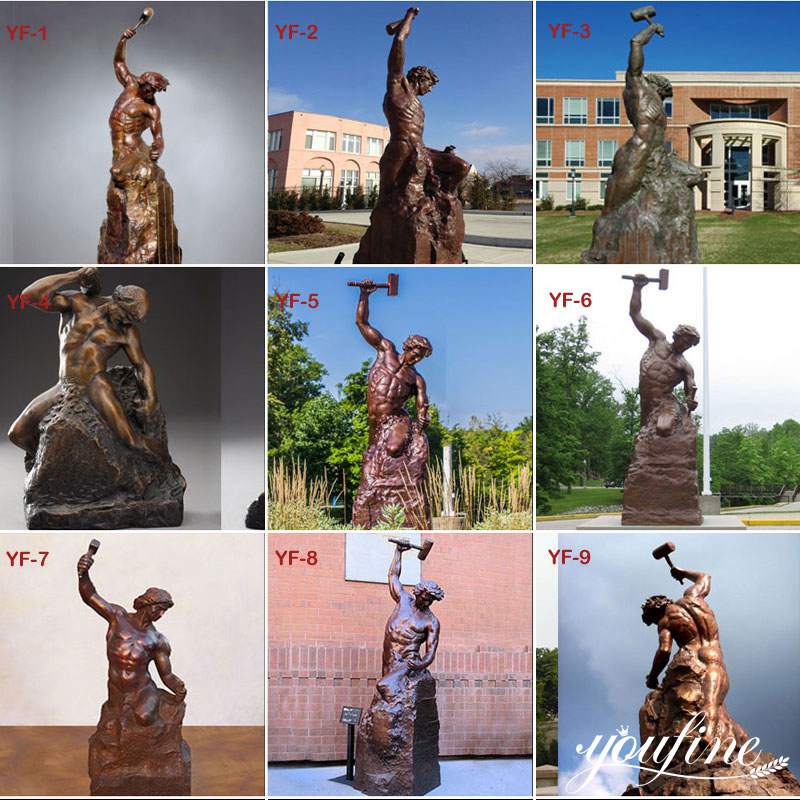 Besides, YouFine, as a large-scale sculpture factory with 40 years of export experience, we have stable forwarders all over the world. Therefore, we could provide you with door-to-door service. Our staff would take full responsibility for getting you a perfect bronze sculpture without any hassle. If you want to sculpture a self-made man, then please contact us immediately. YouFine would reply to you as soon as possible and give you a series of the latest sculpture designs.