The name of this stunning bronze sculpture is a self-made man statue. This is a bronze statue created by sculptor Bobbie Carlyle. The sculpture shows that people sculpt their bodies into ideal figures.
Who Made The Statue of The Self-Made Man?
And the bronze sculpture shows that the rest of the carving was completed with a chisel and hammer. We could clearly see a muscular guy chiseling himself out of a rock with a hammer and chisel.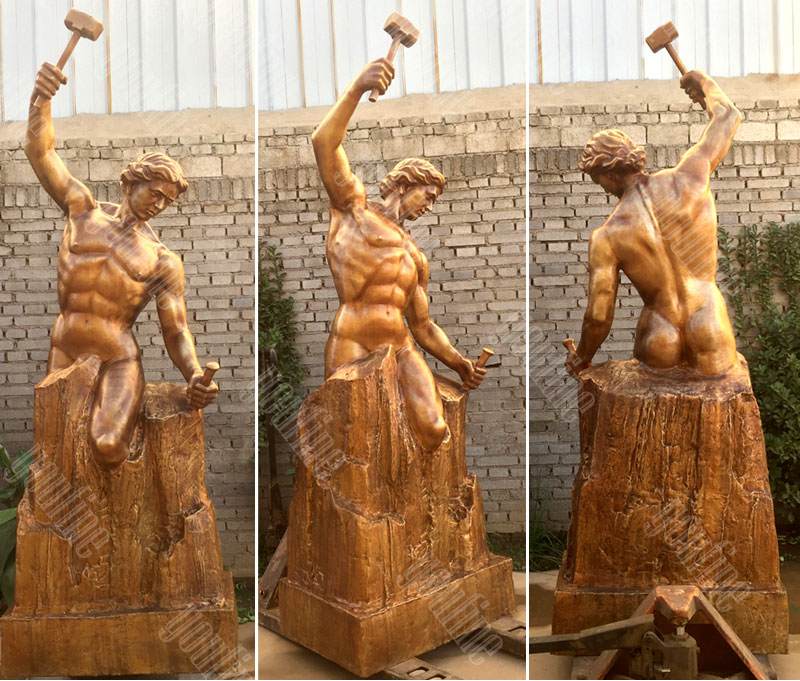 About The Artist Bobby Carlisle:
The sculptor Bobbie Carlyle is famous for bronze self-made man statues. Carlyle received an art degree from Brigham Young University in Utah and teaches workshops at the Colorado College of Art. Her work was influenced by Solon, Rodin, and Michelangelo, and she also drew inspiration from everyday life. And Bobbie got ideas from her personal experience, as well as her seven children and many grandchildren. Bobbie has a dedication and love for art and sculpture, which allowed her to obtain a degree in fine arts from Brigham Young University while raising seven children.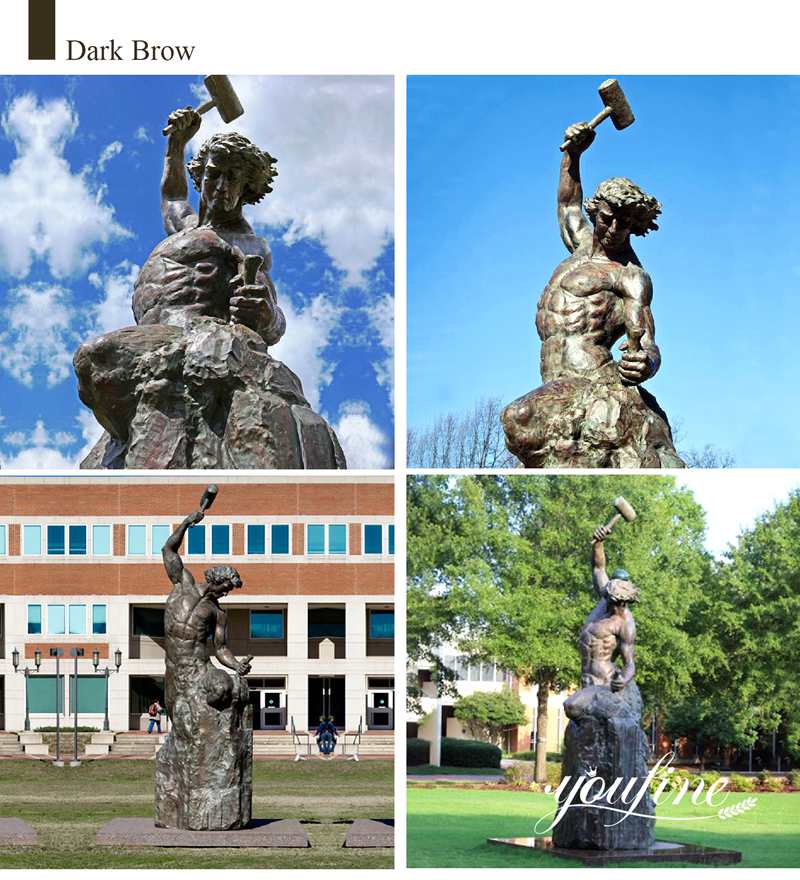 The Influences of Bobbie Carlyle Sculpture:
Bobbie leads a fulfilling life. In fact, Bobbie Carlyle's work has a strong psychological appeal. It expresses the complexity of her emotions and her struggle in life. She could see the positive side of every situation and learn from it. And Bobbie's wisdom is reflected in her bronze sculptures. The essence of Bobbie Carlyle's sculpture is embodied in "bold power" and "provocative wisdom". Bobbie Carlyle's sculptures are full of imagination and vitality. Of course, her most famous work is her bronze Self-Made Man statue. This bronze famous sculpture depicts a man carving himself from his original body.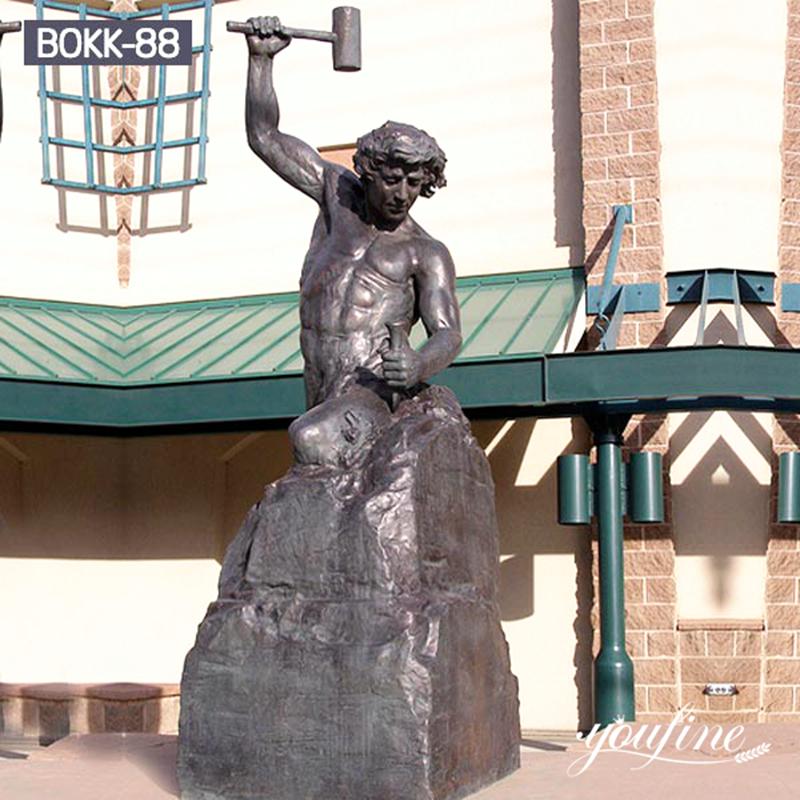 What Is A Self-Made Man Statue?
This bronze self-made man statue is a person holding a hammer in one hand and a chisel in the other. And it shows that this person is carving himself out of the stone into a human shape. When people look at it, they would feel very shocked. This man sculpting himself out of stone sculpture symbolizes a person's self-sculpture. Just like a perfectionist, in the process of constantly sculpting himself, he finally gains a brand new self. The entire bronze sculpture is full of the ultimate craftsman spirit. The expression of this bronze self-made man statue is firm, and he wants to dig his lower body out of the chaotic stone.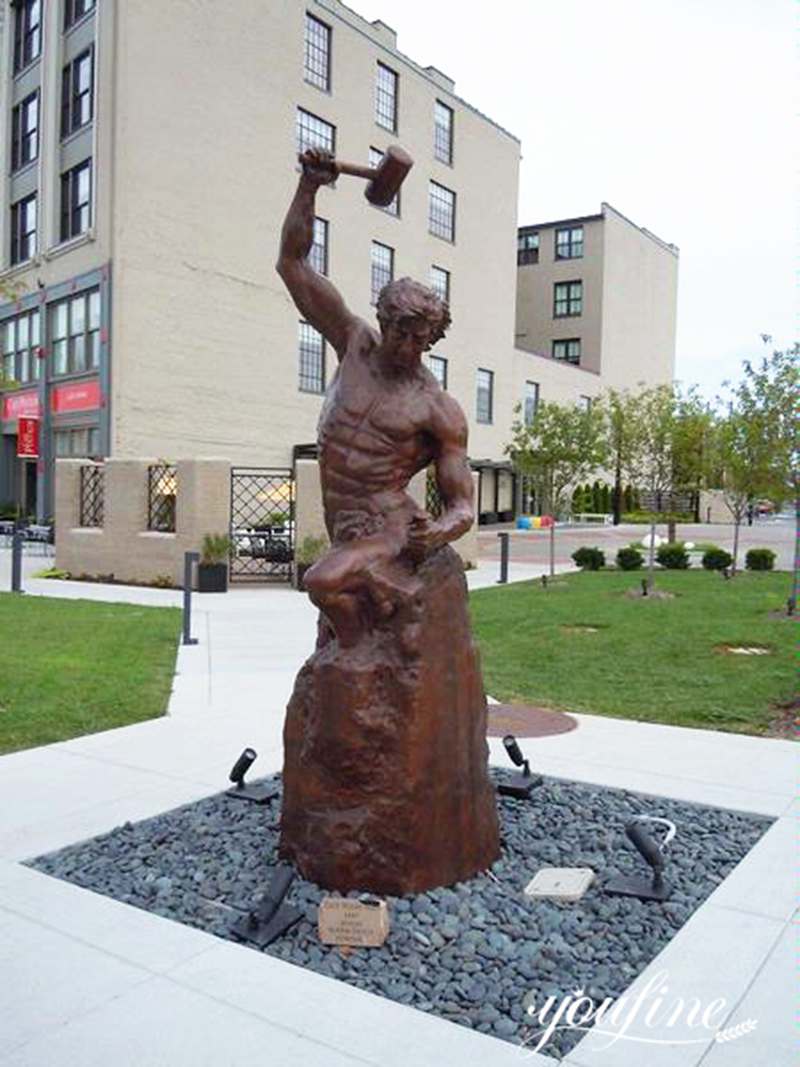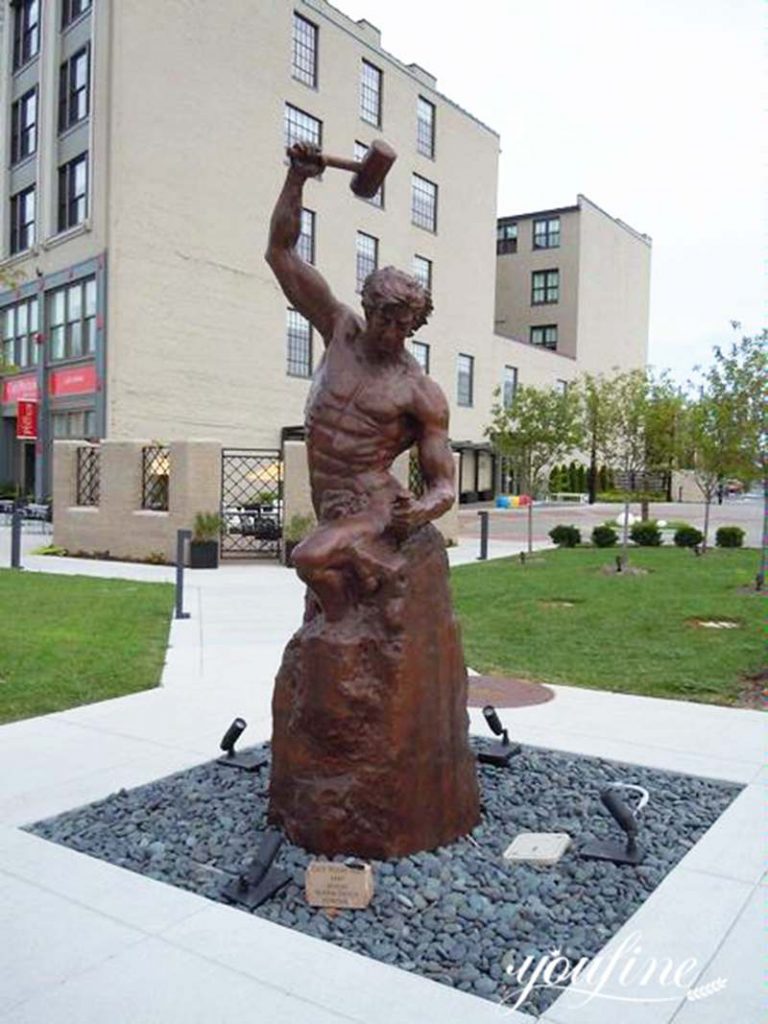 The Meaning of A Self-Made Statue:
Human beings are still seeking the liberation of hands, feet, and minds. This self-made statue means that people's minds and hands have been liberated, but the legs have not been carved yet. Therefore, it means that human beings need to constantly improve themselves. The process of Self-Made Man is a process of learning, a process of self-achievement. And the harder the process, the better the effect.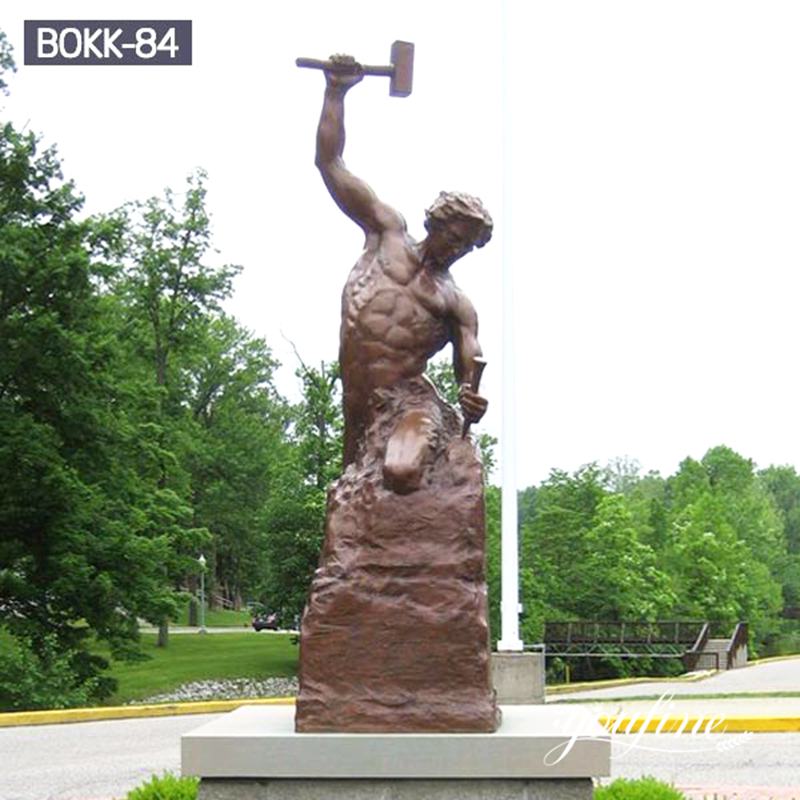 Advantages of YouFine:
Are you looking for a self-made man statue for sale? YouFine bronze self-made statue is durable and has a long service life. And our sculptures could show the characteristics of metal materials. And the YouFine bronze figure statue uses the traditional lost wax method. There is no doubt that this bronze famous man statue is of high quality and the character is lifelike.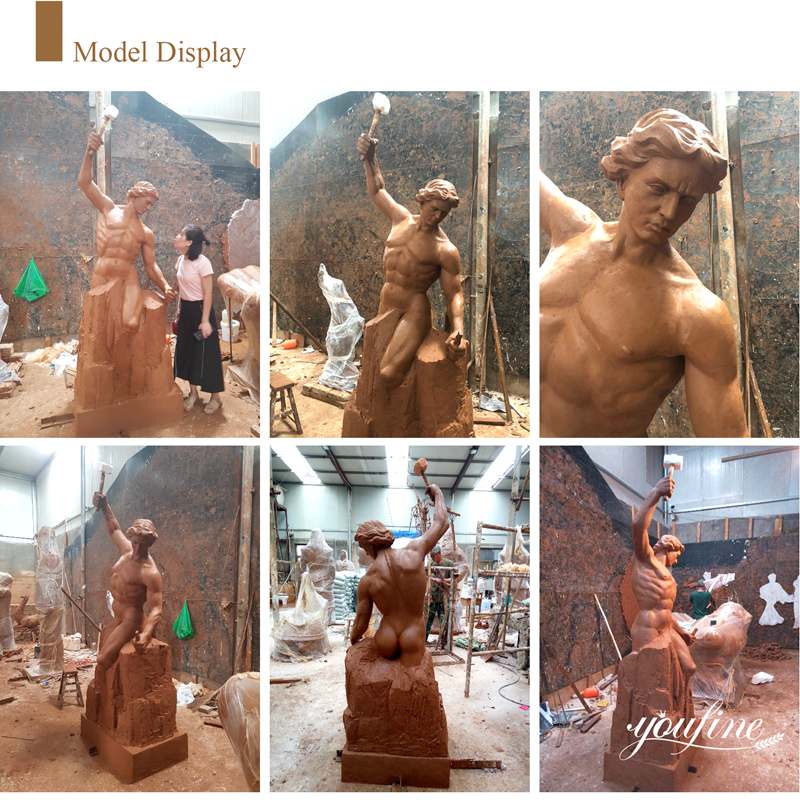 These modern sculptures of a man chiseling himself are heavy, and there are many styles to choose from. In YouFine you could buy a high-quality bronze man statue at a low price. In addition, YouFine has a professional sales staff, and you would enjoy a wonderful shopping experience! Shop with peace of mind at YouFine, you would get more and save more on our website!
Where Is The Sculpture of The Self-Made Man?
The Self-Made Man Statue is a 14-foot tall statue located in the square outside Fretwell and Cato Hall. This bronze madman design is a great gift for friends. Of course, this sculpture is also very suitable for outdoor scenes such as gardens, parks, and courtyards. And this self-made sculpture is very suitable for squares or schools.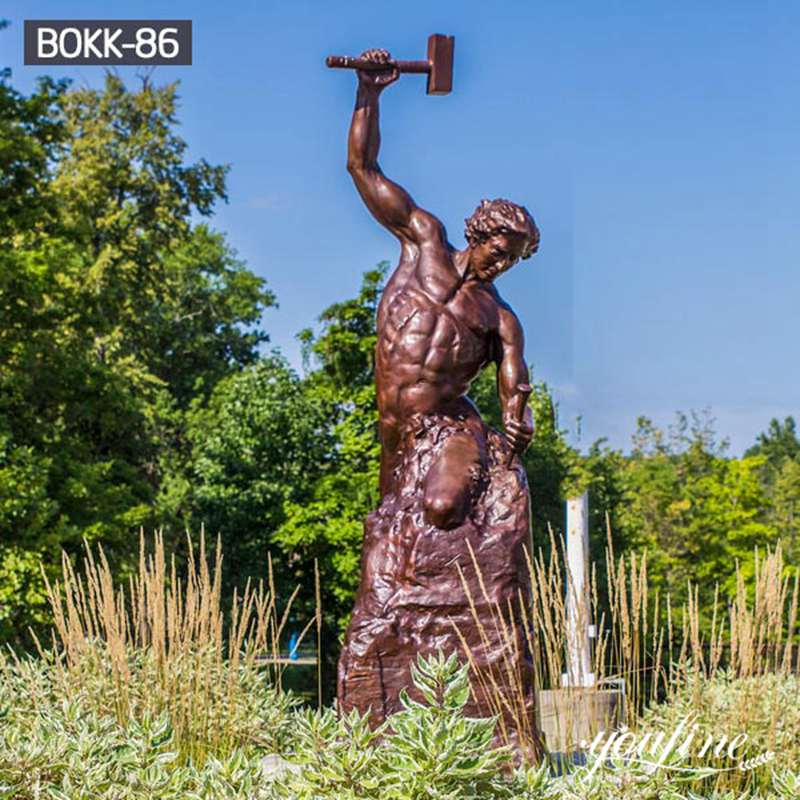 It not only allows people to stop and think during a busy day but also inspires students to hone their perseverance. Of course, this statue chiseling itself could still be used as home decoration to beautify your garden or lawn. And, we believe that this self-made man sculpture would be the perfect accessory in your home.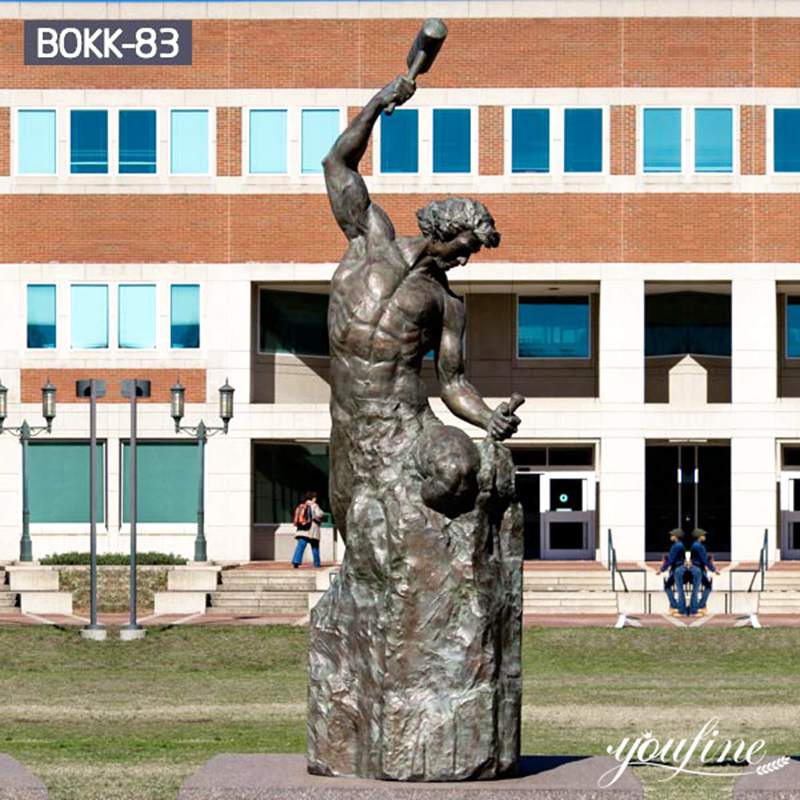 Stories of YouFine Clients and Self-Sculpting Statue:
YouFine factory has a customer from the United States. He is a man who constantly strives to carve himself. And, he found us to cast two sculptures of self-made men. He feels that his life is like a self-made statue. He constantly carves his own inadequacies. There is no doubt that he is a very hardworking and successful entrepreneur. Additionally, he and YouFine have developed a decades-long friendship. Moreover, whether it is career development or dressing, he has very high requirements for himself.
When he first came to China to visit the YouFine factory, he brought 10 pairs of trousers, and he changed to a different color every day. Moreover, he is very healthy, has a successful career, and has a happy family. We all want this wonderful life. However, on the long road of life, we always try to give up something. Like the self-made man statue, we have nothing, but with hammer and chisel, we get better and better. Of course, this is what the original self-made man statue tells us.
If you like this bronze sculpture of a man chiseling himself, please contact us immediately. YouFine provides a full range of homemade sculptures. There are various colors, sizes, and shapes.