In our courtyard, the exquisite flowers and neat lawns most attract the attention of the neighbors in the block. Of course, what the neighbors envy and like the most are the bronze mailbox statues of different styles. First of all, YouFine has been engaged in casting bronze sculptures for 39 years, and our artists are experienced in casting bronze sculptures. They are always able to meet customers' different customized needs. Therefore, no matter the color or style of the customer's sculpture, our sculpture could always impress the customer's heart. It would be your wise choice to choose YouFine to cast a high-quality and distinctive mailbox sculpture.
Bronze Child Statue Mailbox
The first and most popular bronze mailbox sculpture is of course the playful bronze kids' artwork. Many clients choose to place the mailboxes with bronze boy, girl, and dog sculptures in the garden. Especially the cute actions of the children and the state of playing next to the letterbox could always express our joy when waiting for the letter to arrive. Of course, we could also provide customization for these kids' sculptures. You could provide us with pictures, and our artist would cast a delicate and lifelike bronze mailbox child sculpture for you.
Bronze Mermaid Statue Mailbox
The second is of course the mermaid sculpture mailbox that everyone likes. Mysterious and funny mermaids could always bring some good news. In particular, the implication of the mermaid waiting for good news also makes our mailbox full of mystery.
Bronze Dolphin Statue Mailbox
The third item is of course the indispensable dolphin sculpture mailbox. These fun dolphins are perfect as mailbox carriers. Their curvy figures and raised palms always bring joy to people.
Provide Customized Services:
Secondly, of course, we have other marine animal statues mailboxes. For example, the sculpture mailbox in the sea that we often see at the door of our neighbors. Often, we see mother beavers waiting for the mail with a herd of young. Secondly, according to the preferences of customers, there are many types of mailbox sculptures. We would also see a horse sculpture mailbox and a lion sculpture mailbox.
Of course, there are also some sculptural mailboxes with bronze female figures. For these sculptural mailboxes that highlight individuality, we would of course also provide design services for our customers. And, we have a professional design team. Our designers would provide clear design drawings and high-definition 3D drawings according to the customer's description. Undoubtedly, at YouFine, you would get the most satisfactory bronze mailbox sculpture.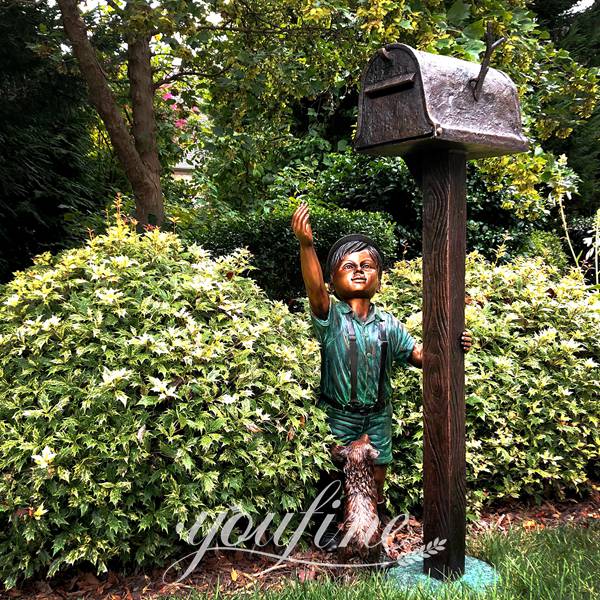 Reasons to Choose YouFine:
Our girl mailbox statues are cast in traditional lost wax. All details are in high quality and workmanship bronze. These bronze statues are perfect for any garden setting, park, playground, front or back yard. Plus, we have decades of experience working with developers, cities, malls, parks, and school mascots. Your custom mailbox allows for a lot of creativity. You could choose your favorite color, or animal shape on top. Or you could choose just one theme, such as a golf figure sculpture. And, we could also weld in stainless steel mounting brackets to secure your sculpture permanently.
A lifelike bronze mailbox statue would add a delightful innocence to your garden. If you want to customize a bronze sculpture please feel free to contact us.