Bronze Elk Statue Introductions:
Our life-size bronze elk statue is very realistic. As we all know, the "elk" is a magnificent specimen of a bronze statue. So this is the best gift for hunting lovers or people who like elk on the prairie. This elk has its own charming and unique antlers, and the texture of the antlers is very developed. And the elk stands on a stone base, which is his usual posture. Perhaps the elk likes to stand aside and look into the distance.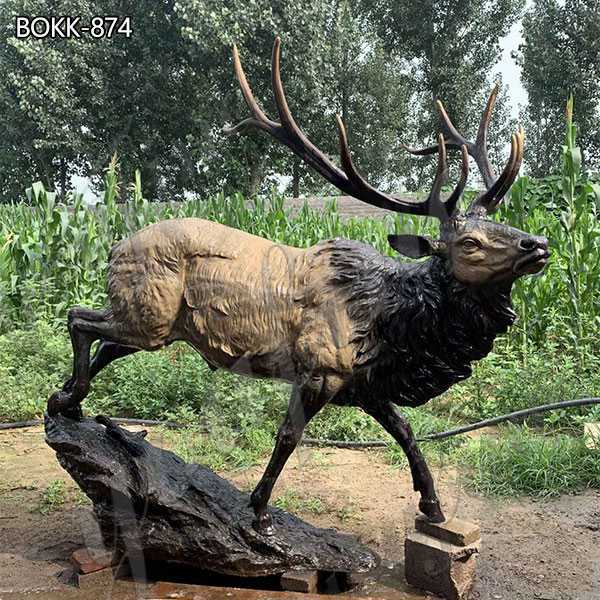 Using Traditional Lost Wax Method:
Our bronze elk animal sculptures would use the traditional lost wax method, which is one of the most traditional ways to make all bronze sculptures. Our factory has professional carving masters who have been learning these carving techniques since they were young. So they are passionate about carving art. Therefore, our professional masters could ensure 100% restoration of all the details of the elk. Whether it is the horns of the elk, the ears, or the body, the carvings are very vivid.
This bronze elk animal statue is life-size and also has an exquisite bronze metal base. This is the most popular elk design in our factory. Of course, we still have the 1:1 clay model of this sculpture. Therefore, our factory could provide the model to you for free. In this way, we could ensure that we could quickly complete the production of bronze sculptures and reduce some costs for you.
Where Could Elk Statue Place?
As the most exquisite and highest quality bronze sculpture, you could serve as a good collection of artworks. You could have many choices: placing in your home garden, farms, parks, zoos, grasslands, etc. They are all good choices. Our high-quality sculptures could surely become your artwork for generations.
If you are looking for a beautiful bronze elk animal statue for your home garden, please feel free to contact us. Over 35 years of casting and creating the most exquisite bronze sculptures really make a difference. And, our price would definitely satisfy you.