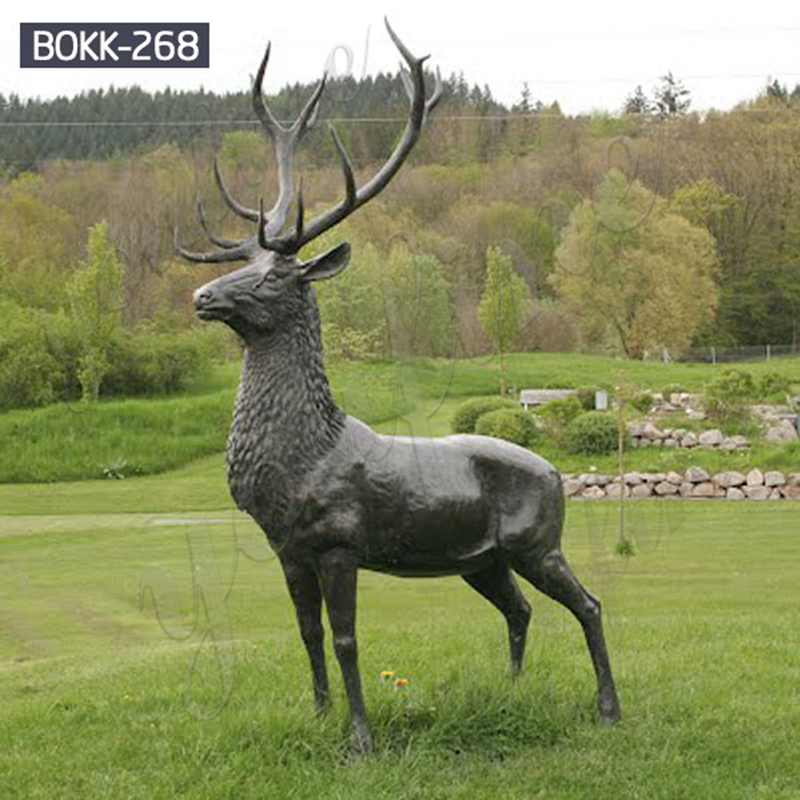 1.Introduction of this antique bronze stag statue:
This antique bronze stag statue is made by our professional bronze masters, who are focusing on bronze animals casting for many years. Our bronze deer statues are perfect for putting on any lawn to decorate. We use the ancient and traditional "Lost Wax Process" to ensure the quality of our statue. Our brozne statue is hand-painted in bronze with color accents to give a high-quality look with intricate details.
The deer is a hoofed ruminant that forms the family Cervidae. The two main groups are Cervinae, including the muntjac, the elk. And the Capreolinae, including the reindeer (caribou), the roe deer and the moose. Female reindeer, and male deer of all species except the Chinese water deer, grow and shed new antlers each year. In this case, they differ from the permanently horned antelope. Which are part of a different family (bovidae) in the same order of ungulate ungulates (small genus).

3.What we could make about the stag statues?
Firstly, You Fine bronze foundry has many professional artists who could make bronze stag sculptures of different styles. And I believe that you could find a style you like.
Secondly, All of our bronze animal statues are cast from the highest quality bronze materials, including 80% bronze and 20% other metal materials. While utilizing proprietary casting technology "lost wax process".
Then, Our clay masters learn to make animal clay molds from a young age, their skills are learned from their parents. So they could make any animal a vivid life.
in addition, Our bronze sculpture craftsmen have many years of experience in carving. They often engage in the carving of various animals and could grasp the details of each sculpture.
Finally, During the production process, we would also modify the wax pattern according to the design to avoid throwing away some details in the model during the production process.
4. More designs of brozne deer statues:
You Fine Art Sculpture could provide high quality bronze stag sculptures. At the same time, we also offer custom bronze sculpture casting services. Whether your sculpture is in small size or large size, we could accept it. Our company has more than 30 years of engraving experience, we are your best choice!
For any other information about our bronze stag statue. Please send us the e-mail (sales@you-fine.com), or call us (+86 13938480725), or leave a message on our website, our professional and friendly sales staff would reply you within 24 hours.