Tortoise Statue Details:
The tortoise is a very spiritual animal. The tortoise has a long lifespan and is considered a lucky beast that symbolizes longevity and health. YouFine bronze tortoise statue is very vivid and lifelike. You see, this huge tortoise must have a life span of thousands of years. In particular, the spiral on the back of this turtle symbolizes the strong characteristics of the turtle. Obviously, this turtle is standing here steadily. It looked into the distance as if looking for the future and thinking about the future life. However, this scene is like humans are constantly pursuing their own happy future.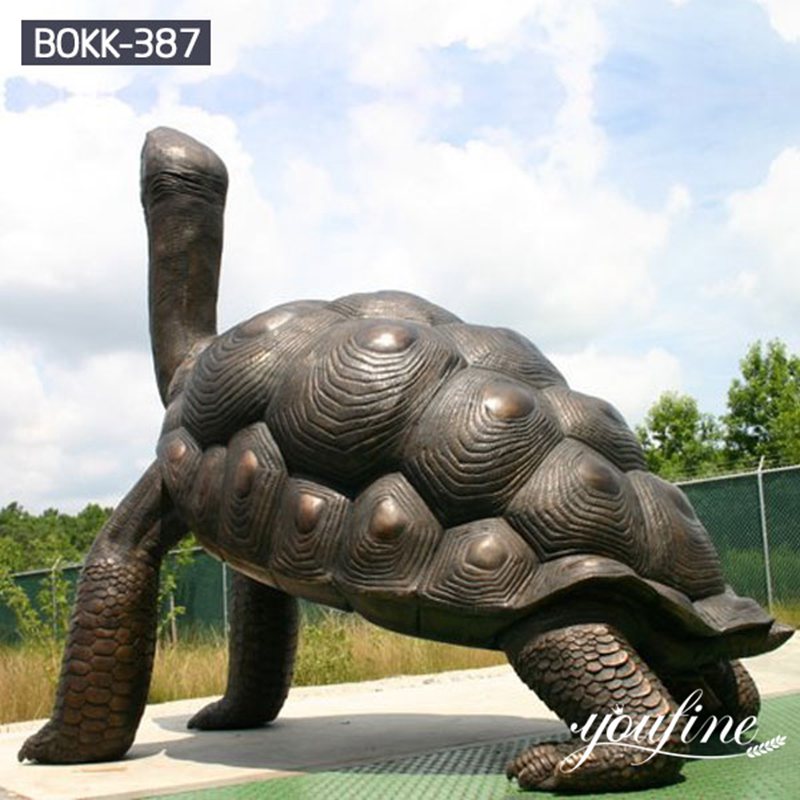 Such a Superb Casting:
the YouFine has excellent artists who are able to cast bronze tortoise statues to life and vividly. So our simulated tortoise statue is enough to be fake! What's more, the routine uses high-quality materials, carefully crafted by old craftsmen. These experienced artists pay attention to details and use delicate carving techniques. They are good at discovering three-dimensional beauty! Therefore, the combination of the YouFine statue and the surrounding environment is very attractive!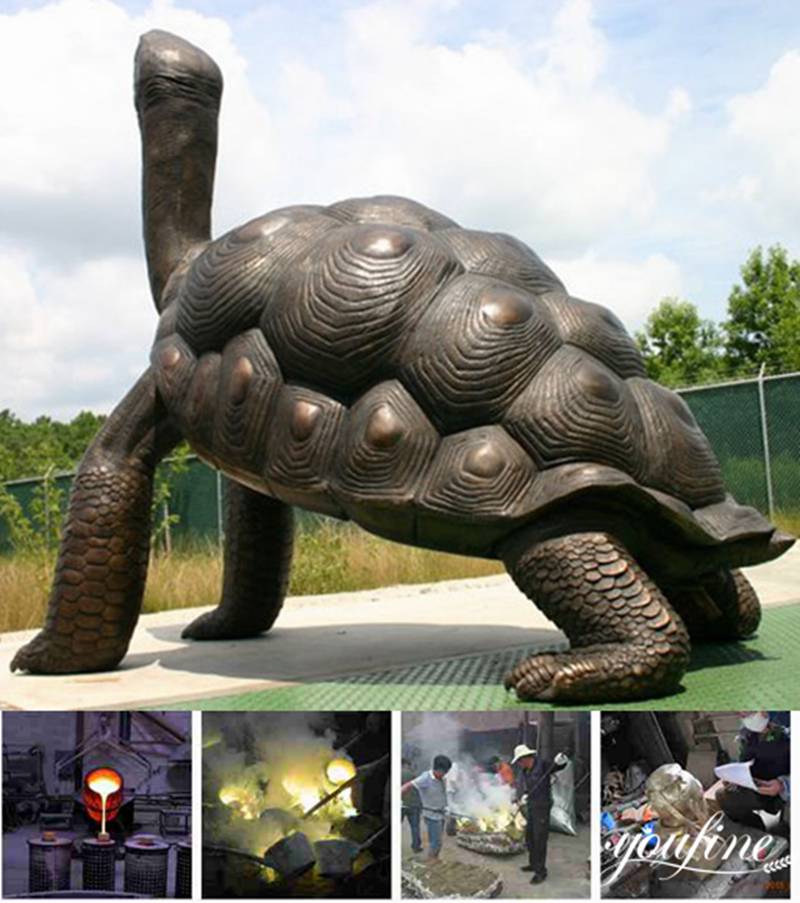 Distinctive Tortoise Style:
Of course, as an excellent bronze animal foundry. the YouFine has bronze tortoise statues of different shapes. There are the following types of tortoises from the body size. No matter what kind and size you want tortoises, YouFine could meet your needs.
Suitable for Many Occasions:
First of all, a bronze tortoise statue is used as a landscape engineering decoration to enhance the image of the building. Therefore, whether it is a park, a scenic spot, or a company, the YouFine sculptures are not only embellishments but also enhance the image! Of course, the tortoise statue could be placed in the living room of the home, such as the dragon tortoise lucky money, the dragon tortoise is facing the door and window to absorb the wealth into the house. The tortoise could absorb the aura of heaven, earth, mountains, and rivers, so it has a long life. Therefore, tortoise-shaped decorations are placed in the bedroom of the elderly to symbolize health and longevity.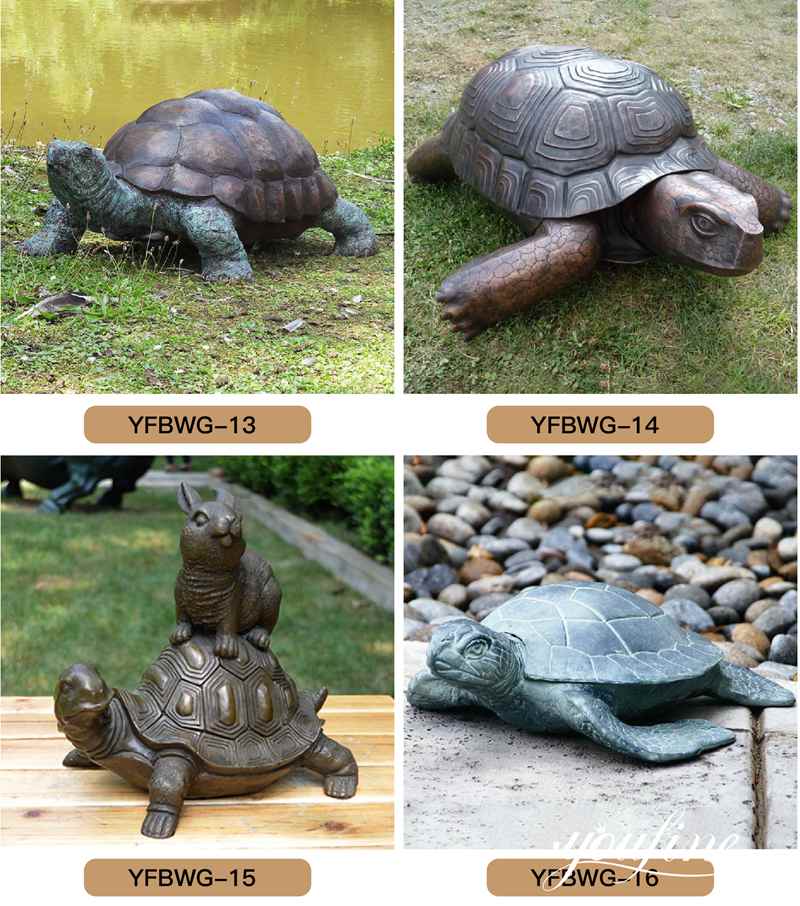 Countless Reasons to Choose YouFine:
First of all, YouFine could provide services such as design sketches, sculpture renderings, small draft models, a full set of plans, and the production and construction of various sculptures.
Secondly, YouFine could cooperate with exhibition companies, landscape companies, construction companies, and other industry groups in the follow-up, project design, production, and construction of sculpture business. In addition, YouFine attaches great importance to the safety of packaging, so we guarantee that you would receive a beautiful bronze tortoise statue.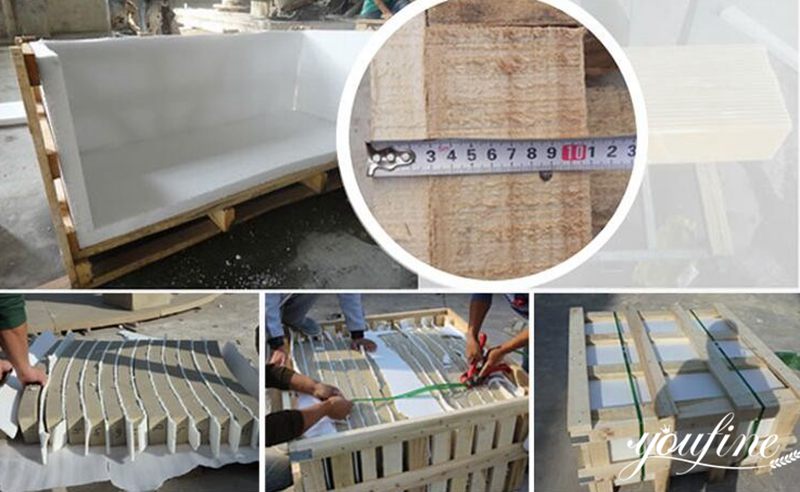 You could contact us immediately, we would strive for the biggest discount for you and provide you with the latest catalog of bronze animal sculpture designs.