Passing Through Kaws Features:
The Passing Through kaws statue covers her eyes awkwardly. KAWS invented this pose for his first public sculpture. And the modern sculpture debuted at Harbour City in Hong Kong in 2010. This sculpture seems to be saying God, I have to sit here. I would be ashamed if so many people passed me by.
Just like now many people pass through the crowd, but still feel that they have no place to stay and feel lonely. Maybe some people are very confident but very shy inside.
This fun Passing Through Kaws has also been exhibited at the Aldridge Museum of Art, the Standard Hotel in New York City, and the 30th Street Station in Philadelphia. In 2013, KAWS reproduced the figure in grey, black and brown.
kaws Statue Details:
Kaws statue works are characterized by an emphasis on color and lines. And the sculptures have unique graphics. For example, the "x" is used repeatedly on the hands, nose, eyes, and ears of the sculpture. Of course, some styles of sculpture also appropriate pop culture icons.
Among these sculptures, styles are Mickey Mouse, Michelin Man, Smurfs, Snoopy, and SpongeBob SquarePants. Additionally, the Kaws statue is often depicted in a shy and powerless pose. For example, some Kaws statues often cover their noses with their hands. Also, in his paintings, Kaws always translates his characterization of iconic figures into the shapes of abstract paintings.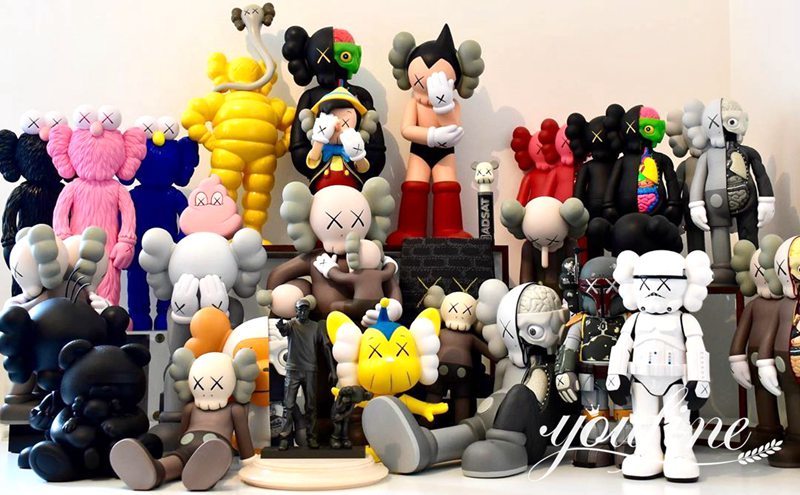 Brian Donnelly Artist:
Brian Donnelly was born on November 4, 1974. The artist, known professionally as Kaws, is an Americould artist and designer. Also, his work includes the repeated use of a series of figurative figures and patterns. Well, some of these elements go back to the 1990s.
It was at this time that his career had just begun. Of course, these designs were originally drawn in 2D and later realized in 3D. Some of his characters are his own creations, while others are redesigned versions of existing icons.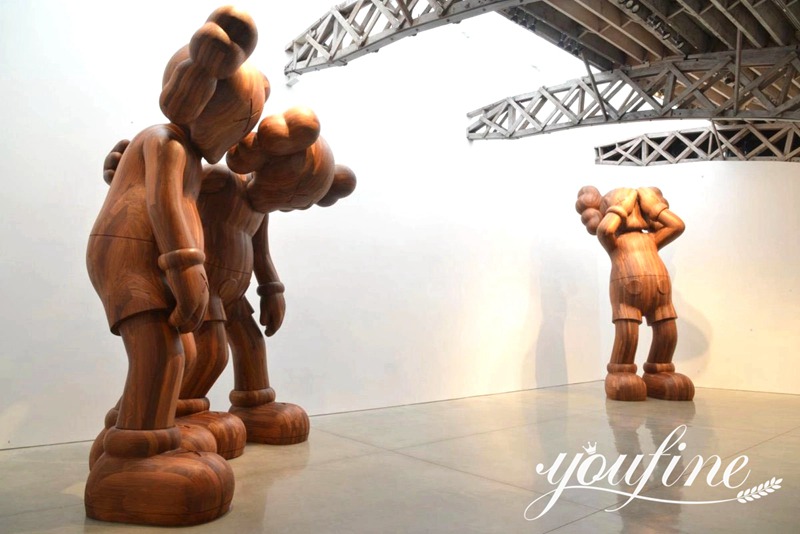 YouFine Could Fully Restore Kaws Statues:
This Kaws sculpture our artist could give you a 100% complete look. Of course, our services could be customized according to the needs of customers. We could not only manufacture kaws statue made of fiberglass.
YouFine factory could also cast bronze kaws statue for you. Our artists have been in the figure sculpture industry for 20 years. We have professional clay model artists. Therefore, these kaws statues would have a very vivid appearance.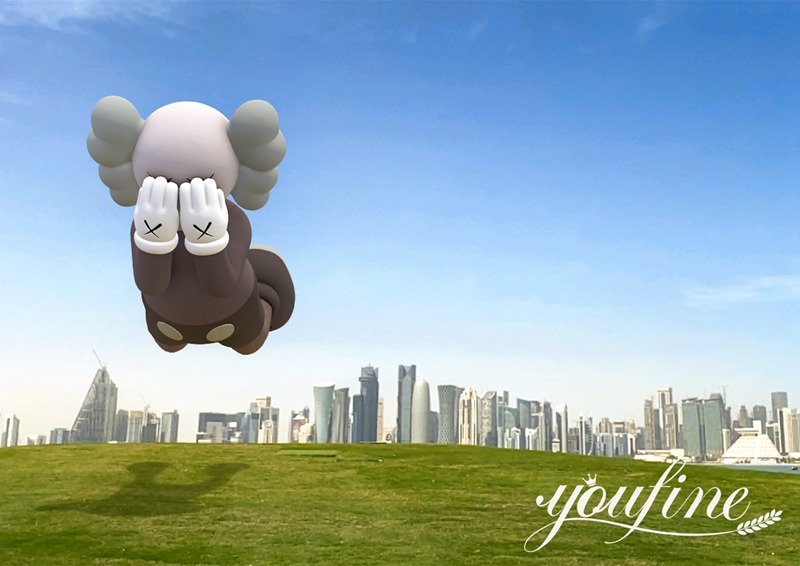 What is Kaws?
KAWS dolls or toys are designer art toys made by renowned artist KAWS aka Brain Donnelly. Compared to the relatively expensive high-end action figures, the Kaws statue has some bells and whistles. Kaws figures come in a variety of sizes and are produced by the Japanese toy company Medicom.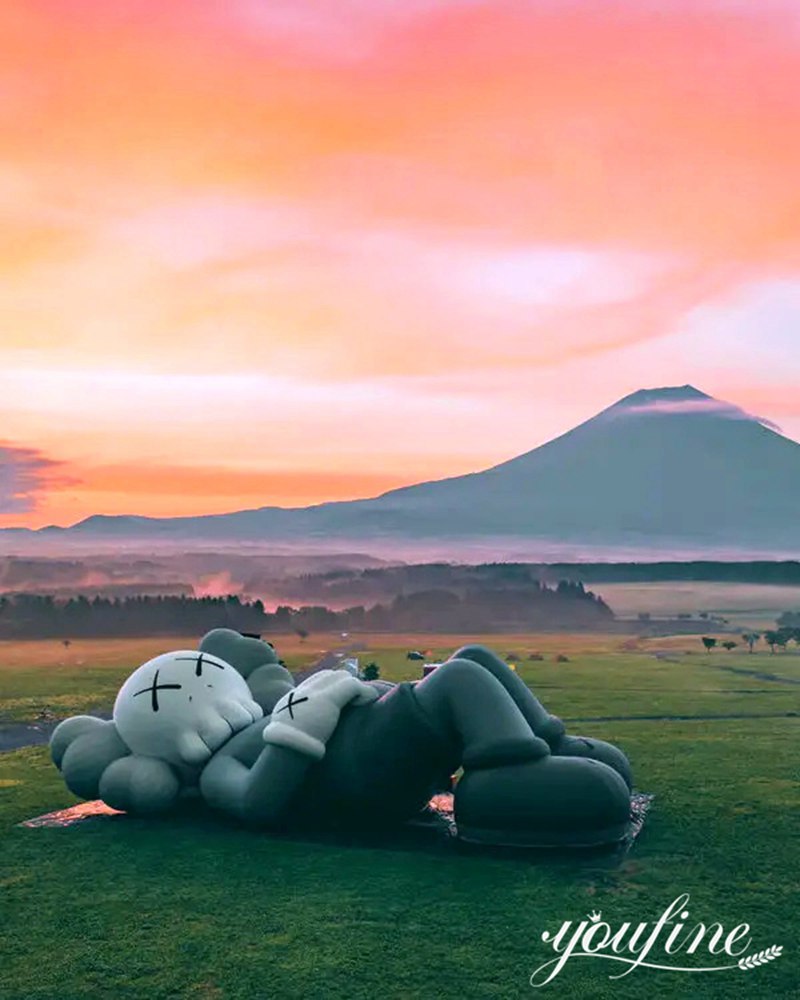 Why is KAWS So Popular?
Because it's all about people's needs. The more Kaws is in demand as an artist and his characters, the more valuable his work would be. Brian's artwork is often more valuable than his characters. Because Kaws figures are more accessible than traditional Kaws artwork.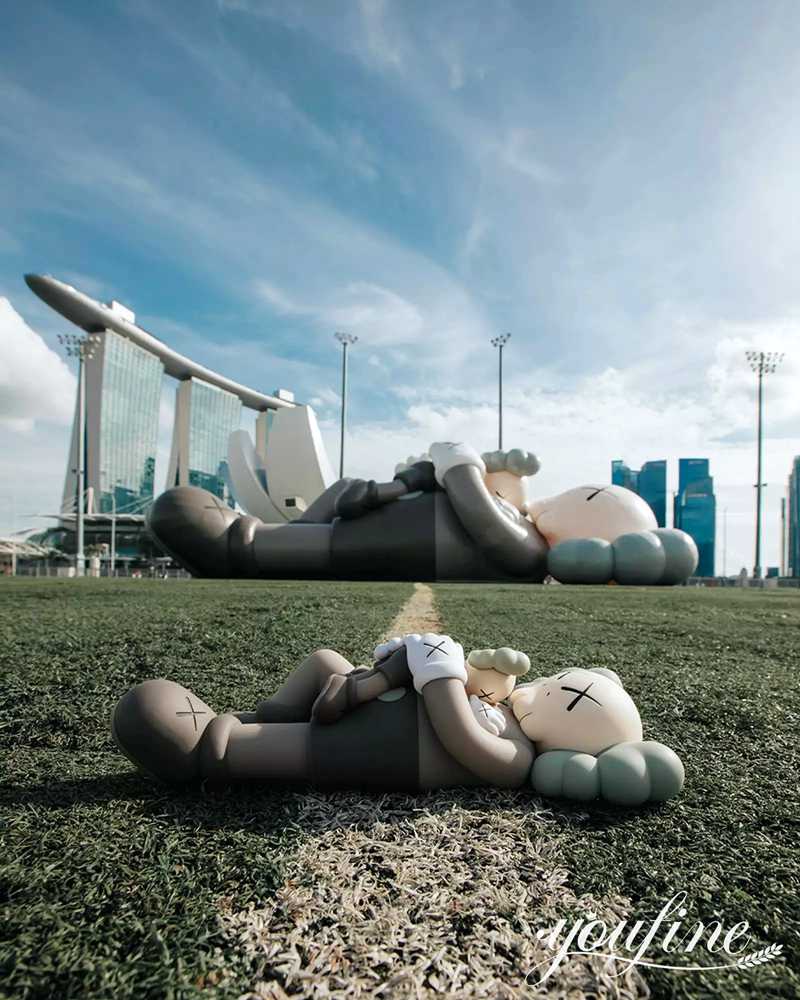 Who Created the Kaws Statue?
Brian Donnelly created the Kaws statue. Former Disney illustrator Brian Donnelly created his first vinyl toy in 1999. This sculpture is an 8-inch "companion". The Kaws statue has a round belly and noodle-like limbs. Of course, this large sculpture also has white gloves. Well, this Kaws statue immediately reminds viewers of a lot of vivid cartoons. Therefore, most people like the Kaws statue very much.
What is the Rarest KAWS Figure?
Just Kaws: 5 of the rarest Kaws toys in existence.
The Rarest KAWS Figure
Passing Through
Boba Fett Companion
Astro Boy Companion
No Future Companion
Karimoku Companion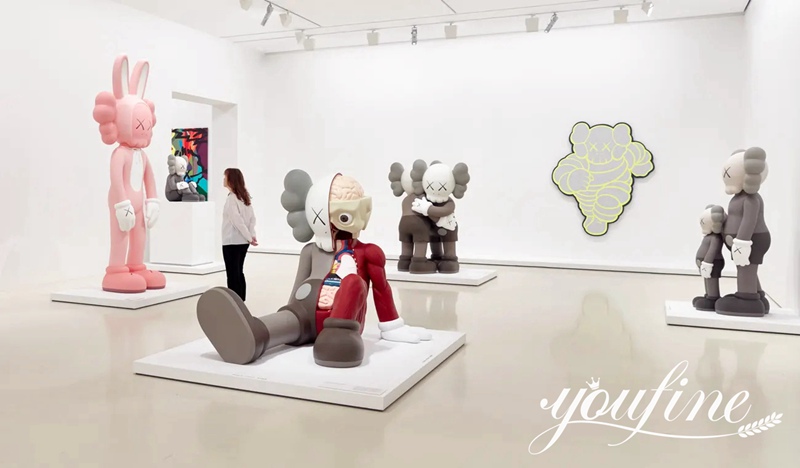 Production Process of Kaws Statue:
| Sculpture Process | Fiberglass Sculpture Specific Instructions |
| --- | --- |
| Step1 Design Communication | You could supply us with several photographs with dimensions. |
| Step 2: Project Consultation | YouFine team would make a production plan, according to your design, budget, delivery time, or any other service. Our final aim is to supply high-quality and cost-saving sculptures efficiently. |
| Step 3: Confirm Mold | YouFine artist would make 1:1 clay, or 3D mold, when finished mold, we would take photos for your reference, the mold could modify any details till you're satisfied with it |
| Step 4: Making Inner Structure | Making exact inner structures according to mold. |
| Step 5: Make Fiberglass | Making fiberglass and resin statues. |
| Step 6: Polish the Surface and Color | Polish the surface of the statue and paint or electroplate the color as you want. |
| Step 7: Confirm Final Sculptures | We would take photos for your reference, after you're satisfied with all, YouFine would arrange packing and shipment. |
| Step 8: Package | Strong wooden crate or iron boxes with waterproof and shockproof foam inside. |
Of course, if you want this delicate and trendy Kaws statue we could make it for you. YouFine would provide you with a direct factory price and satisfactory service.