Fiberglass Chess Sculptures Detail:
Our fiberglass chess statues could also be made in a variety of sizes, from small desktop sets to large outdoor sets. This versatility in size allows for the set to be used in various settings, including homes, offices, parks, and public areas. Overall, YouFine chess sculptures offer a visually impressive and unique way to play the classic game of chess. They are a popular choice for those looking for a high-quality, durable chess set that is both functional and aesthetically pleasing.
The Function of the Chess Statue:
A Fiberglass large chess statue could be used as a decorative item to add a touch of elegance and sophistication to a home, office, or outdoor space. Also, some people may collect statues as a hobby, and the chess statue could be a valuable addition to their collection. And the chess statue could also be used as part of an outdoor chess game, allowing people to enjoy a game of chess in a unique and visually appealing way.
Even so, they are unique and memorable gifts for a chess enthusiast or someone who appreciates unique home decor. Furthermore, many businesses may purchase a chess statue to use as a marketing tool or to draw attention to their location or event. They are versatile and attractive item that could serve a variety of purposes and appeals to a wide range of people.
The Process of Making a Chess Statue:
Design and Prototype: The first step is to create a design for the chess statue. This could involve sketching, 3D modeling, or even creating a physical prototype using clay or foam. The design should include all the details of the statue, including its size, shape, and intricate features.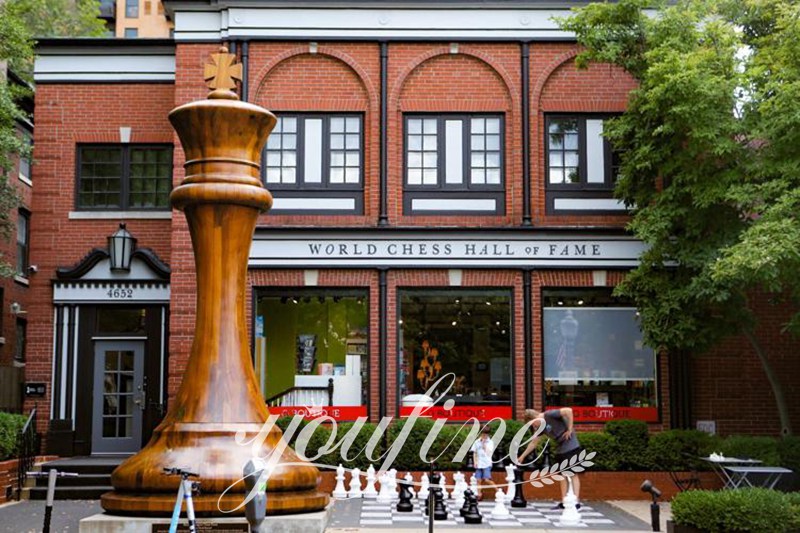 Mold-making: Once the design is finalized, a mold is created to shape the fiberglass. This usually involves applying a layer of release agent onto the prototype, then covering it with a layer of silicone rubber. Once the rubber has cured, it is removed from the prototype and used as a mold for the fiberglass.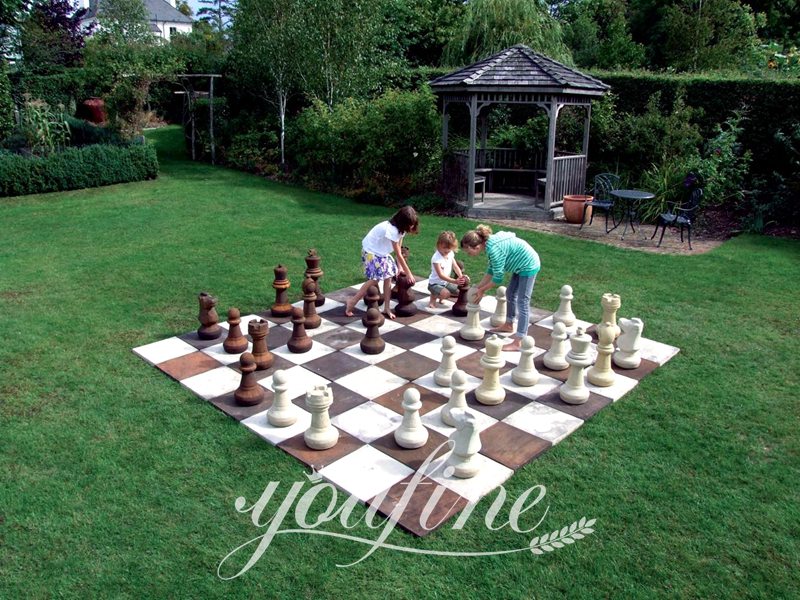 Fiberglassing: With the mold in place, the next step is to lay down layers of fiberglass cloth and resin onto the mold. The fiberglass is cut into the desired shape and laid down in layers, with each layer coated with resin to bond it to the previous layer. The number of layers will depend on the thickness and strength required for the statue.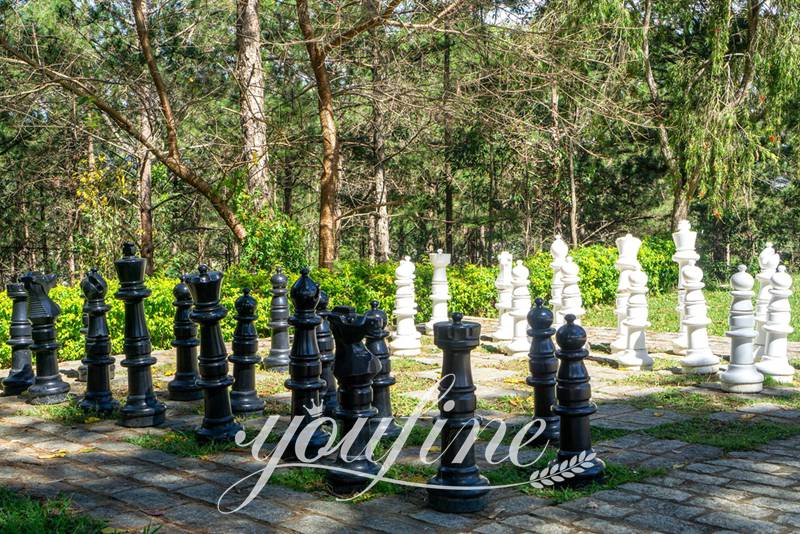 Demolding: Once the fiberglass has cured and hardened, the mold can be removed to reveal the finished statue. This involves carefully peeling away the mold from the fiberglass, being careful not to damage the delicate details.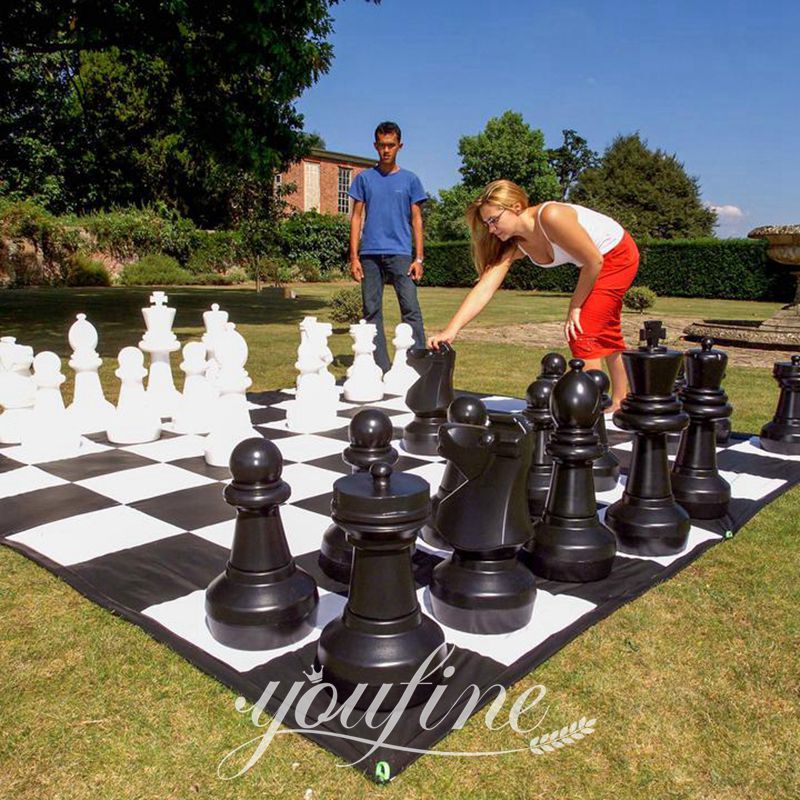 Finishing: The final step is to add any finishing touches to the statue. This could include sanding down rough edges, painting the statue, or adding any additional features such as a base or pedestal.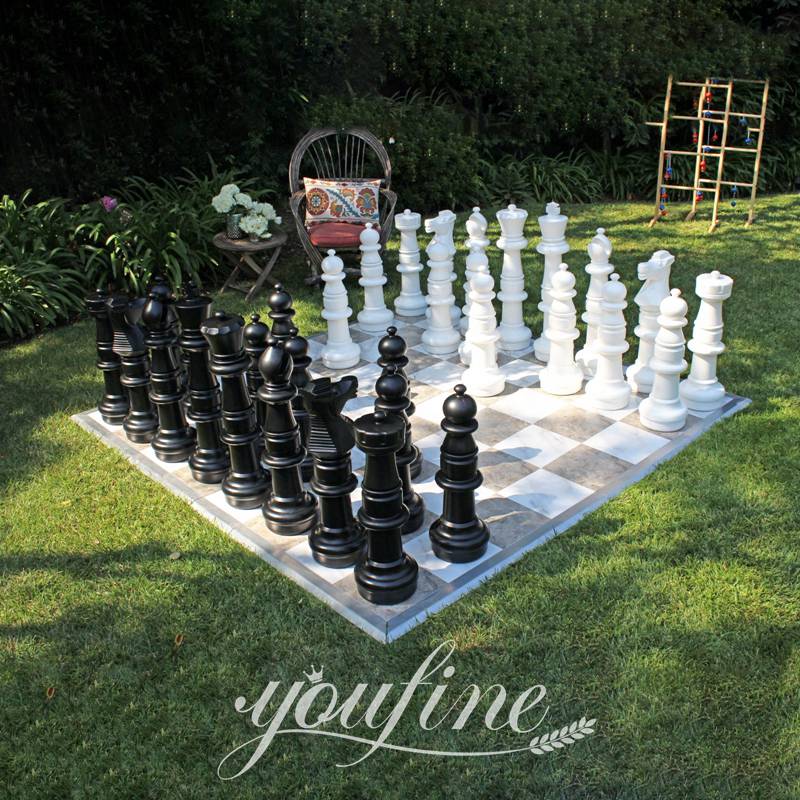 Provided More Customization Services:
There are many customization services that could be provided when making Fiberglass Chess Sculptures. Fiberglass Chess Sculptures could be made in custom sizes to fit the space where they would be displayed. Most importantly, chess pieces could be customized with names or initials to create a unique and personalized gift or trophy.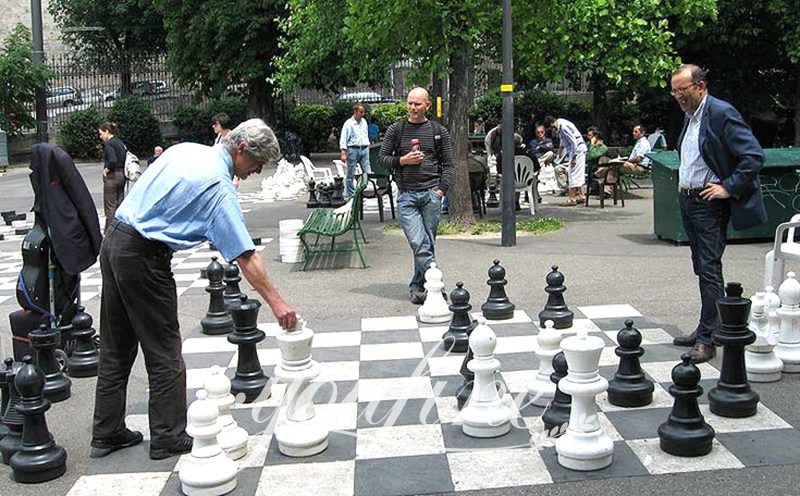 In any case, chess pieces could be painted in custom colors to match a specific color scheme or branding. Custom designs could be created to match a specific theme or style, such as a medieval or modern theme. Different finishes could be applied to the chess pieces, such as gloss, matte, or metallic finishes, to create a unique and attractive look. Custom bases could be created to hold the chess pieces, such as a wooden or metal base, to add an additional level of customization.
Overall, fiberglass chess sculptures offer a great deal of flexibility in terms of customization, making them a popular choice for businesses, collectors, and individuals looking for a unique and personalized chess set. If you would like to want a chess sculpture please feel free to contact us.