Details About the Giraffe Sculpture:
What a beautiful and magnificent bronze life-size giraffe statue. The material of this statue is bronze. Do you want to do a very large statue work? I think, no matter where you put this bronze statue, it would attract a lot of people's attention. This bronze giraffe is a fine work of art. You could see a lifelike bronze giraffe. Clearly, bones, outlines, and spots could be seen on the surface of the giraffe's epidermis.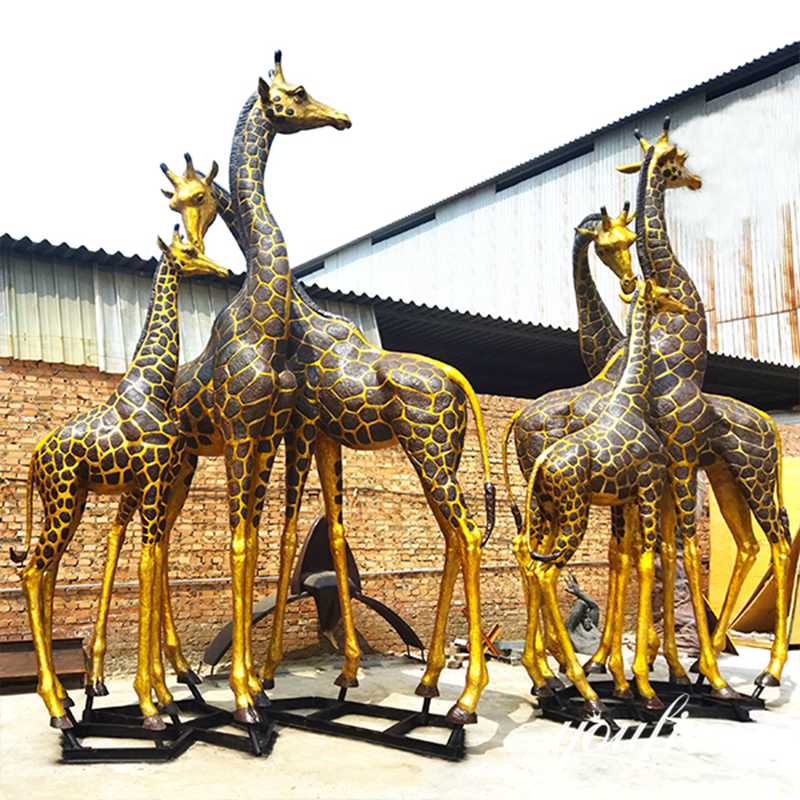 There is no doubt that these spots are so realistic. This is more than a simple understanding of the beauty of bronze giraffe sculptures. Of course, their graceful figures also make us feel a little mysterious. If you choose this giraffe statue, we have a model for it, and you could save a fortune on the model.
Pros of YouFine:
We have a team that specializes in animal casting and they do a lot of research on real giraffes. In order to make a good giraffe clay sculpture, several of our masters have gone to the zoo many times. First, we stretch the giraffe's legs slightly. After doing this, the copper giraffe's belly would look slimmer. Next, we repaired the tummy, neck, and legs. We pay a lot of attention to the bones, shape, and spots of giraffes.
We modified the giraffe's skin over and over again. That's what makes the bronze giraffe sculpture so attractive. Not only could we make bronze giraffes, but we could also make many other animals, such as deer, elephants, bulls, and more. YouFine believes that if this bronze life-size giraffe statue were placed outside, it would definitely surprise people. Of course, you could place this set of bronze animal sculptures in your garden.
It Has Been Well Received By Customers:
YouFine produces animal statues of various shapes for customers all year round. Our customers love our sculptures. Below is customer feedback on the bronze giraffe statues in the park. Customer Andy said: "The bronze giraffe sculpture is great, I think your quality is very good, I could order another batch."
If you are interested in a bronze life-size giraffe statue, please contact us. YouFine is a professional bronze carving factory. Without a doubt, we are your first choice.