Giraffe Statue Details:
The two bronze 6-foot giraffe statues have different shapes. One of the giraffes was holding its head up as if it were eating leaves from high up. Well, the other giraffe is looking down as if it's looking down at something. In addition, the proportions of the sculpture's body are very in line with the characteristics of giraffes.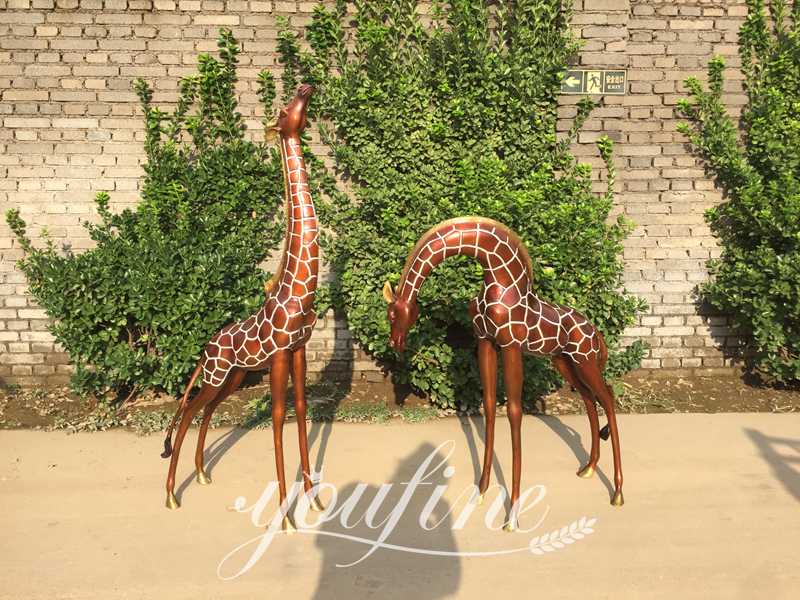 In particular, the proportions of the neck and legs have passed our strict requirements to show the perfect structural beauty of the whole sculpture. In addition, in the details, we also strive for excellence. For example, in the ears of these giraffe sculptures, you could feel their cuteness and agility. Please believe that YouFine's artists could definitely cast the most realistic and real wild animal giraffe statue for your garden for you.
Best Coloring Artists:
YouFine has the best coloring artists. They have decades of experience and are constantly improving their coloring skills. Therefore, as long as the color effect the customer wants to achieve, our artists would meet the customer's needs. Of course, the most distinctive feature is that the colors of the two 6-foot giraffe statues are very beautiful.
You could see that these different parts are made up of different colors. These color boundaries are very sharp. Of course, these two giraffe artworks could fully demonstrate the superb coloring skills of our artists. Of course, these colors could also be customized according to customer needs. And, YouFine's coloring artists are the best. They are always able to call out the client's favorite color.
Realistic Clay Model:
Before casting the bronze 6-foot giraffe statue, our artists would make a clay model of the same scale. Anyone who understands sculpture knows that a realistic clay model would determine the soul of the sculpture. Especially the traditional lost wax method requires the most exquisite clay model to cast the most satisfactory metal giraffe statue. Of course, our clay model artists have been involved in the industry from a very young age, and with decades of constant practice, they were able to bring the giraffe's appearance and details to life.
Of course, YouFine artists have cast bronze large giraffe statues of different shapes for many clients. We have many clay models of existing giraffe statues. Well, as long as you choose our existing giraffe sculpture style. YouFine would provide you with the right to use these clay models for free. If you would like to cast a bronze 6-foot giraffe statue decor for your home or garden, please feel free to contact us.