As part of the bronze wildlife sculptures creative process, artists would study the physical and psychological aspects of each species and consider the environment or natural habitat of the animal they cast. The true talent of our artists lies in their ability to capture the subtleties of each wild animal's expression and the emotions their subjects share with humans.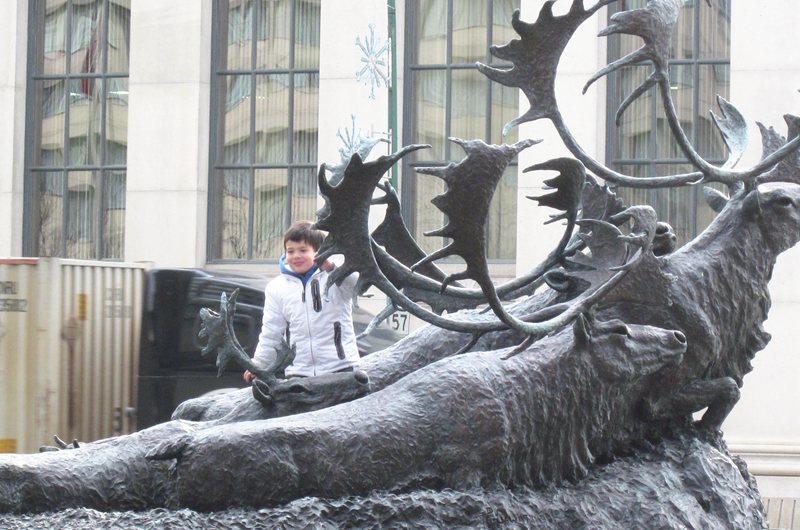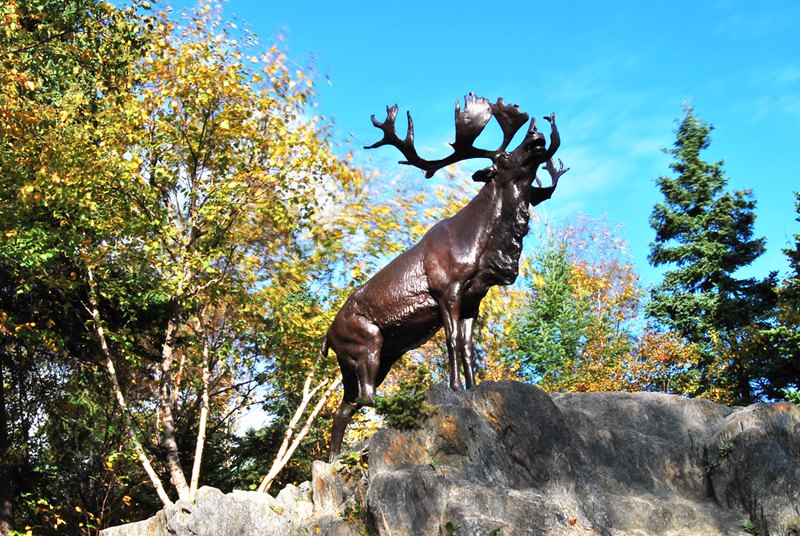 Top 1 Bronze Elk Wildlife Sculptures
Bronze Elk Wildlife Sculptures capture the essence of majestic elk with remarkable detail. The sculptures depict the elk's powerful physique, intricate antlers, and lifelike fur texture. Their alert and dignified posture is evident in their carefully crafted expressions, conveying a sense of wild beauty. These bronze artworks often showcase a lifelike patina, further enhancing their visual appeal and providing a timeless representation of this iconic wildlife symbol.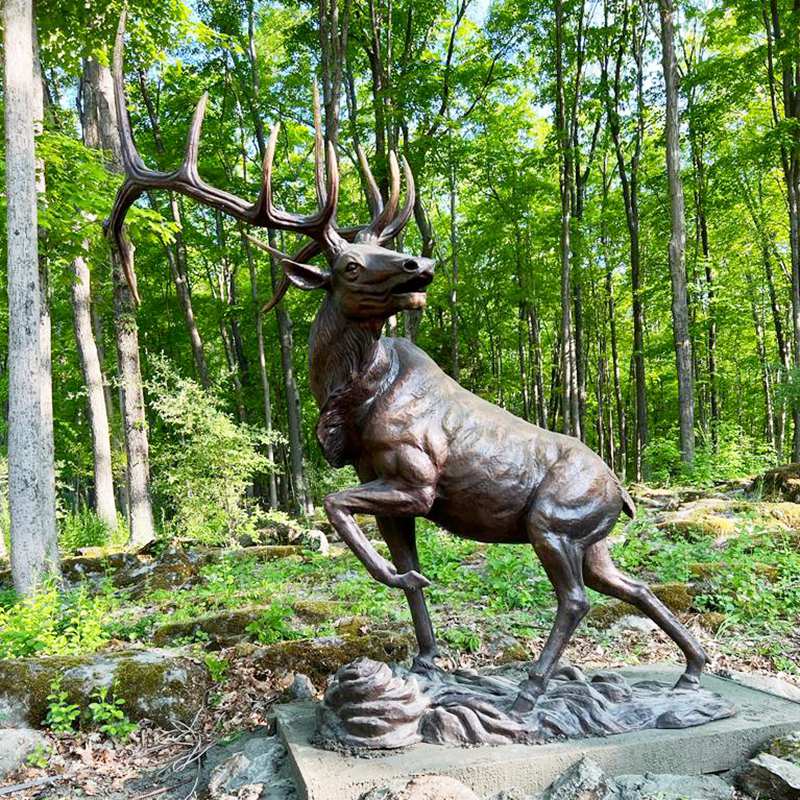 Check Out More Information: Life-Size Bronze Elk Statue
Top 2 Bronze Moose Wildlife Sculptures
Imagine the sounds of the forest echoing across the sky and land as you take home one of these bronze moose sculptures. A bronze bull moose rests with a friendly bird perched on its antlers. The sculpture's model represents a quiet moment in the wild. The piece is made using the lost wax casting method and is coated with a special multi-colored patina finish to maintain the integrity of the handcrafted design. This bronze moose sculpture would make an ideal gift for any avid hunter and moose lover.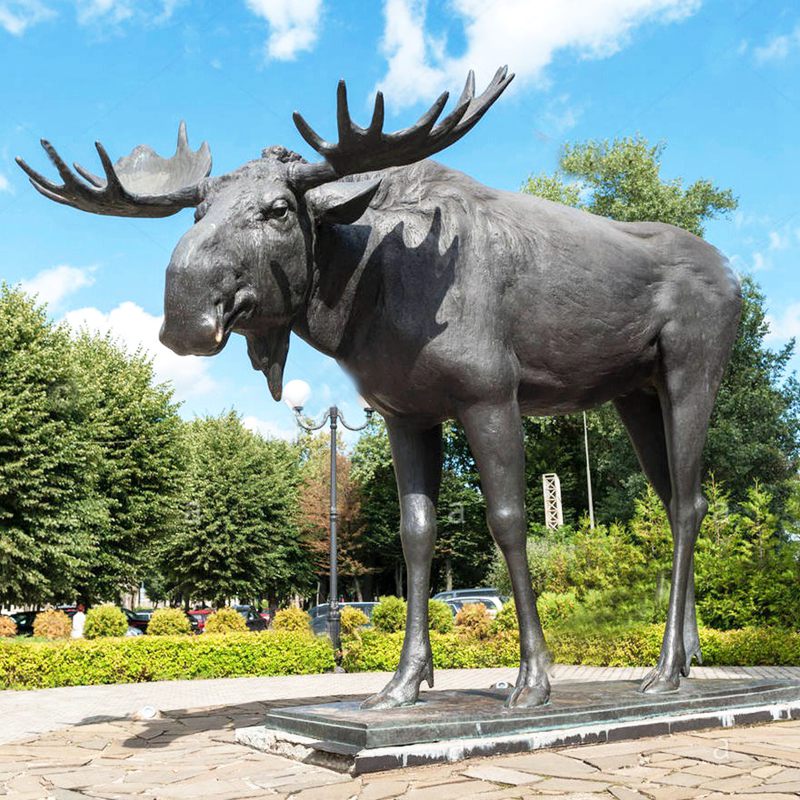 Check Out More Information: Bronze Life-size Deer Statue
Top 3 Bronze White Tail Deer Wildlife Sculptures
A stunning lost-wax bronze statue of a beautiful Whitetail Stag is a striking addition to our deer collection. The lifelike accents of white patches on the deer are characteristic of Whitetail stags, coupled with the well-toned physique of this notoriously fast-running animal. An interactive park statue that would be a fun and memorable sculpture for communities, children, and guests.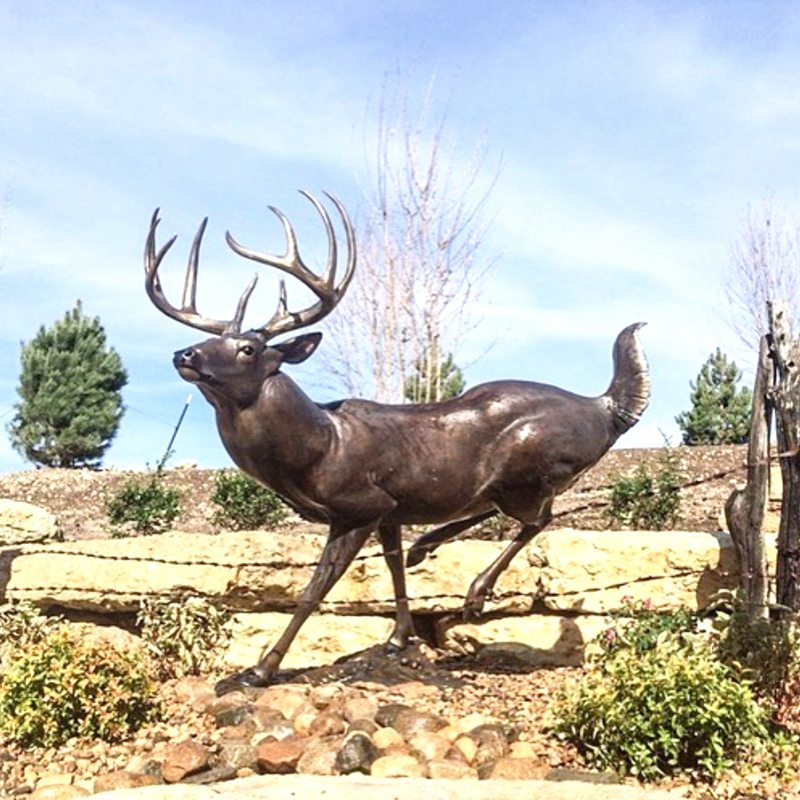 Featured in our vast bronze animals collection, this intricately designed life-sized bronze deer statue is a beautiful addition to any park, zoo, garden, cabin, home, or business looking to add a stunning and realistic touch of bronze art to their indoor or outdoor space.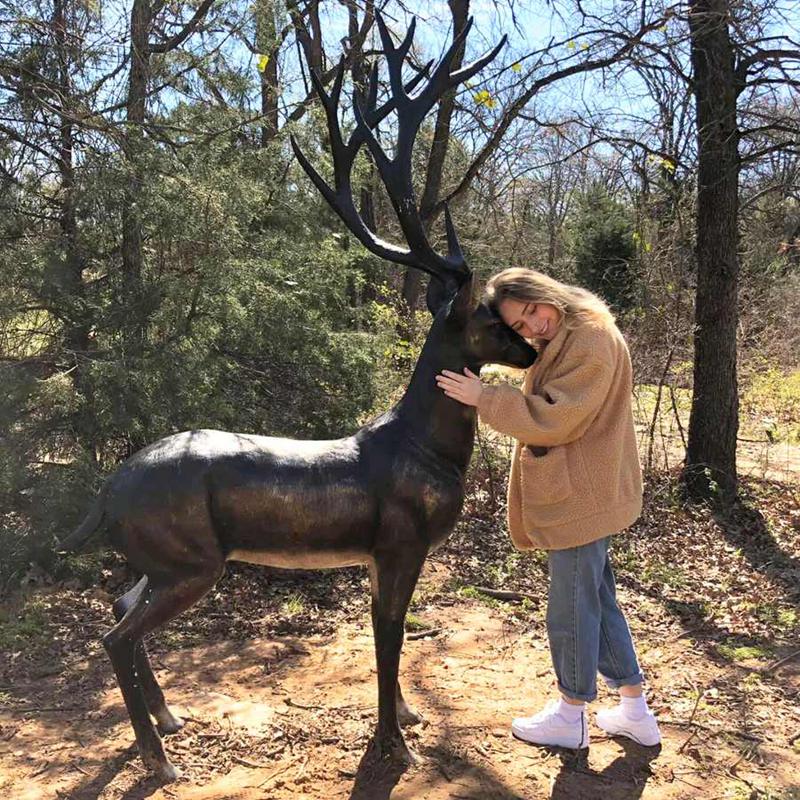 Top 4 Bronze Grizzly Bear Wildlife Sculptures
This sculpture depicts the famous grizzly bear standing on its hind legs as if looking out into the wilderness. Our artists have cast bronze bear sculptures of different shapes for many wild animals, and they have received unanimous approval from everyone. These bronze grizzly bears are very large and strong in appearance. This is the perfect gift for wildlife lovers.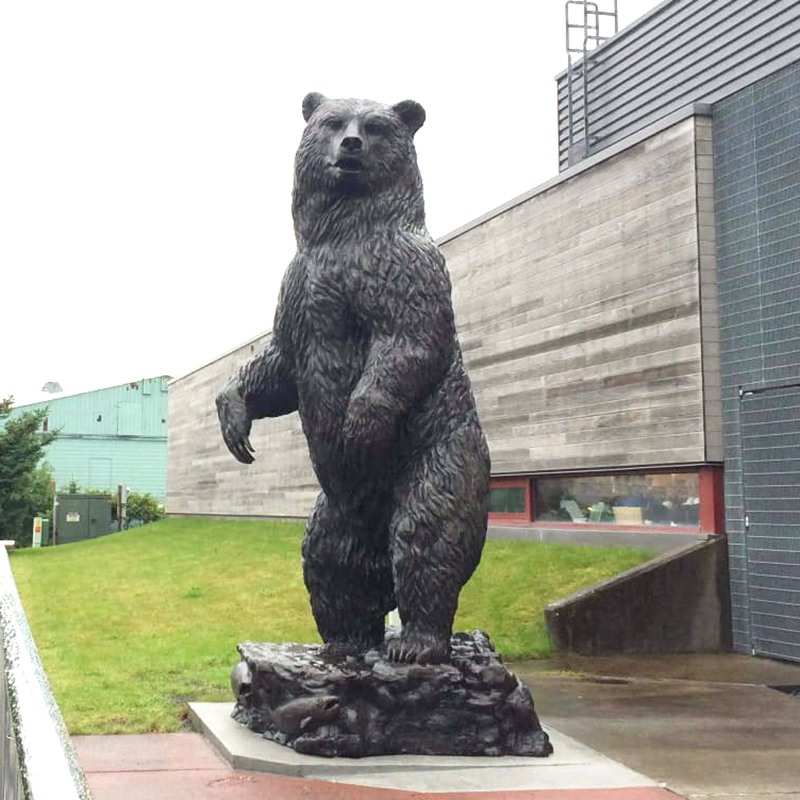 Check Out More Information: Bronze Grizzly Bear Statue
Top 5 Bronze Black Bear Wildlife Sculptures
This jolly bronze black bear statue is the perfect addition to your public or private space. These outdoor wildlife bear statues are perfect as installations in parks or nature trails, or as mascots that compliment your company's brand.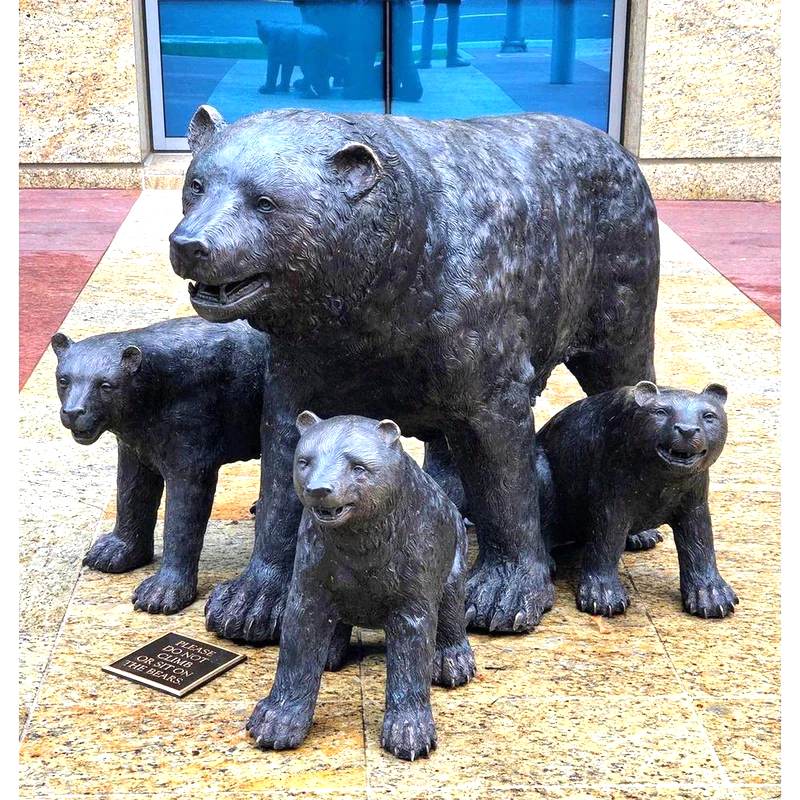 These life-size sculptures in our bear collection are made using lost wax casting, an ancient method that ensures the highest quality and durability, meaning these bear statues would be admired for countless generations. These bear statues are priced in sets of four but could be purchased individually.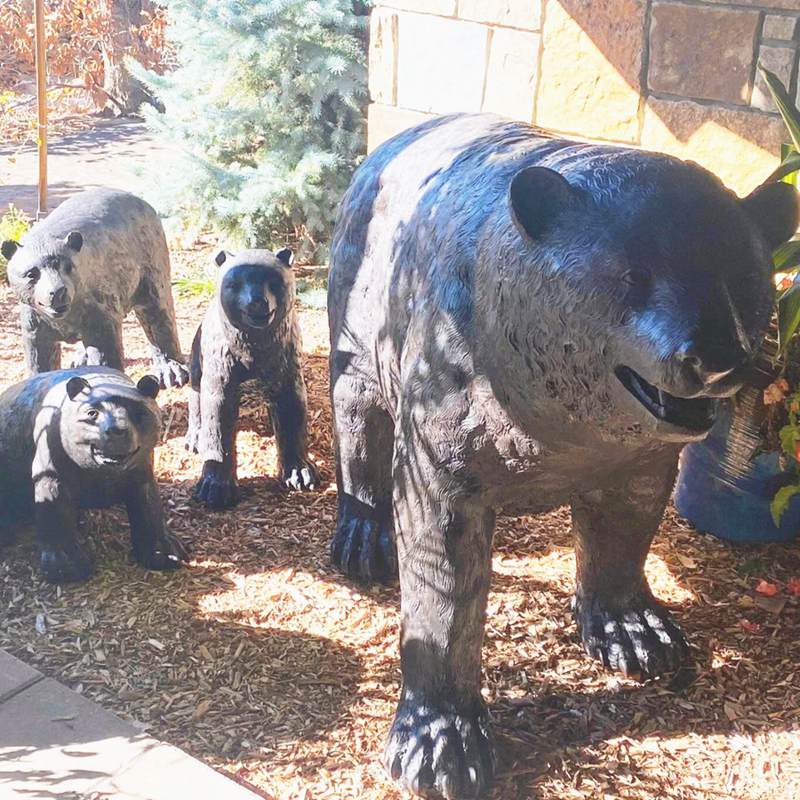 Top 6 Bronze Polar Bear sculptures
First of all, there are about 19 polar bear populations in the world: the United States (Alaska), Greenland, Russia, Norway (Svalbard) and Canada.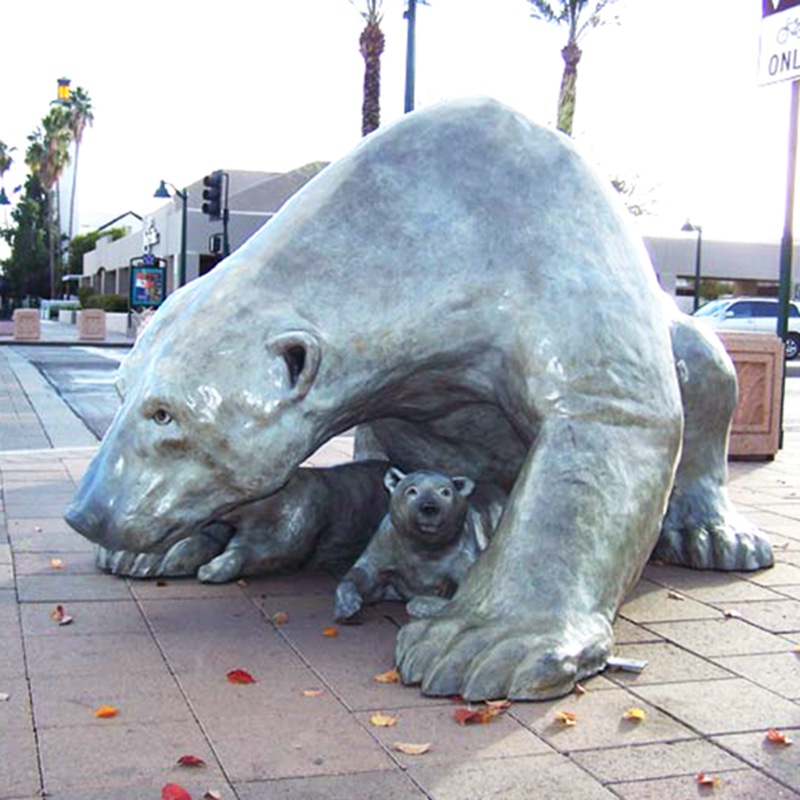 Our bronze polar bear sculpture captures the full detail of his appearance. Our artists carefully cast the polar bear's long, small head and round, small ears. Of course, the most distinctive feature is that the neck of the polar bear sculpture is very slender compared to the grizzly bear. Of course, we also provide customized services. These polar bear sculptures could be placed according to the location, and the posture could be innovated and changed.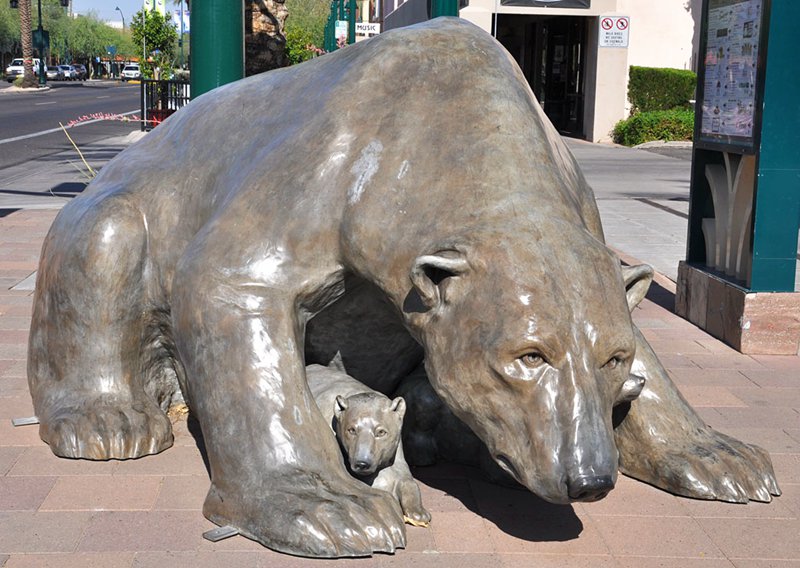 Top 7 Bronze Bison Wildlife Sculptures
This bronze bison statue is a great choice for outdoor sculptures. Our bison statues adapt to the changing seasons. Each season could reflect the beauty of different sculpture art. Our artist-cast, limited-edition bronze bison wildlife sculptures are known for capturing movement and emotion. This large bronze bison sculpture authentically captures the majestic pose of the maned bison.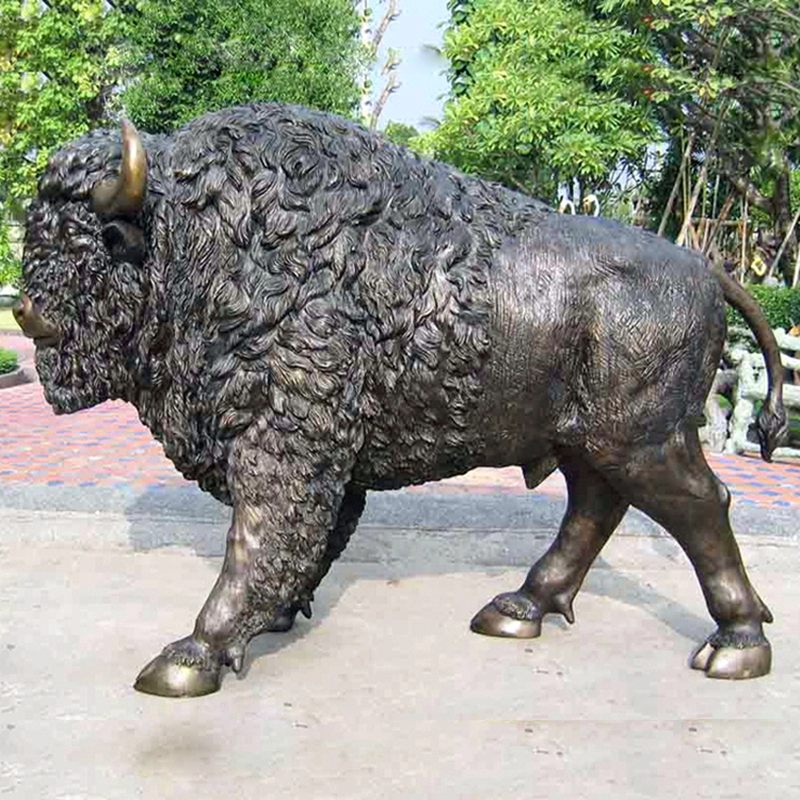 Check Out More Information: Bronze Bison Statue
Top 8 Bronze Texas Ocelot Wildlife Sculptures
Our bronze ocelot sculptures are roughly the size of a domestic cat. Sometimes people mistake it for a domestic cat based on its appearance. First of all, we all know that ocelot fur comes in many colors. Therefore, our highly skilled artists at Patina would customize your bronze ocelot sculpture in different colors.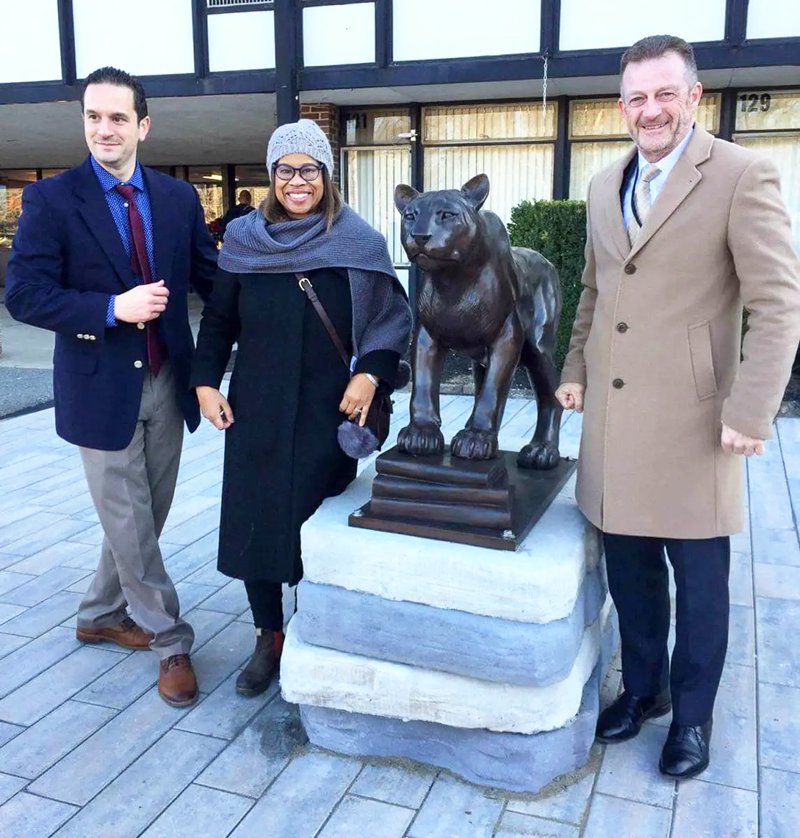 In addition, the ocelot is also commonly known as the little grass leopard. Because its markings are similar to the size of coins, it is also known as the copper coin leopard. In many parts of the United States, we advocate the protection of wildlife, so we cast ocelot bronze statues for different families and businesses, and they all choose generous donations of statues.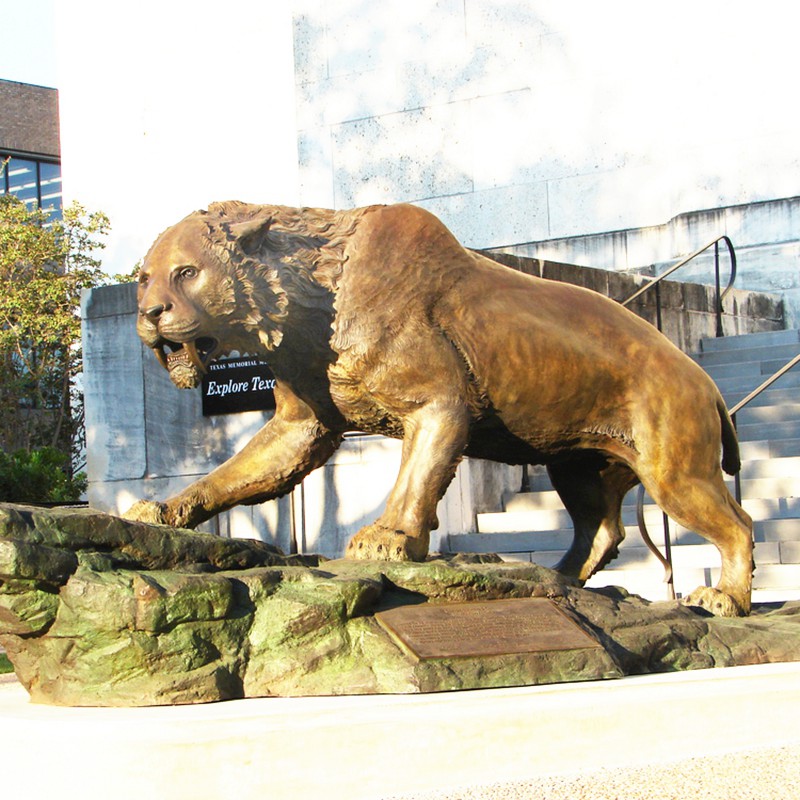 Top 9 Bronze Panther Wildlife Sculptures
With our bronze panther crawling and hunting, this sculpture is a very special eye-catcher for all wildlife lovers. These sturdy and stunning bronze panther statues would fit into any type of indoor and outdoor space. Our bronze statues and sculptures are cast using the traditional lost wax technique.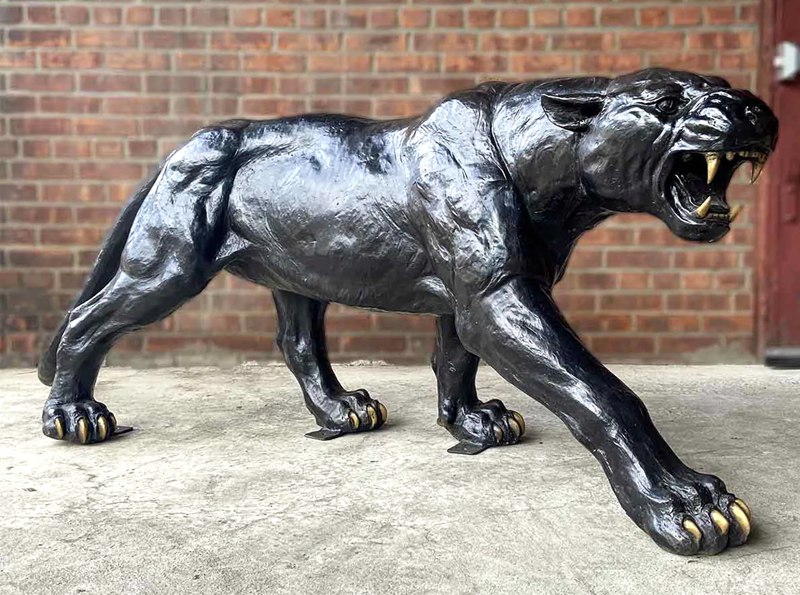 This lost-wax life-size bronze panther statue features the wild cat roaring as it walks on an elevated textured rock base. Our bronze animal statues are expertly designed and cast to capture the lifelike features of animals large and small.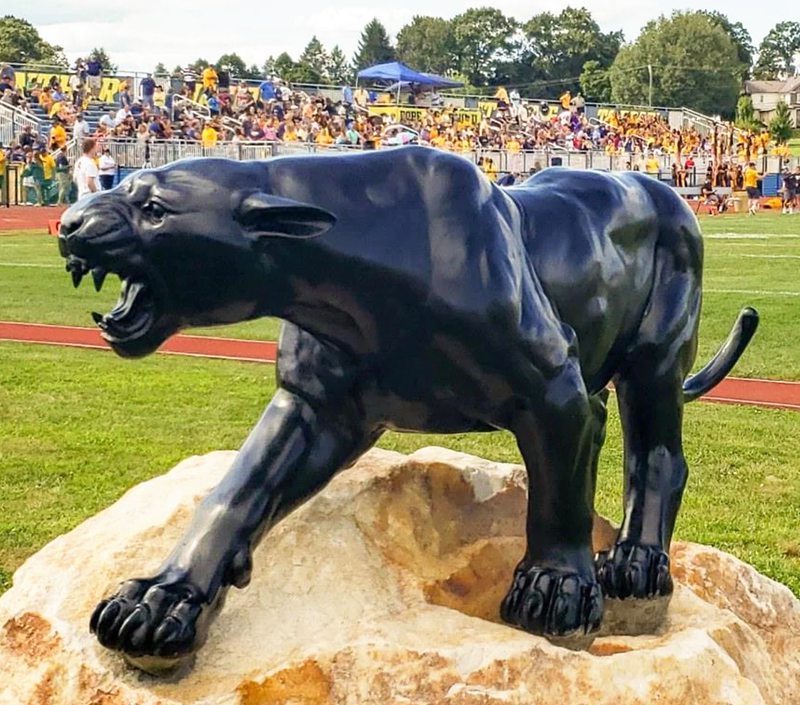 This bronze panther sculpture is the perfect addition to parks, zoos, and wildlife conservatories, as well as the perfect bronze mascot statue for high schools, colleges, and businesses looking to represent panther pride. The Panthers are a vital presence in colleges, campuses, and stadiums.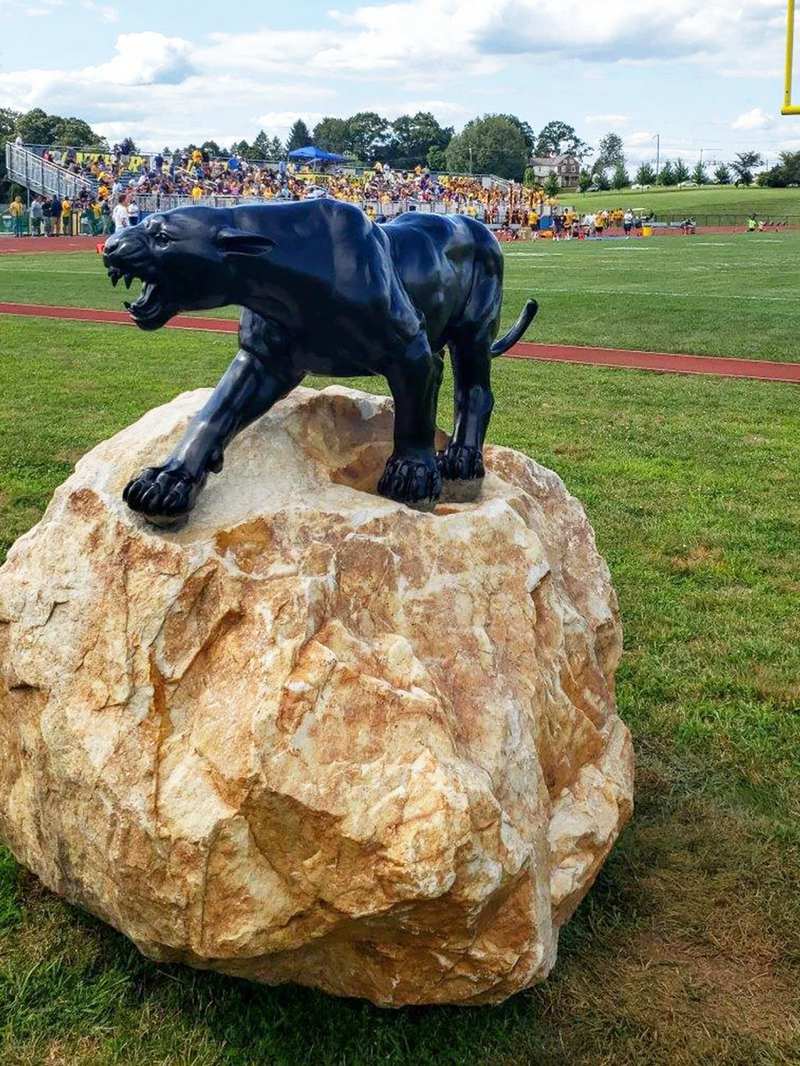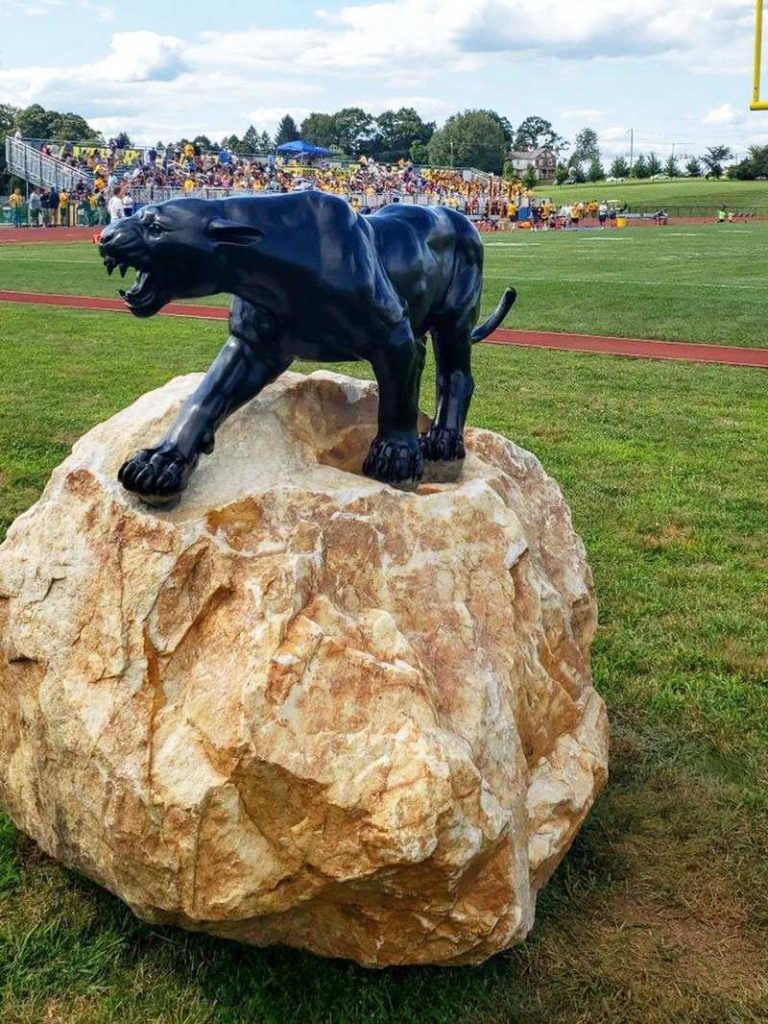 Check Out More Information: Bronze Panther Statue
Top 10 Bronze North American Cougar
We customize cougar sculptures for many schools. We have professional designers to provide drawing designs. In addition, our artists would make a clay model of the same proportions before casting the bronze cougar sculpture. We believe that this bronze cougar sculpture would demonstrate the spirit and style promoted by the school. This bronze wild animal is perfect for a library or school gymnasium.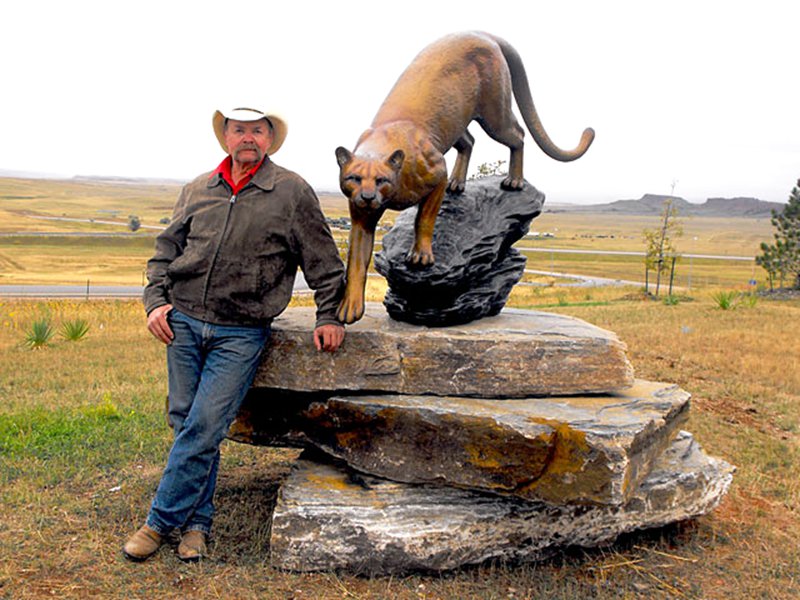 Top 11 Bronze Bald Eagles Wildlife Sculptures
The YouFine Lost Wax Bronze Eagle Statue is a stunning addition to a beloved bronze patriotic collection. Eagles naturally bring to mind freedom, protection, and patriotism as they are closely associated with American soldiers. Our range of bronze eagle statues mimics a variety of emotions and symbols as we design them into a variety of lifelike positions and poses.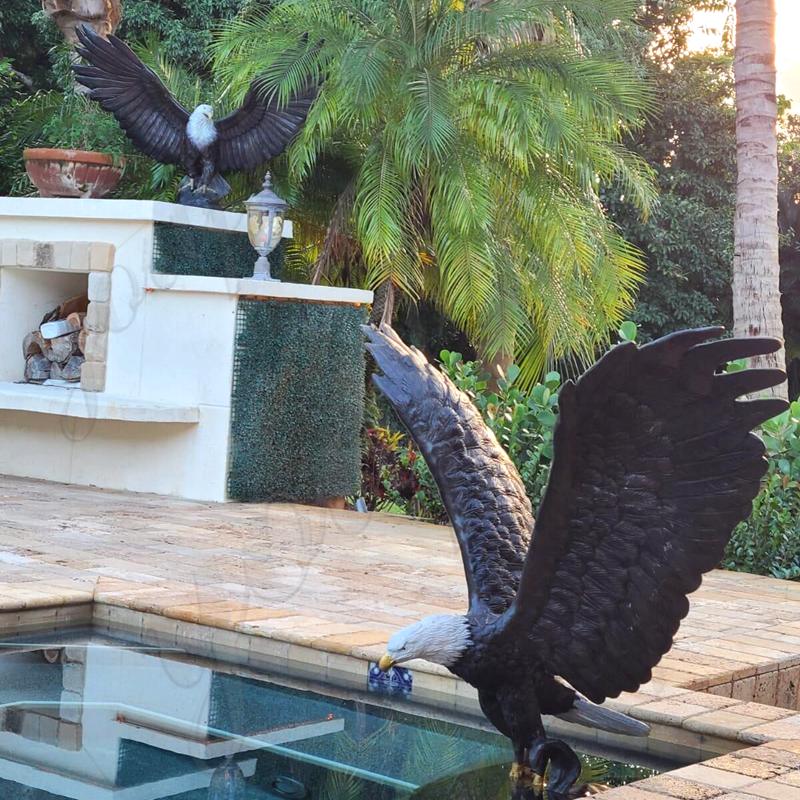 The realistic movement of the wings and feet and the expressive face make this bronze statue stunning. This stunning sculpture could be customized with a white and yellow patina to further enhance the realism, or it could be finished in our classic bronze and silver finishes. Our bronze eagle statues come to life, making them the perfect versatile addition to a range of venues: veterans' facilities, military memorials, community spaces, police and fire departments, hospitals, schools, zoos, cemeteries, and more.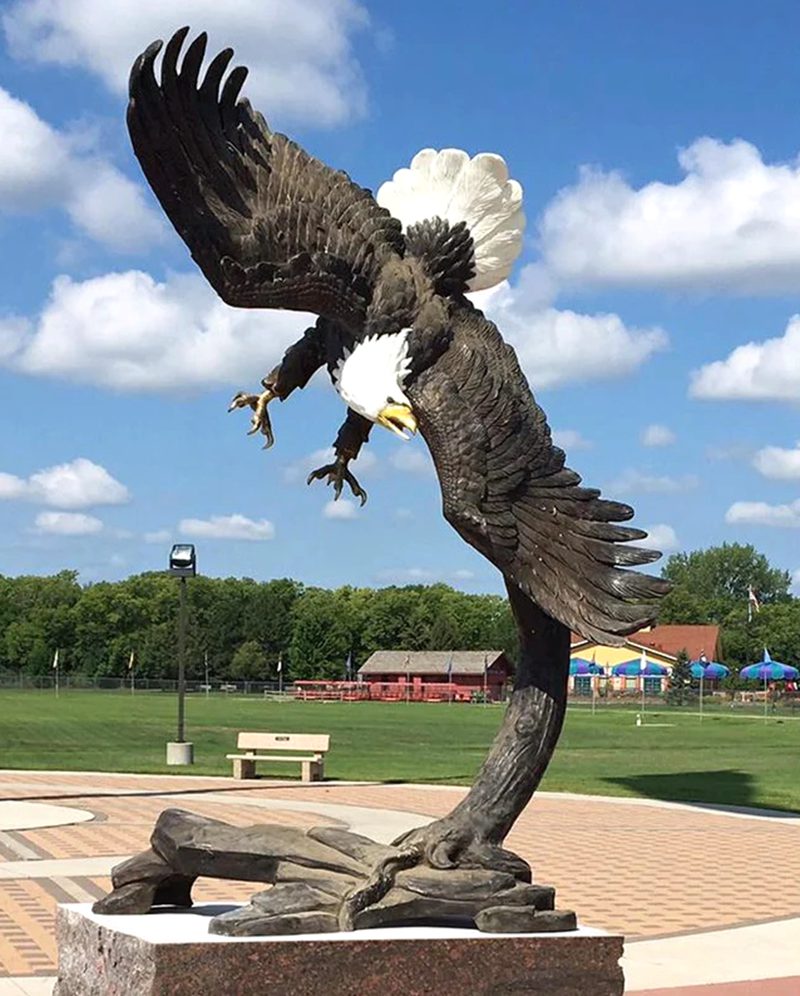 Check Out More Information: Bronze Eagle Statues
Top 12 Bronze Bighorn Wildlife Sculptures
Bighorn sheep are creatures of beauty and power, and this sheep in particular possesses incredible pride and poise. Inspired by a trip to Oregon's Stings Mountains, this bronze sculpture depicts wild sheep inhabiting the rugged slopes. Our bronze Bighorn Sheep sculptures are detailed, lifelike, and painstakingly cast by our wildlife sculptors. Our artists' unparalleled bronze wildlife sculptures capture North America's wildlife in exquisite detail.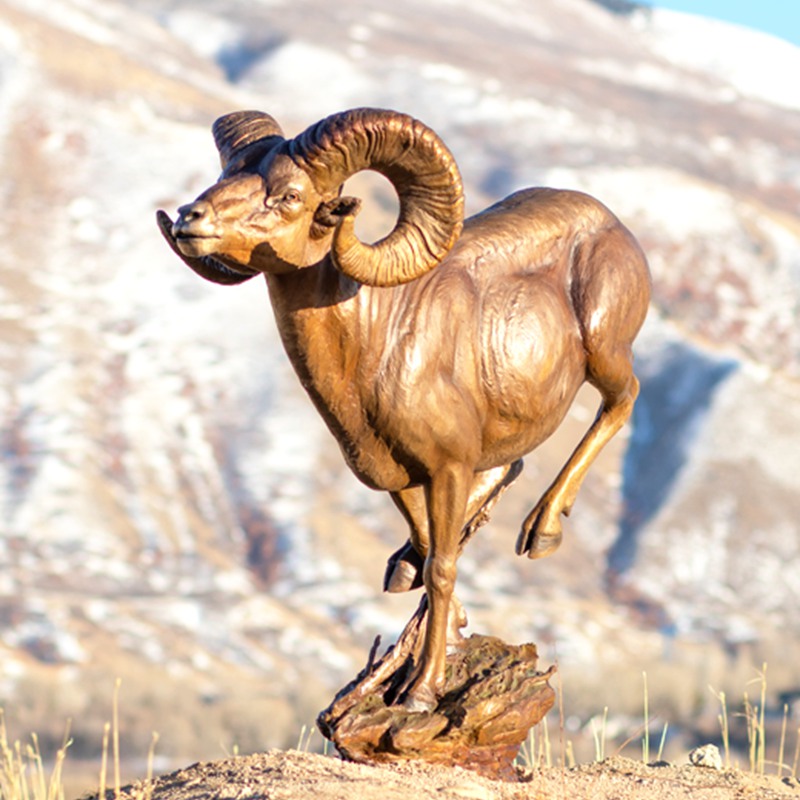 Top 13 Bronze Pronghorn Wildlife Sculptures
We are a foundry specializing in casting various bronze animal sculptures, such as the best wildlife-style North American animal sculptures. This bronze pronghorn sculpture makes a great addition to any art collection. The piece's natural bronze color highlights the sturdiness of bronze and the natural beauty of the pronghorn and its grasslands. Immortalize your past hunts or dream hunts with our carefully crafted large animal pronghorn bronze sculptures.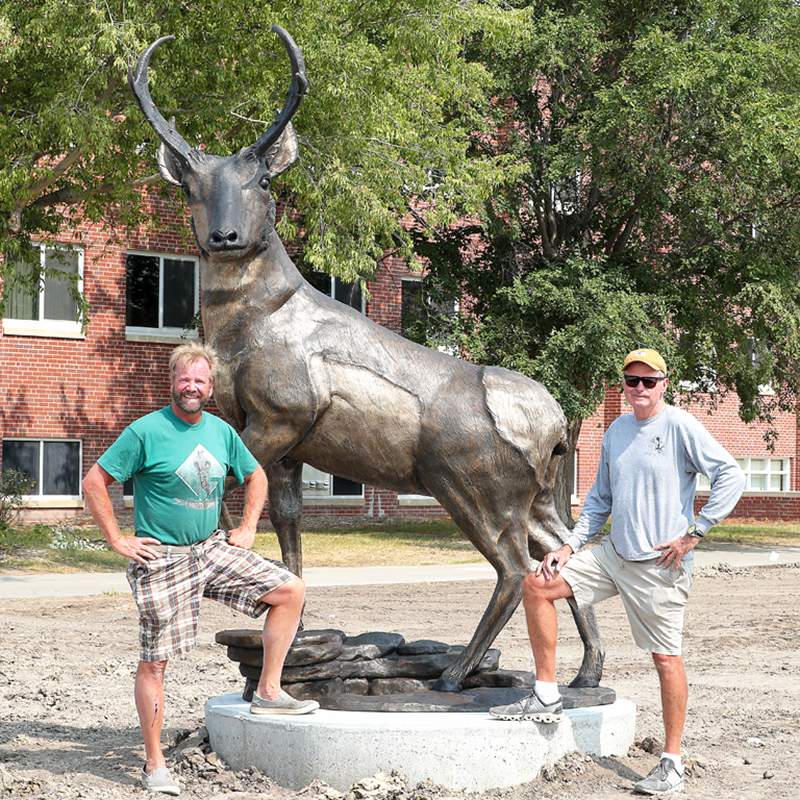 Top 14 Bronze Ram Wildlife Sculptures
Our lifelike wildlife ram sculpture showcases the elegant structure and unique design of this stuffed animal in stunning detail. Generally speaking, animal symbolisms of the ram include power, strength, drive, energy, evil, protection, and fearlessness. Our artists captured the symbolism of North America's wildlife in exquisite detail.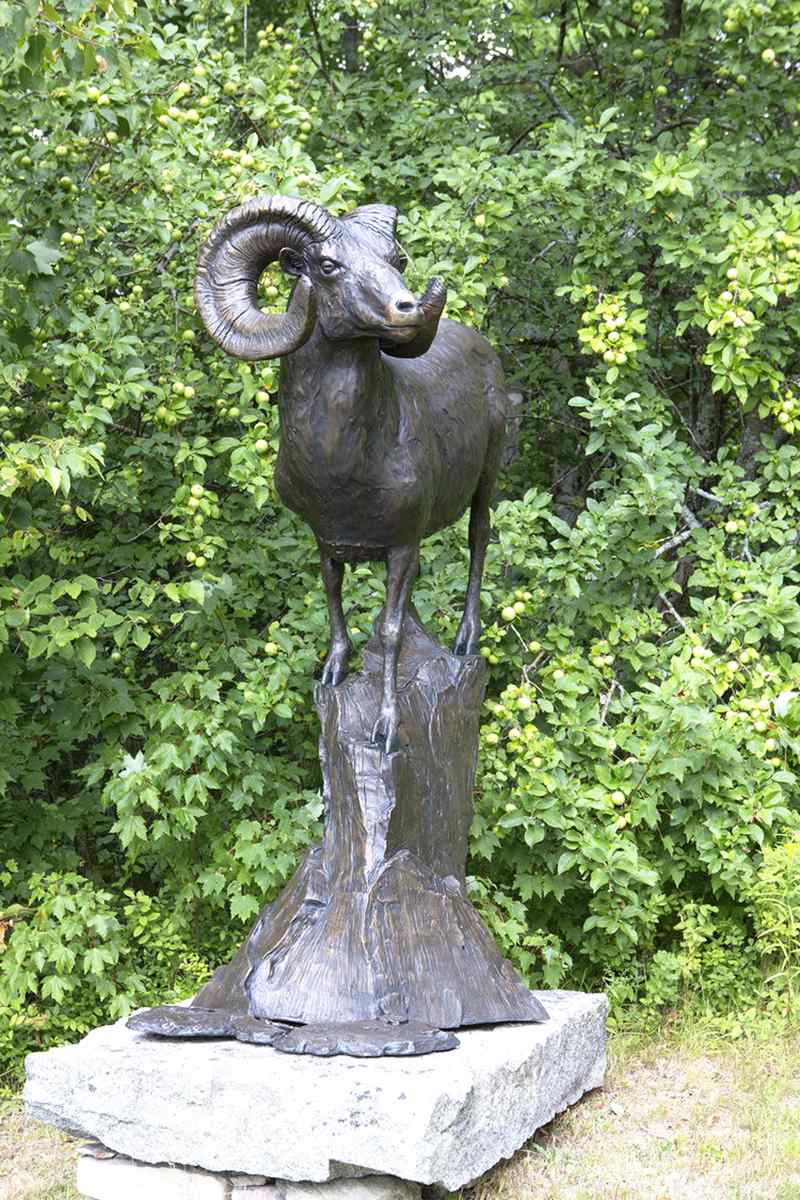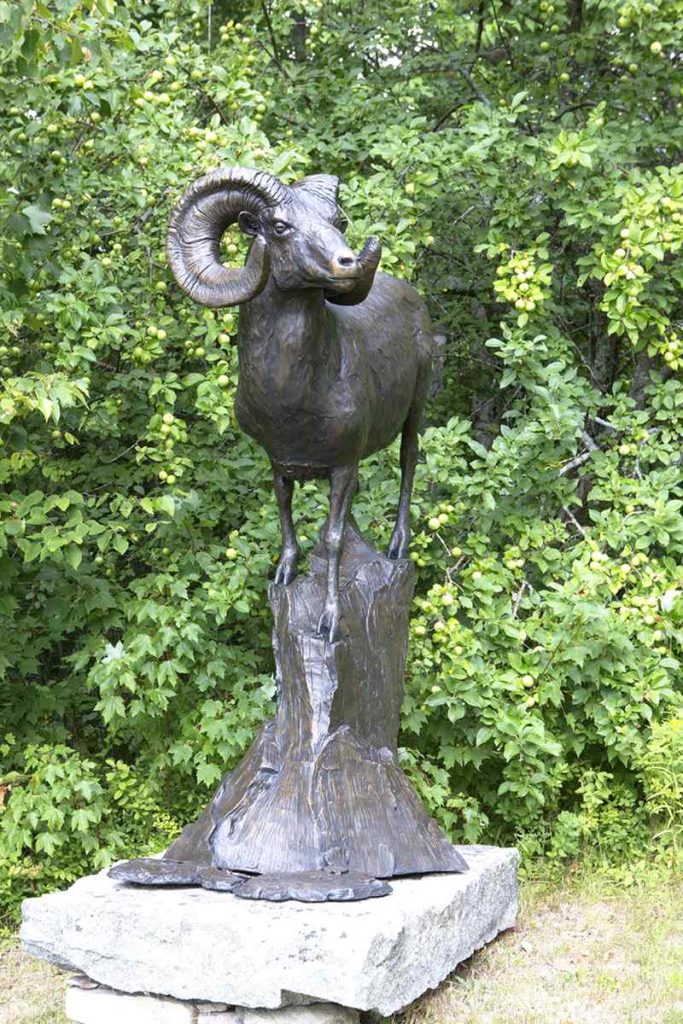 Check Out More Information: Large Bronze Ram
Top 15 Bronze Caribou Wildlife Sculptures
This is a beautiful limited edition life-size bronze reindeer sculpture cast by our artist. This is certainly a very well-done bronze statue. My artist pays great attention to the quality and detail of the bronze statue. Additionally, all of our statues are crafted from high-quality bronze and hand cast via the lost wax process.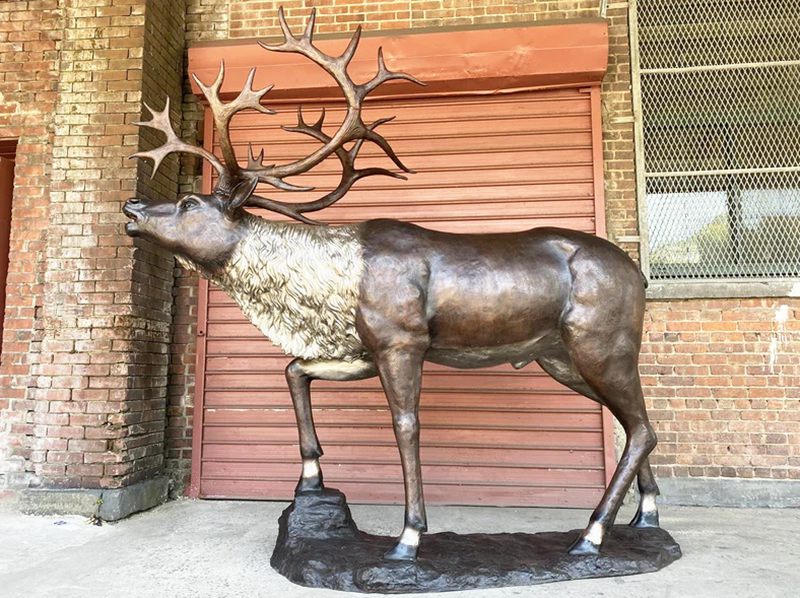 We provide customization services, and the bronze reindeer wildlife sculptures could be cast in different styles according to customer needs. We could present a design for the client, for example, of a majestic deer perched on a sloping hill, gazing down at the vast open land below. This sculpture makes a perfect gift for a hunter.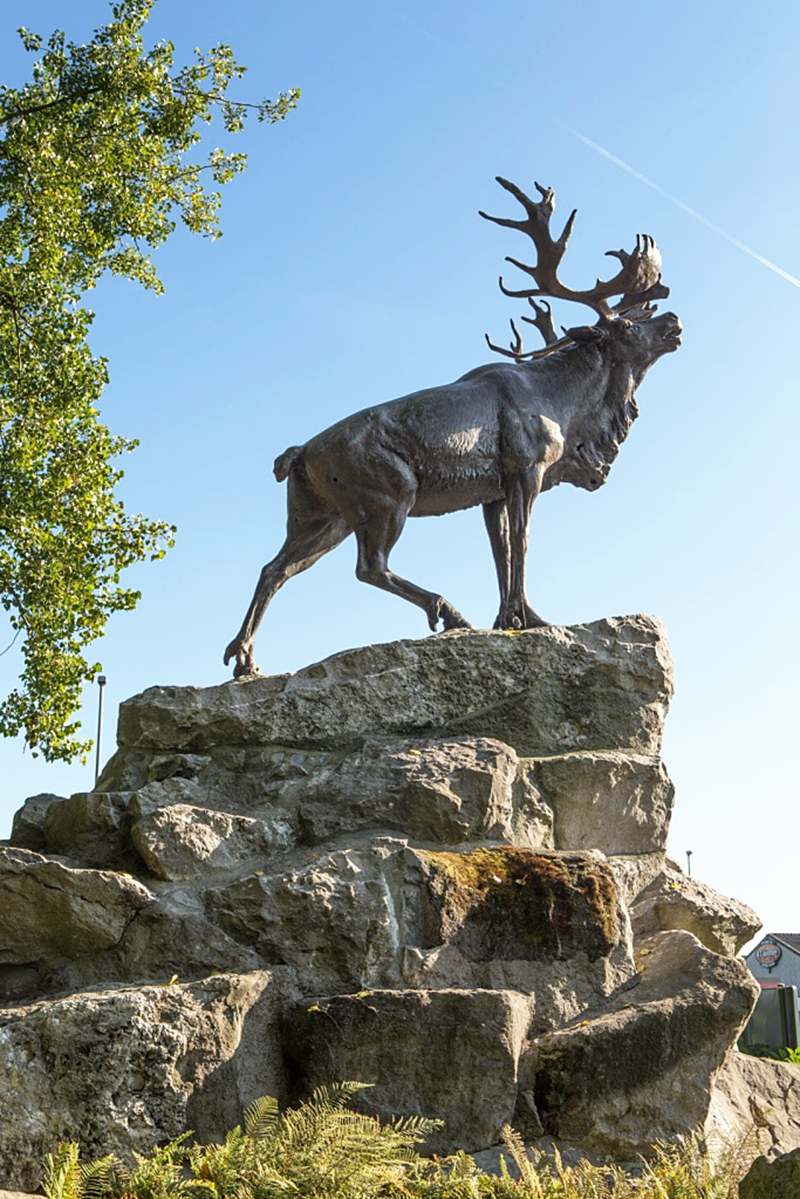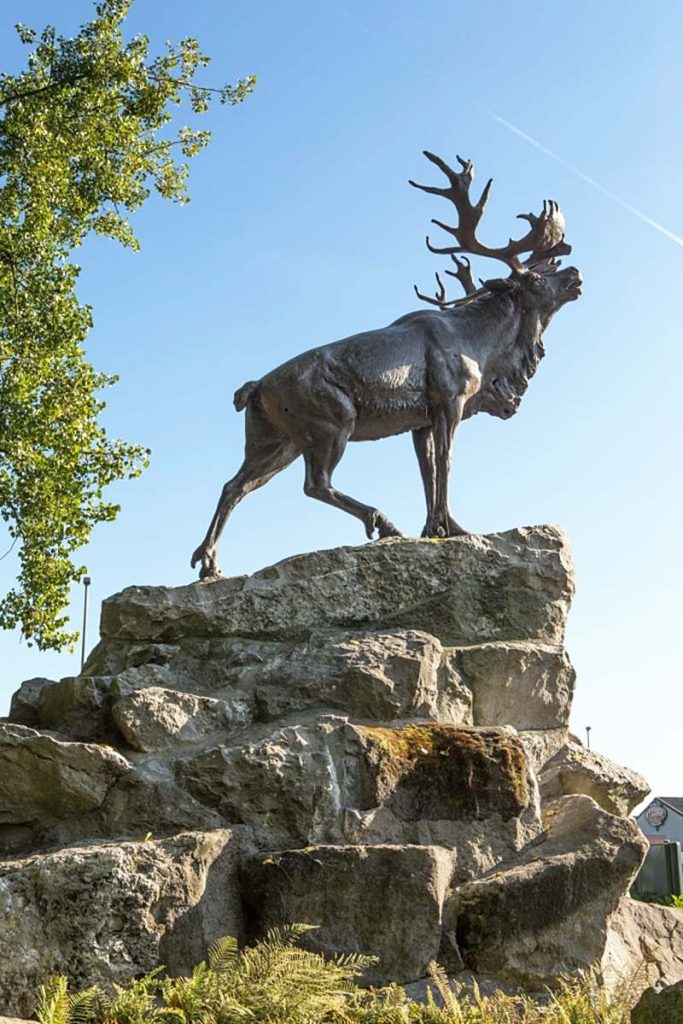 Top 16 Bronze Gray Wolf Wildlife Sculptures
This bronze wolf sculpture captures a vivid symbol of America's disappearing wildlife in exquisite bronze and sophisticated contemporary style. And, our bronze animal sculptures perfectly capture the unique characteristics of each animal species, showcasing the spirit and personality of the American Gray Wolf sculpture. Obviously, this bronze sculpture would look great in a cabin or country-themed home, making it a perfect gift for wildlife lovers.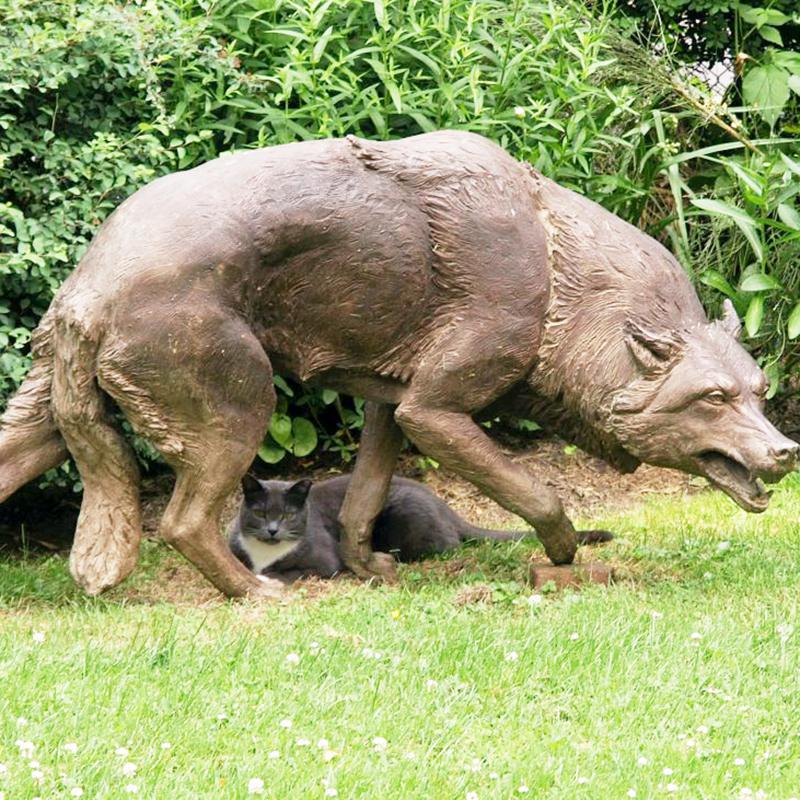 In this collection of wildlife sculptures, you would find an adorable sculpture of a wild elk. From the majestic and beautiful eagle (a symbol of pride and resilience) to the stunning polar bear, depicting the tenacious survival of these wild animals, there are of course a variety of wildlife sculptures to choose from.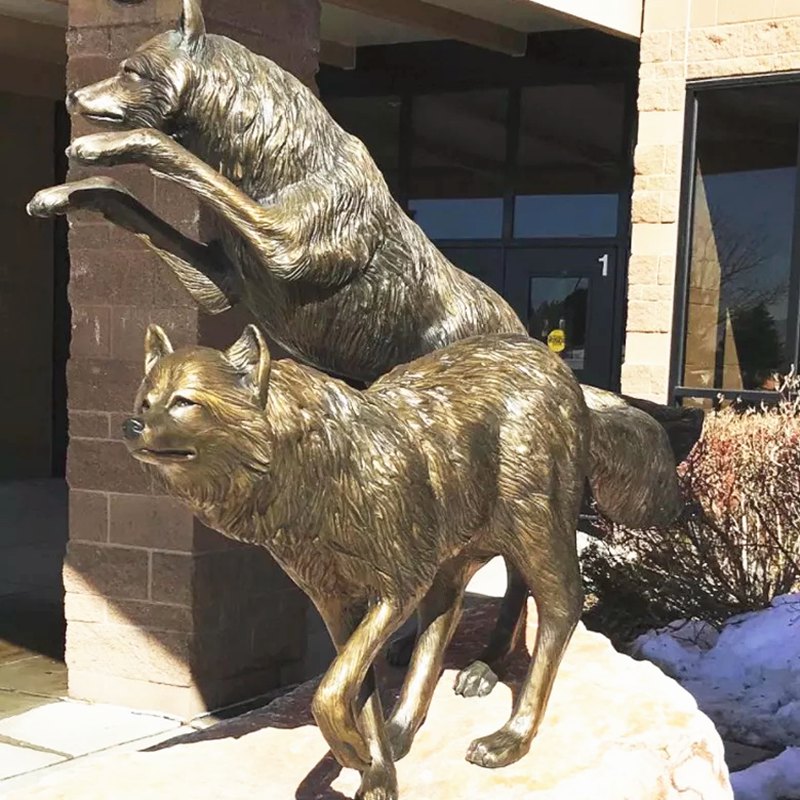 Our bronze wildlife sculptures of the Americas are mostly available in medium and large sizes. There's a stunning collection of leopards with their impressive muscular builds, as well as the soft and protective nature of black bears and cubs together.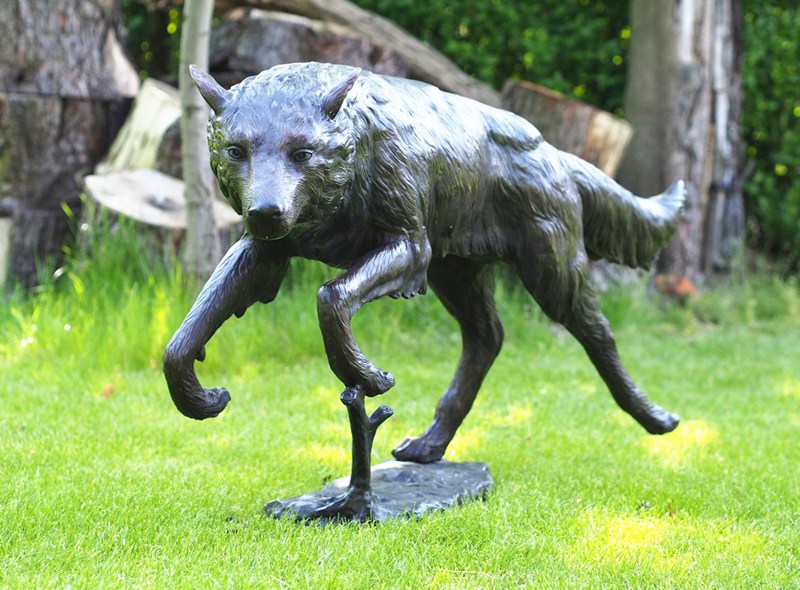 Check Out More Information: Wolf Statue
YouFine Passionate Artists
YouFine's artists are passionate about animals, and they also collaborate with famous artists to create wildlife sculptures of the most endangered species. You could find more life-size animal models here. Of course, you could use our clay model for free, which would save you a lot of clay model costs.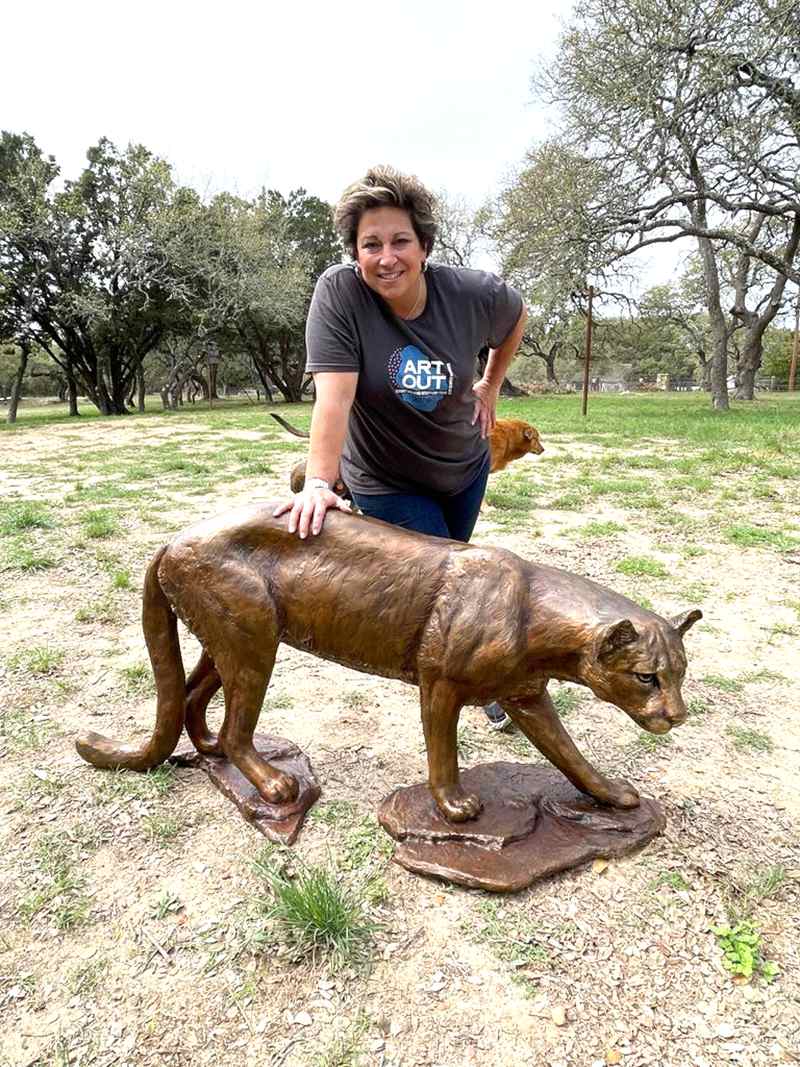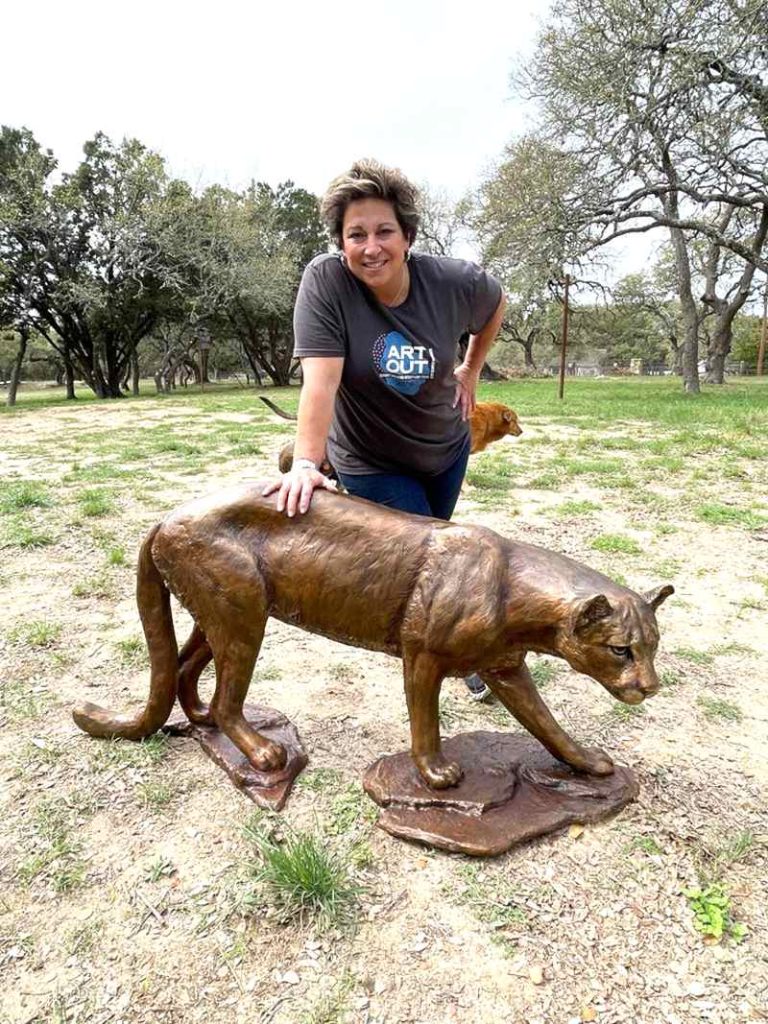 More Application Locations
YouFine bronze wildlife sculptures could capture the light of outdoor and indoor spaces just right. These animal sculptures make living rooms, campuses, museums, and parks more complete. Sculptors thousands of years ago recognized that bronze gave subjects rich luster and depth. If you're looking for something meaningful that would last and be treasured for generations to come, look no further than YouFine's collection of bronze wildlife sculptures of the Americas.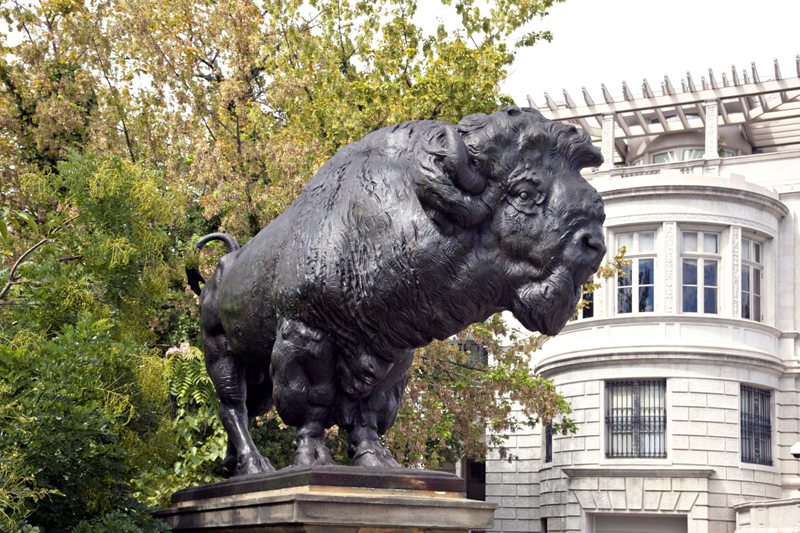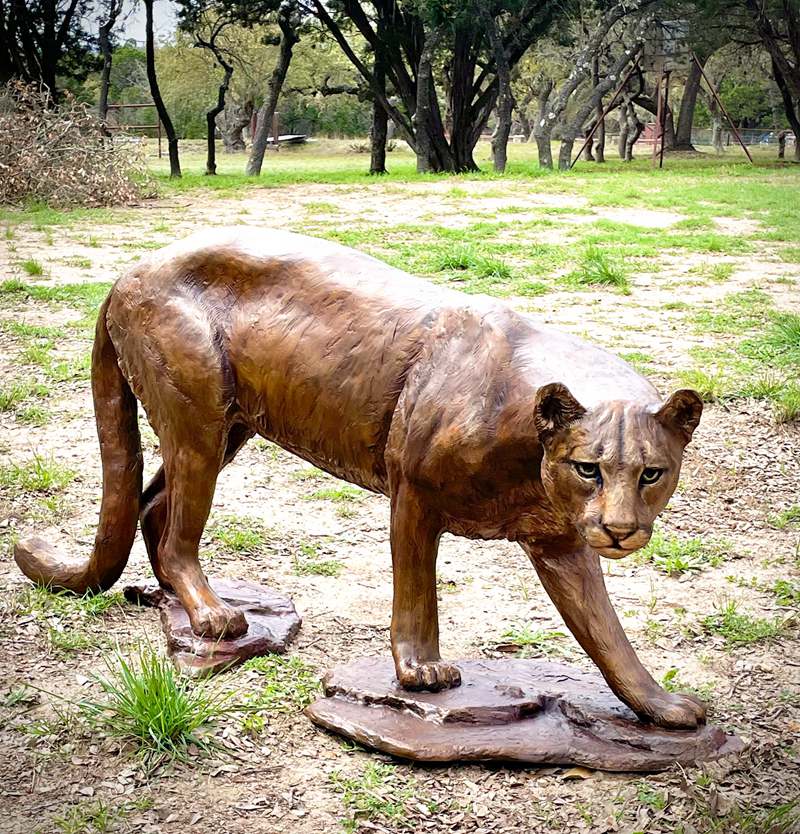 Immortalize your past hunt or dream hunt with our large, finely cast bronze animal sculptures. Mule deer, pronghorn, caribou, elk, and more could all grace your home with the shine and durability of bronze. If bears are more your style, try a group of black bears, grizzly bears, and polar bear sculptures. Whatever your interests, YouFine has dozens of bronze clay models that would show every angle of your favorite American wildlife for generations to come.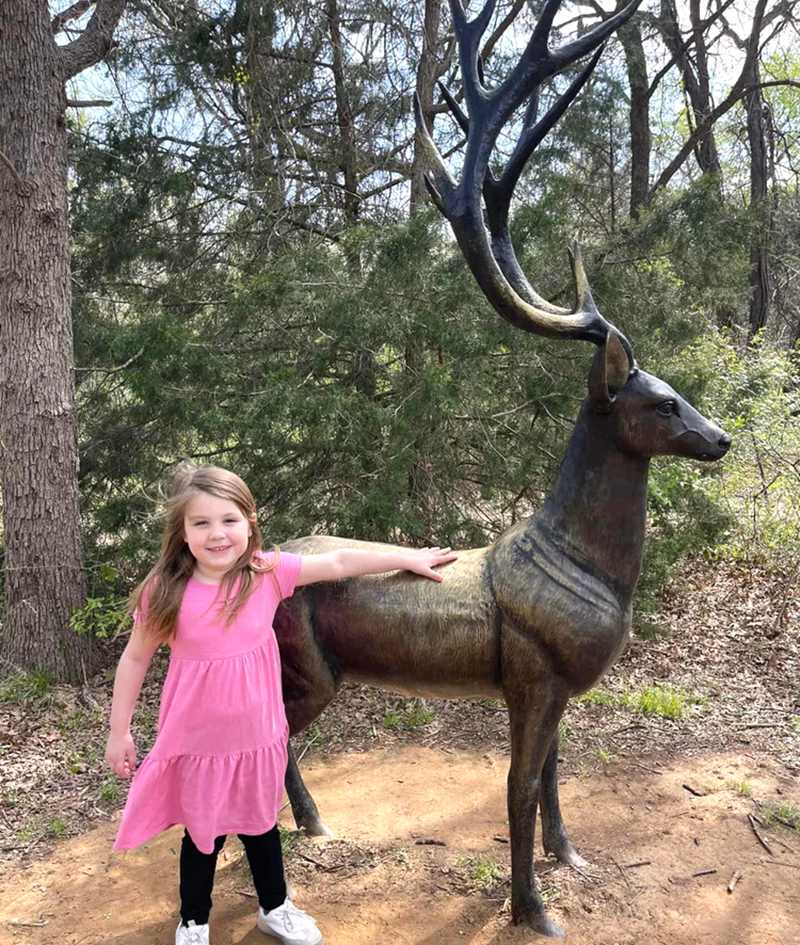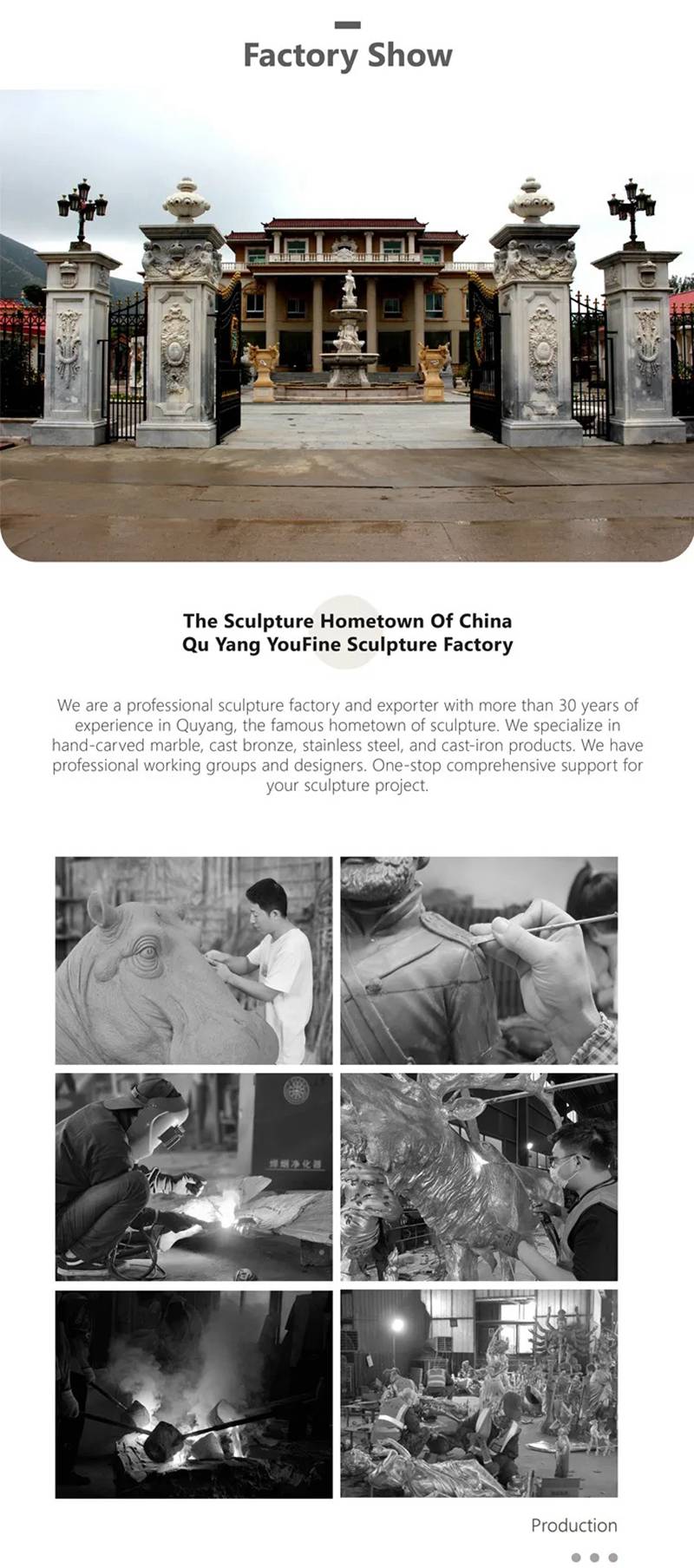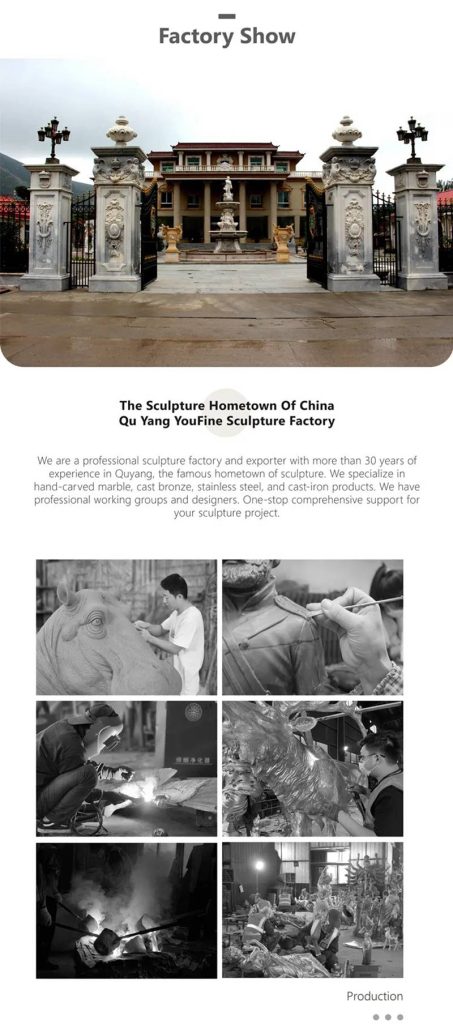 Check Out More Information: YouFine Bronze Foundry
If you need to cast a bronze wild animal, please feel free to contact us. Our professional staff would provide you with full services, from design to transportation to sculpture installation, we would provide all-round guidance and one-stop solutions.