Details of the Bull Sculpture:
This life-size bull statue is sure to be the perfect addition to your themed farm. The incredible detail depicted in this bull sculpture is sure to attract the attention of a crowd, the bull family sculpture is done using the traditional lost wax method which is guaranteed to last the sculpture for a longer life.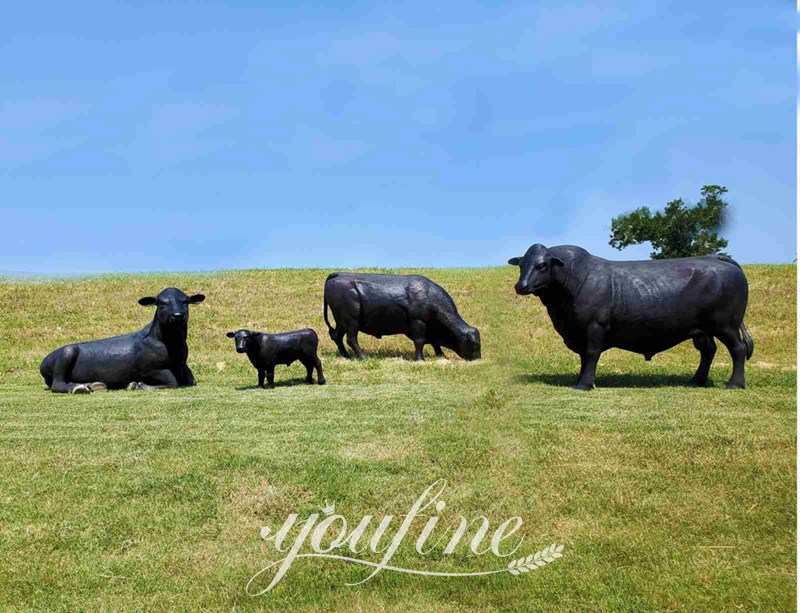 Exquisite Clay Model:
These large bronze bull sculptures are all derived from fine clay models. And, our artists have been making clay models for 40 years. They were able to create the most realistic bronze ox clay models. In constant practice and exercise, our artists always make the body and details of the cow sculpture lifelike.
Using Chemical Coloring Method:
Our artists use chemical coloring to bring out the most beautiful colors on the sculptures. In particular, during the continuous coloring process, we would heat at an appropriate temperature. During the continuous heating process, the chemical reagents would continue to react with the bronze. Eventually, the surface of the sculpture would achieve the most beautiful and natural color. And, as time goes by, the color of our life-size bull statues would become more natural. In particular, the bronze color has a sense of historical age and intriguing collection value.
This life-size bull statue replica is made of high-quality bronze raw material. And, the sculptures are hand-painted to the highest detail by professional artists. Also, this statue is suitable for both indoor and outdoor displays. Of course, if you want to display it outdoors, we recommend a coat of varnish as needed. Protects against weathering. So, if you want a bronze bull sculpture, please feel free to contact us.