Stormtrooper Statue Details:
These exquisite stormtrooper statues are life-size. Their dimensions are 78″ H (1981.2mm) x 36″ W (914.4mm) x 30″ L (762mm), and YouFine could offer you great factory direct prices. These obedient and zealous soldiers wear armor composed of white plastic panels. Also, they wear black gloves. Additionally, their standard weapon is the E-11 Medium Blaster Rifle. All of these details could be presented and made by our artists in a very delicate way. There is no doubt that our life-size stormtrooper sculpture is also very restored.
Why are They Called Stormtroopers?
The name storm trooper comes from the real-life stormtroopers (often spelled as two words) of the German military in the 20th century. A stormtrooper is a member of storm troops, also called shock troops, which are trained for sudden assaults.
Are all Storm troopers Human?
Unlike the old Empire, the Empire of the Hand recruited stormtroopers from a variety of Humanoid sources. Though the stormtrooper ranks remained consistently dominated by Human male recruits, it marked the first time that Non-Humans were allowed to serve as Imperial soldiers.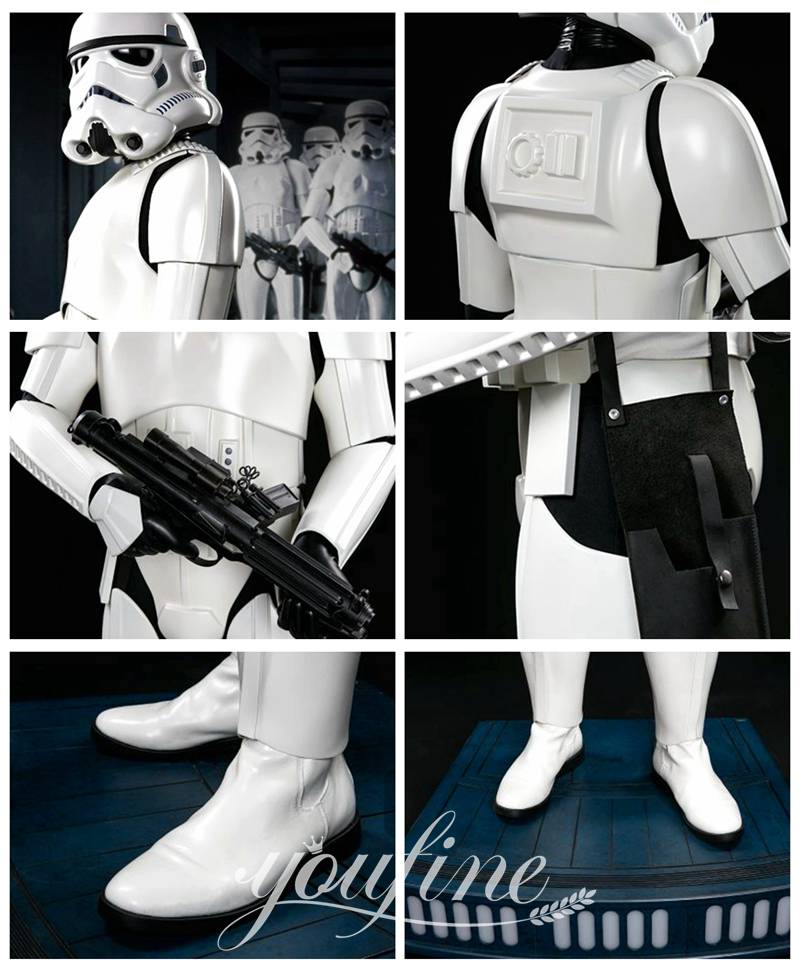 The Advantages of Fiberglass Sculpture:
The various forms of this FRP stormtrooper statue artwork are very much in line with the needs of the current public. And FRP sculpture has strong corrosion resistance. This material is a good corrosion-resistant material and has a certain resistance to the atmosphere and water.
In addition, FRP sculptures have strong thermal properties. Therefore, our stormtrooper statue full size lives longer. Of course, FRP sculpture has good design performance. Therefore, the modern and new type of FRP is the best choice for the manufacture of a gentle giant stormtrooper statue.
If you want this star wars stormtrooper white statue please feel free to contact us. YouFine artists would provide professional shopping guidance and free quotes.