Mother Teresa Statue Display:
This is a human-size bronze statue of Mother Teresa that would amaze you with its detail. Our artists took particular care in the casting of this bronze sculpture. Whether it is the capture of details or the choice of colors, the artists have meticulously captured them.
For example, the face of Mother Teresa is so realistic that people could observe her wrinkles and expression. The perfect details and the color of the bronze sculpture are what make this sculpture a work of art.
High Restoration of YouFine Bronze Sculpture:
YouFine offers different designs of bronze Mother Teresa statues, and they all have one thing in common. That is, each sculpture is lifelike and detailed. Our artists are very sensitive to details and they are also good at observing the characteristics of the figures. They consume lots of time and energy to make a life-size clay model. This clay model contains all the details that the final bronze sculpture has. Our artists not only make several modifications to the clay model but also meticulously polish the final bronze sculpture to keep the high restoration.
More Related Teresa Statue Designs:
Mother Teresa's selfless and kind behavior has helped many people, which is impressive. At the same time, her spirit also inspired people and gained everyone's respect. Therefore, people would like to establish Teresa statues according to her images. YouFine has various Teresa statues in different sizes. In addition to the existing Teresa sculpture, we also support customizing any style of sculpture according to the needs of customers.
Where Could Mother Teresa Statue Be Placed?
Teresa really helped many people, such as the mother-in-law who fell down on the side of the road and had no money to see a doctor. He also helped run schools for children in slums. Therefore, we can see Teresa's sculpture in many public places. In fact, there is no designated location for the sculpture of Teresa. Some people installed it in the church, some in the school, and some in the hospital.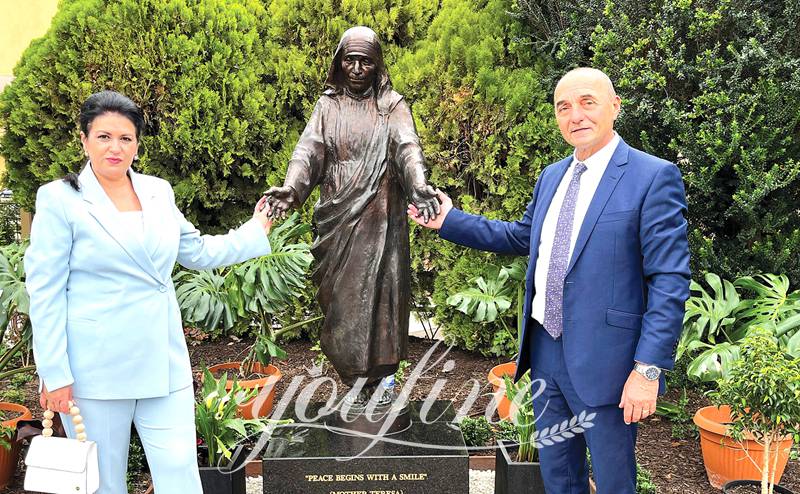 If you are interested in our custom bronze catholic statues of Teresa, please feel free to contact us.