These bronze life-size golf statues for outside play a pivotal role in enhancing outdoor spaces and joyfully celebrating the sport of golf. They serve as more than mere artistic adornments; they become integral components of the landscape, infusing outdoor areas with a sense of life, history, and the love of golf.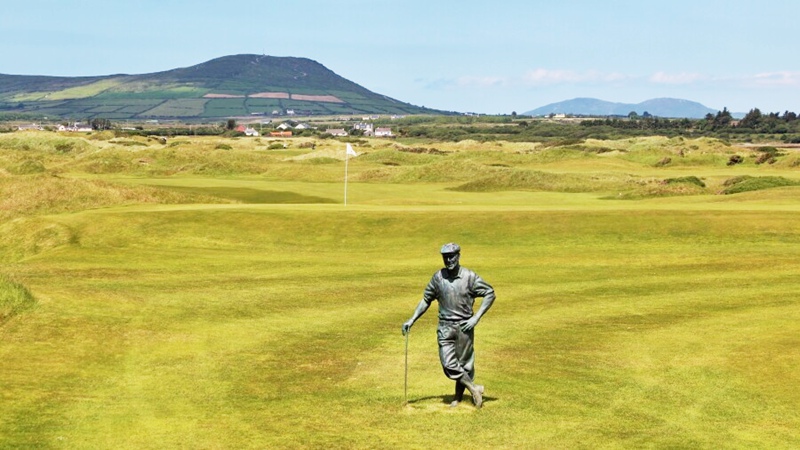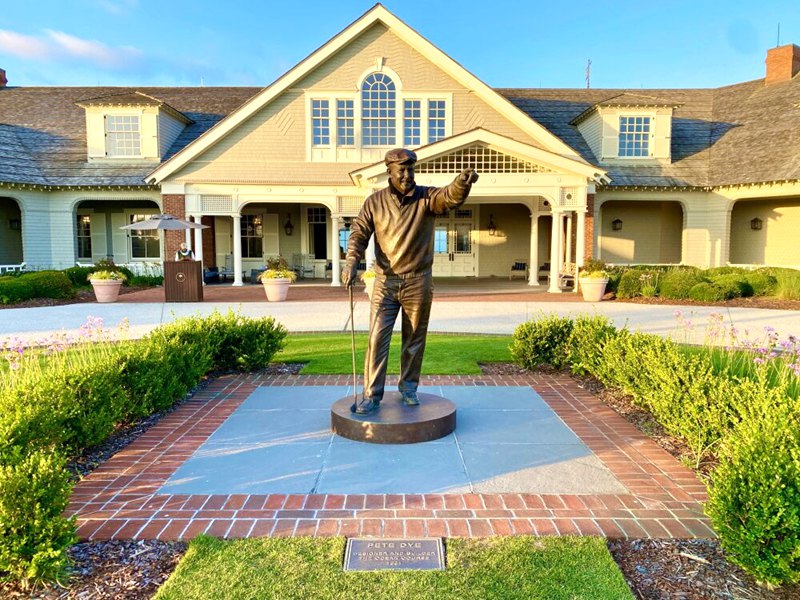 These bronze life-size golf statues not only beautify outdoor spaces but also serve as powerful symbols of the enduring love for golf and the iconic figures who have shaped its history. They transform parks, golf courses, and public areas into immersive experiences that celebrate the rich heritage of the sport.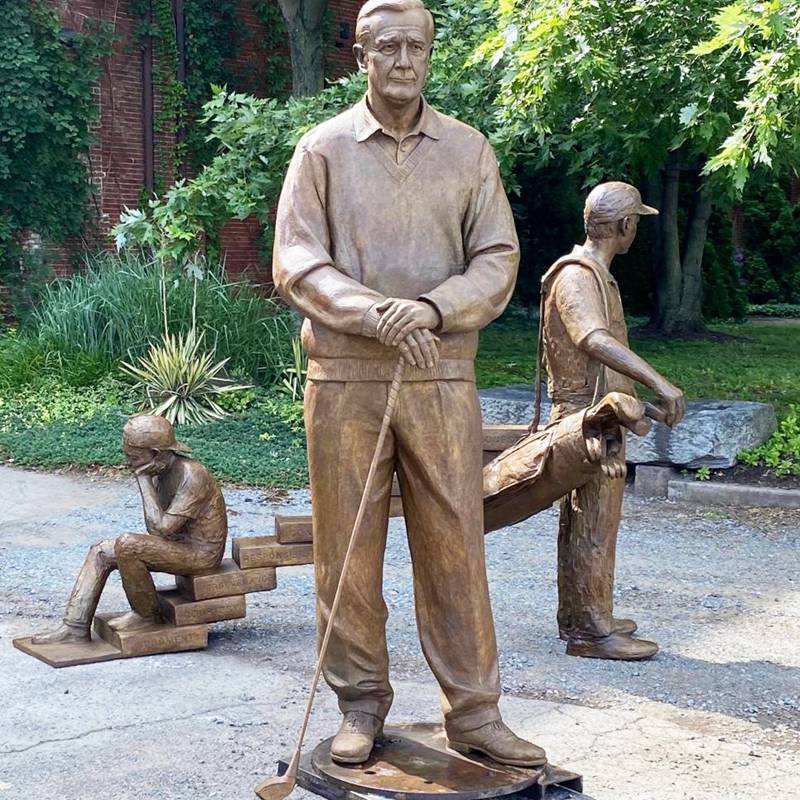 Top 10 Most Famous Golf Statues in America
Top 1 The Legend of Bobby Jones – Atlanta, Georgia
The bronze statue of golf legend Bobby Jones stands in Atlanta, Georgia. It signifies his profound influence on the sport. Jones co-founded Augusta National Golf Club and the Masters Tournament. This statue serves as a tribute to his pivotal role in shaping golf's history and his enduring legacy in the heart of Atlanta.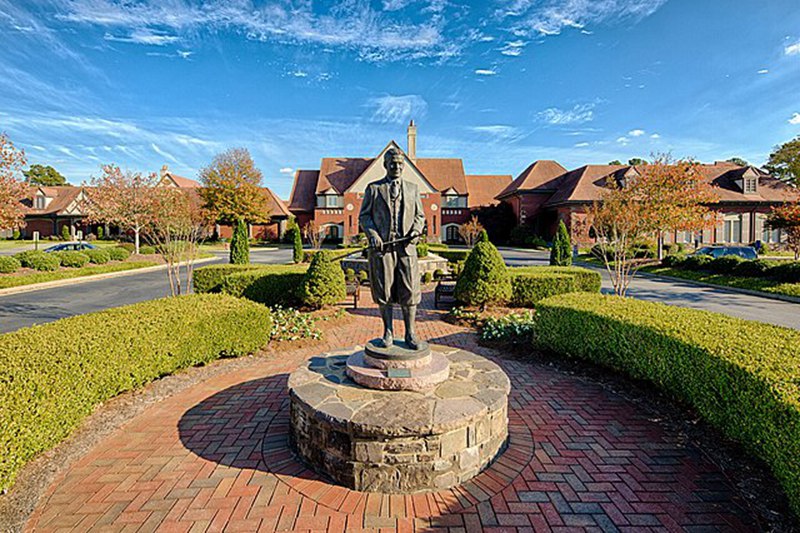 Top 2 Arnold Palmer – Latrobe, Pennsylvania
The bronze statue of golf icon Arnold Palmer graces Latrobe, Pennsylvania. It stands as a heartfelt tribute to Palmer's immense contributions to the sport. As a legendary figure, Palmer's statue symbolizes his enduring impact on golf, his hometown, and his role in popularizing the game worldwide.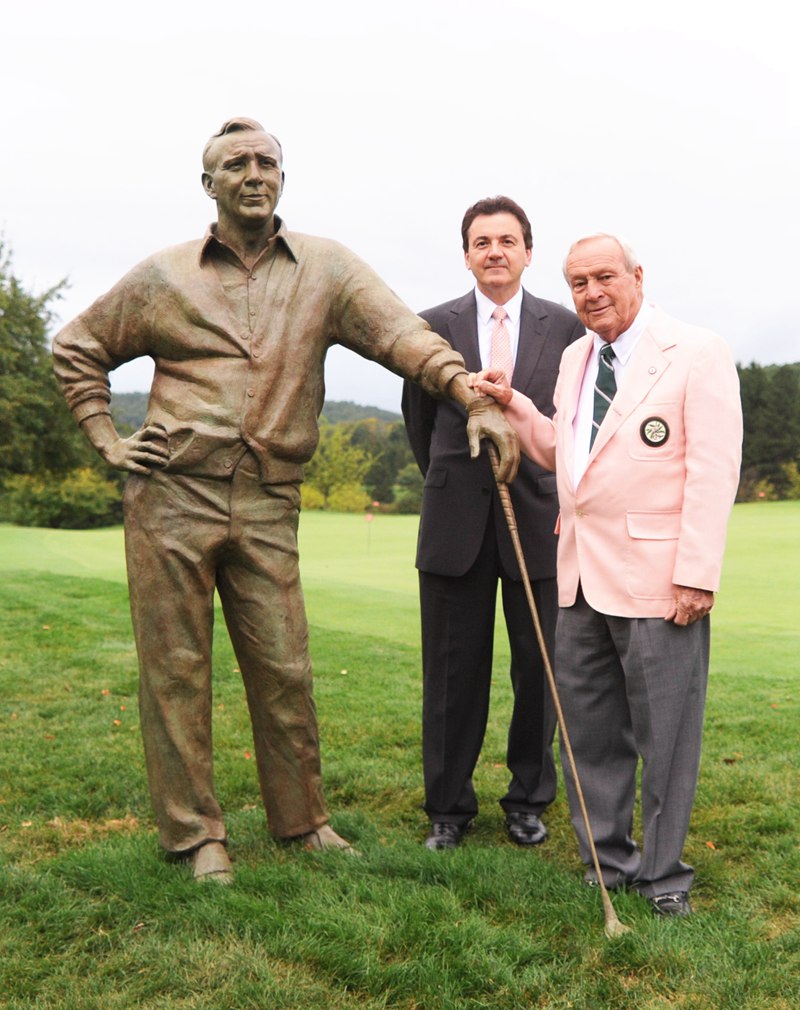 Top 3 Ben Hogan statue- Fort Worth, Texas
The life-size bronze statue of Ben Hogan in Fort Worth, Texas, honors the golf legend's legacy. Hogan's remarkable career and impact on the local golf community are celebrated through this statue. It serves as a source of inspiration and a focal point, reminding locals of the enduring influence of this golfing icon.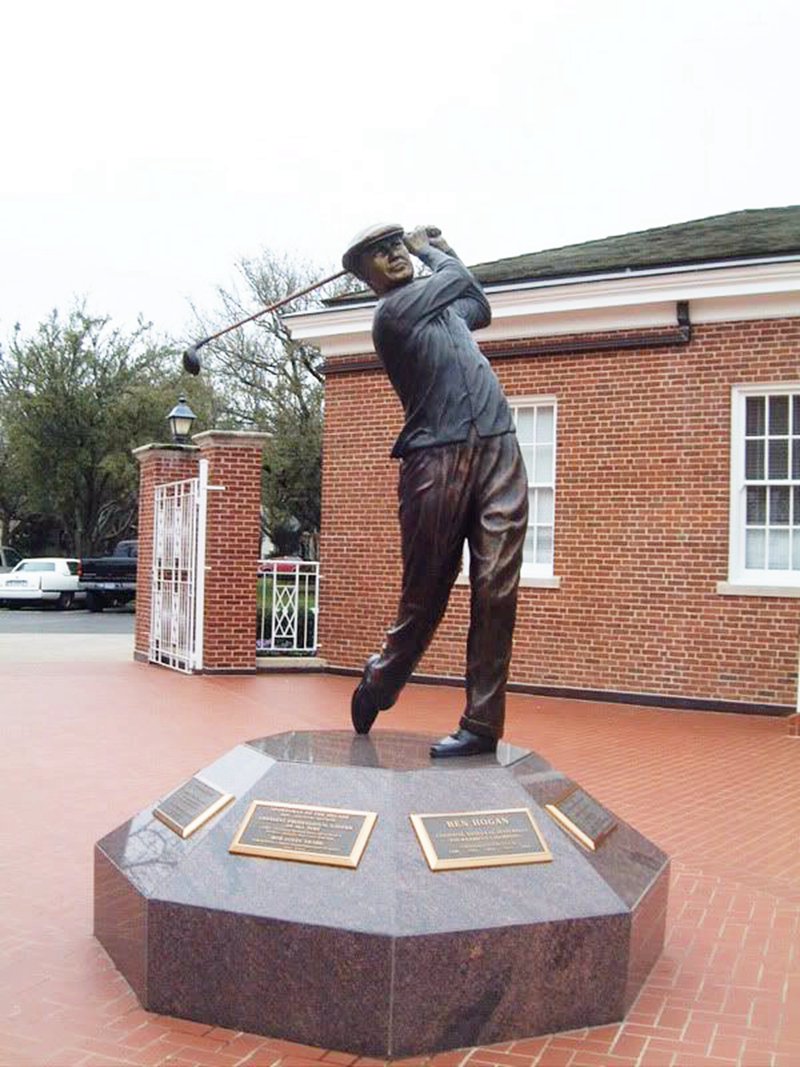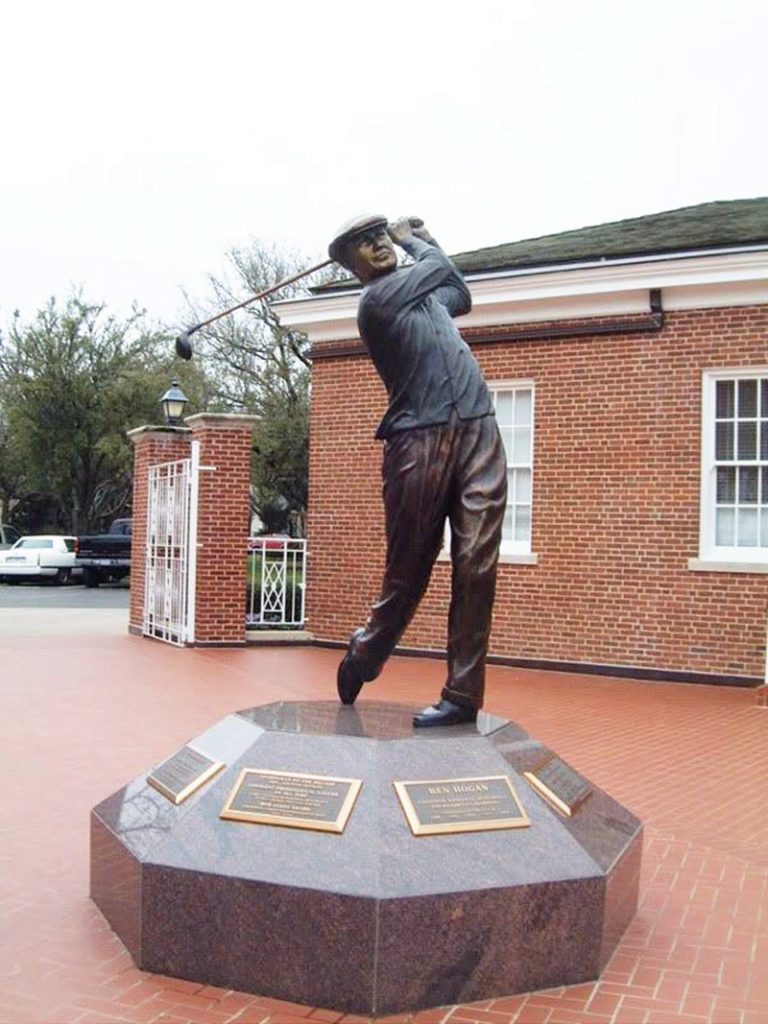 Top 4 Payne Stewart – Springfield, Missouri
The bronze statue in Springfield, Missouri, commemorates the late golfer Payne Stewart. It underscores his profound influence on the game. Stewart's unique style and dedication left an indelible mark. This statue ensures his enduring memory and reminds all of his impact on golf and beyond.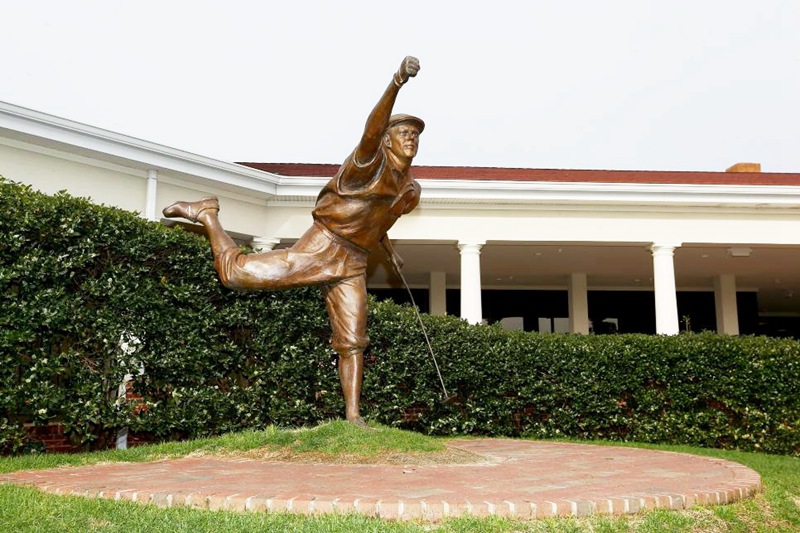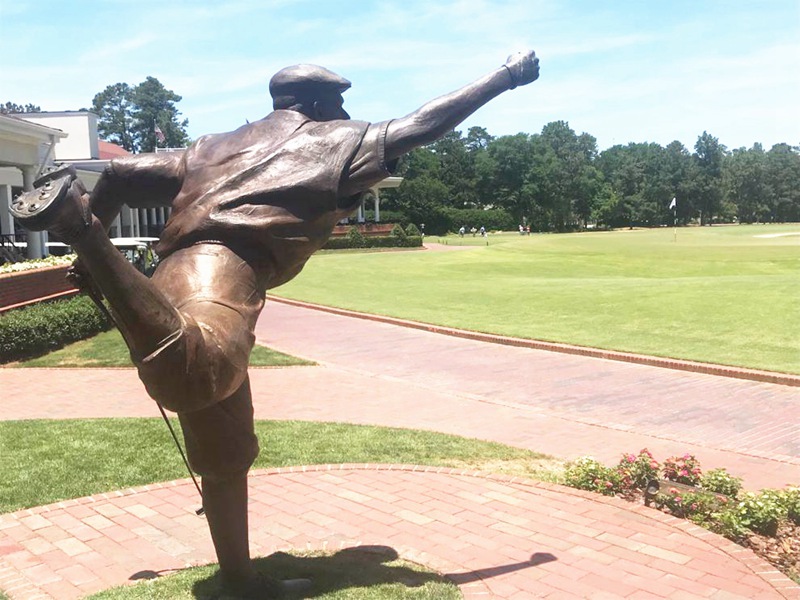 Top 5 Jack Nicklaus – Dublin, Ohio
The bronze statue of golf legend Jack Nicklaus in Dublin, Ohio, celebrates his record-breaking career. Nicklaus, known as the "Golden Bear," boasts 18 major championship wins. The statue commemorates his unparalleled achievements, serving as a testament to his enduring legacy and inspiring future generations of golfers.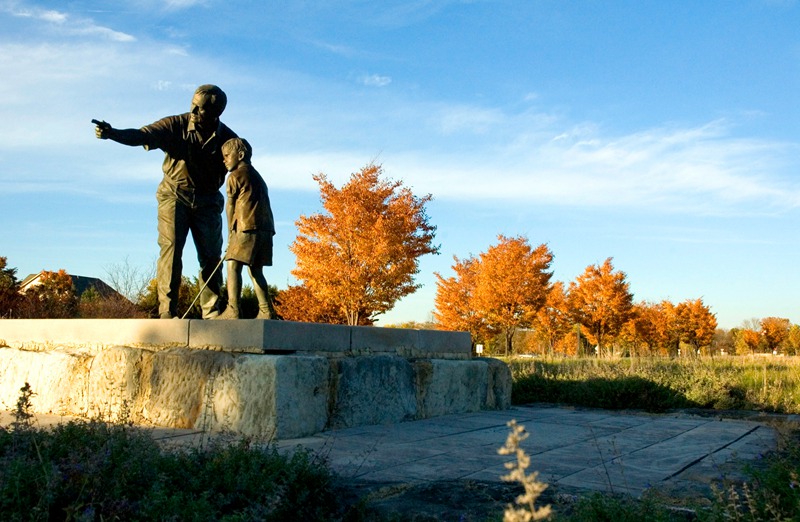 Top 6 Tiger Woods – Los Angeles, California
The bronze statue of golf legend Tiger Woods in Los Angeles, California, pays homage to his monumental influence on the sport. Woods revolutionized golf, breaking barriers as a player of immense talent and diversity. This statue is a lasting tribute to his impact, reminding all of his remarkable journey and contribution to golf's global popularity.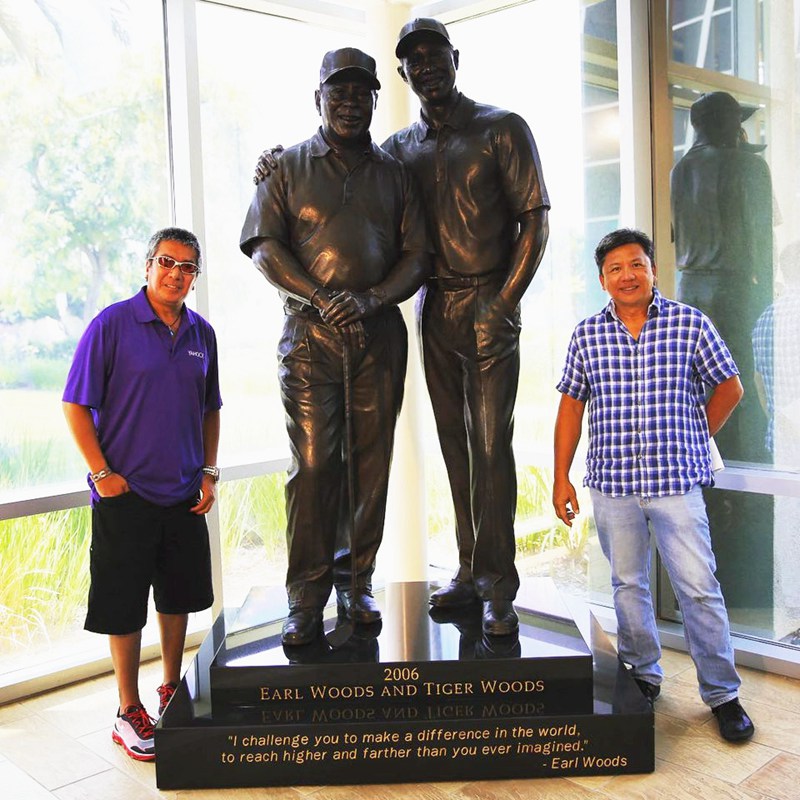 Top 7 Francis Ouimet and Eddie Lowery-Brookline, Massachusetts
The sculpture at Brookline Country Club commemorates the legendary amateur golfer Francis Ouimet and his 10-year-old caddy, Eddie Lowery, in their historic 1913 U.S. Open victory. Ouimet, an amateur, stunned the golf world by defeating professionals Harry Vardon and Ted Ray in a playoff. Eddie Lowery's support and youthful enthusiasm during the tournament captured the imagination of golf enthusiasts. The sculpture immortalizes this remarkable underdog story, symbolizing the triumph of determination, skill, and mentorship in the world of golf.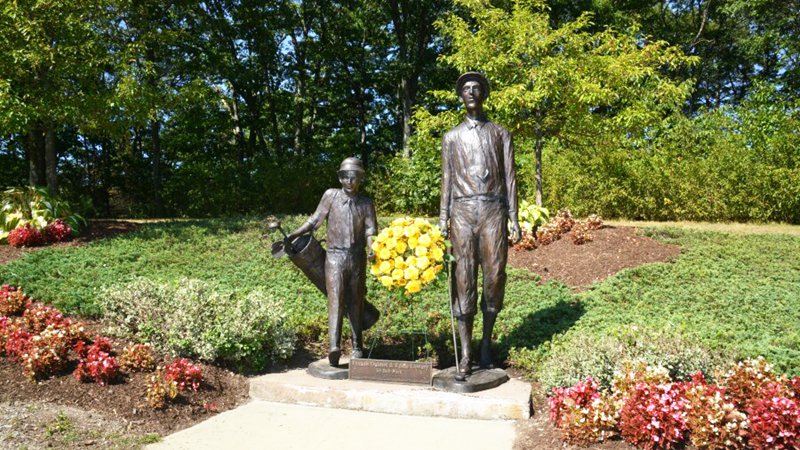 Top 8 Bobby Jones-Chula Vista, California
The statue of Bobby Jones, captured in mid-swing, faces the first fairway of the San Diego Country Club. This iconic sculpture is a testament to Jones's legendary golf career and his significant influence on the sport. It serves as an inspiring sight for golf enthusiasts visiting the Fairmont Grand Del Mar hotel, offering a glimpse into the world of golfing excellence. The exclusive Tom Fazio-designed private golf course at the hotel is a special treat reserved for Fairmont Grand Del Mar guests, adding to the allure of the experience.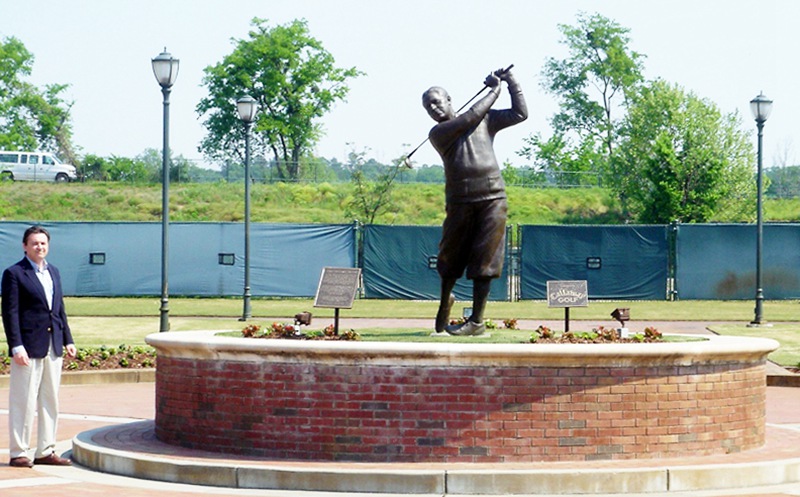 Top 9 Ben Hogan-Los Angeles, California
Near Los Angeles, at the Riviera Country Club, you can find the bronze statue of golf legend Ben Hogan. This statue commemorates the enduring legacy of Hogan, a golf icon known for his exceptional skill and dedication to the sport. It stands as a tribute to his remarkable career and the profound impact he had on the world of golf, serving as an inspiration to golfers and fans who visit the Riviera Country Club.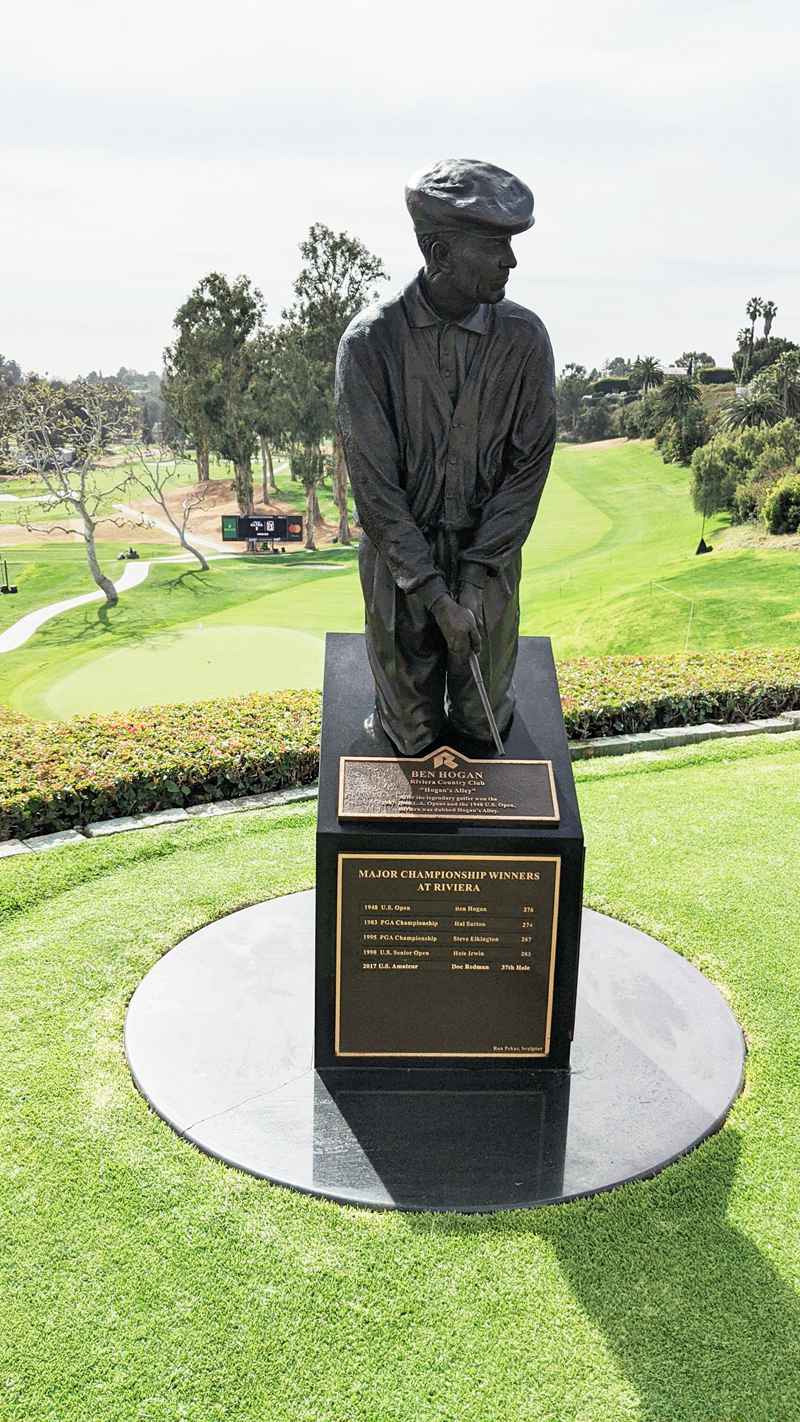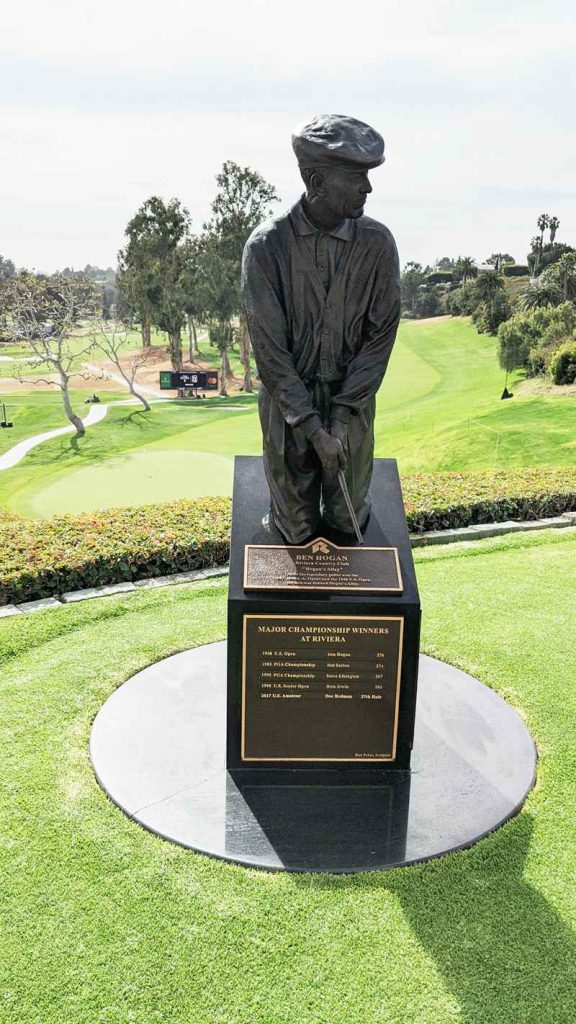 Top 10 Walker statue-Chaska, Minnesota
The Walker statue serves as an iconic symbol at Hazeltine National Golf Club in Minnesota. This sculpture, often known as the "Walker," is a well-known landmark on the golf course. Its significance lies in its role as a unique point of interest and a conversation starter for golfers and visitors to the club. While it may not depict a specific golfer, the Walker statue has become an integral part of the club's identity and landscape, adding character and charm to the golfing experience.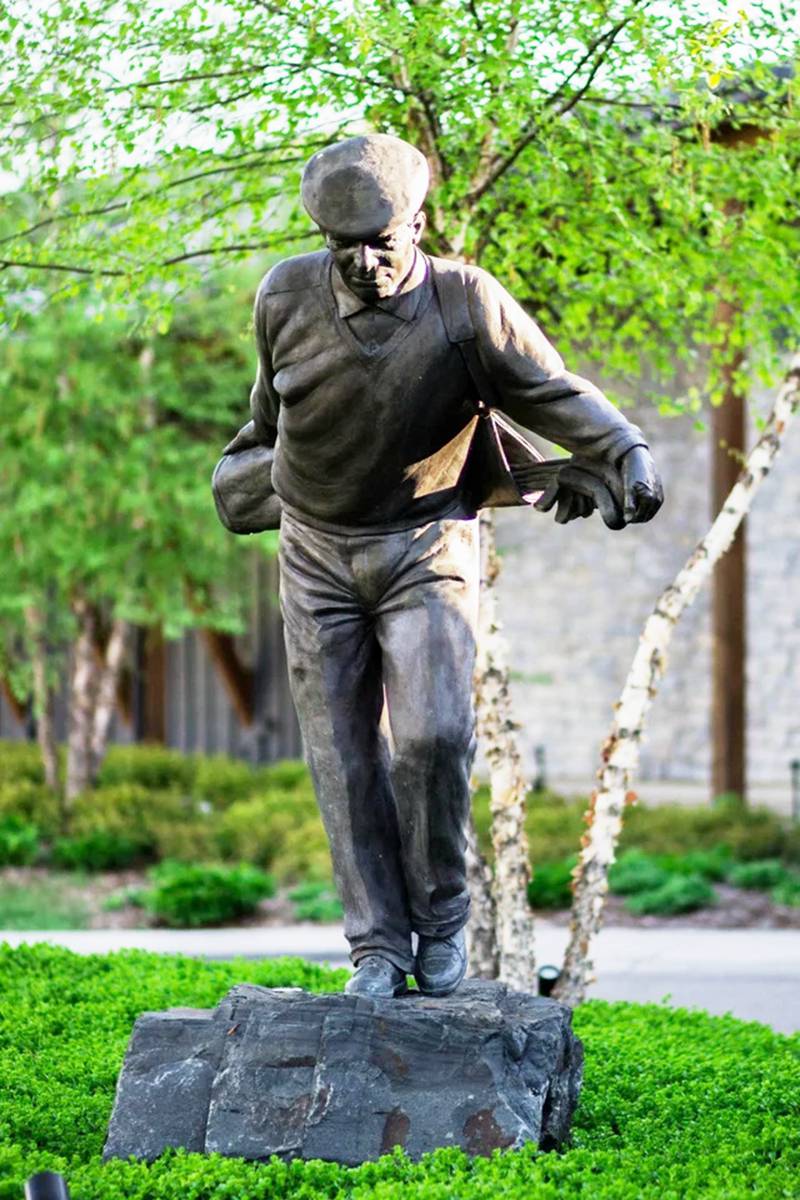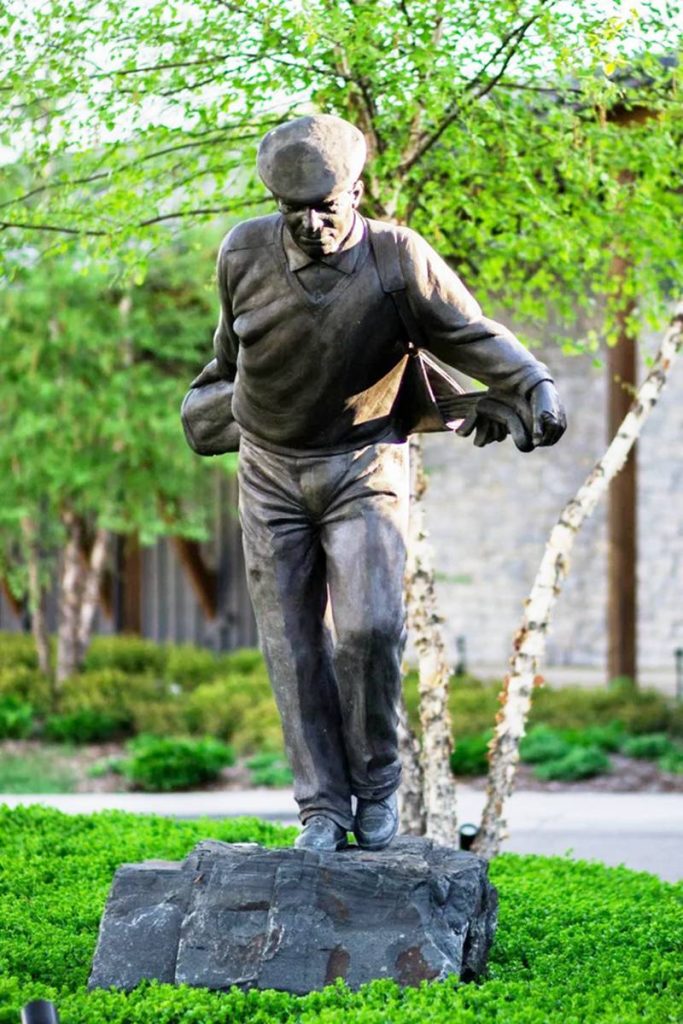 YouFine Custom Bronze Golfer Sculptures
These bronze life-size golf statues play a pivotal role in celebrating the rich history of the sport and immortalizing its legendary figures. They serve as powerful tributes to the golfing greats, reminding us of their enduring impact and contribution to the game's heritage. At YouFine, we could cast a wide range of famous bronze golfer sculptures, and our bronze sports art includes sculptures for renowned athletes.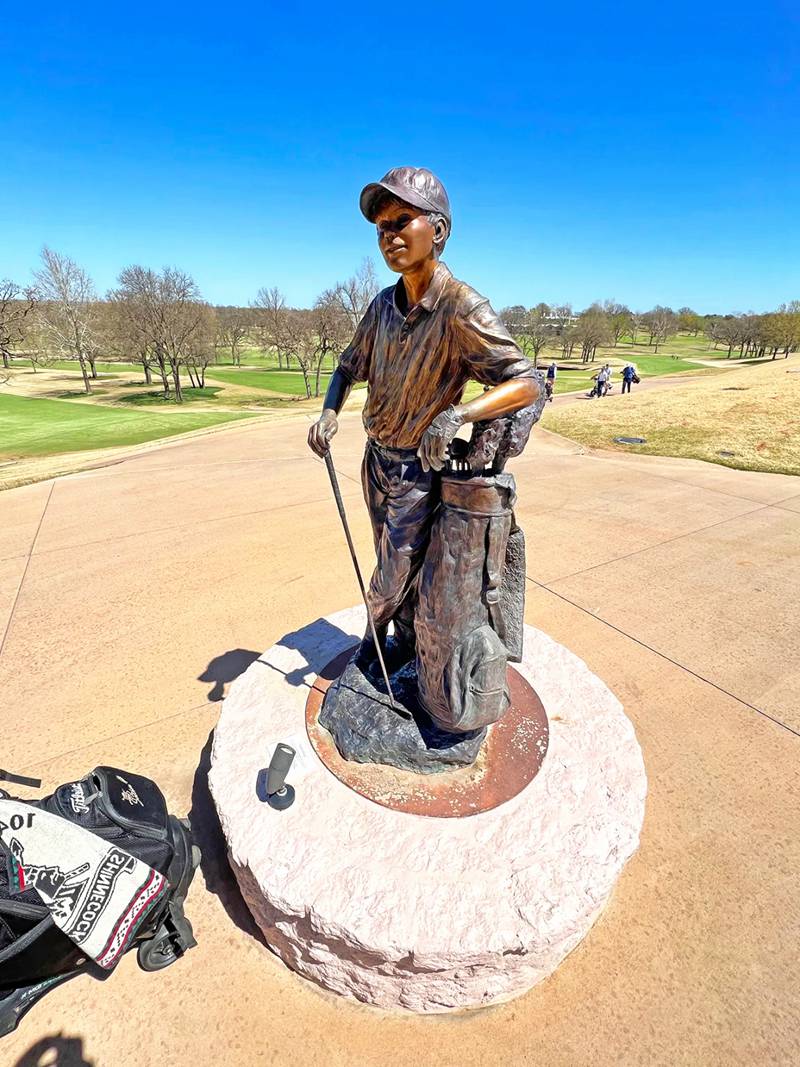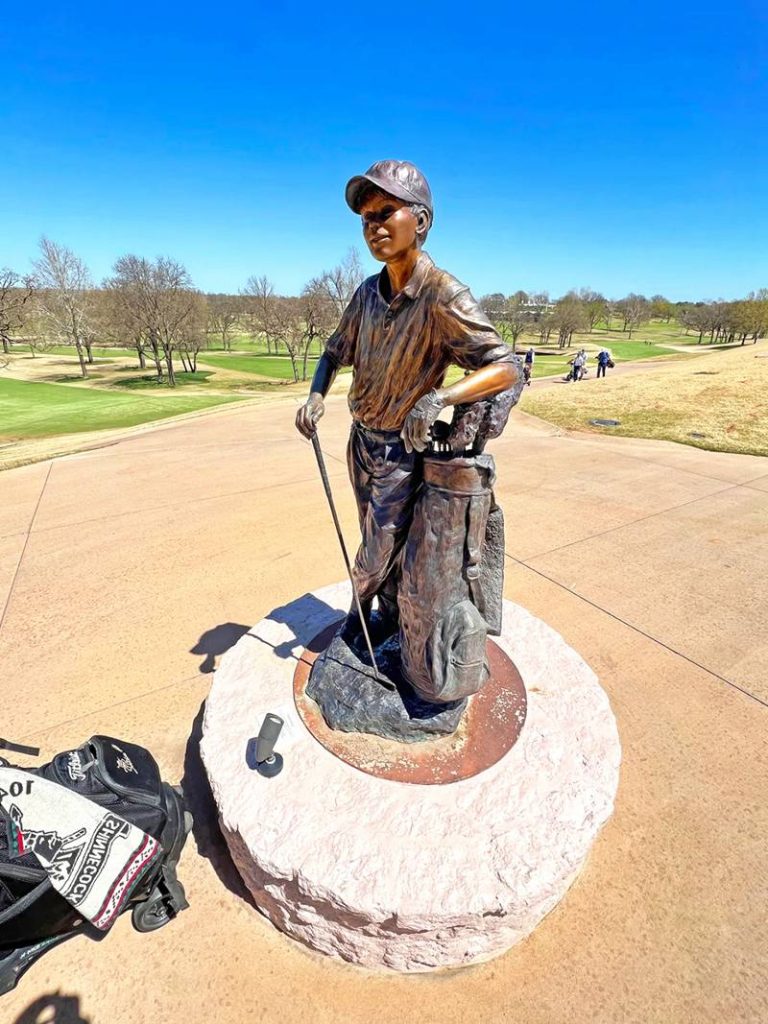 Our professional foundry's strength lies in casting high-quality monumental and realistic bronze golf sculptures that capture the essence and skill of these golfing legends. Trust us to bring their legacy to life through our craftsmanship and dedication.