The overall shape and design of this large bronze outdoor elephant water fountain are exactly the same as that of a real giant elephant. If you see this statue in person, you would be amazed at the design and size of this elephant. Our artists not only pay attention to the details of the carving but also pay attention to the essence of the original art and the meaning that the artwork wants to express.
Moreover, many people like the bronze elephant fountain, especially the water would flow out naturally from the trunk of the elephant, as if the elephant is playing with water. Therefore, the bronze elephant fountain not only has a practical function but also has a strong ornamental and entertainment effect.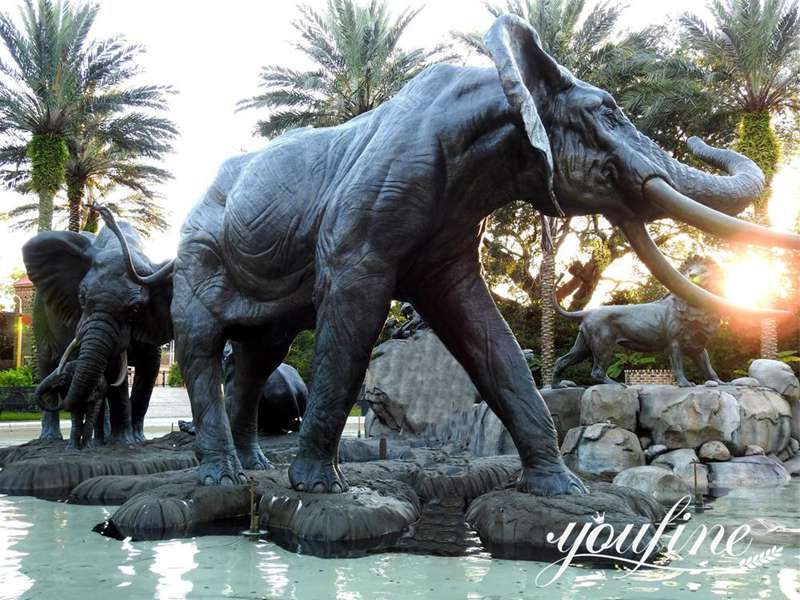 Bronze Elephant Fountain Statue Details:
These garden bronze elephant sculptures are located at the entrance to the Audubon Zoo. Of course, we would also see many elephant fountains in different poses in many places. There are elephant fountains in squares, parks, and other public places with modern art in the world. Because their own good meanings have gradually become people's good sustenance.
Our large bronze elephant statues come to life. And, our statues fully reproduce the details of the elephants. You could see very clear lines and folds on the elephant's skin. Elephant statues refer to animal sculptures made according to the morphological characteristics of elephants. In Chinese culture, an elephant is a homonym for "auspicious". So it is loved by people. And because of the beautiful meaning of elephants, they are often used as outdoor decorations from ancient times to the present.
These bronze outdoor elephant water fountains are made of high-quality bronze material. The artists at YouFine cast the entire statue using the traditional lost wax method. In addition, with careful polishing and simple decorative patterns, the elephant looks very natural. This mother elephant is bending her trunk to play with her baby. The shape of the baby elephant is very special, giving people a cute and naughty visual image. Of course, the posture of another elephant sculpture is also very eye-catching.
Jocelyn Russell Artist:
The author of this group of elephant sculptures is Jocelyn Russell. Jocelyn is an avid outdoor and wildlife enthusiast. Also, she often experiences nature and wildlife first-hand. Through the unlimited support of family and friends, she thrived in the art world. Jocelyn Russell was selected by the Audubon Commission to complete 15 sculptures for the new Cooper Plaza at the entrance to the Audubon Zoo. Jocelyn creates beautiful world-class sculptures with patience and attention to every detail. YouFine's artists are as talented as Jocelyn. Our entire team has created many unforgettable experiences and impressed our clients.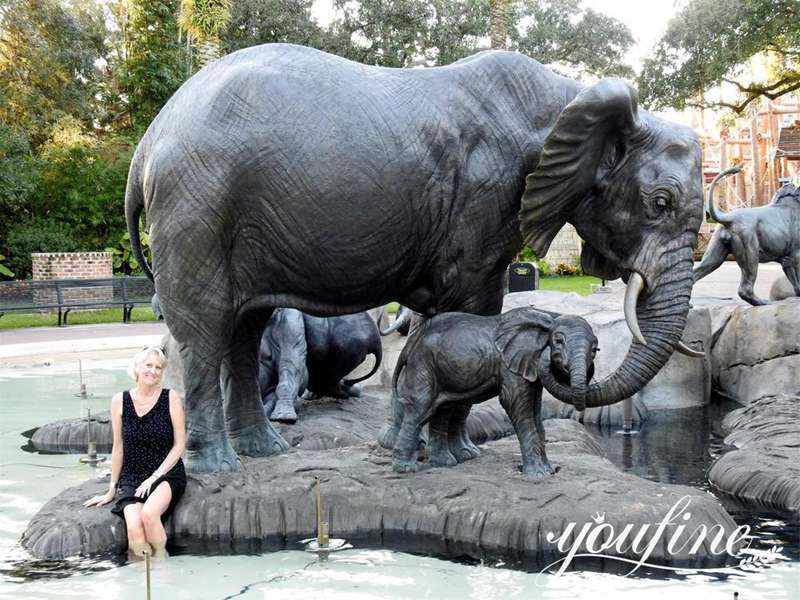 Has a Free-to-use Clay Model:
We all know that cast bronze sculptures must have a realistic clay model. First, YouFine is a large bronze animal foundry. We have many elephant clay models. So as long as you choose to cast a bronze elephant fountain sculpture at YouFine. Then our existing clay model could be used for free for you. No doubt this would save you at least $5,000.
A Story About the Circus Elephant:
YouFine has cast different styles of outdoor elephant water fountains for many clients. Especially our American customers have expressed great recognition to us. He grew up in his uncle's circus and grew up with animals. And he developed a deep friendship with the circus elephants. He came to us specifically to cast bronze sculptures of circus elephants. YouFine casts exquisite elephant statues for him. He was very satisfied and sent us a biography of the circus and his uncle. Immediately afterward his uncle and father also cast a lot of bronze animal sculptures here. In the contact between YouFine and customers, we have many beautiful stories like this with customers. Please choose YouFine, we would serve you with sincerity.
YouFine Uses the Lost Wax Method:
The traditional lost wax method would be used throughout the large bronze elephant statue. At the same time, our factory would use silica sol technology. Over time, it ensures that white spots do not appear on the surface of the sculpture. As a professional factory, our professional masters could also completely restore all the details of this elephant sculpture. Make sure it's 100% similar to the original. In particular, the delicate patterns on the surface of the sculpture are carefully cast by our masters.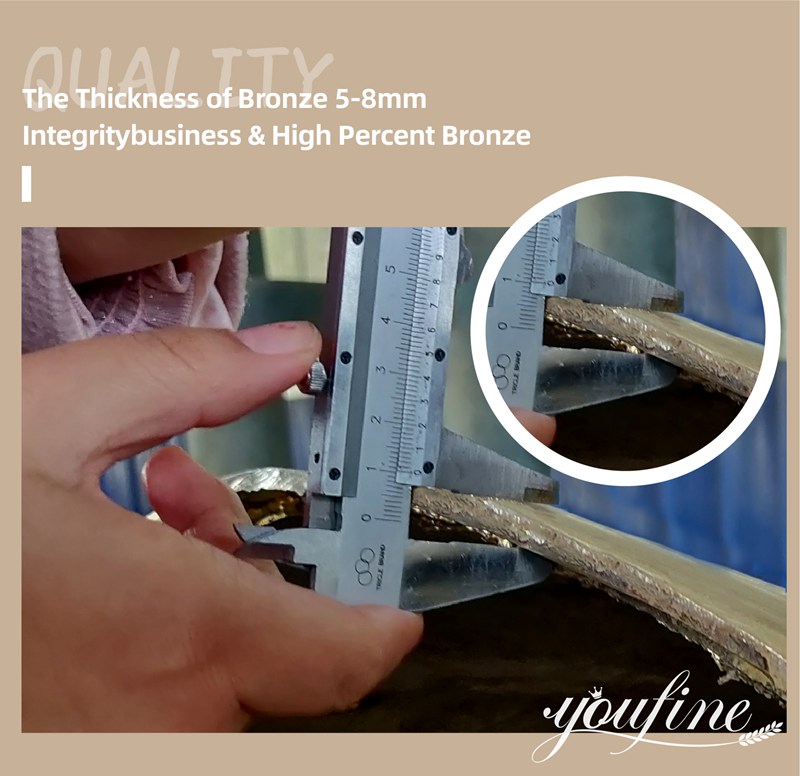 Positions that Could be Decorated:
Due to their large size, the living environment of elephants does not often appear in people's sight. Normally, we could only see real elephants in zoos. However, our large bronze elephant fountain statues could appear in people's lives. Our elephant garden statues could not only be in zoos, gardens, and squares as decorations. It could also be in office buildings and commercial plazas, and the good luck of good luck would bring you wealth.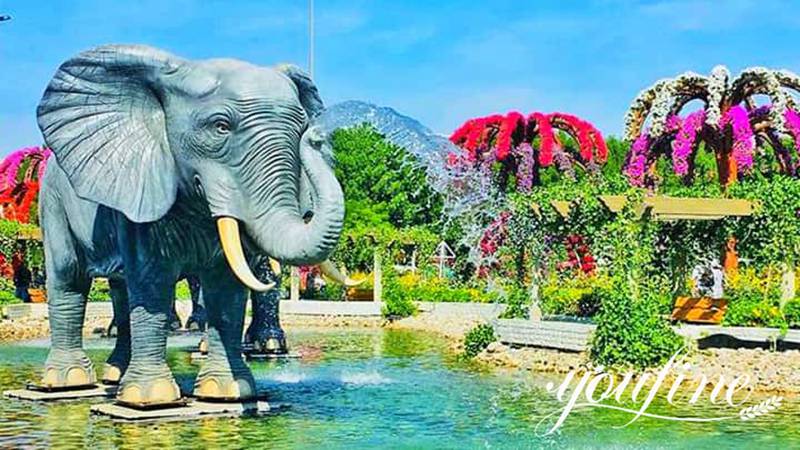 Why are Elephants Loved by People?
Elephants are wonderful animals. They are friendly, docile, and approachable. In Chinese culture, an elephant is a homonym for "auspicious". Therefore, it is deeply loved by people. And because of the beauty of elephants, they have been used as outdoor decorations since ancient times. In India, elephants are more sacred. They not only respect but love elephants.
Why Choose YouFine Elephant Fountain?
YouFine is a professional bronze statue foundry, we are sure to provide you with high-quality large bronze elephant fountains. You Fine has professional clay model artists and sculptors. Their rich engraving experience and professional engraving technology could highly restore the original. Therefore, we could guarantee 100% resemblance to the original. Our artists not only pay attention to the details of the carving but also pay attention to the essence of the original art and the meaning that the artwork wants to express.
Provide One-stop Statue Service:
YouFine is a factory with over 39 years of bronze sculpture casting experience. Therefore, Youjing not only produces all kinds of bronze sculptures, but we also have a perfect after-sales service system. From the production, packaging, and delivery to the installation of the bronze elephant fountain, we are always there for you. And any quality problems occur in subsequent use. You could contact YouFine at any time, our person in charge would solve the after-sales problem for you personally.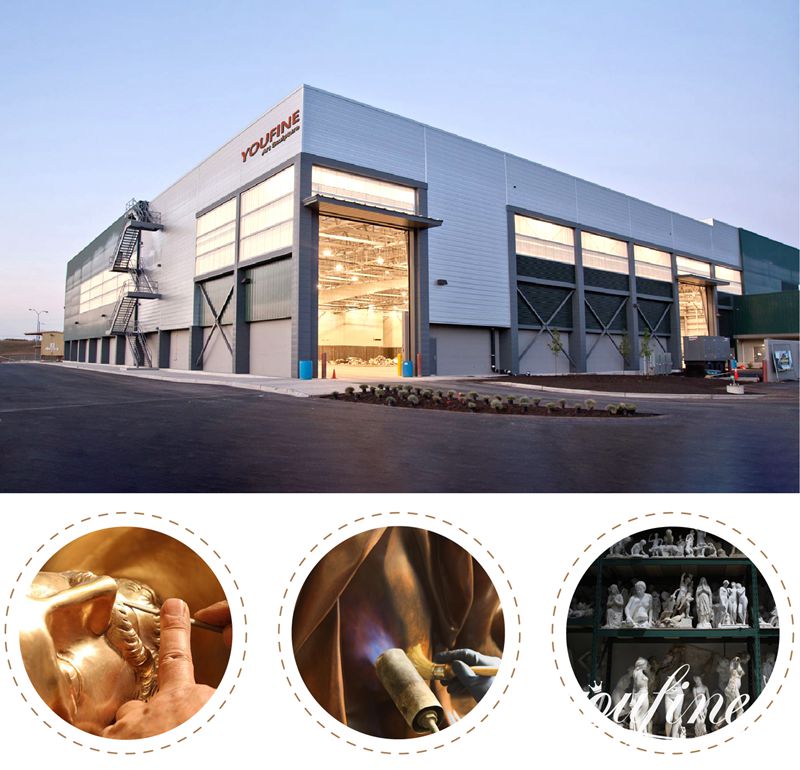 So our garden bronze elephant fountain Statue would be the best choice for your outdoor garden or zoo decoration. Our high-quality statues would surely become works of art passed down by the times. If you want to buy our huge bronze elephant statue and other statues, welcome to contact YouFine. If you want to know the details and prices of our statutes, we would provide you with the most detailed information as soon as possible.