Soldier Yard Statue Details:
This bronze fallen soldier yard statue is a battlefield cross artwork. Among the sculptures are rifles, helmets, boots, and dog tags. Of course, our artists could cast different types of battlefield cross statues for you. Of course, our artists could cast based on real objects.
Because our artists are experts in casting military sculptures. They have been studying the characteristics of battlefield cross statues in different periods for decades. And, there would be a clay model before casting bronze military sculptures. Of course, our fallen soldier yard statues are very as similar to the original.
What does the Battlefield Cross Represent?
Battlefield crosses show respect for the dead on the battlefield. The practice began during World War I to show respect for those who gave their lives fighting in wartime. Today, it is a way of showing respect for the dead among members of the force who are still alive.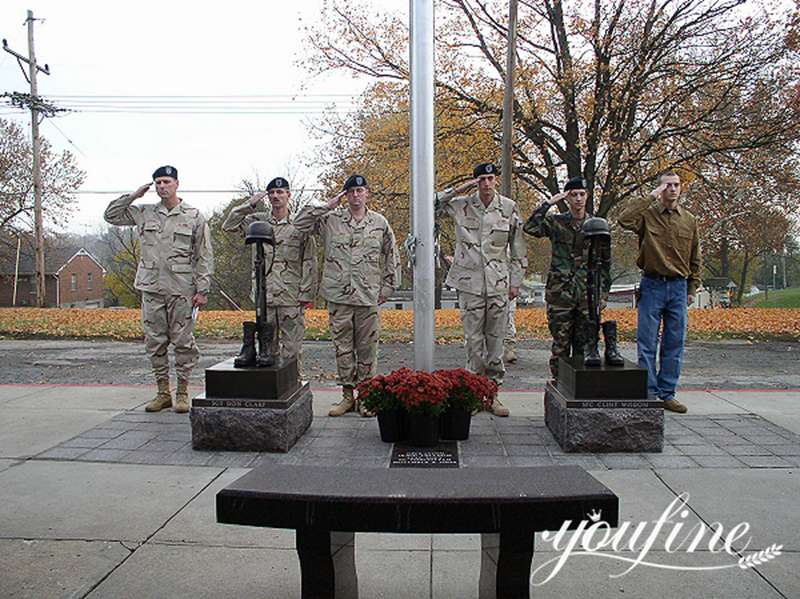 The battlefield cross statue is an iconic symbol of those soldiers who gave everything. Additionally, the Battle Cross is a historic military memorial. The memorial fallen soldier yard statue symbolizes the honor, service, and sacrifice of soldiers who fell in battle. This moving memorial is life-size.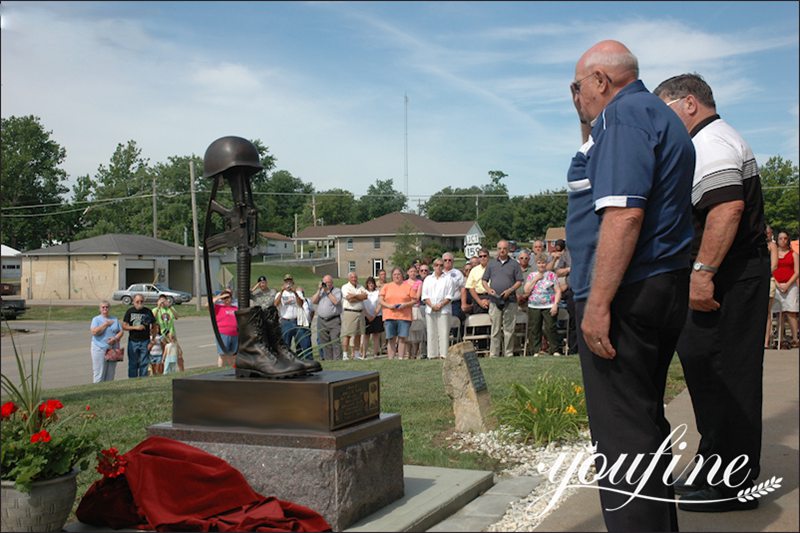 The earliest Battle Crosses are thought to have appeared during the Civil War. In addition, the Battlefield Cross was used to mark the bodies of dead soldiers for later collection and burial. During the Korean War, the Field Cross became a way for comrades of fallen soldiers to find and honor their comrades. During the 1991 Gulf War, and during Operation Iraqi Freedom and Enduring Freedom, the Modern Battlefield Cross became an iconic symbol for fallen soldiers.
How do You Make a Battlefield Cross?
Battlefield Crosses originated during the American Civil War. The cross is made by holding the soldier's boot upright, the rifle upright in the boot, and the helmet hanging from the rifle's upright butt. If there are dog tags in the sculpture, those are usually dangling from the rifle.
Advantages of YouFine Casting Military Sculptures:
Our artists researched a lot of battlefield cross statue materials. And, to cast this sculpture, we used actual military items as models. Then we used 3D scanning and printing, we made the original fallen soldier sculpture twice the original size. YouFine artists use the ancient lost wax bronze casting method. YouFine's classic quality military figurines would last for hundreds of years.
In addition, we could also customize according to the needs of customers. Therefore, the rifle could be positioned with the trigger and magazine facing forward or backward. The boot could then be positioned with the toes unfolded at a 45-degree angle. Of course, you could also attach a sling to the rifle.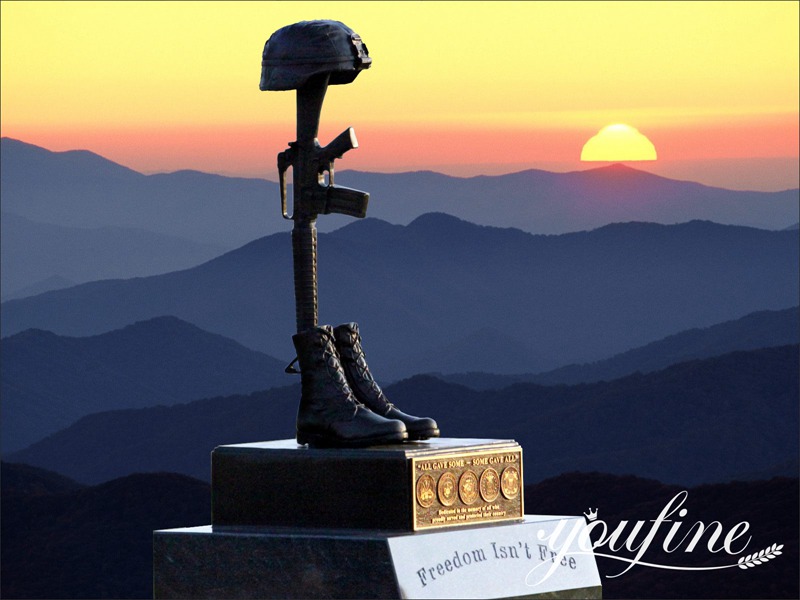 Please feel free to contact us if you need a bronze commemorative military statue. We could offer you free quotes and direct factory prices.