The Valentine, a true-to-life-sized bronze sculpture, depicts an elderly couple sitting on a bench, their bodies leaning toward each other in a tender embrace. This remarkable artwork, created by renowned artist George W. Lundeen, captures the essence of enduring love and companionship. Located at Sixth and Lincoln in Carmel-by-the-sea, California, this couple statue was purchased by the City of Carmel and installed in First Murphy Park in 1994.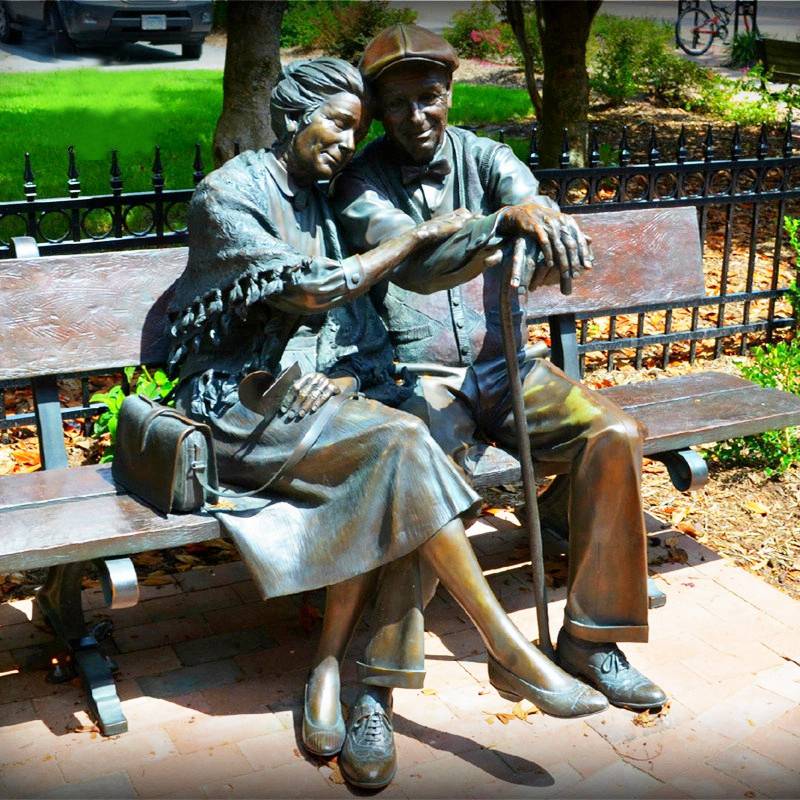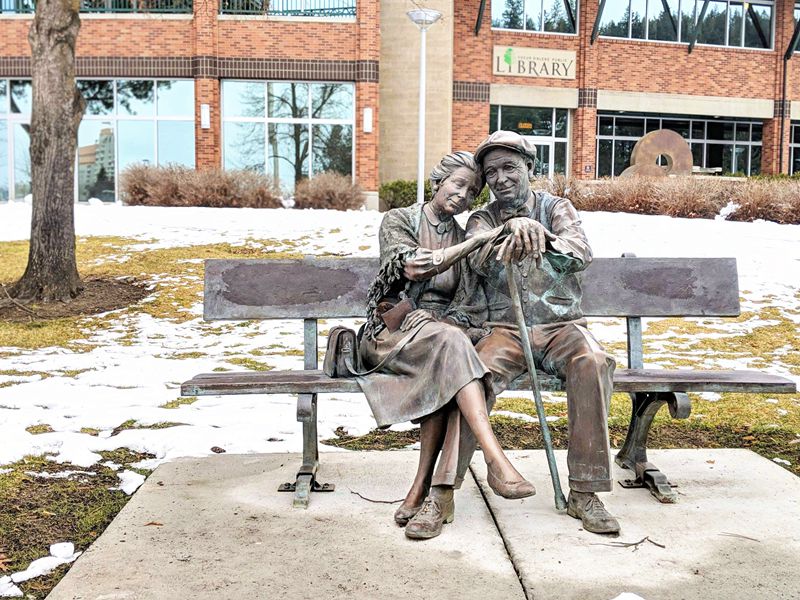 Captivated by the Exquisite Details:
As you approach The Valentine, you'll be captivated by the intricate details that bring the sculpture to life. The wrinkled skin, gentle expressions, and intertwined hands of the couple exude a sense of warmth and affection. This particular sculpture is number 2 in a limited edition of 21, executed in 1990, adding to its uniqueness and collectible value.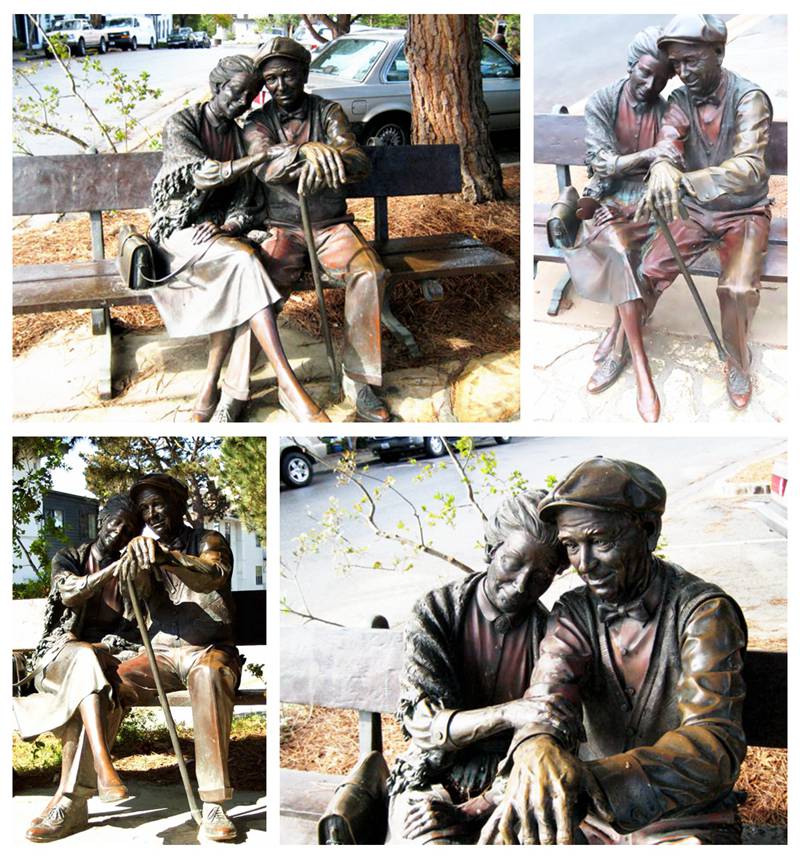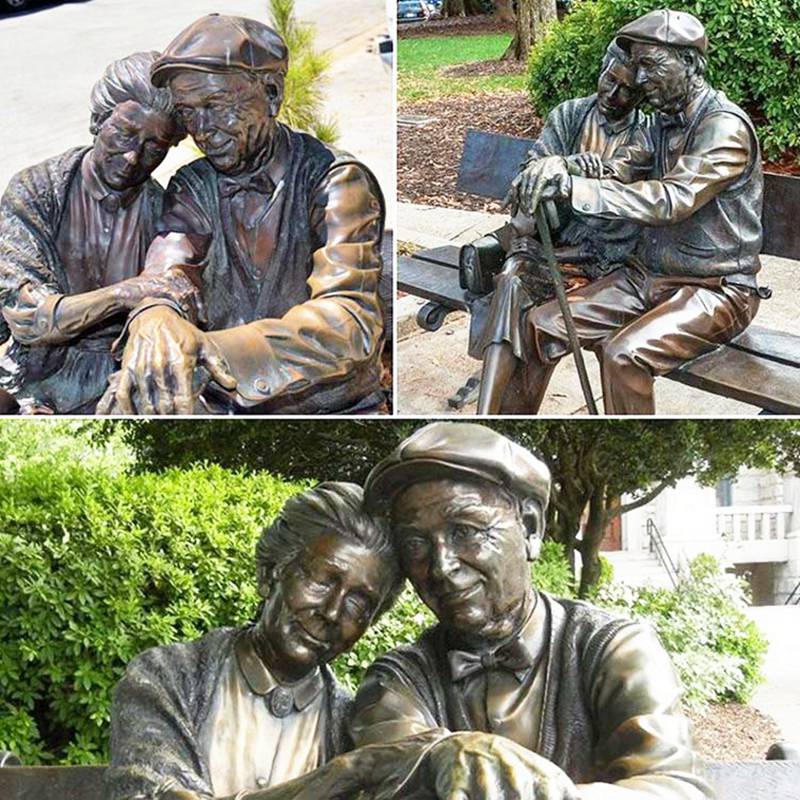 The Valentine, created by George W. Lundeen, stands as a testament to the power of love and serves as a cherished symbol for couples of all ages. Its popularity as a spot for selfies speaks to the emotional connection it evokes in people from all walks of life. Whether you encounter it in person or simply admire it from afar, The Valentine is a testament to the enduring bond shared by couples, reminding us of the timeless beauty and significance of love throughout our lives.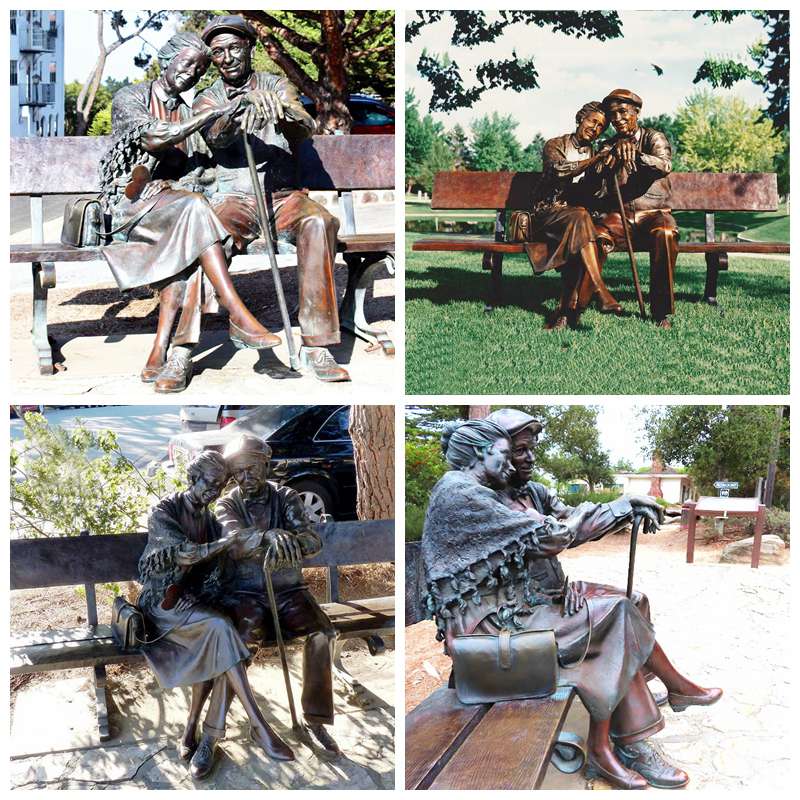 Many Different Placements
The Valentine makes a beautiful addition to outdoor spaces like gardens and streets, and it also holds special significance in places like retirement homes and elder care facilities. Its presence offers a visual representation of love, companionship, and the joys of growing old together. Visitors are often drawn to this heartwarming sculpture, finding solace and inspiration in its message of lasting love.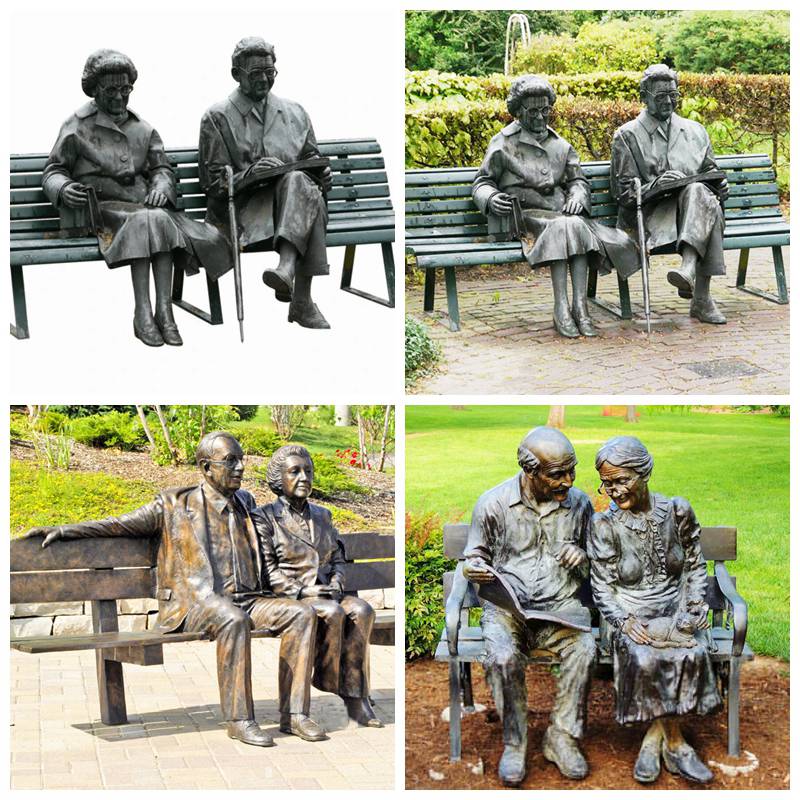 Offer Customized Services:
At our sculpture studio, we take great pride in our ability to create a wide range of elderly couple statues that capture the essence of love, companionship, and the joys of growing old together. While The Valentine is a remarkable piece, we understand that each couple has their own unique story and style. That's why we offer customized services to bring your vision to life.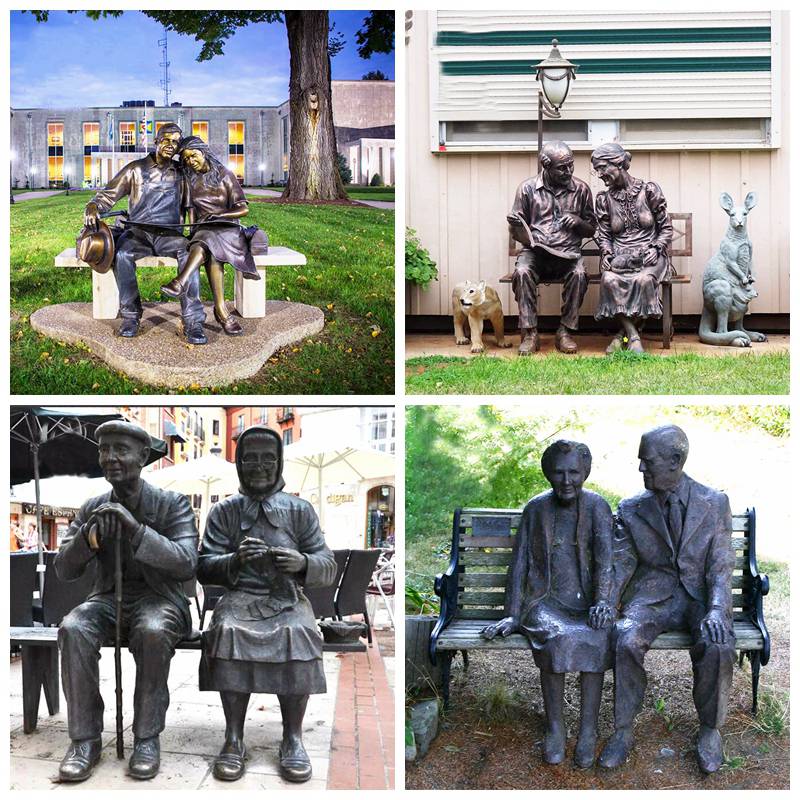 Our team of skilled artisans and sculptors has extensive experience in crafting bespoke elderly couple bronze statues. Whether you desire a specific pose, facial expression, or clothing style, we could work closely with you to create a personalized sculpture that reflects the essence of your relationship. From sitting on a park bench to strolling hand in hand, we could bring your ideas to fruition.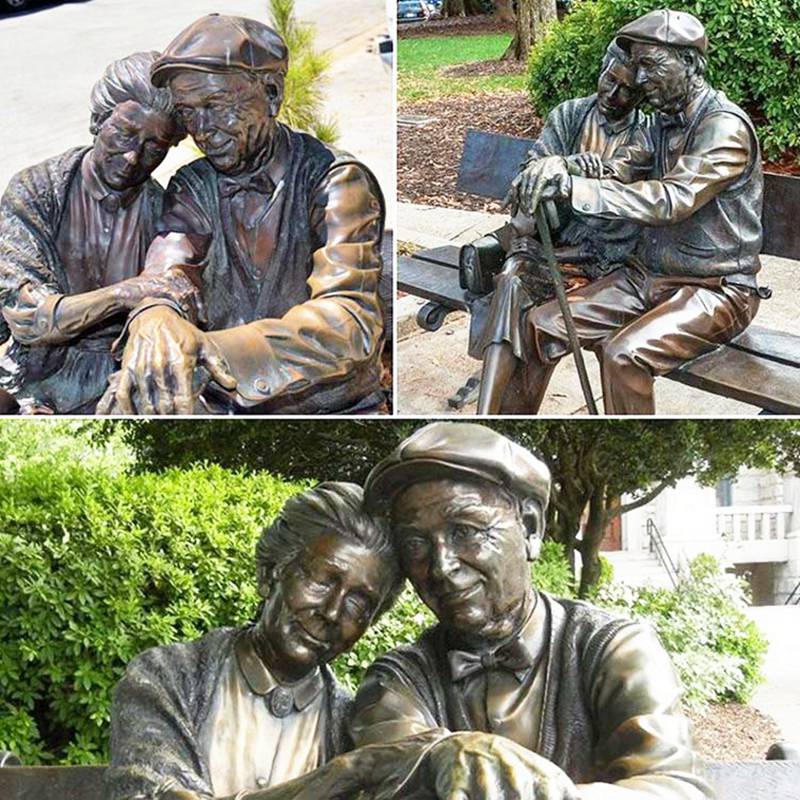 In addition to customization, we also have a portfolio of other pre-designed elderly couple statues that you could choose from. Our collection includes a variety of poses, gestures, and expressions to suit different preferences and settings. Whether you prefer a tender embrace, a playful interaction, or a serene moment, we have options that would resonate with you.
We understand the significance of capturing the essence of love and companionship in these sculptures, and we take great care in ensuring that each detail is meticulously crafted. Our commitment to quality extends to the materials we use, as we primarily work with bronze, a durable and timeless medium that beautifully showcases the intricacies of the human form.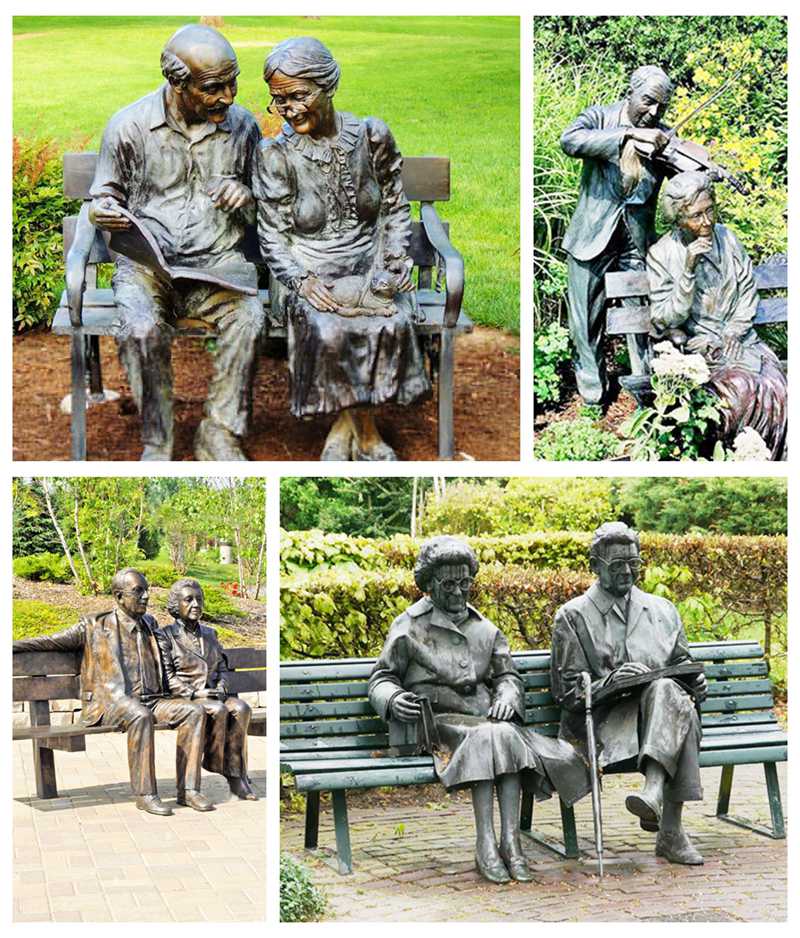 If you're interested in commissioning a customized elderly couple statue or exploring our existing collection, we invite you to reach out to us. Our team is dedicated to bringing your vision to life and creating a meaningful and cherished sculpture that celebrates the unique bond shared by you and your loved one.